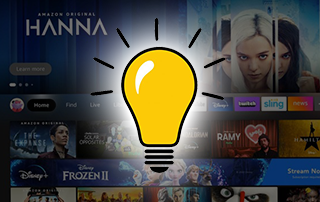 This article will provide you with a list of useful Firestick Tricks & Tips you can adjust to improve your device's performance.
The best Firestick tricks are sideloading, custom launchers, increasing storage, external video players, and many others in this list.
These will also work on any model of the Firestick or Fire TV device.
Many of the tips & tricks can also be found within our guides on Firestick Buffering and Hidden Firestick Settings.
If you are a Firestick/Fire TV owner, you know the power and abilities these devices provide.
Most Firestick users "jailbreak" the device to install 3rd party apps not available in the Amazon App Store.
Users can stream High Def Movies, TV Shows, play games, and much more.
However, there are also some hidden tips & tricks you can use to improve your streaming experience.
The list below has some awesome suggestions that all Fire TV owners can use to get the most out of their devices.
Many of these are simple instructions that can be done within the Device Settings or from the home screen.
Currently, the most popular Fire TV model is the Amazon Fire TV Stick 4K.
However, Amazon's newer Fire TV devices including the Fire TV Stick Lite and 3rd Gen Fire TV Stick are quickly gaining popularity.
All items on the list below work perfectly on this device and most Firestick/Fire TV models available today.
Free TROYPOINT Supercharge Fire TV/Stick Guide

Install the Best Secret Apps in Seconds
This free guide will teach you how to unlock your device with a few clicks.
Used by over 1 million cord cutters.
Firestick Tricks & Tips
Below you will find 13 Firestick tricks and tips for getting the most out of this powerful Streaming Device!
We suggest bookmarking this page, as these Firestick/Fire TV tricks are updated monthly.
The following list was last updated on Wed, Oct, 27, 2021
1. Sideloading Apps
Those who have used the Firestick/Fire TV for a while now have likely figured out the device's side-loading capabilities.
Because this device runs the Android operating system, you can side-load applications not found within the Amazon App Store.
Side-loading Streaming APKs is one of the most popular uses among those with Firesticks/Fire TVs.
Some of the most popular side-loaded apps include Kodi, MX Player, Stremio, Filelinked, Aptoide, Cinema HD, and many others.
In order to side-load these apps, you must use a tool called Downloader.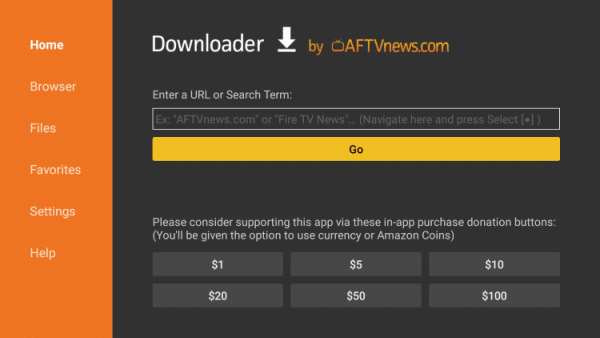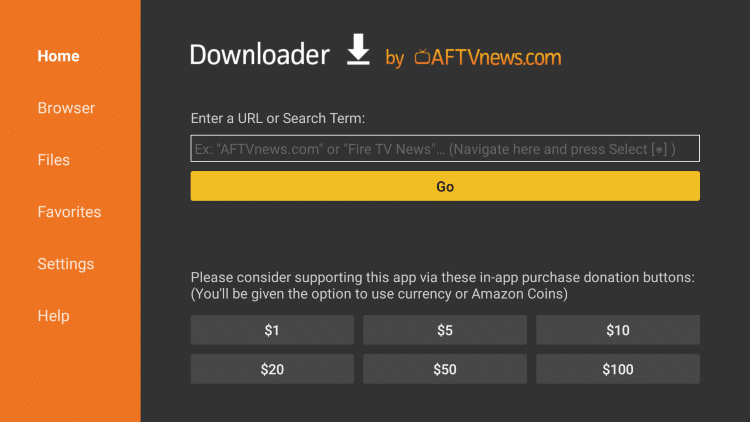 Refer to our most popular video below for more information on side-loading.
How to Sideload Apps – Video Tutorial
Important Links:
Free TROYPOINT Supercharge Guide
Best VPN for Firestick with HUGE Discount
How to Install VPN on Jailbroken Firestick
2. Speed up Your Firestick/Fire TV
Speeds and buffering are common concerns among Firestick/Fire TV users. There are several ways to increase Firestick speed and reduce buffering.
The first step is to always Test Internet Speed on your Firestick to analyze what types of speeds you are getting.
Some methods include connecting an Ethernet Adapter, using Real-Debrid within apps, adjusting VPN Protocols, upgrading your internet package, and other solutions.
We suggest viewing the video below for more tips and information on speeding up your Firestick.
Speed Up Your Firestick/Fire TV – Video Tutorial
 Free TROYPOINT App with Rapid App Installer
Register for IPVanish VPN with Best Discount
3. Increase Storage on Firestick with USB Flash Drive
Expanding storage is one of the more useful Firestick tricks. One of the biggest complaints regarding the Amazon Firestick is the lack of internal storage.
Luckily, users can purchase an OTG Cable and use any USB Flash Drive to expand the device storage.
This hack will allow you to install applications onto the external USB Drive.
Click below for a complete instructional guide with a video that will show you how to Expand your Firestick's Internal Storage.
How to Expand Fire TV Stick 4K Storage
Note: Prior to using a USB Drive with any Fire TV/Android device, you should make sure that it's properly formatted as FAT32.
How to Format USB Drive to FAT32
4. Using External Video Players
Unlike some other streaming devices, the Amazon Firestick/Fire TV allows the use of external video players within applications.
The most popular external video players include MX Player and VLC Media Player.
Using external video players will often help eliminate buffering and improve the overall user experience.
Best Video Players for Firestick/Fire TV
ATTENTION!
Your identifying IP address is exposed which ties directly back to you through your Internet Service Provider.
Your Identifying IP Address is 3.239.2.222
IPVanish VPN will mask your IP address and encrypt your connection so you will become anonymous while online.
You can use IPVanish on unlimited devices so you are protected everywhere.
SAVE UP TO 74% WITH THIS TIME-SENSITIVE DEAL
30-Day Money-Back Guarantee
5. Fire TV Remote App
Many Firestick owners express issues with the remote Amazon provides with this device. This includes not syncing, battery failure, and more.
Fortunately, there is an app user can install on their mobile device that works exactly like the Amazon remote control.
This is available on all iOS devices including iPhone/iPad, Android, and Fire tablets.
One of the best features of the app is the ability to use your phone's keyboard to type which is much faster than the on-screen method.
The guide below will show you how to install the Firestick Remote app, sync your remote, and much more.
Firestick/Fire TV Remote Resource Page
New: How to Control Firestick/Fire TV via Remote Access
6. Cast to Firestick from iPhone/iPad
Casting is one of the most popular Firestick Tricks on this list.
One of the best unknown features of the Firestick is its ability to allow mirroring from a separate device.
This will allow you to cast anything on your mobile screen directly to the TV in a matter of seconds.
To do so, it will require the installation of a separate app that is available for free in the Amazon App Store.
Once installed, you will be able to cast, record, and more, directly from your phone or tablet.
How To Cast to Firestick/Fire TV
Those using Roku devices can also cast from other devices. Check out our Roku Screen Mirroring article for more information.
7. Turn Off Firestick
Firestick and Fire TV devices do not have an option to Power or Turn Off. However, there is a "sleep" feature that can save power on your device and TV.
Amazon Fire TV devices have a set timer built into them. However, you can also enable the Sleep function manually by holding down the Home button and selecting Sleep.
While this may seem like a simple feature, many do not know it exists! Use the guide below for more information:
How To Turn Off Firestick/Fire TV
If your device is having issues and turning off your Firestick/Fire TV doesn't help, we suggest restarting or a factory reset.
How to Restart Firestick
How to Factory Reset Firestick
8. Turn off Video Ad Auto-Play on device home-screen
Another popular complaint among Firestick users is the annoying video ad that plays at the top of the home screen.
This usually auto-plays a movie or tv show trailer and can be irritating especially when the volume is on.
Luckily we can disable this "auto-play" and adjust so only still screenshots appear. Follow the steps below to deactivate this feature:
From the home screen, Open Settings> select Preferences>choose Featured Content>Turn Off "allow Video Autoplay" and "Allow Audio Aoutoplay" to display these ads silently.
We suggest viewing our detailed tutorial below for blocking ads on the Firestick/Fire TV.
How to Block Ads on Firestick/Fire TV
9. Screen Magnifier
For those of us whose eyesight isn't great, Amazon provides a Screen Magnifier that will zoom in on a focused item.
This is a great tool to view pictures and content clearer and more focused. To enable Screen Magnifier, use the following steps:
From the home screen, Open Settings>select Accessibility>choose Screen Magnifier
This will enable Screen Magnifier for use. To navigate the device with Screen Magnifier on, the following options are provided: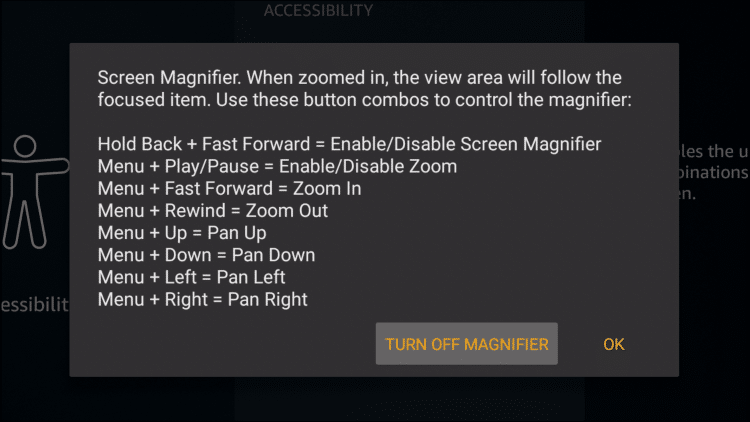 10. Clear App Cache/Data
If you find an application is not working properly and want a quick fix, oftentimes a simple clear cache/data will do it.
This is a great way to reset the application you are trying to use and begin with a fresh start.
To clear Data, use the following instructions:
From the home screen, Open Settings>select Applications>choose to Manage Installed Applications>choose your preferred App>click Clear Data>click Clear Data again
We also suggest clearing the cache for the application which will clean any recent files within the application.
11. Enjoy Personal Photos as device Screensaver
If you are tired of the same Amazon screensavers displaying on your device while resting, there is another option.
You can easily set up your Firestick or Fire TV to display personal photos instead.
To do so, you must first download the Amazon Photos app to your Android or iOS device.
Your photos will then sync across all Amazon devices including Firestick and Fire TV. Once installed, you can change the settings to display these photos:
From the home screen, Open Settings> select Display & Sounds>select Screensaver>choose Current Screensaver>select Your Photos (or another album)
You can also install custom launchers like the Wolf Launcher for customized wallpapers as your background!
12. Enable Bluetooth Device
For many, the provided Amazon remote is just not enough when it comes to navigation within the Firestick.
Luckily, there is a setting within Fire TV's to sync all your favorite Bluetooth accessories to the device.
This includes items such as headphones, keyboard remotes, gaming controllers, and more.
To sync a Bluetooth device to your Firestick/Fire TV, use the steps below:
From the home screen, Open Settings>select Controllers & Bluetooth Devices>choose Other Bluetooth Devices>click Add Bluetooth Devices
Once discovered, you can now select your Bluetooth device for use.
13. Parental Controls
One of the easiest ways to censor content on your Firestick or Fire TV device is to set up parental controls. This will limit access to apps and more with a simple code.
To enable Parental Controls, use the following steps:
From the home screen, Open Settings >select Preferences>choose Parental Controls
Here you can set a Pin Code that will restrict access to videos, the purchasing of certain content, and more.
For the latest news and tutorials in the tech and streaming world, be sure to sign up for the TROYPOINT Advisor with updates weekly.
This Advisor provides all the best tips to get the most out of your favorite streaming devices and more. Click the link below for your TROYPOINT Advisor Subscription:
Try some of these Firestick Tricks & Tips out today if you own a Fire TV device!
Firestick Tricks & Tips FAQ
What are some useful Firestick Tricks?
Some of the most useful Firestick Tricks include side loading, screen mirroring, speeding up your device, external players, and many more on this list.
Is Firesticktricks.com a reliable website?
No. This website operates outside of the US and does not have reliable information.
Do these Firestick Tricks work on other devices?
Yes. These tricks and tips work on all Fire TV devices and most Android devices.
Are these Firestick tricks safe?
Yes. The Firestick tricks and tips on this list are not only safe but often recommended to boost performance.
This page includes affiliate links where TROYPOINT may receive a commission at no extra cost to you. Many times, you will receive a discount due to the special arrangements made for our visitors. I will never promote something that I personally don't use or recommend. Purchasing through my links directly supports TROYPOINT which keeps the content and tools coming. Thank you!
Register as a TROYPOINT Insider and discuss this article with thousands of other cord-cutters.