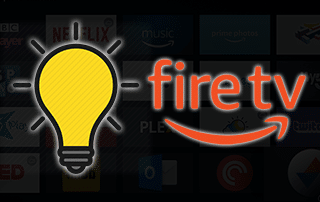 This article will provide you with a list of useful Firestick Tricks & Tips you can adjust to improve your device's performance.
These will also work on any model of the Firestick or Fire TV device.
Many of the tips & tricks can also be found within our Firestick Buffering guide.
If you are a Firestick/Fire TV owner, you know the power and abilities these devices provide.
Most Firestick users "jailbreak" the device to install 3rd party apps not available in the Amazon App Store.
Users can stream High Def Movies, TV Shows, play games, and much more.
However, there are also some hidden tips & tricks you can use to improve your streaming experience.
The list below has some awesome suggestions that all Fire TV owners can use to get the most out of their devices.
Many of these are simple instructions that can be done within the Device Settings or from the home screen.
Currently, the most popular Fire TV model is the Amazon Fire TV Stick 4K.
All items on the list below work perfectly on this device and most Firestick/Fire TV models available today.
10 Firestick Tricks, Tips & Settings
Below you will find ten Firestick tricks and tips for getting the most out of this powerful Streaming Device!
We suggest bookmarking this page, as these Firestick/Fire TV tricks are updated monthly.
The following list was last updated on Sat, Jan, 23, 2021
1. Increase Storage on Firestick with USB Flash Drive
One of the biggest complaints regarding the Amazon Firestick is the lack of internal storage. Luckily, users can purchase an OTG Cable and use any USB Flash Drive to expand the device storage.
This hack will allow you to install applications onto the external USB Drive. Click below for a complete instructional guide with a video that will show you how to Expand your Firestick's Internal Storage.
Expand Fire TV Stick 4k Internal Storage with USB Flash Drive
2. Fire TV Remote App
Many Firestick owners express issues with the remote Amazon provides with this device. This includes not syncing, battery failure, and more.
Fortunately, there is an app users can install on their mobile device that works exactly like the Amazon remote control.
This is available on all iOS devices including iPhone/iPad, Android, and Fire tablets.
One of the best features of the app is the ability to use your phone's keyboard to type which is much faster than the on-screen method.
The guide below will show you how to install the Firestick Remote app, sync your remote, and much more.
Firestick/Fire TV Remote Resource Page
3. Parental Controls
One of the easiest ways to censor content on your Firestick or Fire TV device is to set up parental controls. This will limit access to apps and more with a simple code.
To enable Parental Controls, use the following steps:
From the home screen, Open Settings >select Preferences>choose Parental Controls
Here you can set a Pin Code that will restrict access to videos, the purchasing of certain content, and more.
4. Turn off Video Ad Auto-Play on device home-screen
Another popular complaint among Firestick users is the annoying video ad that plays at the top of the home-screen. This usually auto-plays a movie or tv show trailer and can be irritating especially when the volume is on.
Luckily we can disable this "auto-play" and adjust so only still screenshots appear. Follow steps below to deactivate this feature:
From the home screen, Open Settings> select Preferences>choose Featured Content>Turn Off "allow Video Autoplay" and "Allow Audio Aoutoplay" to display these ads silently.
5. Cast to Firestick from iPhone/iPad
One of the best unknown features of the Firestick is its ability to allow mirroring from a separate device. This will allow you to cast anything on your mobile screen directly to the TV in a matter of seconds.
To do so, it will require the installation of a separate app that is available for free in the Amazon App Store. Once installed, you will be able to cast, record, and more, directly from your phone or tablet.
How To Cast to Firestick/Fire TV
6. Enjoy Personal Photos as device Screensaver
If you are tired of the same Amazon screensavers displaying on your device while resting, there is another option.
You can easily set up your Firestick or Fire TV to display personal photos instead.
To do so, you must first download the Amazon Photos app to your Android or iOS device.
Your photos will then sync across all Amazon devices including Firestick and Fire TV. Once installed, you can change the settings to display these photos:
From the home screen, Open Settings> select Display & Sounds>select Screensaver>choose Current Screensaver>select Your Photos (or another album)
You can also install custom launchers like the Wolf Launcher for customized wallpapers as your background!
7. Turn Off Firestick
Firestick and Fire TV devices do not have an option to Power or Turn Off. However, there is a "sleep" feature that can save power on your device and TV.
Amazon Fire TV devices have a set timer built into them. However, you can also enable the Sleep function manually by holding down the Home button and selecting Sleep.
While this may seem like a simple feature, many do not know it exists! Use the guide below for more information:
How To Turn Off Firestick/Fire TV
If your device is having issues and turning off your Firestick/Fire TV doesn't help, we suggest restarting or a factory reset.
How to Restart Firestick
How to Factory Reset Firestick
8. Enable Bluetooth Device
For many, the provided Amazon remote is just not enough when it comes to navigation within the Firestick.
Luckily, there is a setting within Fire TV's to sync all your favorite Bluetooth accessories to the device.
This includes items such as headphones, keyboard remotes, gaming controllers, and more.
To sync a Bluetooth device to your Firestick/Fire TV, use steps below:
From the home screen, Open Settings>select Controllers & Bluetooth Devices>choose Other Bluetooth Devices>click Add Bluetooth Devices
Once discovered, you can now select your Bluetooth device for use.
9. Screen Magnifier
For those of us whose eyesight isn't great, Amazon provides a Screen Magnifier that will zoom in on a focused item.
This is a great tool to view pictures and content clearer and more focused. To enable Screen Magnifier, use the following steps:
From the home screen, Open Settings>select Accessibility>choose Screen Magnifier
This will enable Screen Magnifier for use. To navigate the device with Screen Magnifier on, the following options are provided: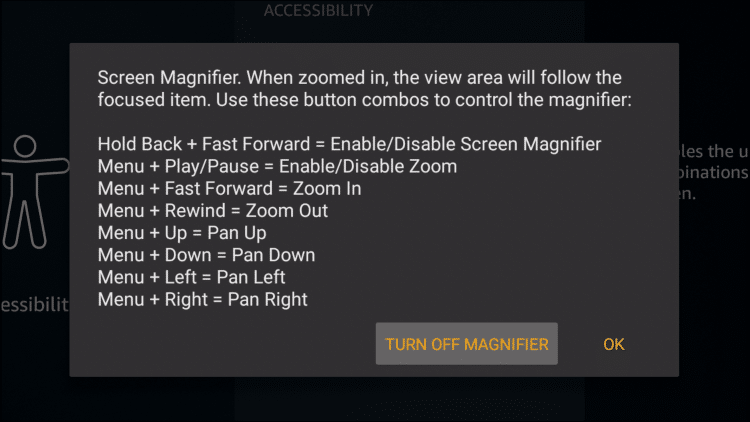 10. Clear App Cache/Data
If you find an application is not working properly and want a quick fix, oftentimes a simple clear cache/data will do it.
This is a great way to reset the application you are trying to use and begin with a fresh start.
To clear Data, use the following instructions:
From the home screen, Open Settings>select Applications>choose to Manage Installed Applications>choose your preferred App>click Clear Data>click Clear Data again
We also suggest clearing the cache for the application which will clean any recent files within the application.
You may also want to look into a Firestick Ethernet Adapter if you are experiencing buffering or if your device is running slow.
For the latest news and tutorials in the tech and streaming world, be sure to sign up for the TROYPOINT Advisor with updates weekly.
This Advisor provides all the best tips to get the most out of your favorite streaming devices and more. Click the link below for your TROYPOINT Advisor Subscription:
Warning! Protect Yourself With A VPN
Most cord-cutters use a VPN and rightfully so.
The free streaming applications, addons, and paid IPTV services that you use are usually hosted on insecure servers.
Without a VPN, your IP Address is being logged.
Your IP Address points back to your location and identity which compromises both your privacy and security.
Your current identifying IP Address is 70.29.106.28 – When you use a VPN, your real IP address will be converted into an anonymous new one.
A VPN will provide you with an anonymous connection to the Internet.
This will prevent your Internet Service Provider, app/addon developers, government agencies, and any 3rd party from logging what you're accessing online.
The most popular VPN among cord-cutters is
IPVanish
due to their blazing fast speeds and zero log policy.
Its important to use a VPN that is fast since we are streaming large HD files.  Its also crucial to find one that keeps no logs of what their subscribers access while online.
Setting up IPVanish VPN on your streaming device is simple!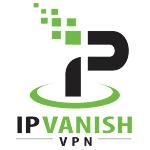 Step 1
 Register for an IPVanish VPN account by clicking the link below.
This exclusive link provides you with a hefty discount, only available to TROYPOINT visitors like you.
 Register for IPVanish Account & Save $40 (EXPIRES SOON)
Step 2
 – Hover over the search icon on your Firestick, Fire TV, or Fire TV Cube and type in "Ipvanish"
You may also find the IPVanish App in the Google Play Store for those of you who are using Android TV Boxes, phones, and tablets.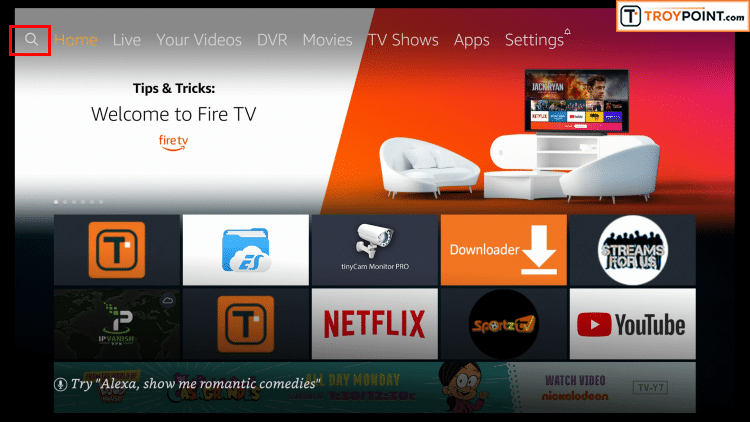 Step 3
 – Click the IPVanish VPN option that appears.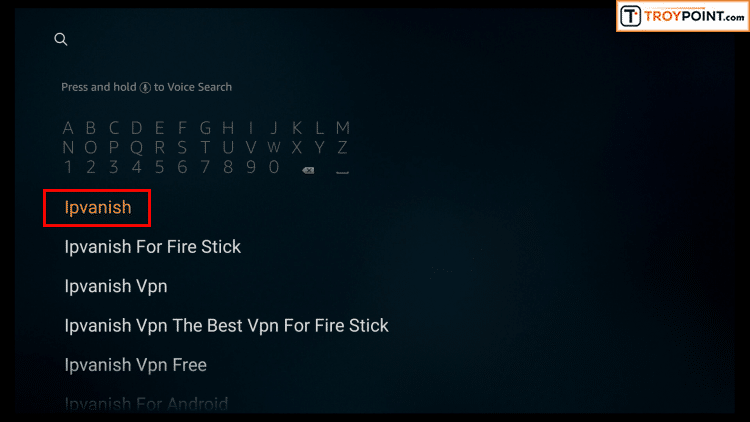 Step 4
– Click the IPVanish icon under Apps & Games.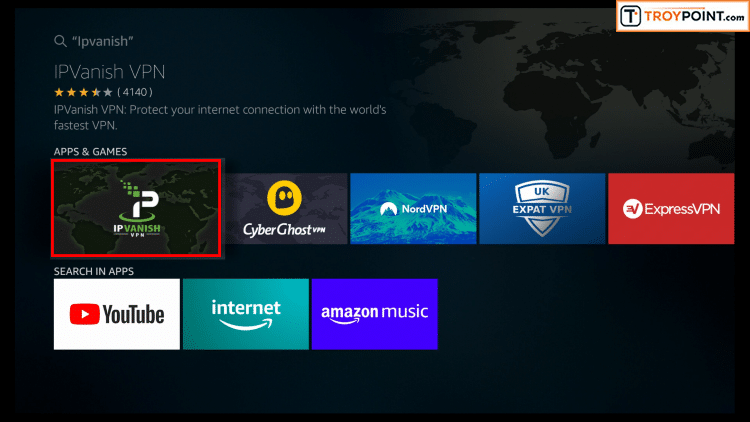 Step 5
– Click Download.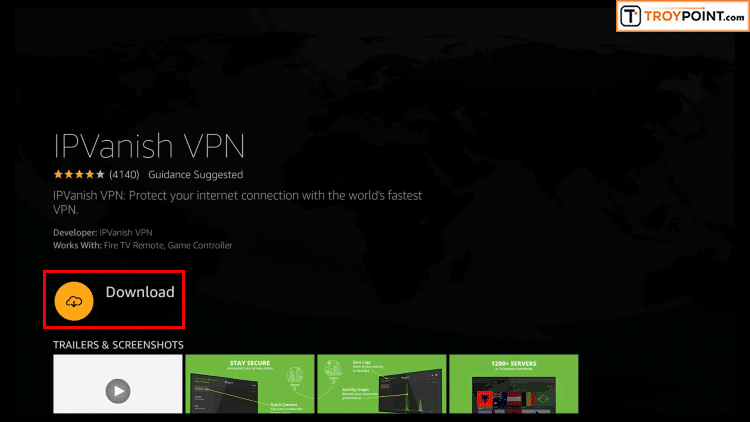 Step 6
– Click Open.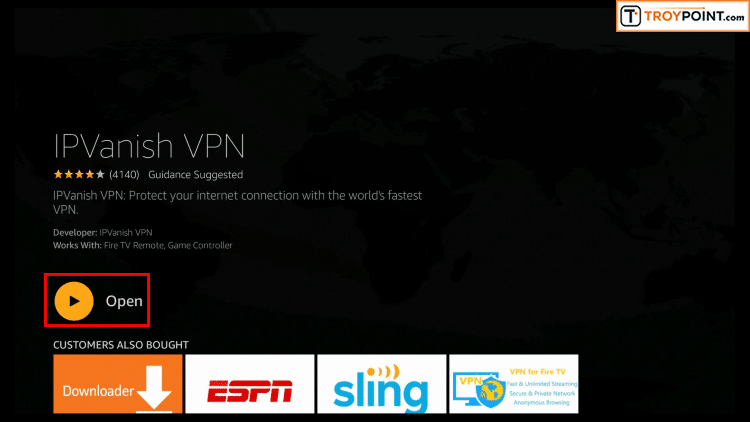 Step 7
– Enter  your username and password to login.  Your username is the email that you used to register for
IPVanish service
with and your password is automatically generated and emailed to you.
Step 8
– Click Connect button.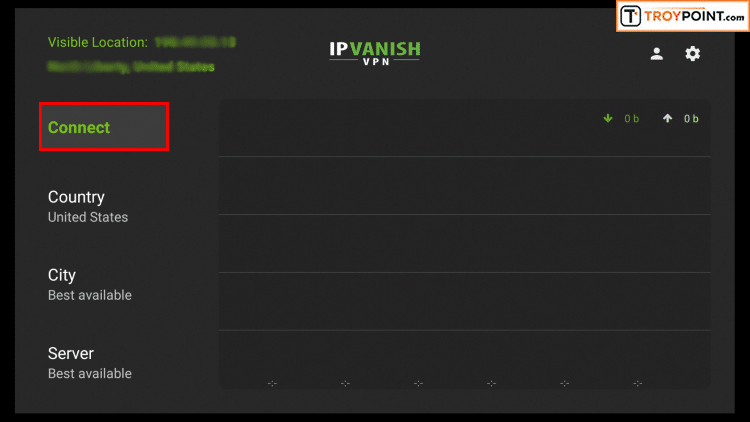 Step 9
– Click OK for Connection request if it appears.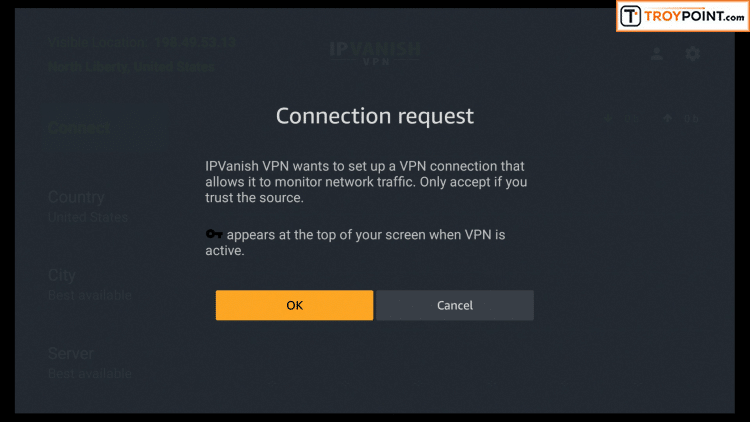 Step 10
– You will notice that your IP Address changes along with location of connection.  You are now operating anonymously through your device.
Click the Home Button on your remote and the VPN will remain running in the background.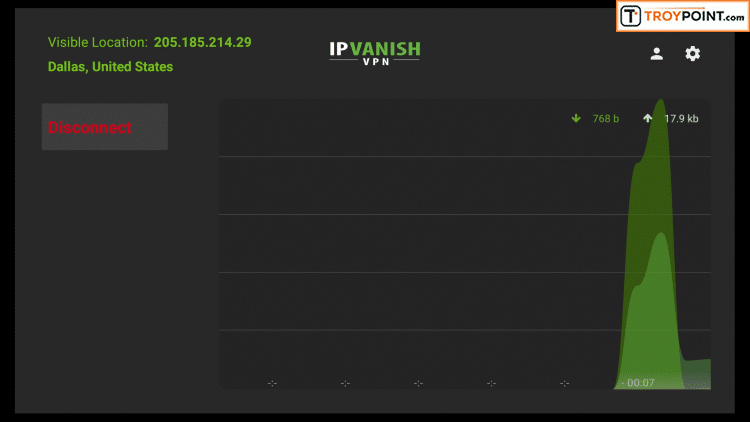 Congratulations!  You are now protected by a VPN which means everything that you stream or access through your Firestick or Android TV Box is hidden from the rest of the world.
If you ever need to stop the VPN service, simply re-launch the application and click the DISCONNECT button.