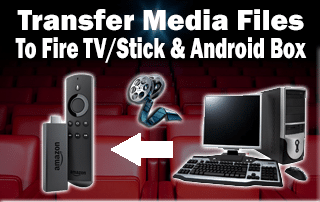 This tutorial will show you how to quickly transfer media files to Fire TV, Firestick, and Android Boxes by using your computer.
Some of the new Android Boxes are now coming equipped with massive storage space which allows us to load them up with our favorite movies, tv shows, music, pictures, and more.
Most of the time, we can also expand the internal storage by inserting an SD card or USB drive into the unit.
Many of us have media files that we would like to move over to the  internal storage of our streaming devices.  There are several reasons why we might want to do this.
 By playing media file from internal storage, there will be no buffering.
While traveling, you can access your media without relying on Internet connection.
 Many people download media through torrent sites, Usenet, and direct download and this makes it easy to use those files.
We can accomplish this simple task by using a free FTP program on our computer which is called FileZilla.
FileZilla allows us to create an FTP connection to our streaming devices through the free application ES File Explorer.  Most Android-powered devices include ES File Explorer within their app store, so it is easy to install.
TROYPOINT TIP!  Pay attention to the amount of storage available on your device.  The Fire TV/Stick only comes with 8GB of internal storage and that will fill up quickly if you are transferring multiple movies and tv shows over to the unit.
To check available storage on Fire TV or Fire TV Stick, go into Settings / Device / Storage.  Other Android devices have the same type of settings option to view amount of storage.
In the video tutorial below, I am transferring files to a Fire TV 3 but you can accomplish the same results with an Android Box, NVIDIA SHIELD, Mi Box, or any device that uses the Android operating system.
How To Transfer Media Files to Fire TV/Stick & Android Box by Computer
Important Note:  ES File Explorer is no longer free.  Install the free modded premium version of ES File Explorer for Firestick by following this guide.
Links Mentioned In Video
FileZilla FTP Program – Free FTP program that can be installed on Windows, Mac, and Linux
How To Download Torrents Guide – Free TROYPOINT Bonus video that will provide a quick-start guide for downloading torrents
IPVanish VPN – Get 20% off any plan by using coupon code SAVE20NOW
TROYPOINT TIP: If you're trying to install unverified apps into your Firestick or Fire TV from the Amazon App Store, you can only complete it by side-loading or installing anything into your device without using the official app-distribution method. I recommend using a VPN to install such apps. Click this link to learn how to install a VPN for Firestick, Fire TV, Fire TV Cube.
Below are the general instructions for this process.  It is suggested that you watch the video above to see important details not included below.
Instructions
 Install ES File Explorer on your streaming device
Activate Remote Manager within ES Explorer under Network tab
Write down IP Address that is provided within the Network Status window
Install FileZilla on your computer
Create a connection by typing in IP Address that you wrote down in step 3 and click Connect