System Mechanic by iolo® Review – Speed Up Your Windows PC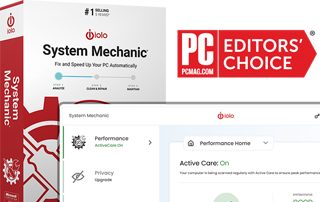 System Mechanic by iolo® is designed to boost performance in multiple areas on a Windows PC.
Let's face it, over time, Windows machines turn into time-sucking piles of garbage that make you want to take a hammer to them.
It's inevitable, the longer that you use a Windows PC, the slower it will become.
I got introduced to System Mechanic when my son was having multiple problems with his gaming PC.  He was experiencing extremely slow boot times, slow Internet speed, and heavy lag when playing games.
I've tried dozens of these "PC performance boosters" over the years so I am extremely skeptical when using them.
Usually, I would simply backup all files on the computer and then do a system restore.  This usually turns into a full-day process so I tried System Mechanic due to a recommendation from a friend in the tech industry.
After going through all of the steps outlined in my video tutorial below, I was impressed at how well this software improved performance on my son's PC.  This software saved me 6-8 hours of reformatting his computer, reinstalling software/games, and restoring his files.
Here's what I noticed on my son's computer after using System Mechanic.
Boot time went from 133 seconds to 46 seconds
Internet download speed went from 255 Mbps to 466 Mbps (we have Fiber Internet by the way)
Applications open quickly now
Game lag is completely gone
Below you will find a video that demonstrates the same process that I went through on my son's PC and I do the same on mine.
System Mechanic Video Tutorial
Click Here for System Mechanic with 60% Discount
Important: Prior to purchasing read important information regarding recurring tech support charges by clicking here. 
Features at a Glance
Here are the features at a glance for System Mechanic.
By the way, one license will work on all PCs within your home!
Speed up your computer! Automatically increases the speed and availability of CPU, RAM, and hard drive resources when you launch high-demand apps for the smoothest gaming, editing, and streaming.
Finds and fixes over 30,000 different issues using intelligent live updates from iolo Labs™ to keep your PC stable and issue-free.
Identifies unwanted startup programs that slow you down by launching and running without your knowledge.
Protects Privacy and Security
Safely wipes sensitive browsing history and patches Windows security vulnerabilities that can harm your computer.
Automatically optimizes hidden Windows internet settings for faster downloads, snappier page loads, less buffering, improved video quality and smoother gaming.
This PC Cleaner removes over 50 types of hidden junk files to free up valuable disk space and make more room for your documents, movies, music, and photos.
System Mechanic by iolo® Review
There are three versions of this software, System Mechanic, System Mechanic Pro, and System Mechanic Ultimate Defense.
I personally chose the basic version, System Mechanic, because I don't have any need for the additional features that the upgrades provide.  This might not be the case for everyone and it all depends on your specific technology needs.
Here are the additional features that you get with System Mechanic Pro and System Mechanic Ultimate Defense.

System Mechanic Pro Additional Features
System Shield – certified antivirus and anti-spyware protection that won't slow you down
Search and Recover – recover accidentally deleted files, photos, email, and more from any drive or media
Drive Scrubber – securely erase data from your hard drive
System Mechanic Ultimate Defense
You get everything included in System Mechanic Pro plus the following additional features.
Privacy Guardian – protect online privacy
ByePass – securely manage passwords
Malware Killer – find and destroy existing malware
System Requirements
System Mechanic works on Microsoft Windows 11, 10, 8.1, 8, and 7.
Here are all requirements for running this software.
Windows® 11, 10, 8.1, 8, 7
Minimum 512 MB RAM (optimal 2 GB)
100 MB of available hard disk space
Internet connection (required for license activation)
Windows "Administrator" user account
Latest Windows updates fully applied
Registration
Registration for System Mechanic is very straight-forward and simple.
As with many online services, you will be presented with an upgrade if you are purchasing the basic option like I used in my video tutorial above.
After registering, you will receive 2 emails.  The first will be a receipt.
The second one will provide you with your activation key.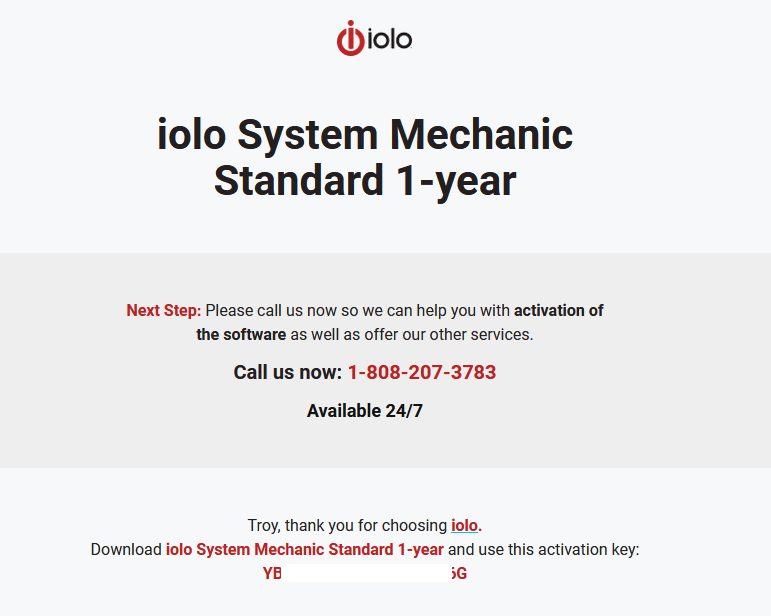 Wait for the second email so you have your activation key ready as you will be asked for this when you first launch the software.
Click Here for System Mechanic with 60% Discount
Important: Prior to purchasing read important information regarding recurring tech support charges by clicking here. 
System Mechanic in Action
This software comes with dozens of features that will help increase the performance on your Windows PC.  Here's what you will find in the basic System Mechanic software.
Upon first launching the software you will notice a button for ActiveCare.  This will allow your computer to be scanned regularly.
This is a nice feature as many tools like this don't do live scanning.
The first thing that you must do is scan the system by clicking the Run Scan button.
After scanning, the software gives you a couple of options to take from this screen.
You can click the button that reads Fix Issues or go into "Issues" or "System Recommendations" and view exactly what the scan found.
It's great having the ability to review what's going to be cleaned prior to proceeding.
Here are the issues that System Mechanic found on my PC.
I have the option of viewing exactly what it found and then a button that allows me to clean that specific issue.
The System Recommendations provides actions that you can apply to your Windows system to make it perform better.
They do include an up-sell for their higher-priced offer in this section.
The only System Recommendation that was made on my machine was 5 potentially unwanted startup programs.
The Startup Optimizer allows you to turn off applications that automatically start when Windows boots.
This is a redundant feature that Microsoft already provides in their Task Manager that comes installed on Windows machines.
But, it's nice having all of these tools bundled into one application.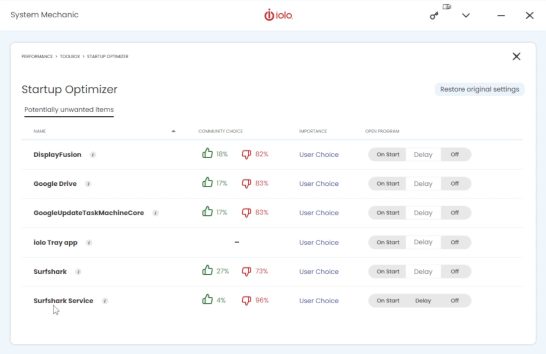 After you've done the initial scan, you can do a Deepclean which goes even further.
The System Mechanic Deepclean provides the following benefits.
NetBooster
Internet Cleanup
Windows Cleanup
Security Optimizer
Program Accelerator
Memory Mechanic
Once you land on the first screen of Deepclean, the Optimize Now button starts the cleaning process.
It does stop on important items such as Windows Cleanup so you can confirm cleaning before any system settings are changed.
After Deepclean has completed, you will receive a summary of all the optimizations that were processed.
Another feature of System Mechanic is the inclusion of their Toolbox.
This includes some tools that can help speed up your system and some of these were already used during the initial system scan.
The Advanced Uninstaller is another redundant program that Microsoft Windows offers.
This tool gives you a simple way to uninstall programs that you no longer want.
The Incinerator offers the option of skipping the Recycle Bin ensuring that your file is removed from the system, not taking up space.
Many people don't realize that when they delete something, it first goes to the recycle bin and space is still being allocated to those files.
This is a nice feature that asks if we want to permanently delete the file or send it to the Recycle bin.
Process scanner is very similar to Task Manger…another tool that Microsoft provides in Windows operating system.
It shows what processes are currently active on your device.
Network Scanner looks at the security of the network components on your PC.
This also includes Bluetooth devices as well.
We saw startup optimizer when we did our initial scan earlier and this was part of the System Recommendations.
It's nice to see that we can get to this important screen through the Toolbox.
This tool scans for unwanted programs that may cause harm to your computer.
I would warn that you may see some false positives in this section.
Just because System Mechanic identifies something as deceptive doesn't actually mean that it is.
Opticore – Improve program speed by prioritizing CPU power for the program currently being used.
RAMJet – make RAM available by clearing out old caches when more RAM is needed.
Accelewrite – Increase system performance by minimizing random data writes to hard drives and SSDs.
PowerSense – Optimize electricity consumption based off.
This allows you to set the proper power consumption/settings based on the activities that you perform on your computer.
Ultra performance – gaming
Ultra performance – music/video production
Ultra performance – graphics/3D/CAD design
Ultra performance – programming
Endurance – maximize battery
Balanced – office productivity
Balanced – web browsing
Microsoft Offers Similar Tools in Windows for Some Features
It's important to point out that Microsoft does offer some of the same tools in Windows and I did point out some of those above.
A few that caught my attention were the following.
Startup Optimizer = Task Manager/Startup Tab in Windows
Process Scanner = Task Manager/Processes Tab & Resource Monitor in Windows
Advanced Uninstaller = Add or Remove Programs in Windows
Program Accelerator = Defragment & Optimize Drives in Windows
Although there is some redundancy with some of the features, I still like having everything in one place.  This should be extremely helpful for the non-techie crowd who doesn't want to dig into windows to find these various tools.
Strain on PC When Running in Background
The biggest problems with performance apps that I've used in the past is the strain that it puts on the PC when running in the background.
I don't see that with System Mechanic.
When looking at the running processes here's what I see.  Basically 0% CPU activity from the software!
These are the only references that I see regarding System Mechanic in Windows Task Manager.
Apps
Background Processes
Now, this will probably increase when the software is doing periodic scans but it's nice to see that there is little to no CPU consumption most of the time.
System Mechanic Purchasing
TROYPOINT fans will enjoy a 60% discount for the first year when using the coupon code TROYPOINT at checkout.  This discount makes the final price only $19.98!
Important – Please Read Fine Text!
Your System Mechanic subscription will automatically renew yearly at the annual price of $49.95 unless you cancel prior to the end of your first year.
When you register for the software, you will receive one month free tech support for the product.
You must cancel this tech support prior to the end of your first month or you will be billed $19.97/month.
Here is their purchase agreement that is displayed when checking out.
Your System Mechanic subscription will automatically renew yearly at the annual price of

$49.95

.
If you do not cancel 24/7 Technical Support before the end of the first free month, it will automatically renew at the monthly price of

$19.95

.
On the renewal date, your credit card will be charged for the subscriptions. If you wish to avoid any of these initial or recurring charges, you may cancel your subscriptions at any time prior to the applicable renewal date by calling us at +1 (808) 207-3783 (Powered by USTechSupport) or via online chat, email or contact form. RealDefense may offer other products and services when you call us.
Click Here for System Mechanic with 60% Discount

Pros
Simple registration & setup
One license covers all PCs in your home
Don't need to be a tech wizard to use software
Boosts performance in multiple areas such as network, Internet files, Windows registry, Windows files, and security
Runs in background with little to no CPU usage
Integrates some Windows tools in same interface
Telephone/email support
Cons
Emails received after registration lead you to believe that you must call them to get started…you don't, just wait for second email
Some tools are already included with Microsoft Windows which come free with the operating system
Automatic monthly tech support charge of $19.97 per month if not cancelled
Lots of up-sell tactics through app notifications and emails
System Mechanic Final Thoughts
I think System Mechanic is a great program for Windows users.
After seeing the performance boost on my son's gaming PC, it made me a believer.
It's important to point out that prior to using System Mechanic on his computer, I used all of the tools mentioned above that Windows comes with such as Defragment tool and startup optimization.  There's obviously more magic within System Mechanic than the redundant tools that Windows already provides.
I did not see a big improvement on my PC but this is a fairly new machine with very few programs so this is expected.  I am looking forward to running this in the background on my computer to see if the dreaded Windows slowdown ever occurs.  From what I see so far, I think this will be a huge help.
Yes, you can get some of the tools offered in System Mechanic in Microsoft Windows for free but you need to know where to look.  I'm happy to see that they included some of these popular tools in their software.  I don't need to poke around through the Windows clutter to find the tool that I want to use.
You can install System Mechanic on all PCs within your home with one license.  This is also something that we don't see too often.  Usually there's a cap on the amount of systems that you can install onto.
System Mechanic comes with a 30-day money-back guarantee which is nice to see.  They also post their phone number everywhere for people to contact if they need support.  This is definitely something that we don't see very often when it comes to online sales.
TROYPOINT Rating
I rate System Mechanic 4.5 Stars out of 5.
Click Here for System Mechanic with 60% Discount
Important: Prior to purchasing read important information regarding recurring tech support charges by clicking here. 
This page includes affiliate links where TROYPOINT may receive a commission at no extra cost to you. Many times, visitors will receive a discount due to the special arrangements made for our fans. I will never promote something that I personally don't use or recommend. Purchasing through my links directly supports TROYPOINT which keeps the content and tools coming. Thank you! Learn more on my Affiliate Disclaimer page.