How to Bet on MLB 2023 (With Free Opening Day Bonus)
The following tutorial will show you How to Bet on MLB in 2023 with a special sign-up bonus for opening day.
This guide features step-by-step instructions to bet on MLB with important tips for maximizing profits.
We also provide a free sign-up bonus of up to $250 for new subscribers who use the TROYPOINT Discount Code.
Opening Day Special
ThriveFantasy is running an MLB Opening Day Special with $10,000 in guaranteed prizes.
Click the link below for more details.
$10,000 in guaranteed prizes
$10 entry fee & $2,000 for 1st Place Winner
CLICK HERE to Enter
This guide features instructions for betting on MLB via ThriveFantasy which is a daily fantasy sports website for player props.
One thing to note about daily fantasy sports is that nearly all states in the US have legalized this type of wagering.
Many of us who do not have sports betting laws in place for the state we live in are left in the dark.
However, with ThriveFantasy, users who do not reside in a state with sports gambling in place can still make money betting on MLB.
In this guide we will show you how to use ThriveFantasy to bet on MLB and any other sport you prefer including soccer, football, UFC, and more.
We will also walk you through the registration process and show you the best way to wager daily fantasy.
NOTE: For those who prefer to use mobile app to bet on MLB and other sports, we suggest installing the ThriveFantasy App.
ThriveFantasy – Google Play Store
ThriveFantasy – Apple App Store
How to Bet on MLB – Register for ThriveFantasy
Use promo code TROYPOINT when you sign-up today and you will receive a 100% instant first deposit match up to $250!
YOU'RE BEING TRACKED...
Your online activity is tracked by your government, Internet Service Provider, app/addon/IPTV devs and all websites through your identifying IP address
Stream anonymously by using Surfshark VPN
Your Current Identifying IP Address:
SAVE 82% ON SURFSHARK VPN + 2 FREE MONTHS
Surfshark backs their service with a 30-day money back guarantee
Use your account on unlimited devices & share with family members
HURRY! SALE ENDS SOON
Claim Surfshark VPN Discount
Follow the guide below to learn how to sign up for ThriveFantasy bet on MLB.
Important Note: Due to gambling laws, you must have location services enabled on the device you are registering with and your VPN turned OFF. It's best to register with phone due to the ease of enabling location services.
1. Visit thrivefantasy.com and select Sign Up in the upper right hand corner.
2. Provide your information and enter promo code TROYPOINT. Then click Sign Up.
3. Select or Insert Deposit Amount with TROYPOINT Promo Code. (Remember, ThriveFantasy will match up to $250 for initial deposit)
4. Enter your contact information and click Continue.
5. Confirm your information and click Continue again.
6. Input payment information and you will then encounter Payment Succesful message.
You have now created your account and can begin daily sports wagering!
Continue reading to learn How to Bet on MLB with ThriveFantasy.
How to Bet on MLB – Daily Fantasy
Continue reading to learn How to Bet on MLB with ThriveFantasy daily fantasy.
1. Select MLB from the left-hand Sports menu.
2. Browse available games and click Enter Contest for your preferred option. (Make note of the entry fee for each game)
3. Make your player selections and click Submit.
4. Click Pay Now.
Your bet is complete. Good luck!
How to Bet on MLB Important Tips & Details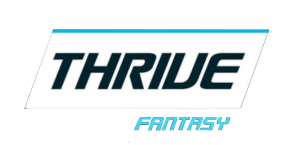 For those new to daily fantasy, you may notice it differs from typical sports wagering.
Instead of picking teams and spreads, users make bets on players for each specific sport.
This includes tons of player props that are given a "line" which is a numbered point total.
In this regard, each specific line is set where users wager on the predetermined prop and select if they believe it will be More or Less than the provided value.
In order to Bet on MLB with ThriveFantasy, you must enter one of the provided contests.
Each contest has various player prop bets including hits, runs, strikeouts, RBIs, and more.
Let's use an example to clarify better.
Here we have a player prop for Juan Soto based on the number of hits he will get in the game.
If you think he will have at least one hit, you will select More. If you think he will not get a hit, you will select Less.
As you can see, if you select More in this instance, you will not earn as many points as if you had chosen Less.
This is where typical sports wagering may play a factor as you can consider More than 0.5 hits the "favorite" and less than 0.5 hits the "underdog".
Each contest provides 20 different player prop options with users required to make 10 selections along with two ICE (In Case of Emergency) choices.
The objective is to get the most points possible out of all the contestants who entered your contest.
Each contest has a pre-determined payout for those with the top scores based on point totals.
We suggest browsing through the ThriveFantasy website and checking out various prop bets.
There are tons of sports to bet on with multiple contests for each. Users can even wager on E-Sports as well as the Lottery.
For more information, check out the video guide below.
Enjoy!
For the latest news and tutorials in the streaming, tech, and sports world, be sure to sign up for the TROYPOINT Advisor with updates weekly.
This Advisor provides all the best tips, reviews, and guides for all things streaming and sports related. Click the link below for your TROYPOINT Advisor Subscription:
Frequently Asked Questions
How do I bet on MLB?
Use the guide above to bet on MLB with ThriveFantasy with important tips and details for wagering.
Can I bet on MLB in the United States?
Yes. Users in nearly all states in the US can wager daily fantasy sports betting.
What is Daily Fantasy Sports Betting?
Daily fantasy sports betting is sports betting on various player props instead of team scores and spreads.
What is the best Daily Fantasy betting site?
The best daily fantasy betting site is ThriveFantasy due to its ease of use and huge amount of player prop options.
This page includes affiliate links where TROYPOINT may receive a commission at no extra cost to you. Many times, you will receive a discount due to the special arrangements made for our visitors. I will never promote something that I personally don't use or recommend. Purchasing through my links directly supports TROYPOINT which keeps the content and tools coming. Thank you! Learn more on my Affiliate Disclaimer page.