Canadian Court Orders ISPs to Block IPTV During NHL Games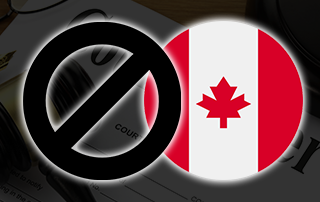 A judge in Canadian Federal Court has ruled that Internet Service Providers must block IPTV access during NHL games.
This comes after a similar order was put in place at the end of the 2021-2022 season requiring a blockade of singular service.
As first reported by TorrentFreak, ISPs must "block or attempt to block each of the IP Addresses for the Target Servers".
This includes known IPTV Services that are listed in a confidential schedule in a Public Order from the federal court.
Last year we saw a monumental decision by Canada's Federal Court of Appeal that upheld a ruling to block a well-known IPTV site.
The main purpose of this blockade was to target those streaming NHL games without authorized consent.
Canadian Federal Court Upholds Ruling to Block GoldTV
This year's order is a bit different as it includes numerous IPTV Services that all ISPs must adhere to.
The motion for this blockade was led by major media companies including Rogers, Bell, and The Sports Network.
They asked the courts to continue with their decision from the 2021-2022 season into this year's games.
The NHL season is currently underway, however, that has not stopped the media outlets from pursuing this at a federal level.
Ultimately, an independent review was arranged by the court and done by expert David Lipkus regarding the implementation of the first order.
Mr. Lipkus determined that:
9 out of 10 Third Party Respondents were able to block 100% of the tested IP Addresses, and that there were no legitimate complaints from any of the individuals or businesses related to the blocking.
With information from Mr. Lipkus and another expert, Mr. Jon Wilkins, Federal Judge Jocelyne Gagné concluded that the overall supply of infringing copyrighted content was reduced.
With the independent reviews and other data taken into account, the court ordered the following:
the Defendants are ordered, by themselves or by their employees, representatives and agents, or by any company, partnership, trust, entity or person under their authority or control, or with which they are associated or affiliated, to immediately cease providing unauthorized access to live streams of NHL Live Games in Canada, including by directly or indirectly operating, maintaining, and/or promoting unauthorized streaming servers that provide or
facilitate access to live streams of NHL Live Games in Canada…
You can read the entire injunction from the Federal Court's Associate Chief Justice Jocelyne Gagné below.
IPTV Services have come under fire lately with many of them being shut down and end users ultimately receiving fines.
Italian Police Fine IPTV Users After Tracking IP Addresses
YOU'RE BEING TRACKED...
Your online activity is tracked by your government, Internet Service Provider, app/addon/IPTV devs and all websites through your identifying IP address
Stream anonymously by using Surfshark VPN
Your Current Identifying IP Address:
SAVE 82% ON SURFSHARK VPN + 2 FREE MONTHS
Surfshark backs their service with a 30-day money back guarantee
Use your account on unlimited devices & share with family members
HURRY! SALE ENDS SOON
Claim Surfshark VPN Discount
SmoothStreams IPTV Shut Down by ACE/MPA
With this latest ruling, it will be interesting to see if any other countries or courts follow suit to block streaming access.
What do you think of the site-blocking measures taking place in Canada? Let us know your thoughts in the comment section below!
Be sure to stay up-to-date with the latest streaming news, reviews, tips, and more by following the TROYPOINT Advisor with updates weekly.
This Advisor provides all the best cord-cutting tips to get the most out of your favorite streaming devices and more.
Click the link below to join the other 800,000 Advisor subscribers.
This page includes affiliate links where TROYPOINT may receive a commission at no extra cost to you. Many times, you will receive a discount due to the special arrangements made for our visitors. I will never promote something that I personally don't use or recommend. Purchasing through my links directly supports TROYPOINT which keeps the content and tools coming. Thank you! Learn more on my Affiliate Disclaimer page.