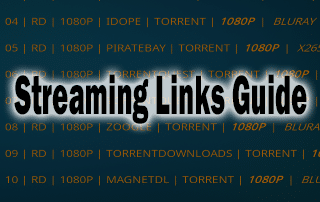 Have you ever wondered what all the information means when choosing Streaming Links?
This is a question we receive often at TROYPOINT, and this guide will help explain what everything means when selecting a link to play.
Using Kodi addons or APK's such as Cinema is a great way to stream Movies and TV Shows for free. However, it can oftentimes be difficult to decide which link to play after making a content selection.
Most links or sources are accompanied by text and numbers that can be confusing if you don't know what they mean.
This guide will explain streaming links and help you when deciding which link to play.
If you are a real-debrid user, this is especially helpful as these links are often even more confusing.
Free TROYPOINT Rapid App Installer

Install the Best Streaming Apps in Minutes
The free TROYOINT app includes over 50 of the best streaming apps including the one(s) you're about to install on this page.
Table of Contents
WARNING!
Your online activity is actively tracked by your Internet Service Provider, app/addon devs, and government through your identifying IP address.
Stream anonymously by using IPVanish VPN.
IPVanish will encrypt your connection to the Internet and mask your IP address so you will remain 100% anonymous.
SAVE 65% FOR LIMITED TIME
IPVanish backs their service with a 30-day money back guarantee.
IPVanish allows you to use your account on unlimited Internet-connected devices
Streaming Links – What Does it All Mean?
Kodi
Most APK's and Kodi Addons use the source-select option to play Movies and TV Shows. Usually, this is the default setting and the best way to find a source for streaming.
This means that you are provided with multiple links to choose from after making a content section.
When using a Kodi addon or APK for streaming, you are usually presented with a list of links or sources to choose from for viewing. But what are the differences in each link?
When using Kodi, you may be presented with the following screen before links are shown:
This is displayed while Kodi is "scraping" sources or scouring the internet for available streams. As you can see, using real-debrid will provide you with tons of more links than if you do not have this service.
These real-debrid links are considered "Premium" links, while the free ones are deemed "Normal".
Once the addon has finished scraping providers for links, we are displayed with the following screen:
(In this instance, we are streaming Night of the Living Dead which is considered one of the Best Public Domain Movies by TROYPOINT)
If you scroll all the way to the bottom, we can see all links available if we did not have a real-debrid account:
As you can see, using real-debrid is a major advantage for streaming content in both Kodi addons and Streaming APK's. Real-Debrid provided over 280 links that would not be available without it!
Now that we have a list of links to choose from, how do we know which one to select?
The information provided with each link will help us in determining the best option to play.
Using the instance above, each link can be broken down by the following:
Usually, any link that is a different color (Orange, Yellow, Purple, etc.) are real-debrid or premium links that are higher in quality than free links.
Another giveaway for real-debrid links is the RD at the beginning.
Information next to RD is the video resolution of each link and is very important in making a link selection. Quality options are usually available in 4k, 1080p, 720p, 360p, and SD (Standard Definition).
Currently, 4k is the highest quality stream but will only work if your TV and or streaming device supports 4k HD resolution. If there are no 4k options or you do not have a device that can play 4k links, 1080p is also a great choice.
Typically, the text following the video resolution is the source where the link comes from. This is the website or torrent site that hosts the video file. In the instance below, the link is hosted by TorrentQuest and scraped into Kodi for streaming.
If the file is a torrent file, it usually displays this after the file location as shown below:
IMPORTANT NOTE: If you choose to use torrent files for streaming, you must make sure you are also using a VPN. Without one, you are exposing your IP address to on-lookers and more. Be sure to protect yourself with a VPN.
CLICK HERE for a special IPVanish Discount.
In the example above, the video resolution is displayed again (1080p) followed by BLURAY/X264. This is the format of the video file.
If you see BLURAY or BDRip/DVDRip/BDRip, these are usually copies of the final released DVD and play in excellent quality.
Other formats you may see include DVDscr (DVD-Screener) which is a pre-release of the video sent to reviewers and others. This is usually not the greatest quality but oftentimes plays in 720p.
CAM is also a popular video file, but these are almost always of terrible quality. These files are typically theater rips that movie pirates acquire by filming the movie in theaters.
If you see x264 within a link option, this is just the software used to convert the link into H.264/MPEG-4 AVC format for streaming.
The last and final number associated with each link is one of the most important. This is the size of the file you will be playing, displayed in GB or MB.
The size of the file you are able to play usually depends on your internet speed and the quality of the link. For instance, real-debrid users can typically play files larger in size because these links are higher quality and have less traffic.
If you are not a real-debrid user and your internet speed is minimal, you will more than likely need to play files that are 2 GB or less.
The image below presents a general rule of thumb for the speed needed to stream different video resolutions.
NOTE: This image only shows estimates for required download speeds. Other factors will determine the speed needed to stream your preferred content and will vary across different devices, ISP's, and more.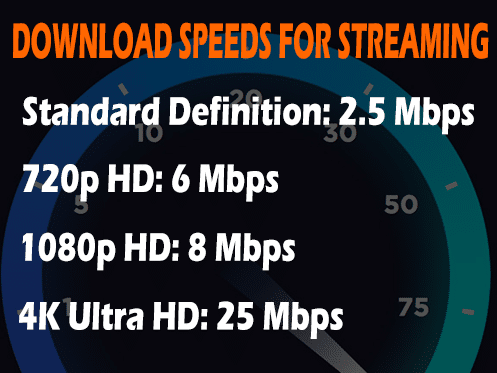 What is a Good Internet Speed? Everything You Need to Know
Warning! Protect Yourself With IPVanish VPN
Most cord-cutters use a IPVanish VPN and rightfully so.
The free streaming applications, addons, and IPTV services that you use are usually hosted on insecure servers.
Without a IPVanish, your IP Address is being logged.
Your IP Address points back to your location and identity which compromises both your privacy and security.
Your current identifying IP Address is

216.226.81.236
When you use IPVanish, your real IP address will be converted into an anonymous new one.
IPVanish VPN will provide you with an anonymous connection to the Internet.
This will prevent your Internet Service Provider, app/addon developers, government agencies, and any 3rd party from logging what you're accessing online.
The most popular VPN among cord-cutters is
IPVanish
due to their blazing fast speeds and zero log policy.
It's important to use a VPN that is fast since we are streaming large HD files. Its also crucial to find one that keeps no logs of what their subscribers access while online.
Setting up IPVanish VPN on your streaming device is simple!
Step 1
Register for an IPVanish VPN account by clicking the link below.
This exclusive link provides you with a hefty discount.
Register for IPVanish Account & Save 65% with Yearly Plan
Step 2
– From the home screen hover over Find.
For those of you using Android TV devices, you can easily install the IPVanish app directly through Google Play Store.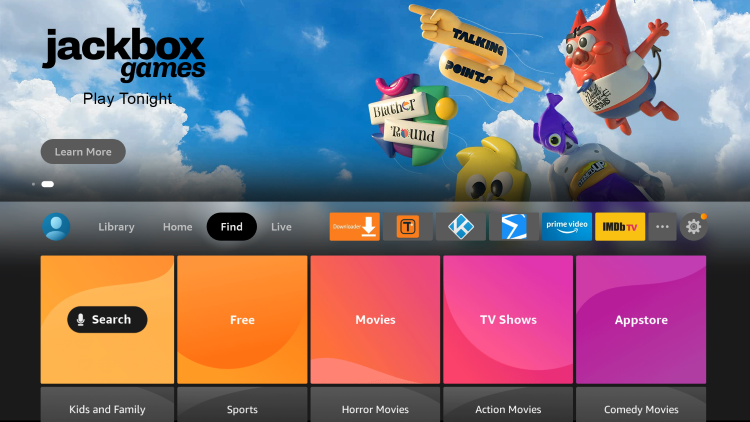 Step 3
– Scroll down and click Search.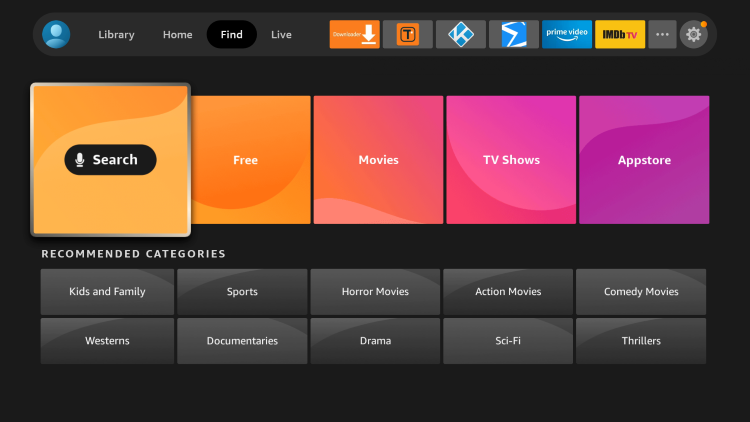 Step 4
– Type in "Ipvanish" and click the first option.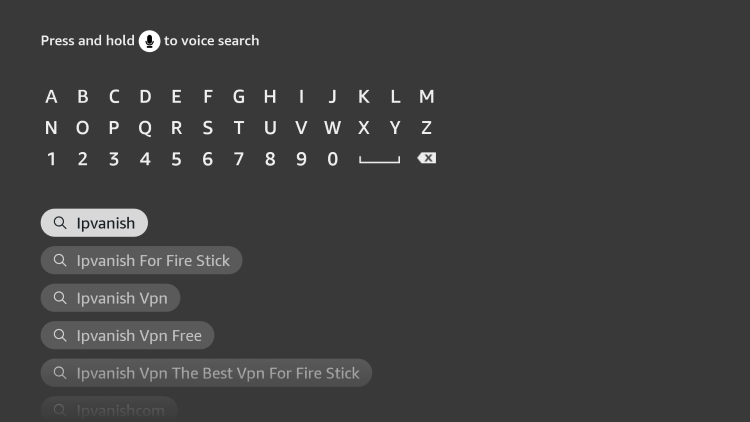 Step 5
– Click the IPVanish VPN app.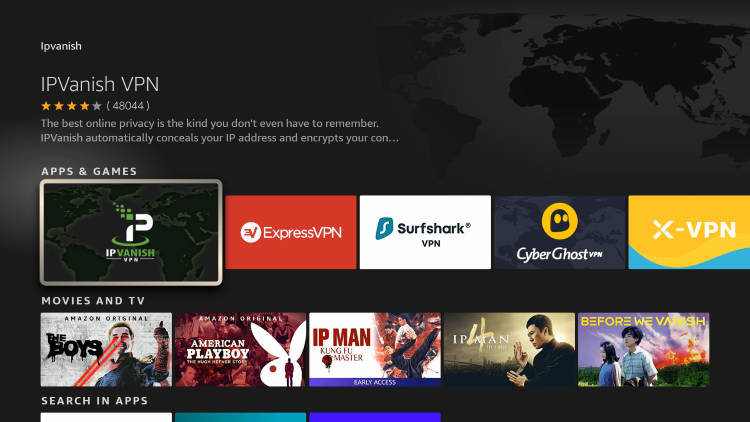 Step 6
– Click Download.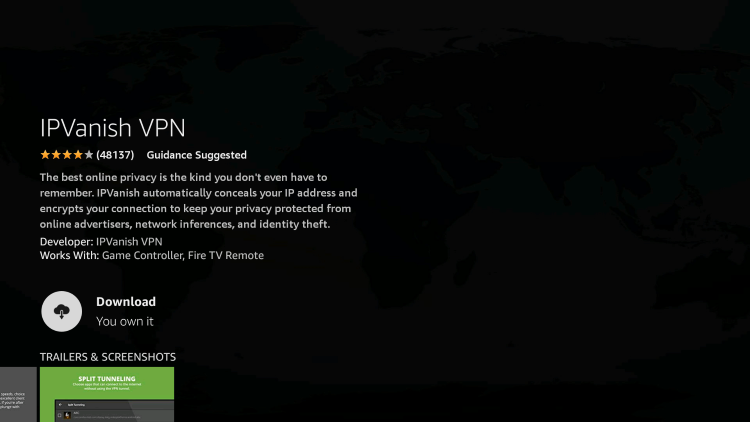 Step 7
– Once the IPVanish app installs, click Open.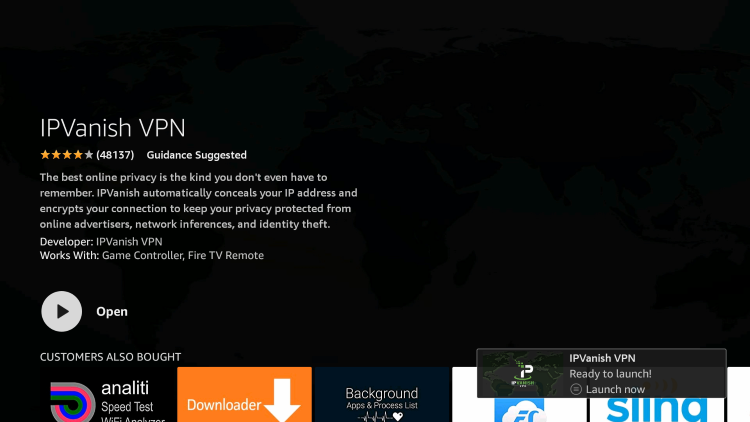 Step 8
– Enter your IPVanish account information and click Log In.
You will get your username and password when you
register for an account
.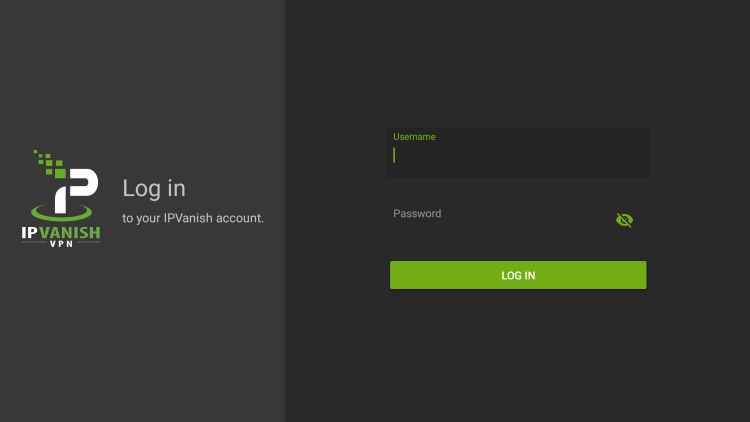 Step 9
– Click Connect.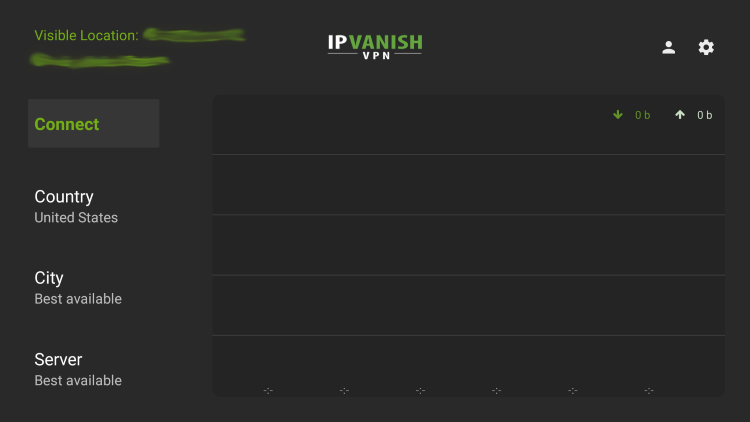 Step 10
– Click OK.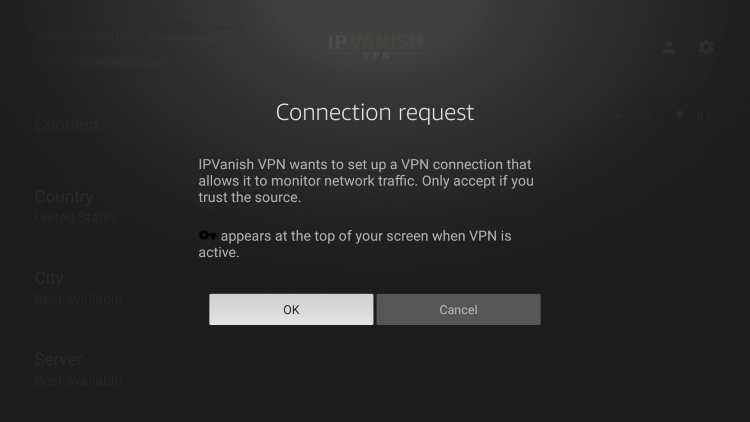 Step 11
– Success! Your identifying IP Address has changed and you are now anonymous.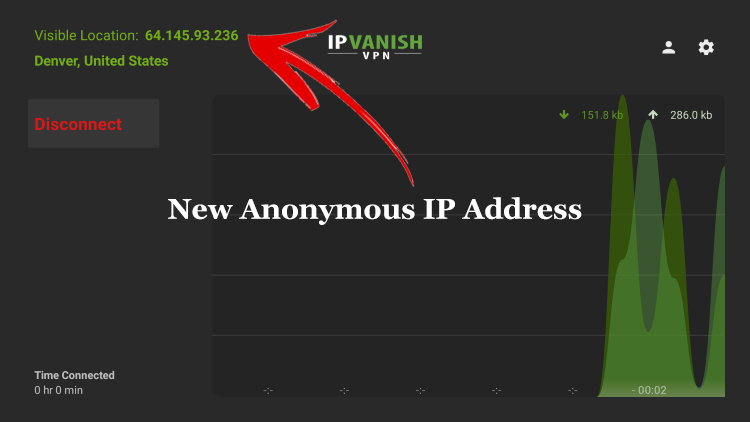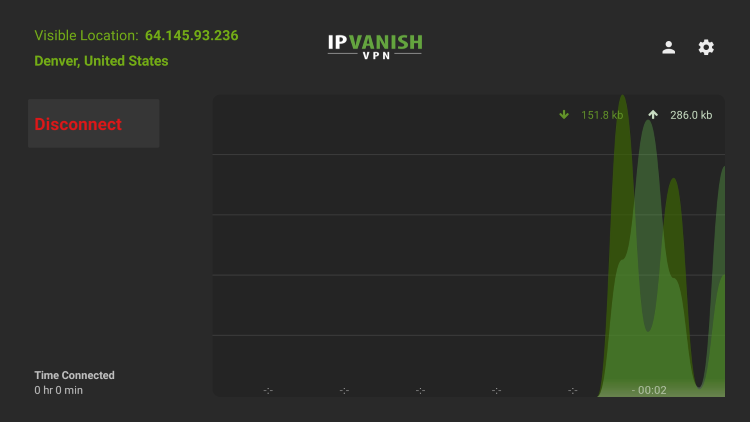 Click the Home Button on your remote and the VPN will remain running in the background.
Congratulations! You are now protected by IPVanish which means everything that you stream or access through your Firestick or Android TV Box is hidden from the rest of the world.
If you ever need to stop the VPN service, simply re-launch the application and click the DISCONNECT button.
You can now setup IPVanish VPN on all of your other Internet-connected devices. You can use IPVanish on unlimited devices!
Streaming Links in APKs
Similar to Kodi, most streaming apps and APK's also present all information associated with each link after making your content selection.
Currently, the most popular APK for streaming Movies and TV Shows is Cinema APK. Shown below is a screenshot of the links displayed after choosing your film:
Just like links in Kodi, Cinema scrapes the internet for available links and displays them for you to choose.
Information for each link is the same as for Kodi, however, you may notice a few other details regarding the link that you have not seen before.
If you encounter a link that says [Need resolve] when using real-debrid, this is simply a link that has yet to be resolved. By clicking to play, it will usually take a few seconds and "resolve" the link for streaming.
Cinema does this to limit the server requests and lower download speeds for each user.
If you find these links are not playing, we suggest logging out of real-debrid and logging back in. Or,  use the guide below to fix other real-debrid issues.
Real-Debrid Not Working? How To Fix
Other Information Presented with Streaming Links
Sometimes, there is other information provided with certain links when streaming. Especially when using real-debrid within APK's such as Cinema.
If you encounter a number such as 5.1, 5.1 CH, or 7.1, this is the audio format of the video file.
5.1 is the common name used for six-channel surround sound. If you use a soundbar or have a home theater surround sound system, these links will provide the best audio for an awesome streaming experience.
7.1 is the name for 8 channel surround sound and provides excellent audio quality if you have the additional 2 speakers in your surround sound system.
This page includes affiliate links where TROYPOINT may receive a commission at no extra cost to you. Many times, you will receive a discount due to the special arrangements made for our visitors. I will never promote something that I personally don't use or recommend. Purchasing through my links directly supports TROYPOINT which keeps the content and tools coming. Thank you!
Register as a TROYPOINT Insider and discuss this article with thousands of other cord-cutters.