Internet Trolls & TROYPOINT Shortcodes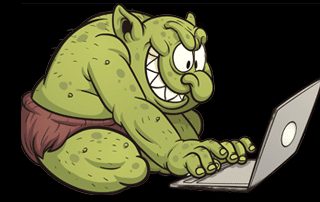 As many of you followers know, I provide dozens of tutorials where I instruct users to install an app by using a shortcode that I have set up on my server.
Lately, some Internet trolls have accused me of re-authoring the apps that my shortcuts point to.
First of all, I am not a developer and wouldn't have the first clue of how to manipulate an APK file.  This is a long-time hobby of mine where I like to share what I have learned with others, which will ultimately save them money like it has for me.
How do these shortcodes work that I set up on my server?
Example:  In my popular Kodi on Firestick/Fire TV tutorial, I instruct cord-cutters to insert any of the following shortcodes to install the application through the Downloader app.
Stable Kodi Release – https://troypoint.com/kodistable
Kodi 17.6 – https://troypoint.com/k17
Kodi 18 Recent Release – https://troypoint.com/k18
These shortcuts are "redirects" that I have configured on my server which point to the official app in question.
These are similar to other tutorials that you see where tutorial developers instruct people to insert a bit.ly link.  An example of a bit.ly shortcode is a common one for Kodi 17.6 which is     bit.ly/kodi176
Why do I do this?
2 Reasons Why I Use Shortcodes
1 –  It is easier for people to type the shortcode troypoint.com/k18 rather than http://mirrors.kodi.tv/releases/android/arm/kodi-18.0-Leia_beta1-armeabi-v7a.apk
2 – If a download link is ever changed, rather than re-creating the video or screnshot guide, I can easily update the redirect that I have set up on my server.  These URLs change frequently which would render my tutorials useless in a matter of weeks if not days.
I Have Never Created A Streaming Application/Addon & Haven't Taken Credit For Such
Some of these Internet trolls are accusing me of taking credit for someone else's application or addon.  Within my tutorials, I always state, "I have created a shortcut on my server which points to the installation file for this applications/addon".
I challenge the trolls to find a tutorial or guide that I have developed where I say, "This is my application/addon".
I am in this for the long-haul and appreciate all of my TROYPOINT Subscribers and visitors.
I would never jeopardize the large following that I have established by doing something so stupid that these trolls are accusing me of.
Thank you for supporting TROYPOINT!  I truly value each and every one of you!  More tutorials and shortcodes on the way.
This page includes affiliate links where TROYPOINT may receive a commission at no extra cost to you. Many times, visitors will receive a discount due to the special arrangements made for our fans. I will never promote something that I personally don't use or recommend. Purchasing through my links directly supports TROYPOINT which keeps the content and tools coming. Thank you! Learn more on my Affiliate Disclaimer page.
YOU'RE BEING TRACKED...
Your online activity is tracked by your government, Internet Service Provider, app/addon/IPTV devs and all websites through your identifying IP address
Stream anonymously by using Surfshark VPN
Your Current Identifying IP Address (digital fingerprint):
SAVE 86% ON SURFSHARK VPN + 3 FREE MONTHS
Surfshark backs their service with a 30-day money back guarantee
Use your account on unlimited devices & share with family members
HURRY! SALE ENDS SOON
Claim Surfshark VPN Discount