How to Install Weyd on Firestick & Android TV (Dec 2023)
This article will show how to install Weyd on a Firestick, Fire TV Cube, Android TV or Google TV streaming device.  We will also review the important features and settings available within this popular APK.
This app sports a simple yet powerful user interface which makes it one of the best solutions for those who use Debrid services.  Don't let the simplicity fool you as there are dozens of settings that can be adjusted to your liking.
The Weyd APK requires a small subscription fee plus users must have a Debrid account such as Real-Debrid, AllDebrid, or Premiumize.me.  Some may complain about the payment required to use the app but we offer a different take.  TROYPOINT believes in supporting the developers of these apps and those who contribute to this will enjoy numerous updates.  Plus, no more jumping from one app to another when things go south.  Weyd simply works and much of that is due to the continuing support from their user-base.
Below you will find everything needed to install and use this on an Amazon Firestick or Android TV/Google TV device.  You will see both a screenshot guide plus an in-depth video showing everything from registering anonymously to installing on a streaming device.  The video tutorial should be viewed first as it provides important details not covered in the screenshot guide.
How to Install Weyd on Firestick & Android TV/Google TV – Video Tutorial

Links Mentioned in Video
Legal Disclaimer: TROYPOINT does not develop, operate, host, distribute, or administer any streaming application, add-on, website, or service. Furthermore, we cannot determine the legality of any streaming platform reviewed on this website. TROYPOINT specializes in educational tech reviews, tutorials, and news which is protected by the First Amendment of the United States Constitution. The end-user is solely responsible for media accessed and TROYPOINT assumes that all visitors are abiding by copyright laws set forth within their jurisdiction. Users should only stream works not protected by copyright when using unverified streaming solutions.
Get Surfshark VPN Discount with Free Months
Get StartMail Free Trial & Discount
Real-Debrid TROYPOINT Tutorial & Review
As mentioned earlier, Weyd requires a subscription so that's the first thing we must take care of.
I will be registering anonymously as I would never want developers of questionable 3rd party apps having any of my personal information or identifying IP Address.  Plus, I don't want my Internet Service Provider knowing what I'm streaming.
These are general instructions and we strongly recommend watching the video above for important details not covered below.
Step 1: Register for an Account
1. Prior to going to Weyd Website to register I first want to connect to Surfshark VPN.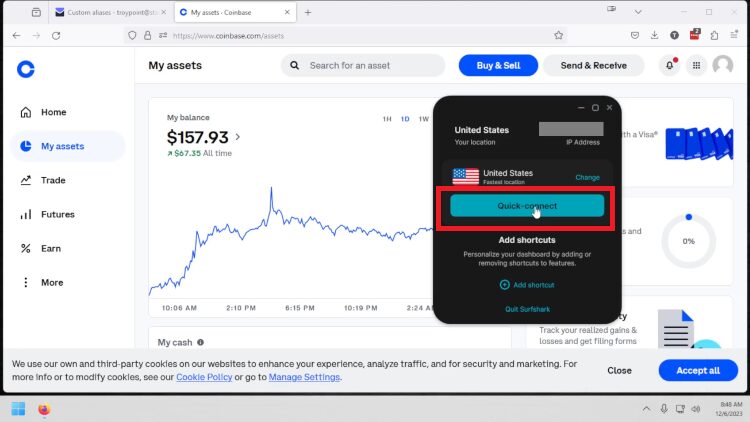 2. Go to weyd.app and click My Account.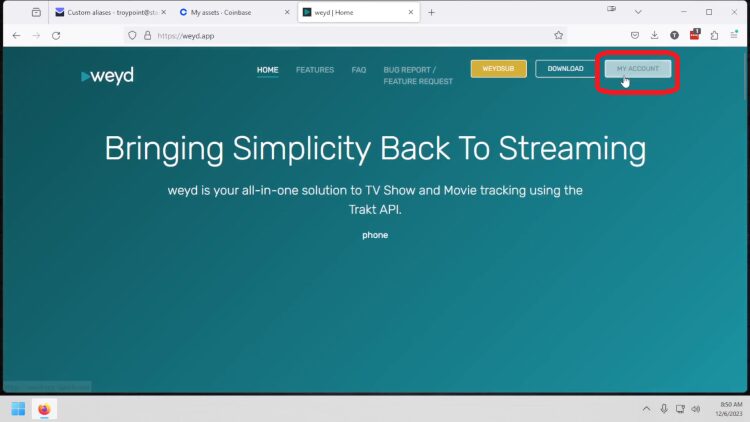 YOU'RE BEING TRACKED...
Your online activity is tracked by your government, Internet Service Provider, app/addon/IPTV devs and all websites through your identifying IP address
Stream anonymously by using Surfshark VPN
Your Current Identifying IP Address (digital fingerprint):
SAVE 82% ON SURFSHARK VPN + 4 FREE MONTHS
Surfshark backs their service with a 30-day money back guarantee
Use your account on unlimited devices & share with family members
HURRY! SALE ENDS SOON
Claim Surfshark VPN Discount
3. Choose Register below login form.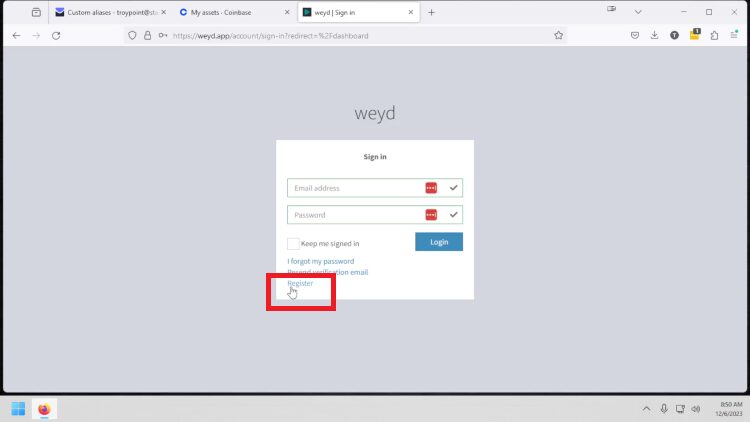 4. I want to create an alias within StartMail so I'm not giving out my real email address.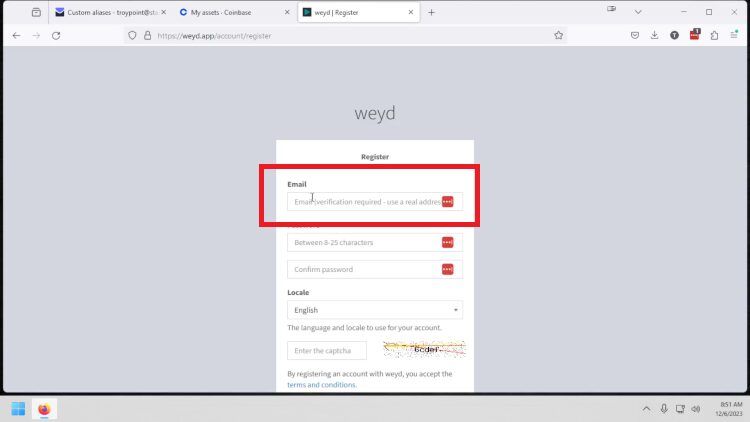 5. Create new email alias.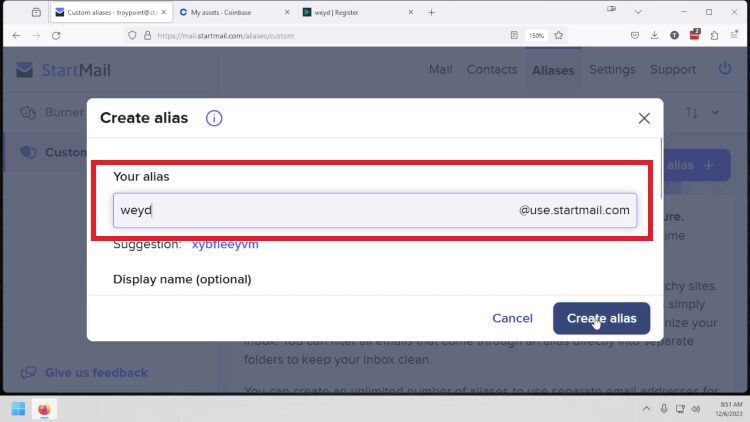 6. Input new address along with a chosen password, fill out captcha and click Sign me up.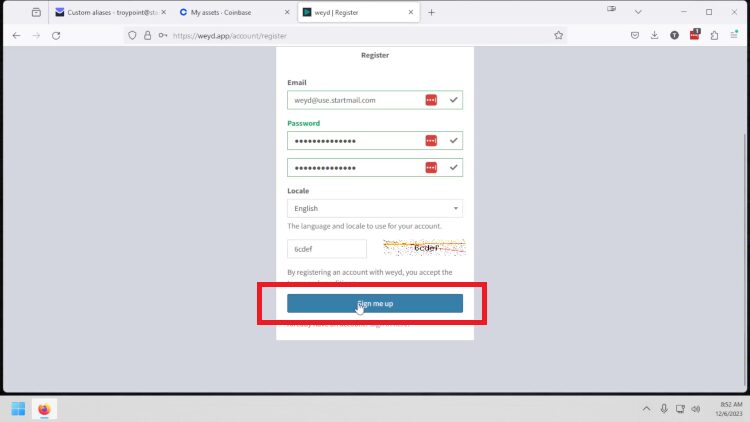 7. Wait for email to arrive and verify account by clicking link.
8. Login with same credentials used earlier in account creation.
9. Choose a Weyd subscription.
10. I'm going with Lifetime option for 5 devices.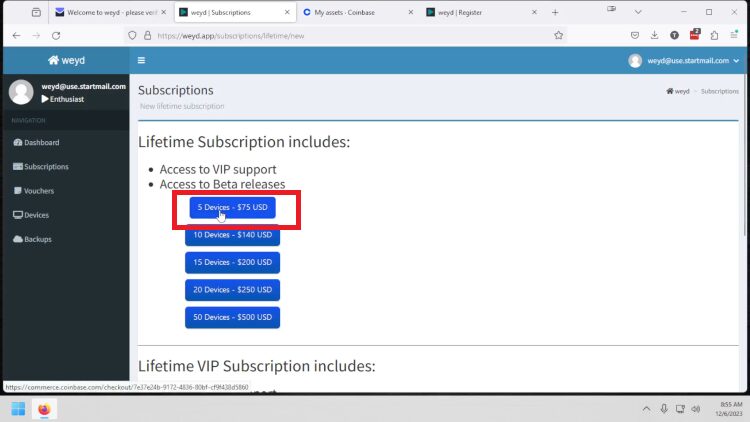 11. I'm paying with Bitcoin through my Coinbase account so there is a middleman between me and the developers.  Do not give your credit card details to these 3rd party apps!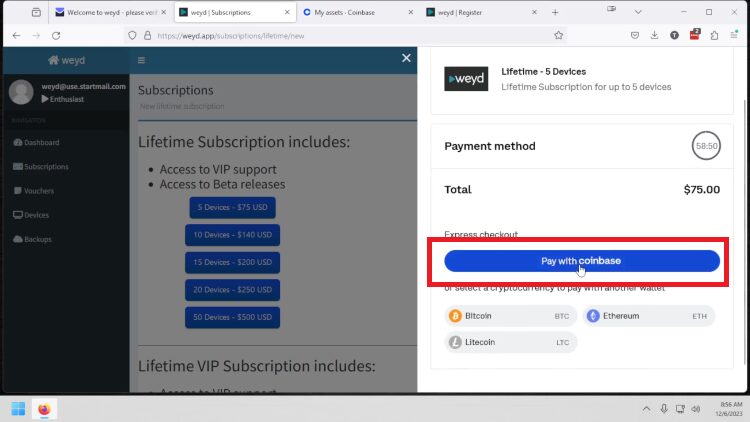 12. Click Send now button.
13. Type in verification code sent to phone number on file with Coinbase.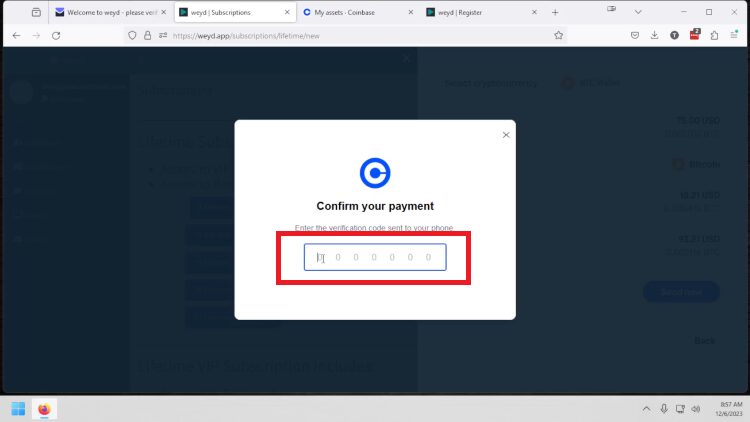 14. Wait for confirmation email that payment has been processed.
We've now paid for our subscription so we can move onto installing it on Firestick or Android TV/Google TV systems.
Step 2: Download Weyd App

1. Install the free Downloader app from your respective App Store (Amazon App Store or Google Play) and turn on Apps from Unknown sources in the settings of your streaming device.
If you haven't done this yet please refer to the following screenshot tutorial that demonstrates this simple process.
How to Install Downloader & Enable Unknown Sources
2. Open Downloader Application.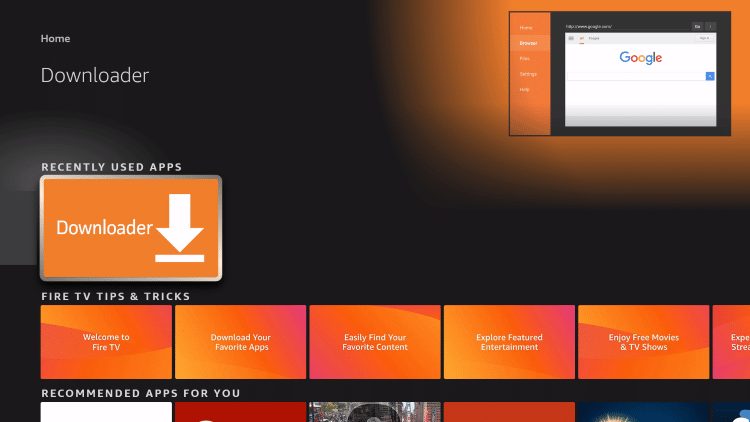 3. Click Allow button.
4. Choose OK.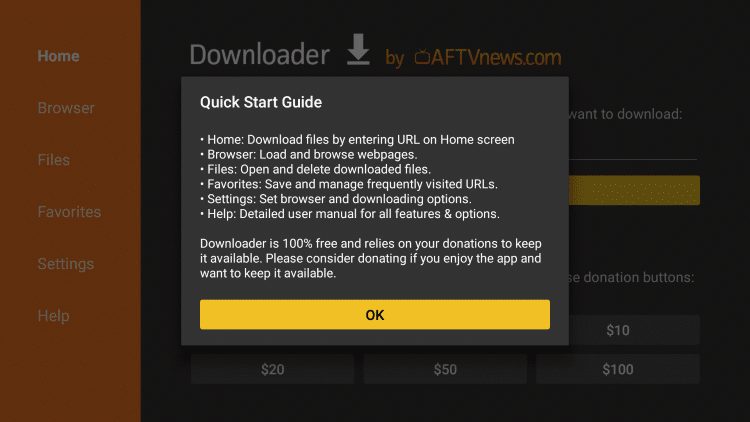 5. Select the Browser tab within the menu on the left.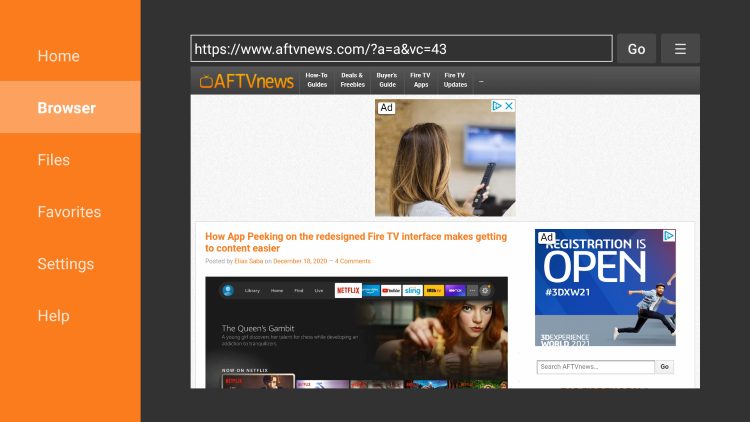 6. Click the Search box and type the following address as it is listed here – weyd.app/d and click Go.
weyd.app is the official website of this app.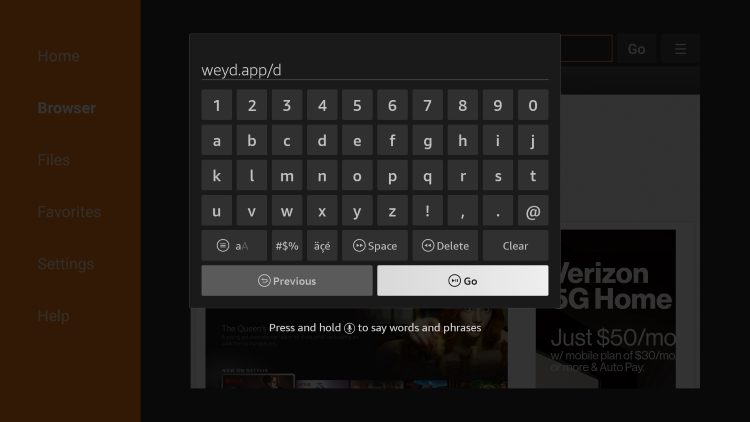 7. Wait for the download to finish.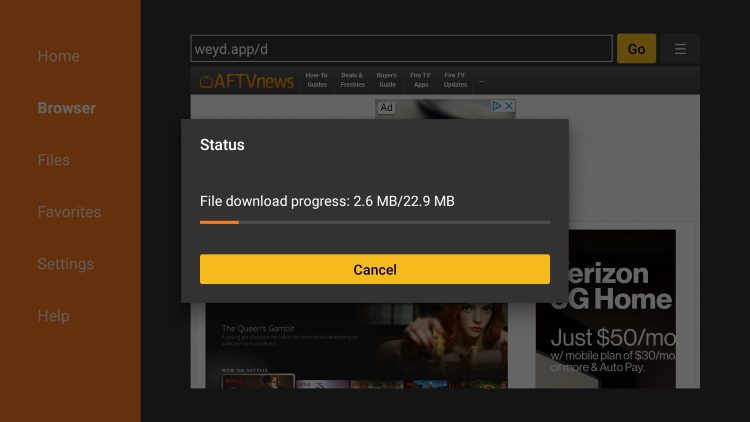 8. Click Install button.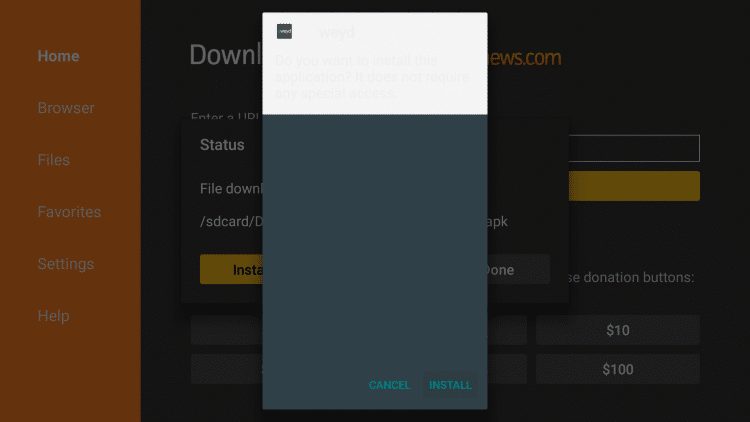 9. Select Done button.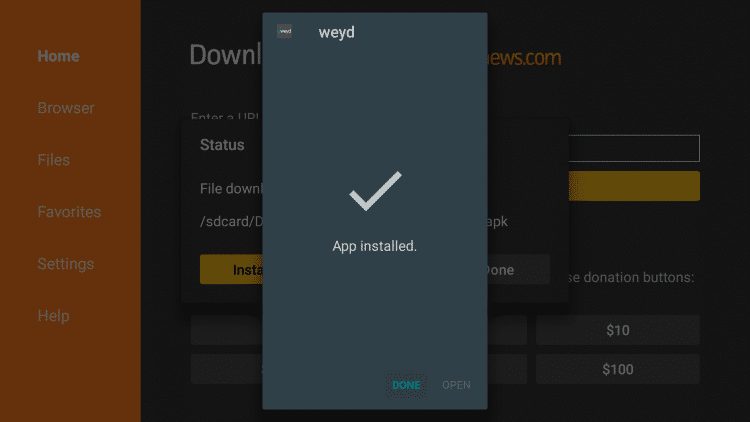 10. This will return you to the Downloader App. Delete the installation file.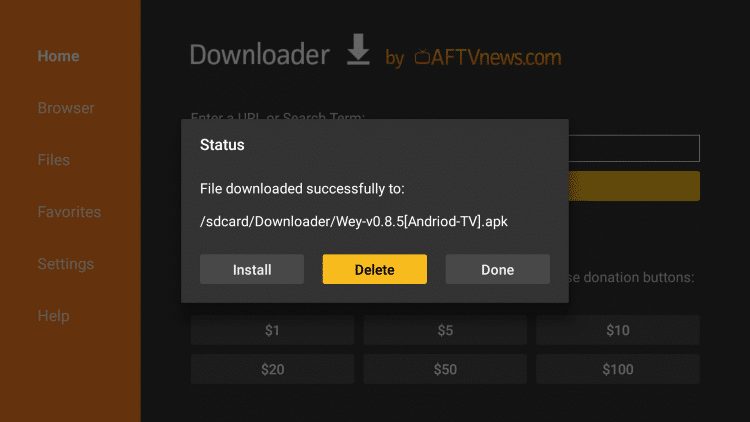 11. Click Delete again to confirm.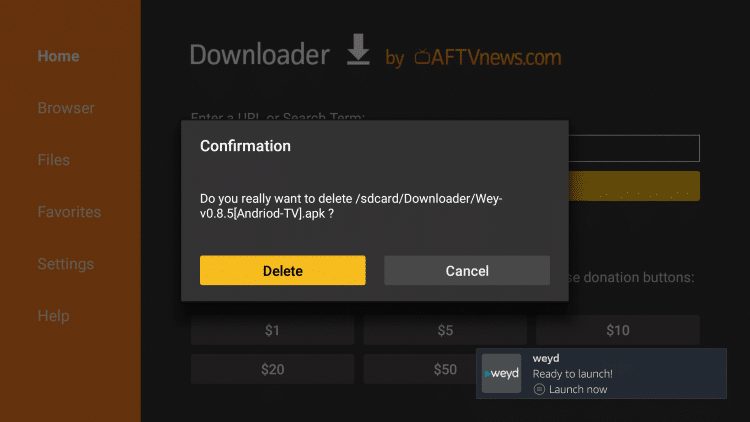 12. Hold down the home button on your remote then click Apps.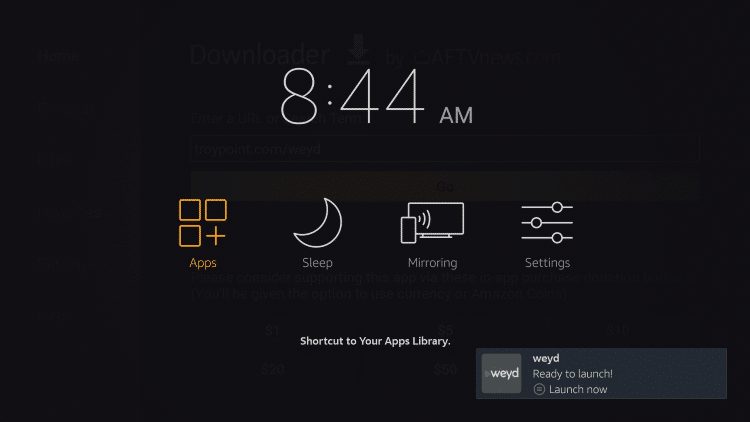 13. Hover over and click Weyd.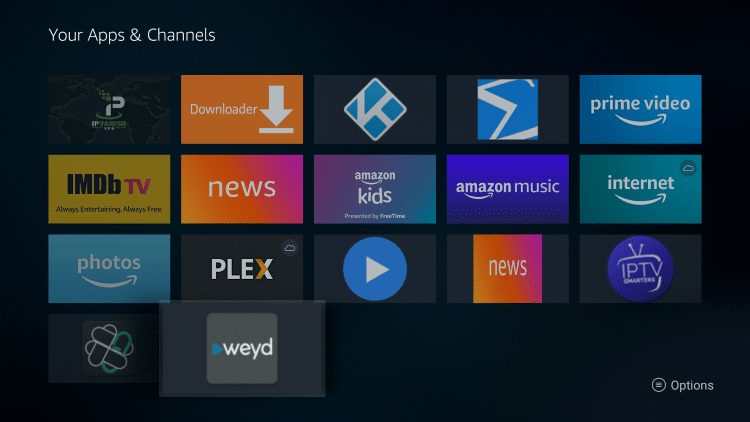 14. Wait a few seconds for the app to load.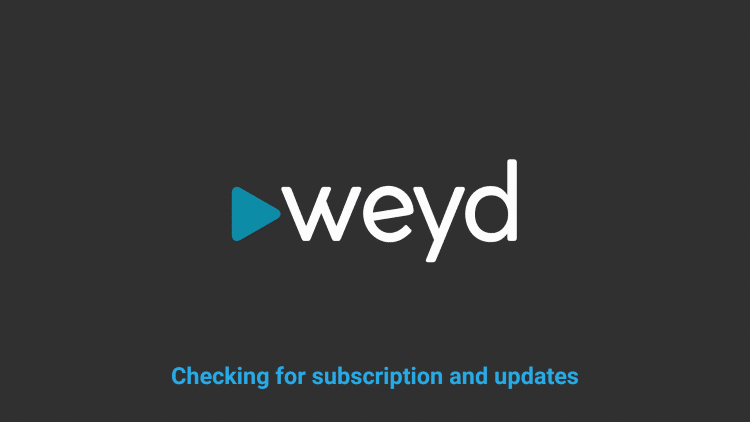 15. You should see release notes from the app version that you are using.  Click OK button.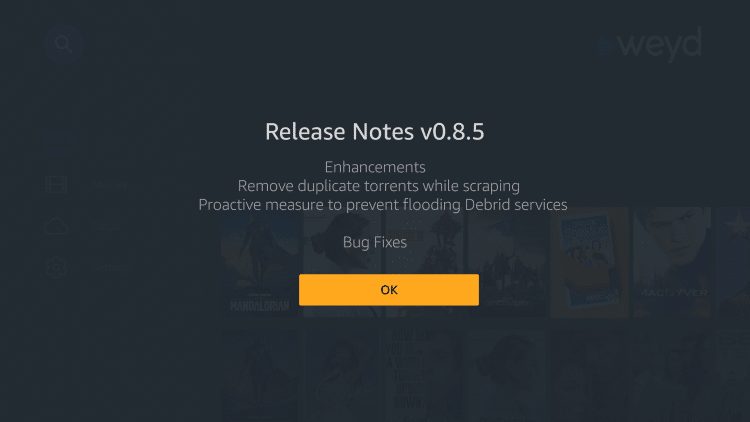 16. That's it! You have successfully installed Weyd on your Firestick or Android TV/Google TV system. Follow the further instructions below to access Movies, TV Shows, and more.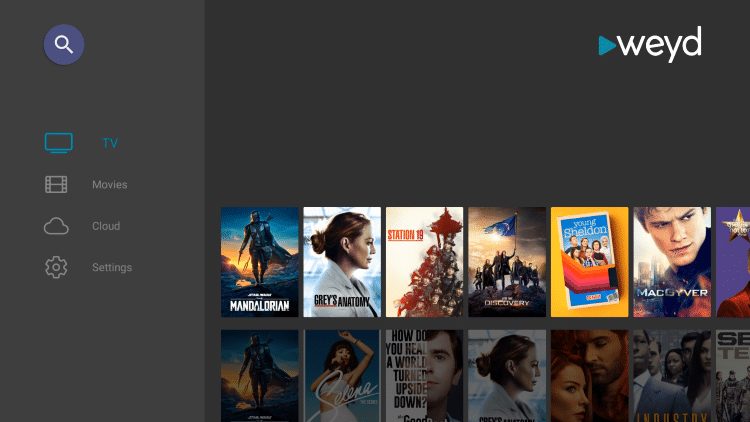 Next you will want to activate your account on your streaming device.
Step 3: Activate Subscription
1. Click Settings button.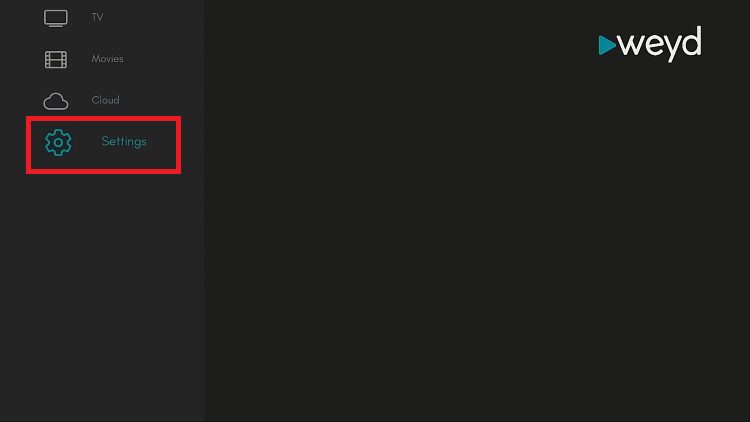 2. Choose Subscription.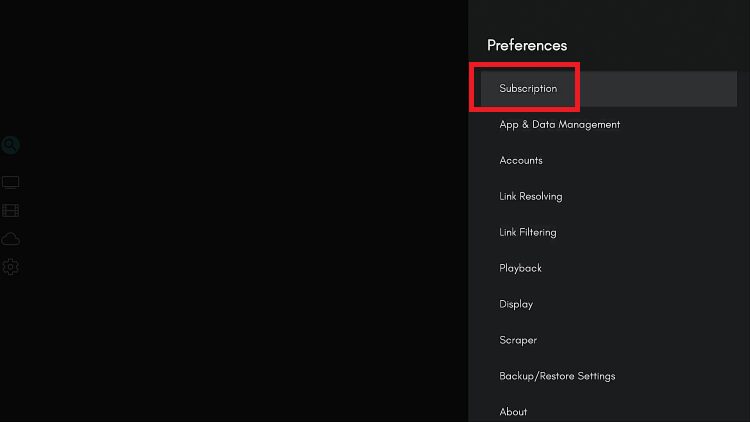 3. Click Connect Device.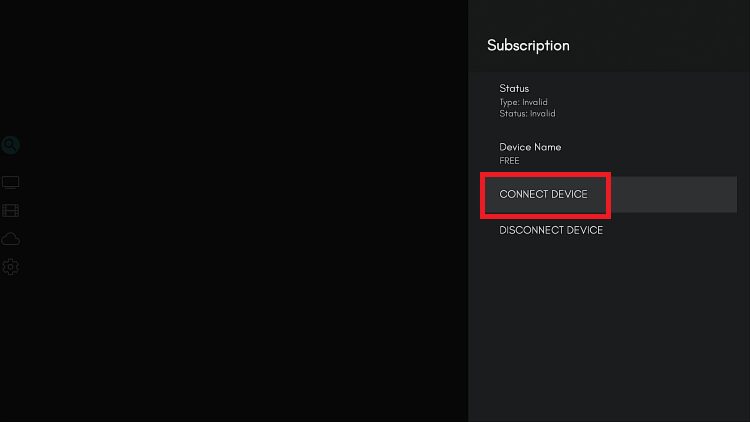 4. Take note of device pairing information and move over to a browser on your PC, Mac, phone, or tablet.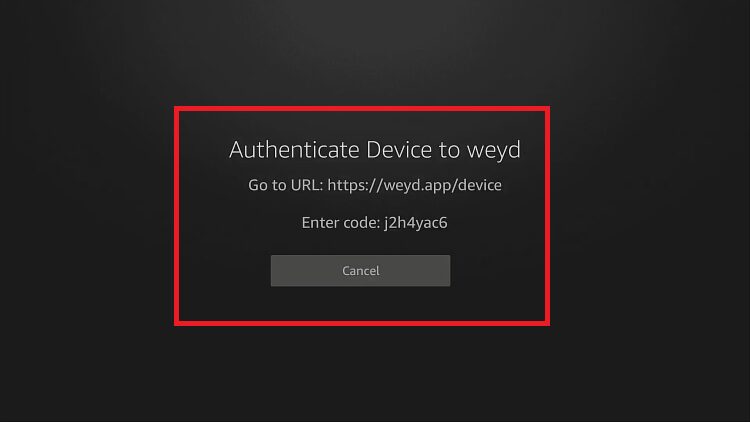 5. Input details from #4 above, name your device, and click Create button.
6. Once pairing screen disappears, Weyd app is now active on your Firestick or Android TV/Google TV box.
Step 4: Configure Real-Debrid or Other Premium Service

With Weyd now installed, we must set up the application by integrating a debrid account and downloading a provider package to scrape for streaming links.
One of the best parts about this app is that auto-resolve for debrid links is already set up by default.
We saw this auto-resolve issue with other apps in the previous weeks.
Real-Debrid Auto Resolver Error
Follow the steps below to fully set up Weyd APK and integrate a debrid service.
1. Launch Weyd APK and click Settings.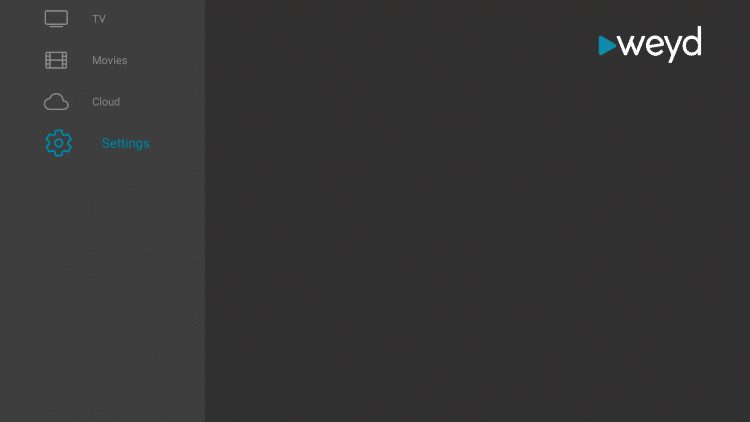 2. Click Accounts.
3. Select Real-Debrid.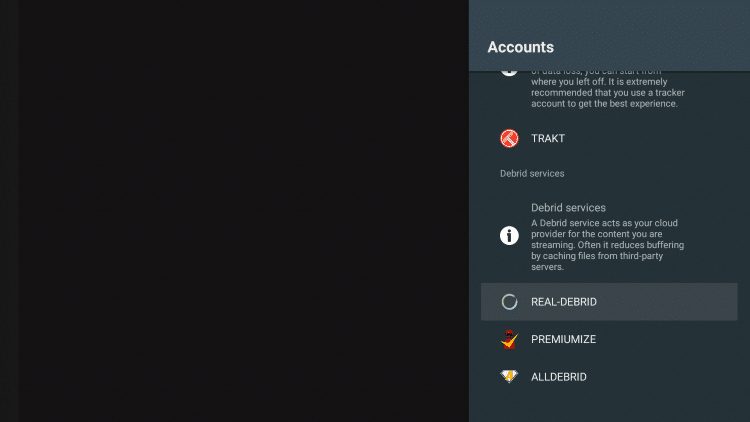 4. Write down the provided code.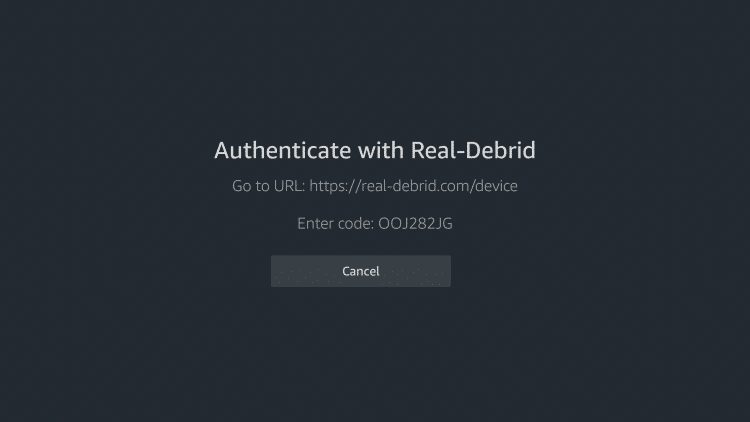 5. Open a browser on your phone, tablet, or computer and visit real-debrid.com/device and enter code from the previous step, and click Continue.
You may be required to log into your Real-Debrid account after doing this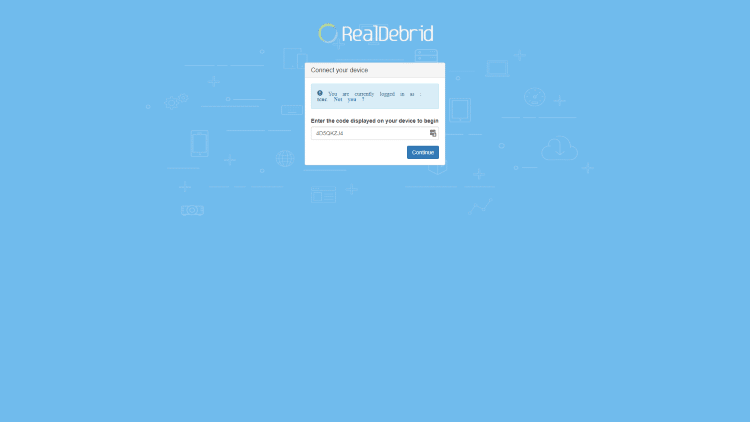 6. If you see your login credentials you have successfully integrated your Real-Debrid account.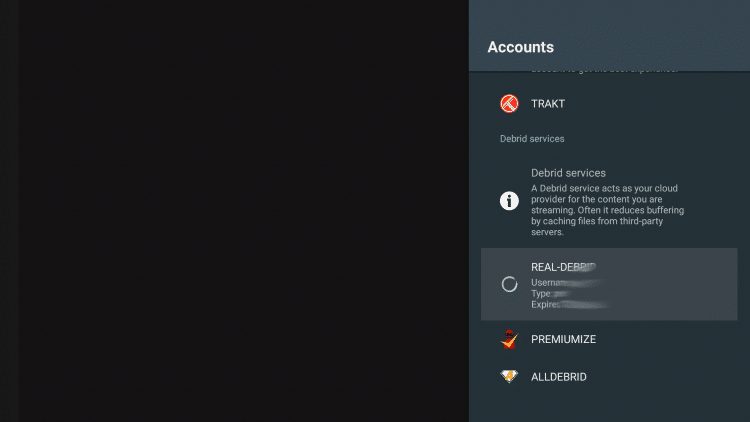 Step 5: Configure Weyd Scraper
1. Next, click the back button and select Scraper.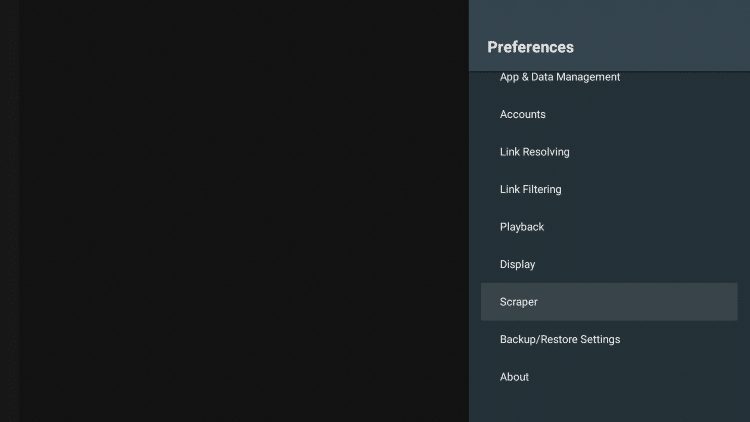 2. Click Scraper source URL.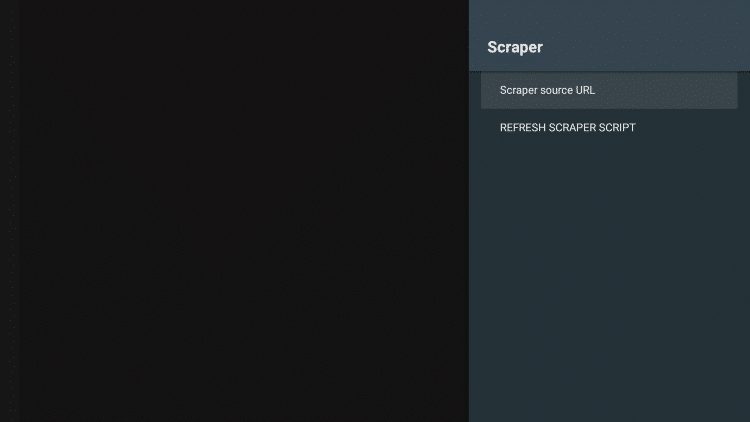 3. Enter the following scraper URL – https://tinyurl.com/weydx and click OK.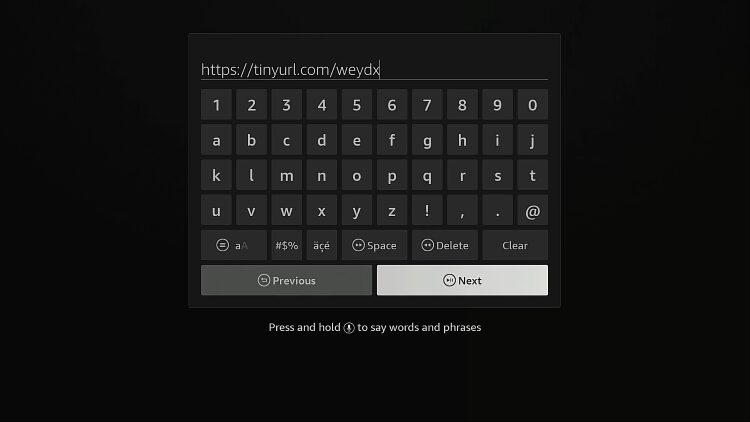 4. That's it! You can now watch movies and tv shows.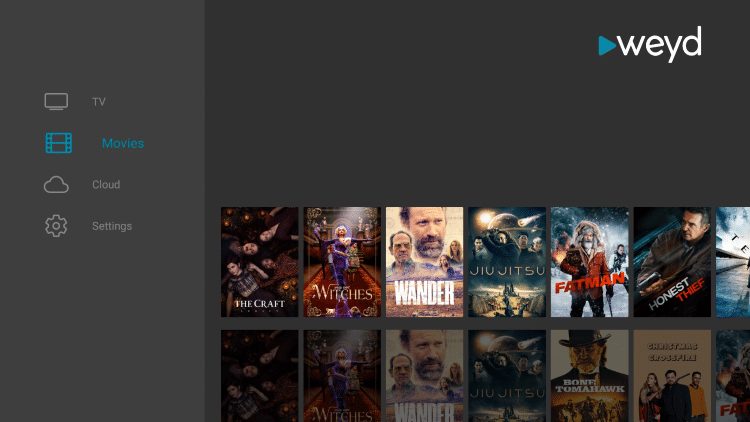 Screenshots
Shown below are screenshots of the application while using a Firestick.
Is Weyd Safe to Use?
You will see below that the Weyd APK is clean and safe to use on Firestick and Android TV/Google TV systems.
Here is the screenshot of the scan results: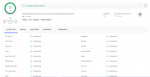 VirusTotal did not find any suspicious files or malware within the APK file.
However, this does not mean we shouldn't protect ourselves when streaming content from this unverified app.
The best way to do this is with a VPN that will secure your identity and anonymity when using Weyd or other applications.
How to Install Best VPN on Firestick & Android TV Box
Features & Details

Weyd features a user-friendly interface and layout with simple navigation.
The main categories within Weyd include TV, Movies, Cloud, and Settings.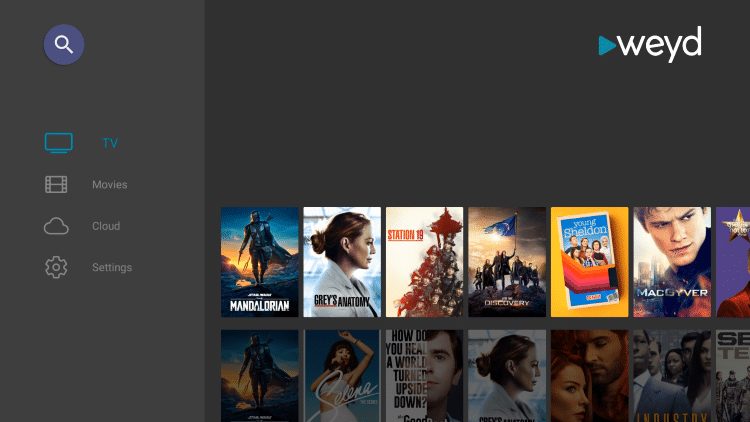 Settings
Although Weyd provides a simple user interface, there are some powerful settings that can be manipulated under the hood.
One popular feature is the ability to change default video player to MX Player, Kodi, etc.  We personally like the built-in player used within the application however users do have the choice to change that.
Weyd also supports the popular free TRAKT service as well so multiple devices can be synced.
The following Settings categories are found within this streaming application and they are continually being improved with updates.  It's unlikely that you will find this many settings in any other streaming app or Kodi Addon.
Subscription
App & Data Management

Use Device Timezone
Timezone offset
24hr Time Display
Clear local watchlist & collection
Clear local watch history
Episode refresh frequency
Max # Network Threads
Check for new episodes
Collect all Actors from TV shows
Min percent of episodes to collect Actor
Refresh Genres
Clear Local TV & Movie Cache
Restart App
Kill App

Accounts

TRAKT
FanArt.tv
Real-Debrid
Premiumize
ALLDEBRID

Link Resolving

Enable auto-select
Min link count
Enable auto-select delay
Max delay seconds
Auto select non-filtered link
Continue link search after link selection
# of link resolver threads
Search Alternate Titles
Always Search All Alternate Titles
Prioritize torrents (movies)
Prioritize torrents (episodes)
Sort by (Primary)
Sort direction (Primary)
Sort by (Secondary)
Sort direction (Secondary)

Link Filtering

Hide non-cached torrents
Hide unsupported Direct Links
Filter out links with quality
Min bitrate mpbs
Max bitrate mpbs
Min file size MB
Hide links with matching phrases

Playback

Auto next
Auto next after random
Completion min percentage to track progress
Completion min percentage to mark watched
Video player
ExoPlayer Settings
Kodi Settings

Display

Hide unaired episodes
Hide Poser Title
Hide Episode Title
Use FanArt.tv

Scraper
Backup/Restore Settings

Backup to local storage
Backup to cloud
Backup Trakt profile settings
Restore from local storage
Restore from cloud
Restore Trakt profile settings

About

Release Notes
Check for New Version
Is Weyd Legal?
Since Weyd doesn't include any movies or TV show by default it is legal to use.
When setting up the app you will see disclaimers that the user must agree to ensuring that copyright laws are not being violated.
Users can always access titles that are available for free in the public domain which Troy does in the video tutorial above.
Works such as this are not protected by copyright laws and may be downloaded, streamed, and shared without any legal ramifications.
In conclusion, the end-user is responsible for all content accessed through apps such as Weyd.
This page includes affiliate links where TROYPOINT may receive a commission at no extra cost to you. Many times, visitors will receive a discount due to the special arrangements made for our fans. I will never promote something that I personally don't use or recommend. Purchasing through my links directly supports TROYPOINT which keeps the content and tools coming. Thank you! Learn more on my Affiliate Disclaimer page.