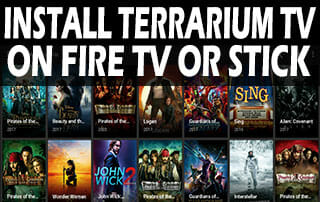 This step-by-step tutorial will teach you how to install Terrarium TV on Firestick, Fire TV, & Fire TV Cube.
In my opinion, Terrarium TV is the best Android streaming application available today.
I have never been a big fan of Android Streaming applications due to the fact that most come with broken links and buffering is usually awful.  Terrarium TV is a game-changer in the Android application space due to the features highlighted below.
Terrarium TV out-performs its competition in many important areas.  The most noticeable feature are the blazing fast servers which provide numerous HD streams with most of them hosted on Google Drive.  When playing movies and tv shows through the Google Drive sources within Terrarium TV, you will experience no buffering whatsoever.

 STAY SAFE! IMPORTANT LEGAL DISCLAIMER
TROYPOINT does not verify the legalities of any applications covered on this Website.
Users should always use a VPN in conjunction with free or low-cost streaming solutions to protect their identity and security.
Your Internet Service Provider, government, and hackers may log what you are accessing online if you aren't connecting through a VPN.
I use IPVanish on all of my streaming devices and I suggest that you do the same.
Get up to 60% off IPVanish plan when you use the coupon code TROYPOINT at checkout.
Click Here for Special VPN Discount
How To Install Terrarium TV On FireStick, Fire TV, & Fire TV Cube Guide
Terrarium TV is available within the TROYPOINT Rapid App Installer.  This app allows you to install the best streaming apps and tools in a matter of minutes rather than hours.  Use the link below to access this free application.
Note:  This screenshot tutorial was created on a Fire TV 3.  You may notice some subtle differences on other Fire TV devices due to different firmware being used.
Step 1 – Hover over Settings
Step 2 – Click Device
Step 3 – Click Developer options
Step 4 – Click Apps from Unknown Sources
Step 5 – Click Turn On 
Step 6 – Go back to Fire TV/Stick home screen
Step 7 – Hover over search icon
Step 8 – Type in Downloader and click search term
Step 9 – Click Downloader icon
Step 10 – Click Download
Step 11 – Click Open
Step 12 – Click Browser
Step 13 – Click OK for Javascript Disabled message
Step 14 – Place cursor in address bar and click select button on remote to open keyboard
Step 15 – Place cursor in address bar, click select button on remote and type in the following url – troypoint.com/ttv
Step 16 – Scroll down and click the most recent .apk file that is available & Terrarium TV download will begin
Step 17 – Click Install
Step 18 – Click Open
Step 19 – Click Allow for all Terrarium TV prompts
Step 20 – Choose YesPlayer for default video player
Step 21 – Click Accept for Terrarium Disclaimer
Step 22 – When you first go to play a movie or TV show, you will be asked to install YesPlayer, click Install
Step 23 – Click Install
Step 24 – Click Done
Step 25 – Terrarium TV is now installed on your Fire TV or Fire TV Stick
Reminder – You should always use a VPN when using free streaming apps such as Terrarium TV.
IPVanish VPN is providing a 60% discount for all TROYPOINT visitors.  This special promotion won't last long.
Click Here For Up To 60% Off IPVanish VPN Plan
The following video provides detailed installation and setup instructions.
Links Referenced In Video
How To Install VPN On FireStick, Fire TV, & Fire TV Cube
How To Install Apps On Fire TV & Fire TV Stick With Aptoide TV
Real-Debrid Screenshot tutorial may be found below for Terrarium TV
Get your free TROYPOINT Supercharge Fire TV/Stick Guide and learn how to install Kodi and the best addons with one click.  You will enjoy unlimited movies, television shows, sports, PPV events, adult entertainment and more!
Another awesome feature of Terrarium TV is the ability to download videos to your hard drive so you can watch them offline.  This can come in very handy when traveling and you will no longer need to depend on the crappy wifi speed in a hotel.
Subtitles also work excellently within Terrarium TV.  When you select a video source to play, you can choose an option that will include subtitles within the stream.  The application even provides multi-language subtitles so you can choose which language will appear.
The Terrarium TV library is massive and includes tv shows and movies from decades ago.  I was astonished by the amount of older content within the library that I have had trouble finding within other file sharing outlets.  Simply input the title of the movie or tv show that you want to watch into the search box and you will be presented with the results quickly.
The user interface is simple to use.  You can tag your favorite tv shows and movies, which will then show up in a separate area that keeps everything organized in a nice manner.
The new version of Terrarium TV includes an integrated video player called ExoPlayer.  Due to this nice enhancement, there is no need to install a separate video player and codec.
Terrarium TV Features
More than 40 4K movies
A bunch of FULL HD (1080p) and HD (720p) sources
Absolutely FREE!
Fast servers (for Full HD and HD, mostly Google Drive)
Watch almost all TV shows and movies
Download videos and watch offline
Multi-language subtitles are available
Mark your love movies and TV shows as favorites!
Mark watched episode with just one click
Genre selection
Native Chromecast support
Trakt.tv support
New episode notification
Support Android TV and TV Box
Support Fire TV and Fire Stick
Fix Terrarium TV Buffering With Real-Debrid
The following screenshot tutorial will show you how to setup Real-Debrid in Terrarium TV.  Real-Debrid is an unrestricted downloader which will add new video sources within Terrarium TV that you can choose from.  These new sources should provide better playback without any buffering.
Real-Debrid provides a free trial account that you can use during happy hours which runs from 6 A.M. until 12 P.M. each day.  If you would like to register for their premium service, it only costs approximately $5 per month.
Important:  You must disconnect VPN on your streaming device prior to following the steps below.  Once Real-Debrid pairing and setup is complete, you may activate your VPN. 
Step 1 – Register for Real-Debrid Account
Step 2 – Click settings toggle within Terrarium TV
Step 3 – Click Settings
Step 4 – Click Login to Real-Debrid
Step 5 – Write down code provided on the screen
Step 6 – Open Internet browser on any device and go to https://real-debrid.com/device and type in code from above & click Continue button
Step 7 – Real-Debrid authorized message appears within Terrarium TV
Step 8 – You will now have access to additional video sources identified in green font with the abbreviation [DEB] – these should provide buffer-free playback
Is Terrarium TV Legal?
According to the official Terrarium TV Website, the application is not illegal.  Their Website states "Terrarium TV uses streaming technology instead of torrenting (P2P)."
TROYPOINT strongly suggests using a VPN (virtual private network) when using services such as Terrarium TV.  Due to the change in privacy laws, your Internet streaming logs can be shared or sold to 3rd parties without your consent.  Also, without a VPN service, your Internet Service Provider can log and monitor everything that you download or stream, which may lead to copyright infringement issues.
A VPN will mask your identity and make it impossible for your Internet Service Provider to monitor or log what you are streaming/downloading.
Use the following tutorial to setup a VPN on your Fire TV or Fire TV Stick.  You will notice within the video tutorial below, the VPN that I suggest…IPVanish, works great with this application.
How To Install VPN On Fire TV or Fire TV Stick
Lots of questions on how to move the movies or tv shows that you have downloaded on the Fire TV over to external storage such as a USB Drive or Micro SD Card.  Click link below for tutorial.
How To Move Media Files To External Storage On Fire TV
Tell us your thoughts on Terrarium TV within the comments section below.
Please follow and like us: