In my quest for the Best VPN for Firestick and Fire TV, I have tested the most popular services and one stood head and shoulders above the rest.
If you're looking for a quality Firestick VPN, you have come to the right page.
Not only does this resource provide you with the best VPN for Firestick but it also gives instructions on how to install and configure the settings properly.
Because a VPN will provide an anonymous connection to the Internet and secure your privacy 100%.
The Amazon Firestick is currently the most popular streaming device available due to its low price and ability to jailbreak it.
This small powerhouse works great with popular free streaming apps such as Kodi, Cinema APK, and all IPTV services.
It's important to use a fast VPN when using applications such as these since we are streaming large HD files.  The slow VPNs simply won't work.
In addition, most of these large files are restricted by the Amazon App Store when they are identified as unverified apps.
However, you can side-load them into your device without using the official app-distribution method with the help of a VPN for Firestick, Fire TV, Fire TV Cube.
Why would you want to use a VPN on the Firestick or Fire TV?
Installing and enabling a VPN on your Firestick/FireTV will provide you with the following features:
Online Security and anonymity while using the device
Ability to bypass geo-restrictions (Important for Streaming UFC with a VPN)
Safety and security from ISP, government, and more
Most people who use streaming applications that provide free content, want to do so anonymously.
Internet Service Providers can easily track and log how their customers use the Internet but a VPN blocks them from doing so.
A VPN provides an encrypted connection to the Internet, while also masking the user's real IP address.
An encrypted connection makes it impossible for the ISP to monitor or log their customers' behaviors on the Internet.
United States laws now allow ISPs the luxury of selling their customers' browsing, download, and streaming logs to the highest bidder.
Another important reason to protect all of your Internet-connected devices, not just your Firestick.
When I set out to find the best VPN for Firestick, there were a few requirements that had to be met.
I wanted to choose one VPN provider that I could recommend to my TROYPOINT visitors and create in-depth tutorials for.
Best VPN For Firestick Requirements 2020
In my search for the Best VPN for Firestick, I wanted to ensure it had all the features one would want for streaming. This included the following requirements:
Blazing fast download and streaming speeds (most important feature because we are streaming large HD files)
No connection or traffic logs stored during a VPN session
Remote control friendly user interface for Firestick
Ability to use VPN application on other Internet-connected devices
Secure VPN Protocols
24/7 customer support
Great price
Money-back guarantee
After testing the best VPN providers such as PureVPN, NordVPN, HideMyAss, ExpressVPN, CyberGhost VPN, IPVanish, and more, the decision was easy.
IPVanish performs much better than the other top providers when comparing the above seven requirements. This is partly due to it's long list of servers and locations:
With so many servers across the world, IPVanish provides users with the fastest download & upload speeds for streaming video files.
Fast VPN Download & Streaming Speeds
When running a VPN on the Firestick, or any device for that matter, you will see some sort of download speed decrease.
The reason for this is due to the fact that it takes system resources to run the service in the background and we are connecting to a VPN server that acts like a "middleman".
In my opinion, this is the most important feature to examine when searching for a VPN to be used on the Firestick.
Many of the leading VPN services lease their server and network resources from third parties.
This is not ideal due to the fact that they lose control of managing network traffic which results in slow streaming and downloading speeds.
IPVanish is one of few providers that owns and operates its own network.  This means that end-users will experience the fastest VPN speeds available on the Internet today.
IPVanish provides over 40,000 IPs, 1,000+ VPN servers in over 60 countries.
Many Firestick users and cord-cutters find that enabling a VPN will diminish your download and upload speeds.
While this is typically the case, you will find that IPVanish does not reduce speeds as much as other popular VPN Providers do.
You can always Test Your Internet Speed with VPN on and off to see the difference in download speeds.
I suggest viewing the guide below for more information on VPN speed and several tips on how to improve it.
Zero Traffic Logs
IPVanish has a strict policy against the collection of both connection and traffic logs.
They will never store any information about their customers' VPN sessions, unlike other top-rated services.
Users can rest assured that logs, browsing history, download information are nowhere to be found when connected to IPVanish VPN.
IPVanish uses shared IP technology.  This means that multiple VPN users are connecting through the same IP address, so even if there were logs, it would be impossible to determine who was accessing what.
There are free VPN services available for Firestick but many of them sell traffic logs to third parties, which is how they make money.
Plus, the free services don't provide fast download speeds required to stream large HD files.
Stay away from these free VPN apps!  These companies are making money and its at the expense of your privacy.
Remote Control Friendly
Most VPN applications require that you side-load an APK file in order to install onto the streaming device.
IPVanish has developed an application that is specifically designed for the Amazon Firestick.
Important Note:  VPN applications will not work on the 1st Generation Fire TV Stick due to its lacking processor power.  This device was discontinued in late 2016 so if you purchased your Firestick after that, more than likely a VPN will work great for you.
IPVanish provides a slick, user-friendly application, that can be installed directly through the Amazon app store.
Simply perform a search for IPVanish within the Amazon app store and you can install directly through this location.
The application works great with the Firestick remote which usually isn't the case for most VPN apps.
Most VPN applications don't work with remote control because they were developed for a touch-screen interface such as smartphone or tablets.
See my video below for setup instructions and settings explanation.
Use VPN On Firestick & Unlimited Devices Simultaneously
IPVanish does a great job providing additional applications for Windows, Mac, iOS, Android, Fire TV/Stick, Windows Phone, Linux, Chromebook, and routers.
You can use one account on unlimited devices at the same time!  This will allow you to protect all of your Internet-connected devices with one VPN service.
Internet users should always be connected to a VPN when connecting to any public WiFi network.  This can be accomplished by using the additional applications that IPVanish provides.
While the IPVanish app is available on nearly all devices including the Firestick, it can also be installed on your router. By doing this, you will protect all devices connected to your wireless internet.
This means you will not have to install IPVanish separately on each device but only your wireless router!
Support & Money-Back Guarantee
IPVanish provides support around the clock via the information below.  Also, you may request a full refund within seven days of purchase if you are unhappy for any reason.
TROYPOINT visitors and Advisor subscribers will enjoy accelerated customer support when reaching out for help.  Simply send an email to [email protected] with TROYPOINT in the subject line for an expedited reply.
SAVE UP TO 73% WITH THIS TIME-SENSITIVE DEAL

Use IPVanish on unlimited Internet-connected devices through your account.

IPVanish backs their service with a 30-day money back guarantee.

Expires soon.


Click Here To Get Your IPVanish Discount
IPVanish provides a 30-day money-back guarantee if you aren't satisfied so you have nothing to lose.
New – You can now use one IPVanish VPN account on unlimited devices!
Best Firestick VPN Video With IPVanish
Click Here To Get Your IPVanish Discount
Settings Guide can be found below
What's A VPN? Complete VPN Guide
Best VPN for Firestick Screenshot Guide
1 – Register for an account at IPVanish by clicking HERE.
2 – Hover over the search icon on your Firestick, Fire TV, or Fire TV Cube and type in "Ipvanish"
3 – Click the IPVanish VPN option that appears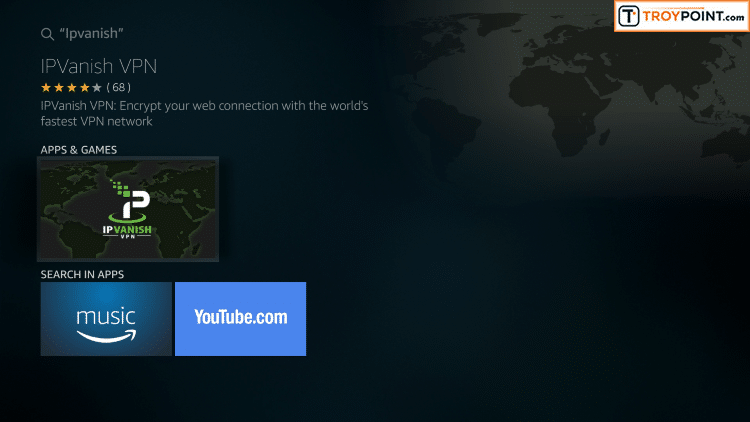 4 – Click the Download button.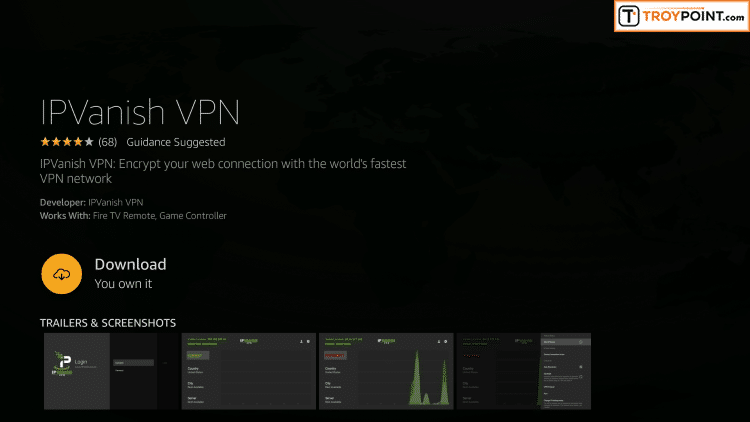 5 – Click Open to launch IPVanish VPN application.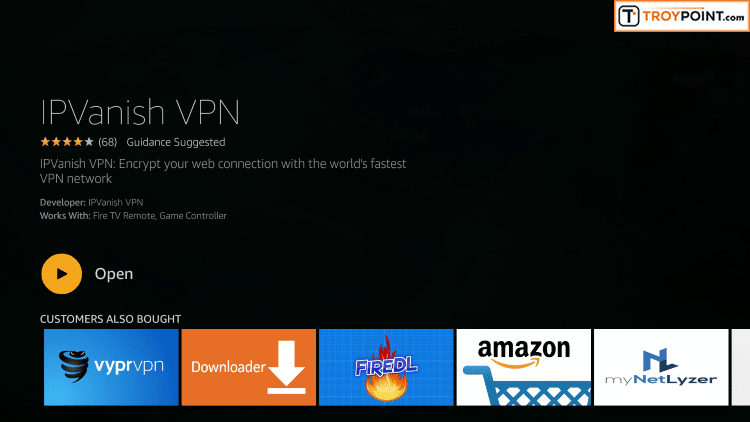 6 – Input your IPVanish username and password and then click Login
7 – Click CONNECT button
8 – If you receive a VPN connection request such as this, click OK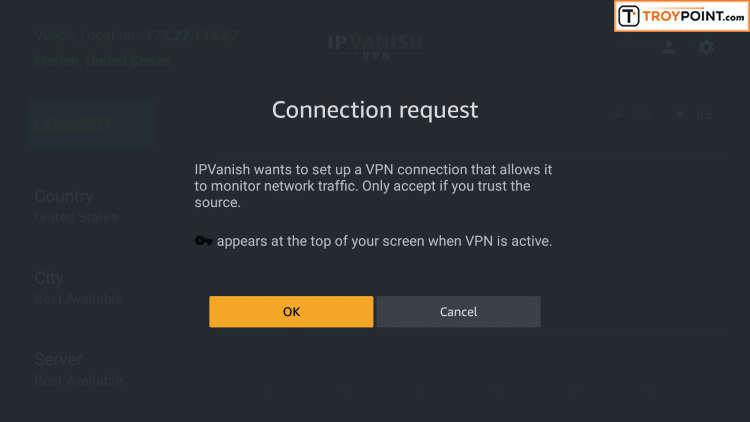 9 – Click Disconnect button to stop service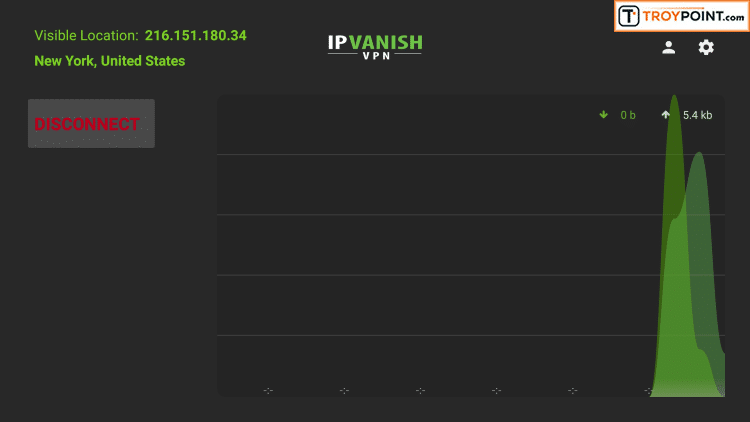 Firestick VPN Settings
Note:  If you don't see some of these settings in your IPVanish application that means that you don't have the most recent update. 
If this is the case, I suggest uninstalling your current VPN app Fire TV Settings / Applications / Manage Installed Applications / IPVanish / Uninstall.  Then, reinstall the IPVanish app.
To access the settings section, click the gear icon in top-right corner.
Start IPVanish will automatically launch the application when the Firestick or Fire TV is turned on.  I leave this off because there are some applications that I don't use the VPN with.
Auto Reconnect will automatically re-connect the VPN if it is terminated for some reason unexpectedly.  I keep this option turned on to allow for maximum protection in case the VPN disconnects for some reason.
Allow LAN access when turned on will not route local are network traffic through the VPN.  I keep this turned on so that I can connect to the Firestick or Fire TV through the network with various apps such as Plex Media Server or Amazon Fire TV Remote control app.
Split Tunneling allows the user to choose applications that can connect to the Internet without being routed through the VPN.  This is handy when using applications that don't allow for VPN use such as Netflix.  This feature is still in its infancy and may not work properly on all Fire TV models yet.
Once inside the Split Tunneling settings, you can check which apps don't require VPN protection.  Click the three vertical dots in top-right corner will allow you to show system apps such as Prime Video so you can activate this feature for those as well.
Show system apps button.
System apps are displayed after enabling "Show system apps".
Scramble adds obfuscation to Open VPN which may allow it to bypass Websites or services that block VPNs.  I keep this off unless there is a site or service that is blocking my VPN where this setting circumvents the action.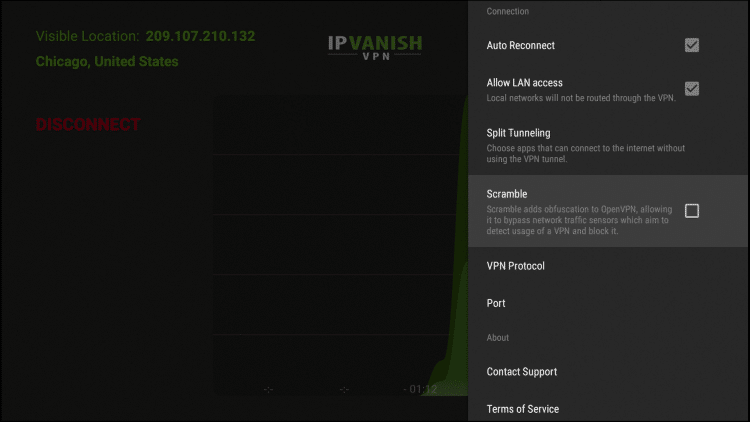 VPN Protocol is the connection protocol used by the application.
OpenVPN (TCP) and OpenVPN (UDP) are the available settings for VPN Protocol.  UDP usually provides much faster download speeds when using a VPN so I recommend that option.  If your VPN app is not connecting, it may help switching your connection protocol in this section.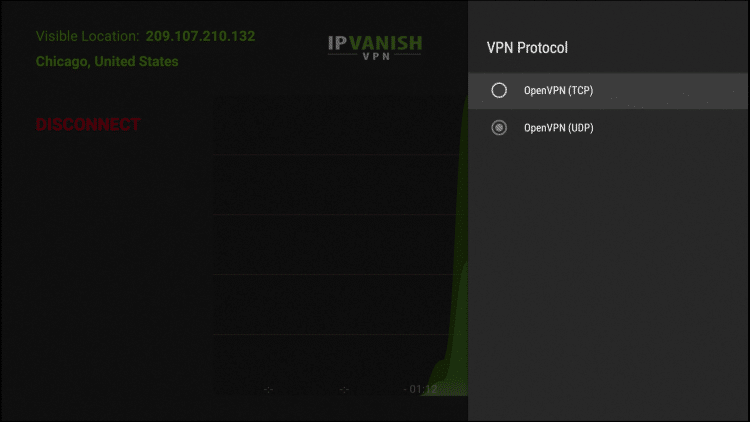 Port is the tunnel through which your Internet traffic moves.
Port 443 is optimal since this is usually used for HTTPS traffic and may help get around various blocks.  I suggest leaving this setting on 443 unless directly by IPVanish staff to change it.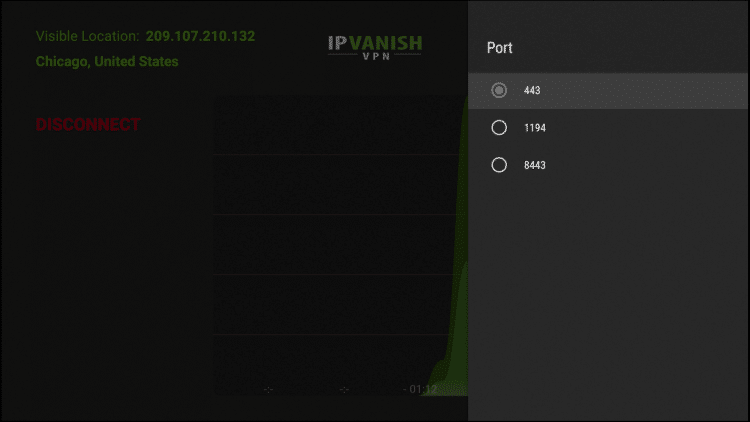 Contact Support will direct you to the IPVanish support information.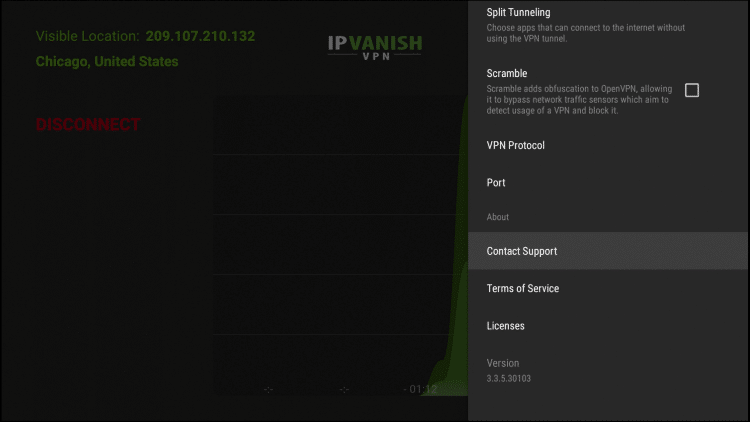 Terms of Service provides their most recent document.
Licenses provides a document with the licenses used within the application/service.
IPVanish Firestick App Compatibility
Most Firestick owners use apps to stream Movies and TV Shows on their device. Many of these apps are featured in the TROYPOINT Best APK's list.
All applications on this list work fabulously with IPVanish meaning you don't have to worry about buffering and can enjoy streaming content anonymously!
Some of the more popular APK's on this list include:
Cinema APK
Stremio
Kodi
CyberFlix TV
CatMouse
Using IPVanish with any of these apps will ensure an awesome streaming experience.
Click Here To Get Your IPVanish Discount
For more streaming tips and tutorials, be sure to sign up for the TROYPOINT Advisor with updates weekly.
This Advisor provides all the best cord-cutting tips to get the most out of your favorite streaming devices. CLICK HERE or link below for TROYPOINT Advisor Subscription: