This X96 Max Review was written by Troy from TROYPOINT after using the Android TV Box on a regular basis for one week.
I received the X96 Android TV Box from GearBest in late December as a product to review.
I finally unboxed the unit after seeing numerous positive comments regarding this device in my Best Android TV Box post.
It's important to note that even though I received the X96 Max for free from GearBest, I still provide my true feelings and give you both positives and negatives.
This IPTV Box is available in various configurations and the one that I received comes equipped with 4GB DDR RAM, 64GB storage, and a US power adapter.
If you are going to purchase one of these after reading the review, I suggest the same configuration that I have due to its outstanding powerful components.
Free TROYPOINT Supercharge Fire TV/Stick Guide

Install the Best Secret Apps in Seconds
This free guide will teach you how to unlock your device with a few clicks.
Used by over 1 million cord cutters.
What's An X96 Max Android TV Box?
Before diving into this review, you should understand how a box like the X96 Max differs from other Android-based streaming devices.
The X96 Max runs on the stock Android 8.1 Oreo operating system, not Android TV.
You can think of stock Android as the same operating system found on phones and tablets.
Android TV is Google's operating system optimized for television screens found on products such as the NVIDIA SHIELD, and Mi Box.
Amazon has a similar Android-based operating system (Fire OS) that powers the Fire TV Stick/Fire TV which is also optimized for the TV screen.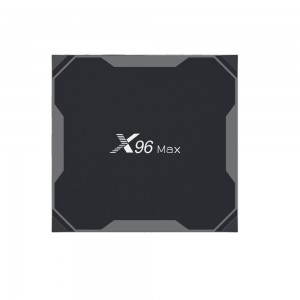 I often refer to boxes such as the X96 Max as a "generic Android TV Box" because it isn't using the true Android TV operating system.
Boxes such as the X96 Max are perfect for those who don't use any of the paid services such as Netflix, Amazon Prime, Hulu, etc.  If you use any of those services, I would suggest either the Fire TV Stick/Fire TV, NVIDIA Shield, or Mi Box.  Those apps perform much better on Android TV and Fire OS operating systems.
Most of these boxes are distributed in China which means customer support is usually very limited.
The great thing about these generic Android TV Boxes is that you can get a lot of bang for your buck because there aren't any license requirements from the manufacturers so they pass the savings onto you.
I strongly suggest purchasing the iPazzPort Wireless Keyboard/Remote Combo if you are using one of these stock Android units.  It will make it much easier navigating the screen in apps that aren't remote-control friendly.
What I Like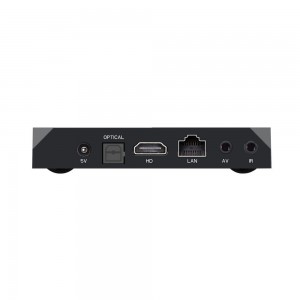 Let's start with what I like about this box.
The fairly new S905X2 CPU is a fast processor and I experience absolutely no lag when using this Android TV Box.
This processor also allows for USB 3.0 support on the device which will greatly speed up data transfer when using an external drive.
Currently, I won't consider purchasing an Android TV Box if it doesn't include Android 8 Oreo.  The X96 Max comes with Android 8.1. (not Android TV).
Another requirement for me in 2019 is WiFi support for both 2.4 and 5 GHz which this does include.  See my download speed tests below with VPN on and off.
This device comes with 4GB of DDR4 RAM which is a huge plus for any Android-powered device.  This helps with buffering and multi-tasking while using the box.
One of the biggest complaints of the popular Amazon Fire TV Stick 4K is its lack of internal storage at only 8GB.  The X96 Max includes 64GB of ROM storage which is perfect for holding movies, TV shows, games, etc.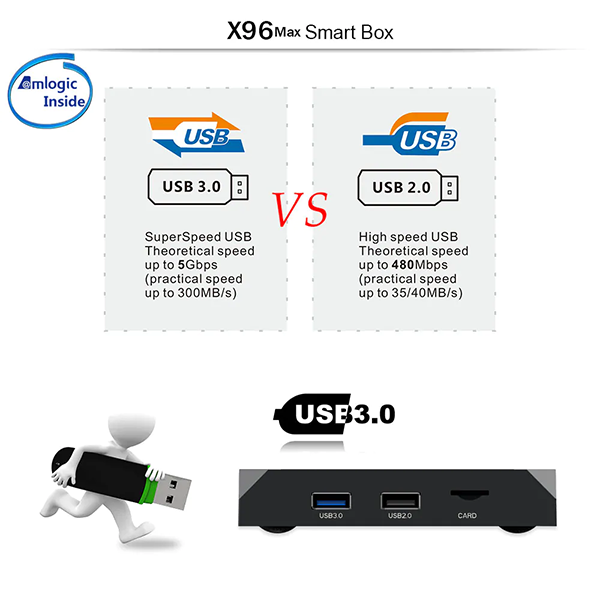 I like the simple launcher that comes with this streaming box.
Everything is displayed on one screen and I can easily add my favorites to the top row of the home screen.
You can also click the multiple square icon at the bottom and that will take you to a screen that displays all apps installed on the X96 Max.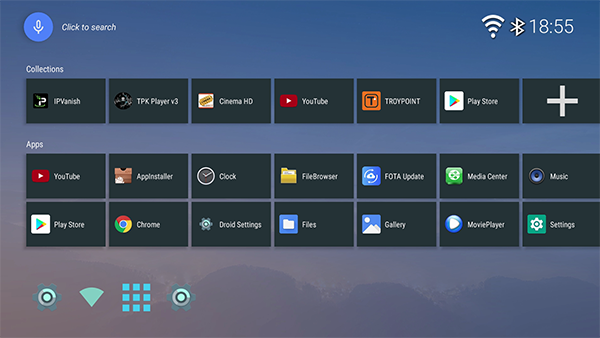 The following ports are also found on the X96 Max and it isn't missing anything that I would personally need; USB 3.0, USB 2.0, Micro SD Card, Optical, Ethernet, AV, and IR.
I like the LED screen on the front of the X96 Max which provides current time and other important system information as well.
I used this extensively for a full week with IPTV playing from sun up until sun down.  The unit never became overheated which is usually the case when running these boxes that hard.
I also played several movies with both Cinema APK and Kodi with no problems whatsoever.
The price for this powerful Android TV Box as of this writing is only $57.99!  That's pretty darn good considering the amount of CPU, RAM, and storage on this system.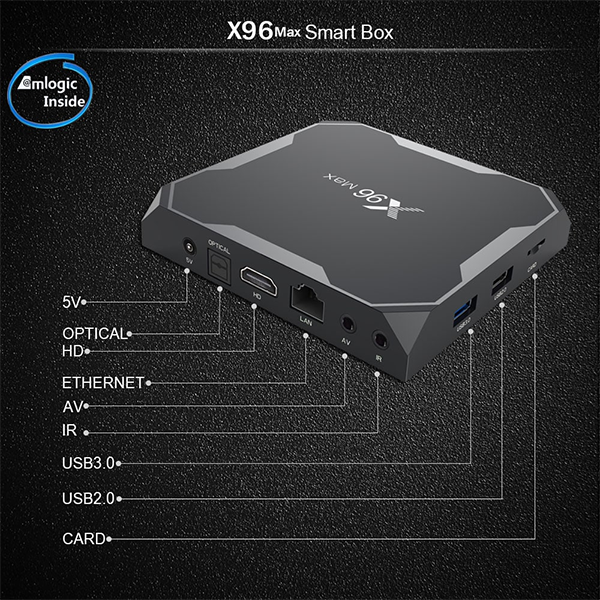 What I Don't Like
The X96 Max comes with the same type of cheap IR remote that we see with most of these generic Android TV boxes.  But, this isn't a huge problem for me as I always use an iPazzPort Wireless Keyboard Remote Combo with boxes like this.
When clicking the mouse button on the remote, the keyboard always appears.  I must click back button on remote to remove the keyboard and start using the built-in mouse.  Again, not a deal-breaker because I am using my iPazzPort as the primary remote.
Paid service apps such as Netflix and Amazon Prime don't work well on the X96 Max.  As stated earlier, in my opinion if you use paid services, you will want to stick with Amazon Fire TV devices or NVIDIA SHIELD which come with the proper licensing.
Please don't confuse paid services with the IPTV solutions that I often mention on this site.  IPTV works great on the X96 Max.
I wish that the download speeds were a little better and maybe the tests below indicate where this manufacturer cut costs (network adapters).  There wasn't a huge reduction in speed when VPN was active which is great to see.
Also, we all know that most servers that we stream from will only allow for so much speed an the rest is overkill.  In my opinion, people shouldn't get too hung up on download speeds with their streaming devices.  I can live with anything over 20 Mbps with my VPN on.
I have a feeling that this will be like the majority of other generic Android TV Boxes where we won't be provided with any Android OS updates in the future.  Many of us are continually upgrading our devices so maybe this isn't a huge deal.  But, if you are looking for something that will receive future updates, you may want to go with an Amazon  Fire TV device or NVIDIA SHIELD.
X96 Max Download Speed Tests
The following tests were conducted through my 200 Mbps Internet service.  The WiFi testing was done through the 5 GHz band on my Asus AC3100 router.
The VPN that I am using in this speed test is IPVanish VPN.
Ethernet
VPN On: 39.4 Mbps download & 28.7 Mbps upload
VPN Off: 63.9 Mpbs download & 30.1 Mbps upload
WiFi
VPN On: 31.2 Mbps download & 28.1 Mbps upload
VPN Off: 49.5 Mbps download & 29.1 Mbps upload
What's In The Box
Package Contents: 1 x TV Box, 1 x Remote Control, 1 x English Manual, 1 x HDMI Cable, 1 x Power Adapter
X96 Max Android TV Box Specs
Brand: X96
Type: TV Box
System: Android 8.1
CPU: Amlogic S905X2
Core: 2.0GHz,Cortex A53
RAM Type: DDR4
Decoder Format: H.263,H.264,H.265,HD MPEG4
Video format: 4K,H.265
Audio format: AAC,APE,DDP,FLAC,HD,MP3,OGG,TrueHD,WMA
Photo Format: BMP,GIF,HD JPEG,PNG,TIFF
Support 5.1 Surround Sound Output: Yes
5G WiFi: Yes
WIFI: 802.11 a/b/g/n/ac
Bluetooth: Bluetooth4.0
Power Supply: Charge Adapter
Interface: AV,DC 5V,Ethernet,HD,Optical,TF card,USB2.0,USB3.0
Antenna: No
Language: Multi-language
HDMI Version: 2.0
Other Functions: 3D Games,3D Video,DLNA,ISO Files,Miracast,NTSC,PAL
External Subtitle Supported: Yes
HDMI Function: HDCP
Power Consumption.: 2W
RJ45 Port Speed: 1000M
System Bit: 64Bit
Product weight: 0.1500 kg
Package weight: 0.4250 kg
Product size (L x W x H): 10.50 x 10.50 x 2.80 cm / 4.13 x 4.13 x 1.1 inches
Package size (L x W x H): 17.00 x 11.00 x 5.50 cm / 6.69 x 4.33 x 2.17 inches
YOU'RE BEING TRACKED
Your identifying IP address is exposed which ties directly back to you through your Internet Service Provider.
IPVanish VPN will mask your IP address and encrypt your connection so you will become 100% anonymous.
SAVE UP TO 74% WITH THIS TIME-SENSITIVE DEAL
30-Day Money-Back Guarantee
Final Thoughts
I've reviewed quite a few of these generic Android TV Boxes in the past and I really like this one, especially when considering the price.
Its a powerful device capable of playing 4K video with no problems whatsoever.  Plus, the storage capabilities make it attractive for those who like to download movies, TV shows, and games.
If you like the pure Android experience, the X96 Max Android TV Box may be for you.
Tell us in the comments what your thoughts are on the X96 Max.  If you have one, give us your own review below!
This page includes affiliate links where TROYPOINT may receive a commission at no extra cost to you. Many times, you will receive a discount due to the special arrangements made for our visitors. I will never promote something that I personally don't use or recommend. Purchasing through my links directly supports TROYPOINT which keeps the content and tools coming. Thank you!