The list below will provide you with the Best Anime Streaming Sites for all your viewing needs.
While the list below contains sites for the best Anime content, these can be used on tons of different devices besides a computer or a laptop.
All of these websites offer tons of Anime content such as movies, TV shows, manga, videos, games, and more.
In addition, some of these are the same locations that various Kodi Addons and Streaming Apps use to scrape for Anime content. When you use these sites, you're going directly to the source.
All websites in the list below are available for use on PCs, tablets, mobile phones, and streaming devices like the Amazon Firestick, which is the most popular streaming device today.
Legal Copyright Disclaimer: TROYPOINT ("us", "we", or "our") does not verify whether app/addon/IPTV developers hold the proper licensing for content that they deliver. We do not own or operate any streaming website, service, app, or addon, and have no affiliation with developers. We do not endorse or promote illegal activity tied to streaming or downloading copyrighted works. The end-user shall only access media that falls under public domain status which isn't protected by copyright. The end-user shall be solely responsible for media accessed through any device, app, addon, or service mentioned on our Website. Referenced applications/addons/services are not hosted or administered by TROYPOINT. We adhere to all valid DMCA takedown requests.

Currently, streaming copyrighted content without consent in the US is a misdemeanor punishable by law.
I recommend bookmarking this page to keep you up to date on the Best Anime Streaming Sites available. This page is updated Weekly for your reference.
The following list was last updated on Sat, Jan, 23, 2021
We want to hear from you! Please use the poll below to let us know What is Your Favorite Anime Streaming Site?
Best Anime Streaming Sites
Similar to Free Movie Websites and Putlocker Alternative Sites, these Anime sites are continually shut down and removed.
As of the writing of this article, all Anime sites listed below are currently working and available for use.
The websites below are ranked based on the following criteria:
Anime Content
Monthly Visitors
User Interface
Ad annoyance (scale of 1-10, 10 being the worst)

1. Crunchyroll
This anime streaming site features complete entertainment options for anime fans. It has sections for the latest anime news, soon-to-be-released episodes, feature shows, Crunchyroll news and contests, and simulcasts.
The best thing about Crunchyroll is its ad-free feature (for paid subscription) and quick episode release (one hour after Japan airs the episode).
It offers a 14-day free trial so you can watch full videos, try out the Offline Viewing feature, and stream on up to four devices. Paid subscription also offers access to digital manga.
These are the reasons why Crunchyroll made it to TROYPOINT's popular list of Best Firestick Apps.
Check out the link below for more information on Crunchyroll and how to install the app on any streaming device.
How to Install Crunchyroll App
Monthly Visitors: 58.8 million
Ad Annoyance: 2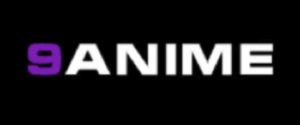 2. 9Anime
One of the most popular anime streaming sites, 9ANIME features the latest episodes of your favorite series within minutes of the official release.
There are two URLs for 9ANIME: 9anime.ru and 9anime-tv.com. The former has a better user interface and allows filtering based on Country, Season, Type, Language, Genre, Year, and Status.
This website offers both subbed and dubbed versions of each episode in 1080p quality.
It also features 42 genres from action to supernatural. Plus, you'll find titles released even in the 80s and 90s.
It also features detailed estimated releases of each episode on its calendar complete with time and episode number.
Refer to our guide below for more information on the 9Anime site and how to stream on any device.
How to Stream 9Anime Website On Any Device
Monthly Visitors: 13.5 million
Ad Annoyance: 6
Mirrors: 9anime-tv.com, 9anime.one, 9anime.at
3. Funimation
This Anime streaming site is one of the most reliable anime sources available today.
Produced by Sony Pictures and Aniplex of Japan, Funimation offers episodes of current seasons of some of the most popular anime series today.
Shows are categorized according to Shounen, romance, action/adventure, live-action, psychological, Slice of Life, horror, drama, Shoujo, sci-fi, fan service, comedy, and fantasy.
And so you can't miss the latest episode and movies, it has a full schedule of programs complete with time and language. 
The site is available in 47 countries and on 15 platforms. If you're restricted, you need a VPN to access the site.
Subscription plans include ad-free features, a huge catalog of hits (new releases and classics), and simulcast straight from Japan.
Monthly Visitors: 10.8 million
Ad Annoyance: 0
4. KissAnime
KissAnime (a sister site of KissCartoon and KissAsian) was one of the most popular Anime sites of all time but is now shut down.
The original kissanime.ru domain was right up there with torrent sites in terms of site traffic and popularity before going offline.
It has thousands of anime episodes tagged as "Completed" if the entire series is done, or lists the latest episode if the series is still ongoing.
KissAnime also has sections for what's currently trending, schedule of release, and anime lists that you can sort based on name, popularity, latest update, and new release.
Each anime is listed with full details including alternative titles, genre, date aired, status, number of views, and a short summary.
Because the original KissAnime.ru domain is permanently shut down by copyright holders, TROYPOINT has prepared a list of alternative sites.
KissAnime.ru Domain Shut Down – Here are Working Alternatives
Monthly Visitors: 10.4 million
Ad Annoyance: 9
Mirrors: kissanime.nz, kiss-anime.ws, kissanime.uk.com
TROYPOINT TIP: If using these free Anime streaming websites on a Windows PC or Mac, it's highly recommended that you protect yourself with secure Antivirus Software.

Troy from TROYPOINT has created a free Antivirus Guide that lists the best software, and walks you through everything you need to know about Antivirus.
5. AnimeHeaven
With thousands of episodes of the top anime programs today and in the past decades, AnimeHeaven speaks a lot about its name.
Its content library contains hard-to-find titles apart from the latest releases per episode.
The interface is similar to most movie streaming websites and accommodates comments by users at the bottom of the page.
Categories include Dubbed Series, Movies, Ongoing series, Shows per series, Popular shows, Schedule, and Random suggestions.
But because it's free to watch content, expect ads to appear frequently when you click on the site.
Monthly Visitors: 8.2 million
Ad Annoyance: 8
6. AnimeDao
For an anime streaming site that contains thousands of shows, users will love AnimeDao's simple interface and neat layout.
Browse through its list of the latest episode releases, ongoing series, and freshly added old titles.
If you're not sure of what to watch, click the Random button and the site will provide you with a recommendation.
All anime episodes and movies come with English subtitles in SD and HD and can be played on any device such as PC, tablet, and mobile.
Be warned of pop-up ads, however, when streaming episodes.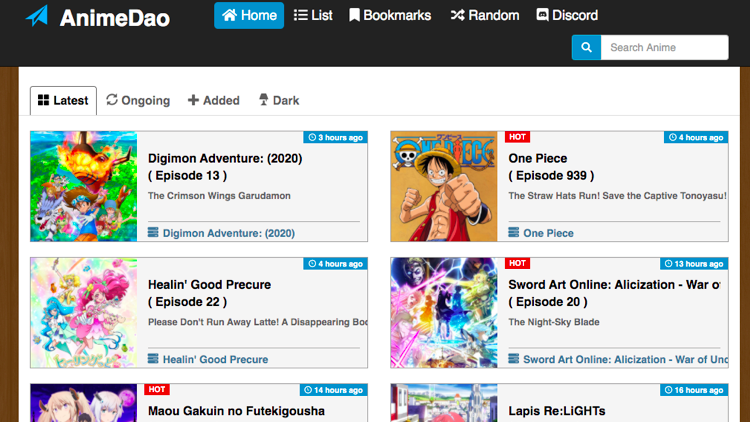 Monthly Visitors: 990,000
Ad Annoyance: 7
7. AnimeLab
Stream the best anime from the early 90s to the latest releases this year on AnimeLab.
It contains a huge collection of titles from action to supernatural genres that appeal to fans of all ages.
The site also features simulcasts straight from Japan complete with detailed schedules so you're updated with the latest episodes.
Shows are categorized according to Recently Added, Popular Shows, Subbed Shows, and Dubbed Shows.
The Basic Plan, which comes for free, offers 480p video quality on a standard player.
The Premium Plan, however, offers ad-free watching, direct simulcasts, full access to movies, subbed and dubbed versions, offline playback on Android/iOS, and priority support.
As of this writing, AnimeLab is available only to subscribers in Australia and New Zealand. If you're restricted, you need a VPN to access the site.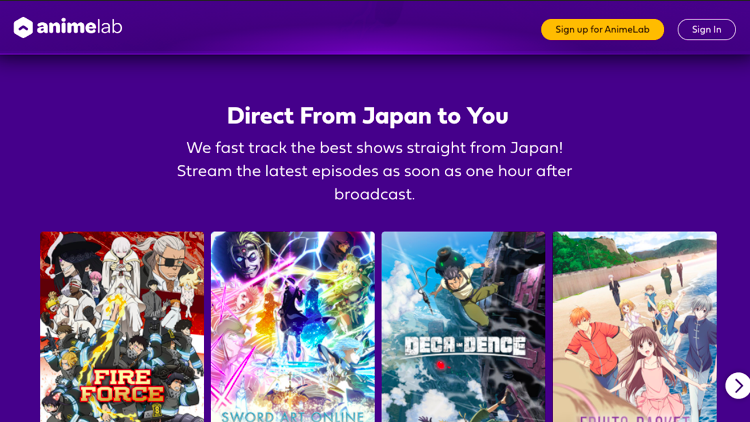 Monthly Visitors: 3.6 million
Ad Annoyance: 5 
8. VIZ
Offering the latest anime series as well as well-loved classics, VIZ has been in the manga industry for three decades already.
It credits itself for bringing Japanese pop culture to the United States to become the primary source of manga in the country.
Today, it also offers anime shows from the old favorite Ranma 1/2 to the latest episode of Boruto. Users can save their favorite shows in their own library to make their binge-watching habit more convenient.
Anime shows in VIZ come in English-subtitled format as soon as it's released in Japan. You can start streaming some shows for free such as Sailor Moon and Inuyasha.
Monthly Visitors: 7.6 million
Ad Annoyance: 1
9. Anime-Planet
Founded in 2001, Anime-Planet prides itself on offering more than 45,00 Anime episodes.
You can browse through shows and movies categorized according to popularity, release date, user tags, user favorites, and recent updates.
On its Anime Recommendations section, title suggestions include content from fellow users or personal suggestions based on tags and related content.
Add Anime shows to your official list so you can get build your favorites.
And it also offers a huge selection of manga and other light novels. Plus, members can join the Anime-Planet official community to read reviews and news as well as chat with other fans.
Monthly Visitors: 11.4 million
Ad Annoyance: 1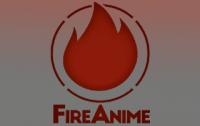 10. Fire Anime
Although Fire Anime is not a standalone streaming site like the others on this list, this streaming app pulls quality links from anime sites across the Internet.
The main categories within Fire Anime include Extra Anime, Popular Anime, Latest Subbed Anime, New Seasons, All Anime, and Settings.
If you are using a streaming device like the Amazon Firestick, you will enjoy Fire Anime!
Monthly Visitors: 400,000
Ad Annoyance: 3
11. Chia-Anime
Since 2009, anime fans have been hooked on Chia-Anime because it carriers the top anime shows in HD quality such as Naruto Shippuden, Bleach, and One Piece, among others.
Within an hour of the Japanese broadcast, users can already access the show on Chia-Anime. You can also access the most popular and random suggested episodes to fill your anime needs.
Take note that all shows on the site are free and are indexed since they're hosted by third-party websites. With this, expect ads to pop up most of the time.
Monthly Visitors: 3.8 million
Ad Annoyance: 8
12. VRV
This streaming site carries anime titles sourced from HIDIVE and Crunchyroll catalogs so users are guaranteed high-quality versions and superb subs.
The most popular shows on its lineup include Hunter x Hunter, Food Wars!, Sword Art Online, and OnePiece.
Users outside the US need VPN to access the site. There's a 30-day free trial (which is a lot longer than most complimentary trials offered by streaming sites).
The ad-free package of $9.99 allows access to the newest episodes, exclusive series, and ad-free entertainment.
Monthly Visitors: 4.6 million
Ad Annoyance: 0 (Paid Plan)
13. GoGoAnime
Anime fans have a lot of choices on this streaming website given the range of genres available from standards such as comedy and action to more specific like mecha and Shounen Ai.
The English dubbed series are also plenty and are sure not to limit you with hours and hours of entertainment content. And there's also an option to stream Chinese subs too.
Plus, this streaming website contains the best OVA (original video animation) and ONA (original net animation) in high quality.
Access to all series is free since shows are hosted by external sources.
Monthly Visitors: 23.1 million
Ad Annoyance: 7
Mirrors: gogoanime.life, gogoanime.pro, gogoanime.app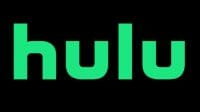 14. Hulu
The popular streaming website, Hulu, is known for its live TV, movies, and original shows but its selection of anime content can rival that of other streaming sites in this niche.
From anime classics such as Dragon Ball Z and Cowboy Bebop to English-dubbed movies such as Akira and Studio Ghibli productions, Hulu won't disappoint anime fans who want HD quality shows.
Hulu also offers simulcasts of the latest anime TV series.
Plans come in ad-supported, ad-free, and ad-free with live TV options.
Monthly Visitors: 216.1 million
Ad Annoyance: 3 (Hulu Plan); 0 (Hulu No Ads Plan)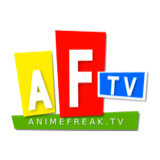 15. AnimeFreak
With thousands of episodes of your favorite anime shows in various genres (fantasy, music, mystery, parody, adventure, and even supernatural to name a few), AnimeFreak is your go-to destination for all free streaming content.
Get treated to the latest OVA series, movies, and other anime favorites on this site. Plus, it also has thousands of manga updated right after the chapter release in Japan.
The one thing that can be frustrating with AnimeFreak, however, are the pop-up ads.
Monthly Visitors: 6.6 million
Ad Annoyance: 10
16. Tubi TV
From classic hits such as Akira and You You Hakusho to the latest episodes of Boruto and Fairy Tail, Tubi TV is one of the best free streaming services available today.
Watch episodes in high quality and wait for the latest releases to keep up to date with your favorite series.
But because access is free, the platform inserts ads and commercials into the content in order to earn from the streaming service.
Still, this does not make the entertainment experience less exciting, unlike other ad-supported sites.
Refer to our guide below for more information on Tubi TV and how to install it on any device.
Monthly Visitors: 15.4 million
Ad Annoyance: 6
This streaming service boasts of some of the most popular anime cult favorites to date from Dr. STONE to Monster Girl Doctor.
English subtitles are available in most programs aside from Chinese, Thai, Bahasa Malaysia and Vietnamese.
The best thing about it is that ads are very limited, which is a good thing for free streaming sites such as this that feature HD quality shows.
Subscribers can also access other non-anime shows and movies from Korea, China and Taiwan.
Monthly Visitors: 2.3 million
Ad Annoyance: 2
18. MyAnimeList
This streaming site has become a staple among anime fans because of its wide selection of content and its reputation for being an all-in-one source of anime reviews, news, forum discussions, and promotional videos.
What sets apart MyAnimeList from others is its detailed information for every anime series or movie it features.
Users can access the synopsis, background, alternative titles, production information, characters, voice actors, opening themes, ending themes, reviews, and statistics (score, rank, popularity, members, and favorites).
MyAnimeList offers one of the most affordable monthly plans at only $2.99 per month for an ad-free experience, expanded Favorites section, profile badge, and other perks.
Take note that if you are not logged in, ads will be displayed while watching.
Monthly Visitors: 51.1 million
Ad Annoyance: 0 (Paid Plan)
19. All4
Channel 4's streaming service not only carries some of the best European shows but now features top-rated anime shows such as Cardcaptor Sakura, Megalobox, Vision of Escaflowne, and Tokyo Ghoul, just to name a few.
Earlier this year, it added additional popular series such as Kill la Kill and Persona 5.
Add your favorite anime to your My List library and start streaming each episode. The All4+ Plan allows users to skip ads and comes with a free trial too.
Monthly Visitors: 13.6 million
Ad Annoyance: 0 (Paid Plan)
This French anime streaming website takes pride in being one of the leading anime resources in France, Luxembourg, and Belgium.
Its streaming service is completely legal, having formed an alliance with Kaze and Kana Home Video publishers from Japan.
Take note that content is available in French version or in Japanese with French subtitles. The Streaming package is at €6.99 with access to HD videos.
Monthly Visitors: 4.9 million
Ad Annoyance: 0 (Streaming package)
21. AsianCrush
Anime junkies are drawn to AsianCrush because it carries a wide range of anime shows from action to rom-com.
Fans can also filter their choices according to region and themes (revenge, family, historical, sports, etc.).
Access to content is at $4.99 per month, which comes ad-free and content can be watched on iOS, Android, Amazon Firestick, Roku and Chromecast devices.
Monthly Visitors: 1.3 million
Ad Annoyance: 0 (Paid Plan)
22. Netflix
As the leading streaming service, Netflix's anime section offers a wide variety of movies (A Silent Voice, Pokémon) and series (Attack on Titan, Sword Art Online).
Netflix does a great job at categorizing its anime according to teen TV, crime, fantasy, comedy, action, sci-fi, adventure, drama, and the best selections from some of Japan's leading studios.
And to further boost its selections, Netflix carries original anime such as Japan Sinks: 2020 as well as exclusives such as Castlevania and Little Witch Academia.
Check out our tutorial below for installing Netflix on Kodi.
How to Install Netflix Kodi Addon
Monthly Visitors: 2.6 billion
Ad Annoyance: 0
23. HIDIVE
This Houston-based streaming service offers subscribers the best anime titles and a catalog of shows released since the 70s.
The latest simulcasts from Japan are streamed in 1080p or HD quality.
What makes it different from competing sites is its selection of hard-to-find titles and OVAs that can make true anime fans excited.
And you can customize your viewing by setting it to uncensored and changing the color of subtitles.
HIDIVE's content discovery engine is also one of the best in the field.
Subscription is only at $4.99 per month with a 30-day free trial to new users.
Monthly Visitors: 680,600
Ad Annoyance: 0
24. HBO Max
With more than 10,000 hours (and growing!) of content, HBO Max doesn't shortchange its subscribers with anime stuff.
From the complete Ghibli Library collection to the classic favorite Rorouni Kenshin, there's plenty of anime to choose from.
And since it's owned by AT&T together, HBO Max allows users to stream 17 anime series (Fullmetal Alchemist and Re:ZERO, for example) direct from the streaming platform, Crunchyroll, which is also part of the AT&T network.
And with an HBO Max subscription, you're also treated to some of the platform's original shows, family-friendly series, and fantasy programs (Game of Thrones and Doom Patrol).
Current HBO Now subscribers or those with a subscription to the channel through a TV or mobile service provider automatically gain access to HBO Max.
How to Install HBO Max on Firestick/Fire TV
Monthly Visitors: 36.1 million
Ad Annoyance: 0
25. RetroCrush
Fans of cult classics have only one destination online: Retro Crush. With titles such as Lupin III, Voltes V, Appleseed, Bubblegrum Crisis and Great Teacher Onizuka, users will never run out of choices.
In addition, the anime movies are a sure hit among fans who want to relive their childhood memories watching Galaxy Express, Space Adventure Cobra, and Wicked City.
The best thing about this is it has no annoying ads and access if free if you're in the US or Canada. Otherwise, you need a VPN.
Monthly Visitors: 51,600
Ad Annoyance: 0
Anime Streaming Sites Poll
Help us determine the best Anime Streaming Sites that appear on this page by participating in the poll below.  You must vote to see results.
Streaming Best Anime Sites on Firestick/Fire TV
As stated above, the sites on this list have been chosen specifically for their functionality on different platforms.
While there are thousands of free anime streaming sites, these work perfectly on PC's as well as Amazon's Fire TV devices and Android TV Boxes.
As of the writing of this article, the most popular streaming device is the Amazon Firestick 4K.
Often times, users purchase the Firestick with hopes of "jailbreaking" this device to allow unlimited streaming access.
By "jailbreaking a firestick" you can install 3rd party apps that enable you to view free Anime movies, shows, and more.
How To Jailbreak a Firestick/Fire TV
If you are using a Firestick or Fire TV device, the Silk Browser can be easily installed from the Amazon App Store.
With the Amazon Silk Browser on your device, all sites listed above will play any Anime movie or Show you select.
If you are using an NVIDIA SHIELD, MECOOL Box, Chromecast, or any device with the Android TV operating system, I suggest using one of the browsers below.
How to Install Puffin Browser
How to Install TV Bro Browser
TROYPOINT TIP: Keep in mind many of these free Anime Streaming Sites are filled with ads, have limited content options, and can require accounts. I suggest viewing our popular guides below for alternatives.
Warning! Protect Yourself With A VPN
Most cord-cutters use a VPN and rightfully so.
The free streaming applications, addons, and paid IPTV services that you use are usually hosted on insecure servers.
Without a VPN, your IP Address is being logged.
Your IP Address points back to your location and identity which compromises both your privacy and security.
Your current identifying IP Address is 2601:89:100:5c4b:29a4:da39:3504:ca2f – When you use a VPN, your real IP address will be converted into an anonymous new one.
A VPN will provide you with an anonymous connection to the Internet.
This will prevent your Internet Service Provider, app/addon developers, government agencies, and any 3rd party from logging what you're accessing online.
The most popular VPN among cord-cutters is
IPVanish
due to their blazing fast speeds and zero log policy.
Its important to use a VPN that is fast since we are streaming large HD files.  Its also crucial to find one that keeps no logs of what their subscribers access while online.
Setting up IPVanish VPN on your streaming device is simple!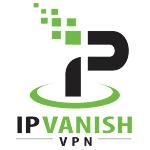 Step 1
 Register for an IPVanish VPN account by clicking the link below.
This exclusive link provides you with a hefty discount, only available to TROYPOINT visitors like you.
 Register for IPVanish Account & Save $40 (EXPIRES SOON)
Step 2
 – Hover over the search icon on your Firestick, Fire TV, or Fire TV Cube and type in "Ipvanish"
You may also find the IPVanish App in the Google Play Store for those of you who are using Android TV Boxes, phones, and tablets.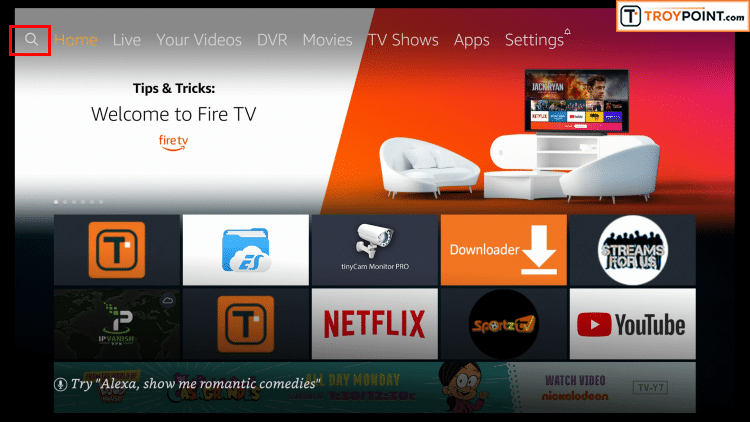 Step 3
 – Click the IPVanish VPN option that appears.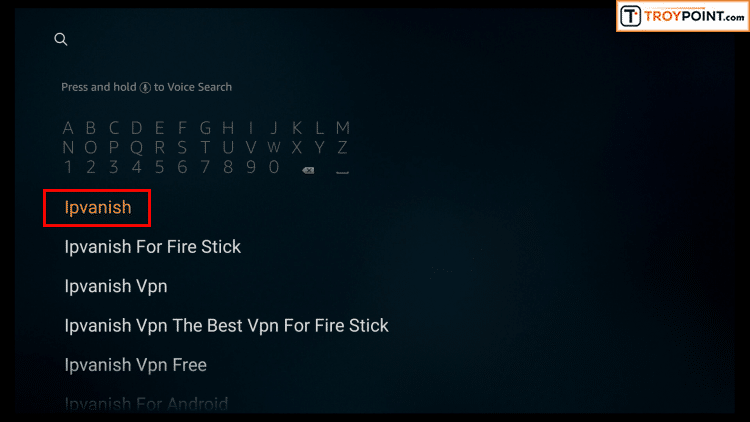 Step 4
– Click the IPVanish icon under Apps & Games.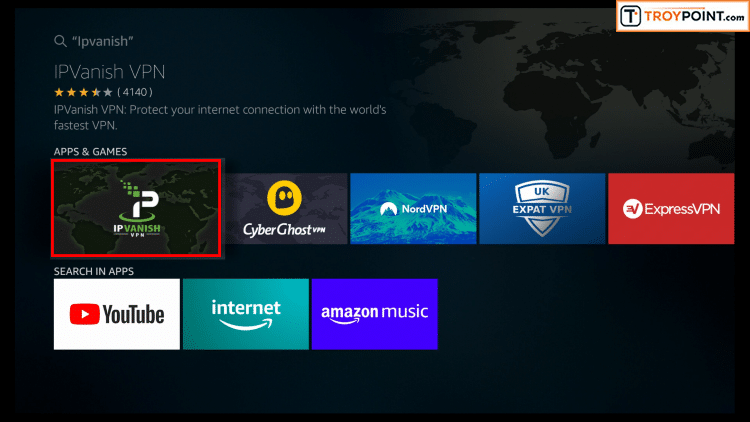 Step 5
– Click Download.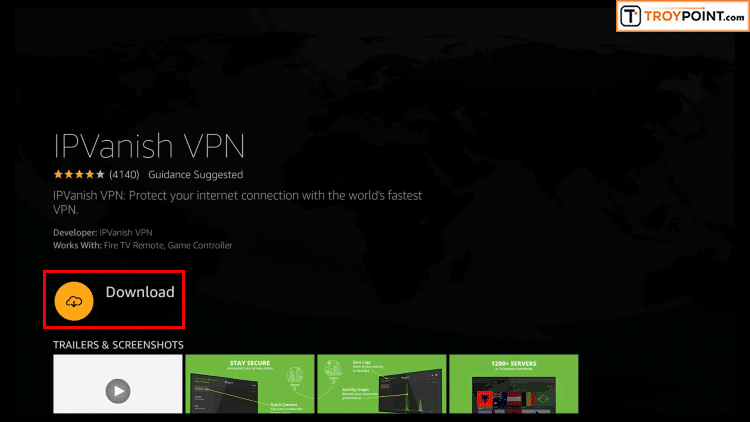 Step 6
– Click Open.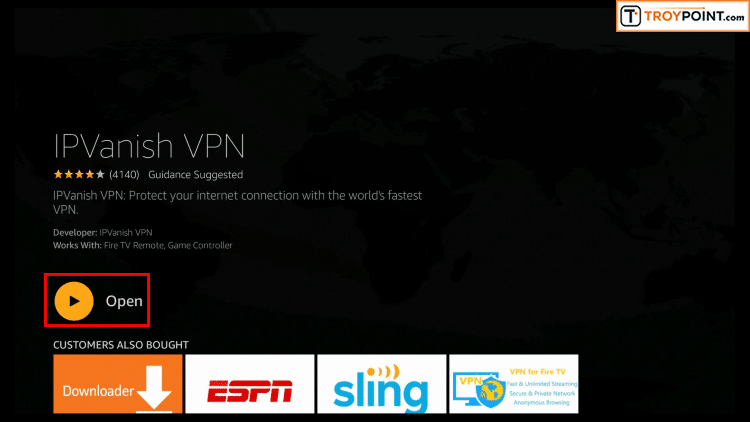 Step 7
– Enter  your username and password to login.  Your username is the email that you used to register for
IPVanish service
with and your password is automatically generated and emailed to you.
Step 8
– Click Connect button.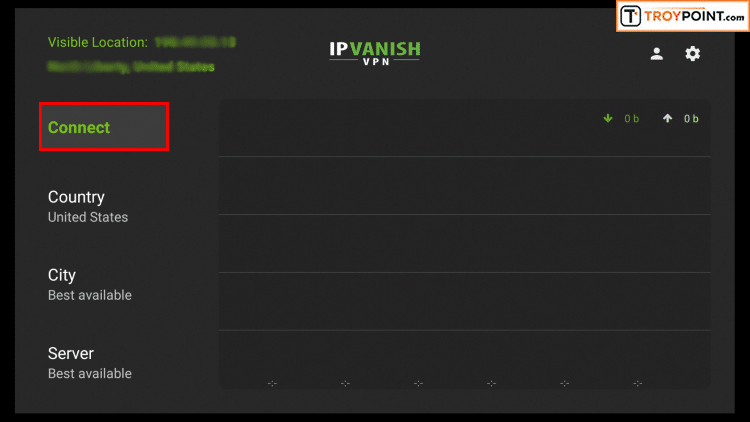 Step 9
– Click OK for Connection request if it appears.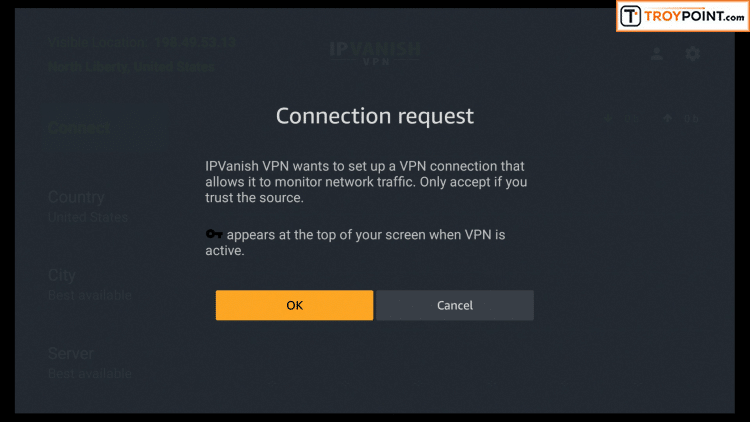 Step 10
– You will notice that your IP Address changes along with location of connection.  You are now operating anonymously through your device.
Click the Home Button on your remote and the VPN will remain running in the background.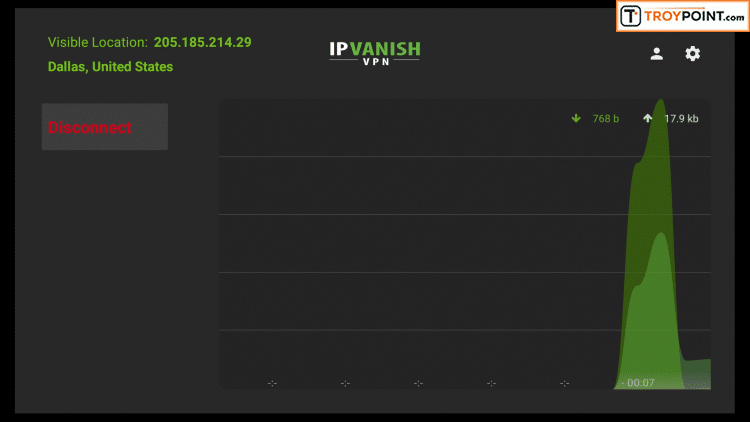 Congratulations!  You are now protected by a VPN which means everything that you stream or access through your Firestick or Android TV Box is hidden from the rest of the world.
If you ever need to stop the VPN service, simply re-launch the application and click the DISCONNECT button.
Anime Streaming Sites FAQ
What are the best anime streaming sites?
The best anime streaming sites include 9Anime, Crunchyroll, Anime-Planet, AnimeFreak, VRV, GoGoAnime, VIZ, AnimeDAO, AnimeLab, and many others we include in this list.
Are anime streaming sites legal?
Yes, anime streaming sites are legal if viewing anime content from verified services or within the public domain.
Do you need a VPN for anime streaming sites?
Yes. Having a VPN is a must if using these anime streaming sites. This will hide your streaming activities and keep you anonymous from website operators, hackers, app developers, and your ISP.
What happens if you get caught with using anime streaming sites?
If you are caught using anime streaming sites to watch copyrighted content, you may face legal issues. TROYPOINT recommends having a VPN when using anime streaming sites, and only viewing content from verified services or within the public domain.
What streaming sites can I watch anime content without signing up?
Some anime streaming sites that don't require you to sign up for an account include 9Anime, AnimeDAO, AnimeFreak, KissAnime, GoGoAnime, and Fire Anime.