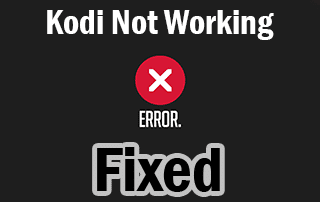 This article will show you some of the best techniques and tips to solve the problem of Kodi Not Working.
If you are a regular Kodi user, you have more than likely experienced Kodi not working at least a time or two.
So what does it mean when Kodi is not working? There are a few problems that could arise within the software, and many times it involves a simple fix. Some of the more common errors include:
Add-ons not working
Freezing while playing or opening a source
and more
If you are experiencing any of the issues listed above, click the respective link for a complete guide to fixing the problem. If you still are encountering issues, use the guides below.
Important Reminder: Continual issues within Kodi may be because your ISP is blocking or throttling your service. I strongly suggest installing a VPN to mask your IP address and hide your activity.
By installing a VPN, you will no longer have to worry about Internet Service Providers monitoring your content.
CLICK HERE to learn How To Install VPN for Kodi.
How To Fix: Kodi Not Working
Restart Kodi Device
If you are using a Fire TV or Fire TV Stick to host Kodi, the first recommendation I always give whenever an issue arises is to restart the device. This is a quick tip that often times brings magnificent results. To restart a Fire TV/Stick, follow the steps below:
1. From the main menu, select Settings
2. Click Device
3. Click Restart
You can also Restart your Fire TV/Stick by unplugging the power cord from the back of the device, waiting 10-20 seconds, and plugging back in.
The same method can be done for an Android TV Box or Computer. Resetting your Kodi device is a simple solution that can sometimes solve any problems you are experiencing with the software. If resetting your device doesn't solve the issues with Kodi not working, there are a few more ways to try and fix this.
Clear Kodi Cache
Clearing the cache within Kodi is a great way to speed up the software and clean the entire system. If you are experiencing lag or buffering in Kodi, this is the perfect solution to stopping it.
Clearing the cache may the best way to fix any problems you are having within Kodi.
To clear the Kodi cache, TROYPOINT recommends installing the Supreme Builds Wizard which offers numerous tools to enjoy a better Kodi experience. Use the link below to learn how to clear the cache on your Kodi device:
Removing/Updating Kodi Add-Ons
Often times, when problems arise within Kodi, it may be due to the specific add-on you are using. As most Kodi users know, add-ons are constantly being shut down and restored.
If your Kodi device is full of add-ons, this may slow down down the software. Removing unused or unwanted add-ons is a great solution to fix the problem of Kodi not working.
To learn how to remove Add-Ons from your Kodi device, click the link below:
Reminder: If you are trying to install a Kodi add-on and receive the following message: "Unable to connect, Couldn't retrieve directory information." More than likely, you have entered the URL incorrectly.
Double check the URL is spelled exactly right and retry again.
Another factor that may diminish Kodi streaming is an out of date add-on. The good news is, add-ons within Kodi can easily be updated. Follow the screenshot tutorial below to learn how to update a Kodi add-on:
TROYPOINT Tip: 
You should always use a
VPN
to protect your identity and security when streaming free movies and TV shows with third party Kodi addons/builds such as this.
Legal Copyright Disclaimer: This technology shall only be used to stream movies or TV shows that fall under the public domain.  TROYPOINT does not endorse or promote illegal activity tied to streaming or downloading copyrighted works. The end-user shall be solely responsible for media accessed through any service or app referenced on this Website.  Referenced applications/addons are not hosted by TROYPOINT and this guide is for educational purposes only.  
How To Update Kodi Add-On
In the guide below, I am using the Deck Chair add-on. However, this method can be used for all other add-ons as well.
1. Open Kodi and scroll down to Select Add-ons
2. Click the package installer button located in the upper left-hand corner of the screen 

3. Click My add-ons
4. Click Video add-ons
5. Choose your preferred add-on
6. Click the Update Button
7. If applicable, choose the most up-to-date version
8. Wait for add-on updated message to appear
If this does not fix your Kodi problems, a complete update of the software may be in order.
Update Kodi
Updating Kodi is one of the most efficient ways to ensure the software is functioning properly. By doing so, you will know that the highest quality program is installed on your device and functioning to its full ability. If you are unsure of the version of Kodi installed on your device, we can easily check this.
To do so, launch Kodi and click the small Settings Tab in the upper left-hand corner, then System Information. Your Kodi Version will be shown in the bottom right corner under Version Info.
As of this article being written, the most updated and stable version of Kodi is 17.6. While Kodi 18 is available, it is still in the Alpha stage which means there are some tweaks that need fixing. To learn how to update your Kodi device, click the corresponding link located below:
Reset/Restore Kodi
Last but not least on the list of ways to fix Kodi not working is to reset or restore Kodi to factory settings. By doing this, you will not have to delete the entire application and re-install. Instead, it will only require a quick reset to bring Kodi back to its original state.
After resetting Kodi on your preferred device, the software will return to it's original, clean state. Because everything has been wiped away, you will need to re-install add-ons and builds. TROYPOINT has created a list of the Best Kodi add-ons and Builds which you can view below:
Many Kodi users find that resetting Kodi is the cure-all solution to nearly every Kodi problem. Because Kodi can be installed on so many devices, there are several different ways to reset it. Use the tutorial links below to learn how to reset Kodi on your corresponding device:
How To Reset Kodi on Fire TV/Stick
How To Reset/Restore Kodi on Windows
Hopefully the tips above wil help you anytime you find your Kodi not working. Leave us a comment below and let us know what worked for you!

 IMPORTANT NOTE FROM TROY
TROYPOINT does not verify the legality or security of any application or service covered on this website.
I personally use IPVanish VPN when accessing free movies, TV shows, and live streams through Kodi.
Here are the reasons why I use a VPN.
I don't trust the developers of these add-ons and apps that provide this free content. A VPN encrypts my traffic so these developers can't store my activity logs and then use them against me in the future.
My Internet Service Provider (ISP) can no longer sell my logs/history or hand them over to third parties such as government, watchdog groups, etc.
I can now Access Kodi add-ons, apps,and streams that my ISP has blocked.
My ISP can't throttle my download speed when using these free addons or applications because they don't know what I'm accessing when I'm connecting through my VPN.
A VPN will encrypt your connection to the Internet, mask your IP address, and provide you with the security and privacy that you deserve.
I recommend IPVanish VPN due to their blazing fast speeds and zero-log policy.
BEYOND BLACK FRIDAY SALE - Save 73% on IPVanish VPN

This discount expires soon.

Click Here for IPVanish VPN @ 73% Off