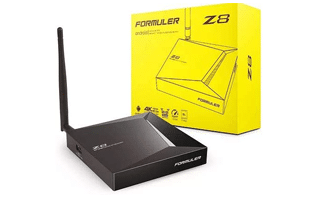 This Formuler Z8 Review was written by Troy from TROYPOINT after using the Android TV Box on a regular basis for one week.
This is not a sponsored post and I purchased the Formuler Z8 from Amazon.  See additional buying options below.
It's important to point out that the Dreamlink T3 is the same exact device so when you're shopping, be aware of that.
For the sake of simplicity, I will refer to this Android TV Box as the Formuler Z8 in this review.
The opinions offered through this review provide an unbiased look at features, build quality, and price.
The Formuler Z8 Android TV Box has received favorable reviews so I've been excited for quite awhile to get my hands on this.
Formuler Z8
The Formuler Z8 is a popular IPTV Box that caters to IPTV subscribers through their MyTV Online 2 application.
This device is currently running Android 7 and not Android TV.  Yes, there is a big difference and you can read about this on our Android TV Box Resource Guide.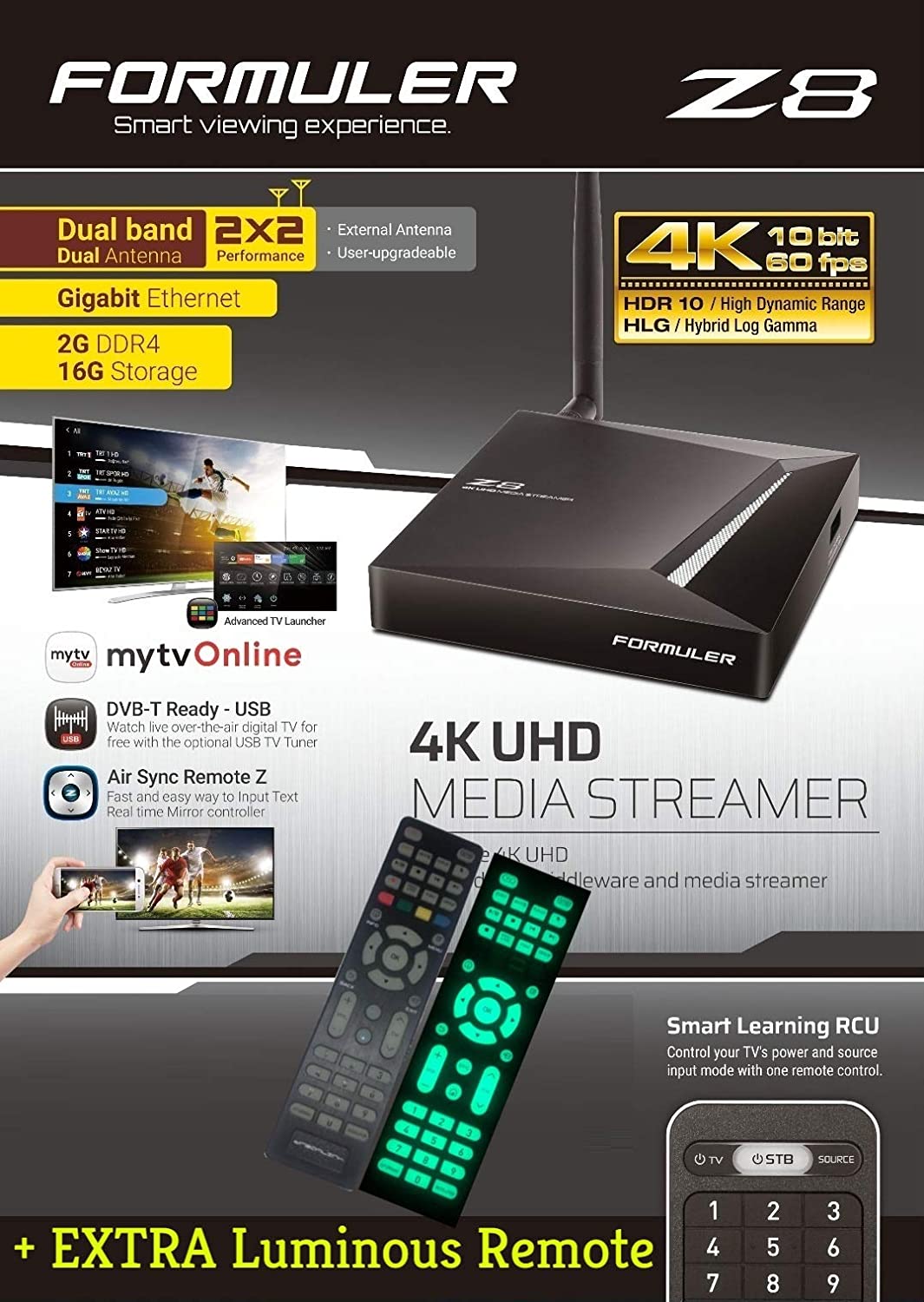 I often refer to devices such as this as "generic Android TV Boxes" due to the fact that they aren't running Android TV.
The biggest problem with these generic devices is that Netflix and Amazon Prime won't play in HD quality.   But, if you don't use those services, the Formuler Z8 could be the powerhouse you are looking for.
Unboxing & First Impressions
When I unboxed the Formuler Z8, I was pleasantly surprised by its build quality.
The outside shell feels solid and heavier than most of its cheaper counterparts.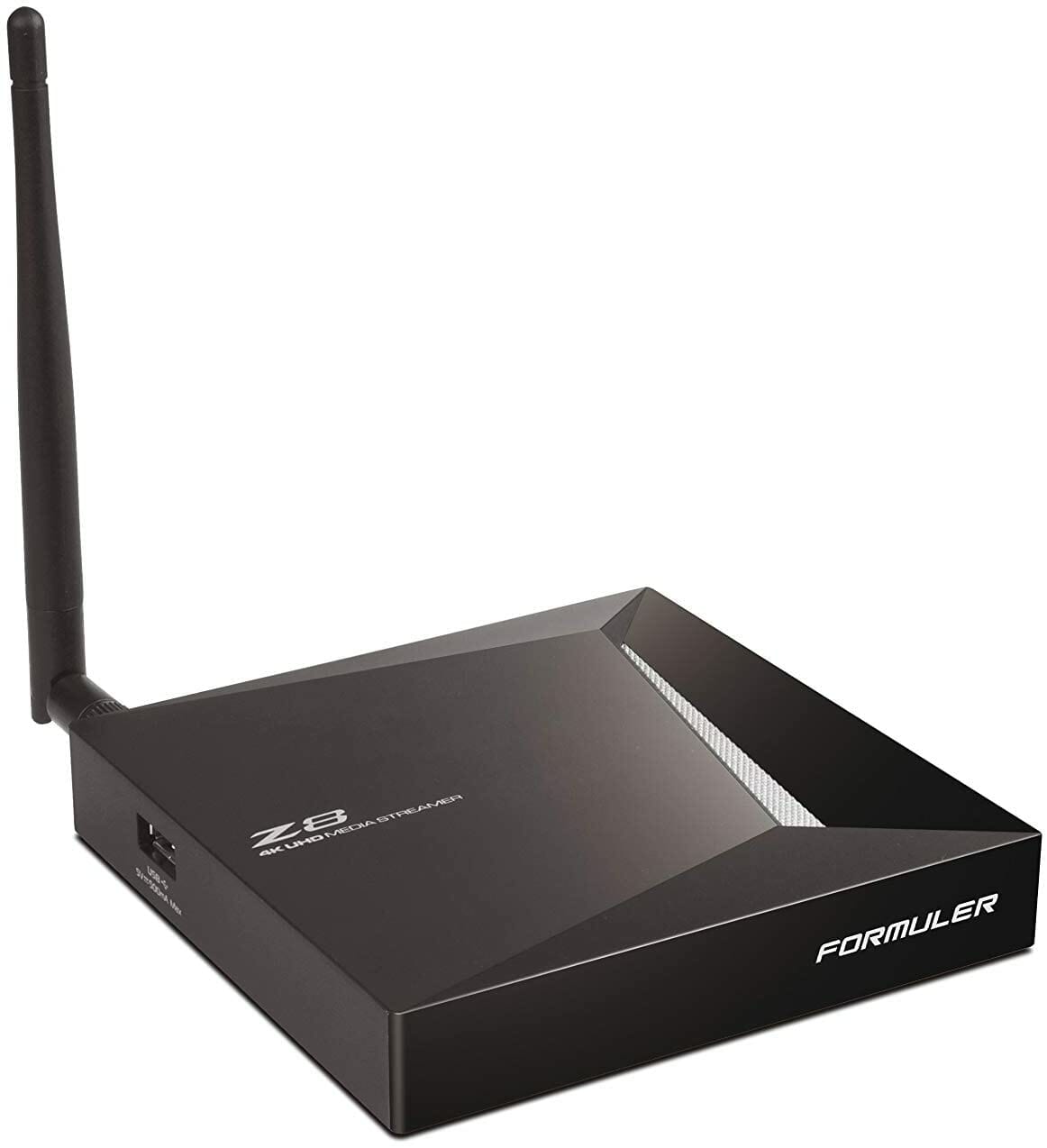 The one item that stood out the most was the remote control that comes with the Formuler Z8.
Typically, we see the same cheap IR remote in all of these boxes but not this time!
At first glance, it's apparent that the Formuler Z8 is meant for IPTV based on the buttons that are available on the remote.  Some buttons include EPG, Favorite, Group, Live, VOD, VFormat, Resolution, Playlist, and sleep.  There are instructions on the back of the remote that explain how to program the TV and Source keys.
Now, this appears to be an IR remote and usually, I'm not a big fan of those.  I prefer Bluetooth or wireless dongle for reliable performance.
We'll see shortly how well this remote performs.
The other question that immediately comes to mind is that it is running Android 7 which is a few years old.  Currently Android 10 is rolling out on many Android devices.
User Interface & Navigation
I like this user interface due to its simplicity and ability to create navigation groups and arrange shortcuts.
Within launcher settings under the main settings icon we can create groups that will display on the home screen.  In this example I created a group called Video.
Groups make it easy to organize applications that you use on a frequent basis.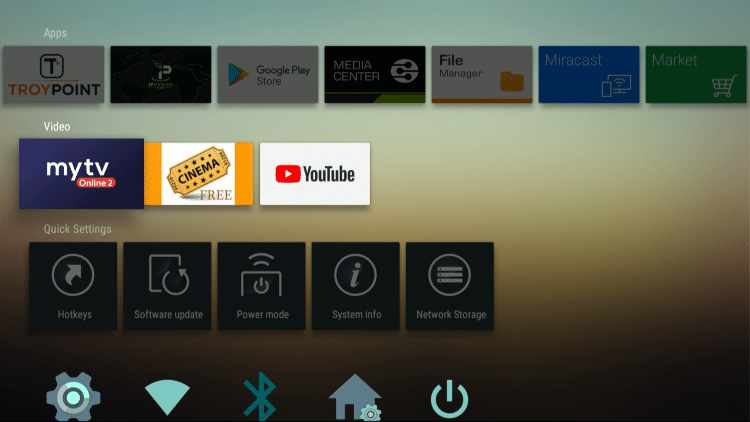 We can also rearrange the order of the shortcuts easily by long pressing and then moving the shortcut to where we want it.
Applications
As stated earlier, unfortunately Netflix and Amazon Prime won't play in HD quality due to licensing.  When will these two companies wake-up and allow their services to work properly on all devices?
But, the good news is that we have access to thousands of applications through Google Play Store.
We can also sideload all of our favorite free streaming applications directly through Google Chrome browser.
I immediately installed the TROYPOINT App with Rapid App Installer.  I then used the app to quickly install Cinema HD, Xanax Kodi Build APK, and TVZion.  All of these applications worked extremely well with no problems whatsoever.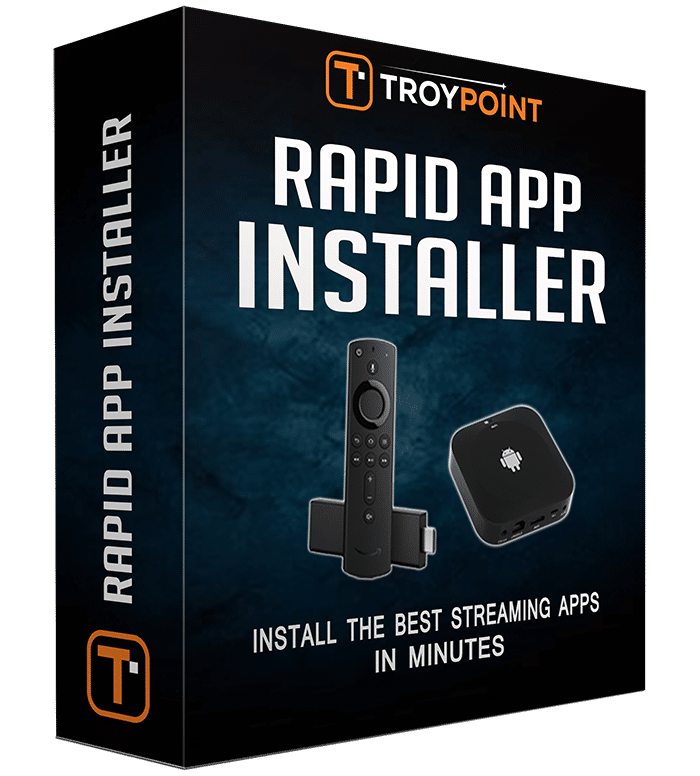 Click Here to for Free TROYPOINT App with Rapid App Installer
I also installed Plex to take advantage of the videos, photos, and music on my Plex Media Server.
Plex immediately allowed me to switch to TV mode which makes the remote control work fabulously inside the application.
Plex functions perfectly on the Formuler Z8 Android TV Box.
I opened the YouTube application and streamed 4K video without a hitch.
In general, all applications that I tested worked fabulously except for Netflix and Amazon Prime.
Remote Control
The other Android TV Box producers need to take a lesson from the Formuler Z8.
This remote is outstanding.
Yes, it is an IR remote but I found it to be quite responsive and not necessary to be pointing directly at the box for it to work as long as the box is located in an open area.
There are four quick launch buttons on the remote (red, green, yellow, blue) that can be programmed to open your favorite applications.  Awesome feature!
Formuler Z8 makes it a breeze to program the hotkey buttons.
It's nice to have my four favorite apps available with the click of a button.
Many of the buttons on this remote pertain directly to the MyTV Online 2 App and it is nice having shortcuts for all of the commonly used features.
Remote Storage
The Formuler Z8 provides an option to connect to a remote server for recording storage.
I really like this feature due to the fact that I can record IPTV directly to my Plex Media Server and then playback those recordings on any device.
Formuler Z8 MyTV Online 2 App
The Formuler Z8 is probably best known for its proprietary MyTV Online 2 IPTV Application.  This application won't work on any other devices.
This application will work for IPTV services that provide their customers with either an M3U URL or Xtream Codes portal login address.
We no longer cover IPTV services on this site but if you need one, simply search google or YouTube for IPTV services.  Make sure that you find one that provides M3U access and isn't ip address locked so you can use a VPN with it.
If you're an IPTV user, you will be floored at the features and options that this application provides, most notably are the recording options.
You can record to both remote storage or USB drive.
The application allows us to create groups of channels, picture-in-picture mode, record to remote storage/usb drive, and so much more.
We also find recording features within this application not often found in other IPTV apps.  One feature to highlight is the option to record future airings for the same show similar to a "season pass" option that we see on my DVR systems.
Unfortunately, as of this post, we can only record one stream at a time but hopefully a future update will expand on that.
If you want to install a MyTV Online 2 clone, give iMPlayer a shot!
iMPlayer Information & Tutorial
Formuler Z8 Updates
Most generic Android TV Boxes are never sent over the air updates that fix bugs or add new features.
The Formuler Z8 does provide updates and from what I see, they are issued on a regular basis.
When updates are available, a red circle appears on the "Software update" tab.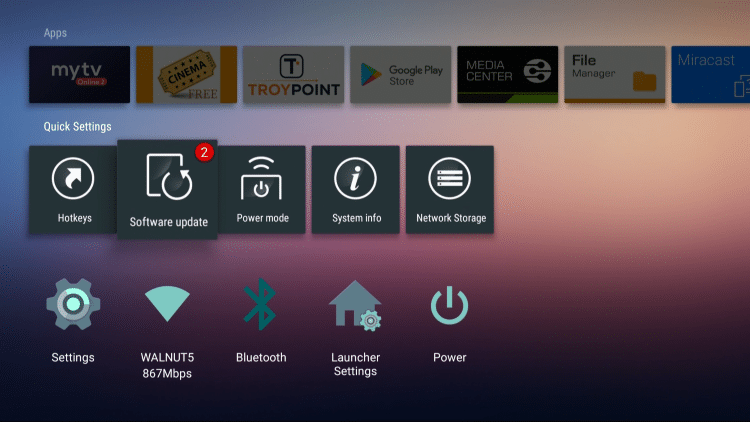 Once I go into that area, I'm presented with ability to update and release notes.
Formuler Z8 Download Speeds
I used Analiti Speed test app for the following tests.
I have 1GB Fiber download speed plan through my Internet Service Provider.
During the WiFi tests, I am connected to the 5Ghz band on my Asus AC3100 Router.  This router resides in the same room as my Formuler Z8 (approximately 20 feet away from wireless router).
I'm using IPVanish VPN as my VPN on Chicago Server 04 (chi-a04).
Ethernet
VPN On: Download = 44 Mbps & Upload = 41 Mbps
VPN Off: Download = 428 Mbps & Upload = 116 Mbps
WiFi
VPN On: Download = 37 Mbps & Upload = 34 Mbps
VPN Off: Download = 170 Mbps & Upload = 32 Mbps
Formuler Z8 Specs
CPU : Hisilicon Quad-core 64bit
GPU : Multi-core high-performance GPU
RAM: 2GB DDR4
Storage: 16GB eMMC
Operating System: Android 7
2.4G / 5.0G Dual-band – Dual Antenna
Gigabit Ethernet 10/100/1000M
Max Output Resolution: 4K (3840 x 2160)
Video decoder : [email protected], VP9, H.265(HEVC) , AVS , H.264(AVC, MVC) , Real , MPEG1/2/4 , VC-1
Video Format : TS , MKV , FLV , MOV , AVI , RM , MP4
Audio Format : MPEG-1 Layer 1,2 , AAC-LC , HE AAC V1/V2
Image decoder : JPG , BMP , GIF , PNG
Support Language : Global
Length: 105mm
Width: 105mm
Thickness: 22mm (Install Antenna 121mm)
Color: Black
USB2.0 : 1
USB3.0 : 1
Power Interface : 1
IR Extension : 1
S/PDIF : 1
HDMI2.0a (CEC) : 1
Gigabit LAN : 1
Dual-Band Antenna : 1
Type : 12V Adapter
Power Consumption : Max. 15W
Standby Power : Max. 0.5W (Ultra low power)
What I Like
MyTV Online 2 IPTV App
Recording options with remote storage and USB options
Can schedule future recordings with season pass type option
User interface and launcher
OTA updates for new features and bug fixes
Remote control
Excellent playback for video on demand (VOD) and IPTV
All free streaming apps and addons that I tested work great
What I Dislike
Price
Can't record more than one stream at the same time
Can't expand internal storage with USB flash drive
Can't play Netflix or Amazon Prime in HD
Would like to see remote as wireless dongle or Bluetooth
Not rooted
Can't access developer options
Android 7 which is older operating system
What's In The Box
Formuler Z8
Antenna
Power adapter
Remote control
Remote control IR extender
HDMI cable
Batteries for remote
Guide
Final Thoughts
When comparing the Formuler Z8 to other generic Android TV Boxes, this is one of the best if you are an IPTV user.
If you aren't an IPTV user, then I wouldn't suggest purchasing this.
I do think the price is a bit high at around $130 but the regular updates may cancel that complaint if they keep coming on a regular basis.  The price is the primary reason that this device didn't get a higher rating than 4 stars from me.
The main two items that set this apart from the other boxes is the proprietary MyTV Online 2 IPTV App and remote control.  The remote is specifically built for the application and they work extremely well together.
Most Android TV Boxes such as this would normally cost approximately $60.  So, you are basically paying the additional $70 for the remote and MyTV Online 2 IPTV app.
For those of you who don't want to shell out the cash for the Formuler Z8, you should try the iMPlayer app which is a clone of the MyTV Online 2 application.  iMPlayer can be installed on Fire TV/Stick, NVIDIA Shield, Android TV Boxes, phones, and tablets.
How to Install & Configure iMPlayer IPTV Application
Yes, the Formuler Z8 only comes with 16GB of storage but this should be enough to install your favorite streaming apps.  If you're a gamer, I would suggest going with a device such as the NVIDIA Shield that allows for internal storage expansion.
Formuler Z8 Purchasing Options
As with most manufactured products, there is currently a shortage of these devices due to the world-wide pandemic.
As stated earlier, the Dreamlink T3 is the same device so I am providing links to that below as well.
All links below point to search pages as multiple retailers sell these Android TV Boxes.
Special thanks to James from STBOXES for providing the coupon which you will see blow.
Amazon Links
Ebay Links
STBOXES
This site is ran by a TROYPOINT subscriber, James,  who reached out to me with this special discount.  Full transparency, I have never ordered from this store in the past.
Dreamlink T3  –  use "Troypoint" for $5 discount at checkout
Formuler Z8 Opinions
Tell us in the comments section below if you have a Formuler Z8, where you purchased from, and your thoughts about this Android TV Box.
Your tips and tricks are definitely welcome so please comment below.
This page includes affiliate links where TROYPOINT may receive a commission at no extra cost to you. Many times, you will receive a discount due to the special arrangements made for our visitors. I will never promote something that I personally don't use or recommend. Purchasing through my links directly supports TROYPOINT which keeps the content and tools coming. Thank you!
Register as a TROYPOINT Insider and discuss this article with thousands of other cord-cutters.