This MECOOL Now Android TV Box Review was written by Troy from TROYPOINT after using the Android TV Box on a regular basis for one week.
This streaming device was provided free of charge to TROYPOINT by MECOOL. However, this review is unbiased and you will see that I point out both the good and bad regarding this Android TV Box. MECOOL did not have access to this post prior to publishing.
Below, you will find an in-depth review that will provide you with the information that you need prior to purchasing.
Read this entire post prior to purchasing as there are some serious shortcomings if you run sideloaded applications.
MECOOL Now Android TV Box with Built-In Camera
MECOOL has recently launched a new Android TV Box with a special twist.  It has a built-in 2 Megapixel camera!
Meet the new MECOOL Now Android TV Box.
This  Android TV Box allows for seamless video calls by way of apps such as Google Duo or Zoom.
Video conferencing has taken the world by storm since the Covid pandemic forced many to communicate with this technology.  This device allows for simple video calling on your TV screen.
The MECOOL Now KA2 Android TV Box provides a great way for family and friends to stay connected in a comfortable setting such as a living room.
At first glance, this should be a home run for grandparents looking to stay in touch with their grandchildren via video.
It also serves as an Android TV Box as well, allowing you to stream from your favorite applications available through the Google Play Store.
It comes with powerful specs such as Amlogic S905X4 Quad core ARM Cortex-A55 Processor, ARM G31 MP2 GPU, 2GB RAM, 16GB internal ROM storage, 2.4 & 5GHz WiFi, 100M Ethernet, and Bluetooth 4.2.
MECOOL is no stranger to manufacturing excellent Android TV Boxes and it's great to see them expanding into the video calling feature-set.
Now onto video calling on TV.
MECOOL Now Video Calling on TV
I'm first going to dive into the video calling feature of the MECOOL Now KA2 Android TV Box as this is the main selling point in my opinion.
It's obvious that MECOOL took some time in designing this video calling device for TV.
The box will sit nicely on top of a television and includes plastic arms on the bottom that can be folded out that provide support from both the front and back.
The MECOOL Now KA2 will also mount to a tripod so you can easily move it around to get better quality video.
There is a handy One-button answer function so users may quickly answer incoming calls without grabbing the remote.
It also comes with some nice privacy options such as a knob camera switch which will cover the lens plus a mic on/off button.
I tested the video calling with the Google Duo application and it worked extremely well.
The call quality was good and easy to hear the person on the other end.
The MECOOL Now comes with Farfield Voice Control and I tested this by moving approximately 15 feet away from the box.  The person on the other end had no problems hearing me and said that the audio quality was fabulous.
If you would rather use Zoom conferencing instead of Duo, that application is preinstalled as well.  You can find that application along with TikTok under the Sideload Launcher application that provides access to apps not officially supported by Android TV.
So far, I am extremely impressed with the video calling experience on the MECOOL Now Android TV Box.  This will be the perfect option for those who want to video chat by way of television in the comfort of their own home.
Video Calling Demo Video
Use coupon code TROYPOINT at checkout for 10% off.
Android TV 10 on MECOOL Now
The Android TV 10 operating system is what drives this system which is great to see.
They didn't use the ridiculous stock Android that most generic boxes use.  The fact that MECOOL uses the true Android TV operating system in their boxes is one of the main reasons why I like them so much.
You may learn about the differences in Android TV vs. Stock Android in my article below.
I first tested the typical apps that are already installed such as Prime Video and YouTube.  Both worked as expected.
It is important to note that Netflix does not come installed on this device.  We see this on quite a few boxes as they don't want to deal with the license requirements that Netflix demands.
I then moved on to sideload the TROYPOINT App with Rapid App Installer and this is where I ran into a snag.  A big one!
The MECOOL Now Android TV Box doesn't allow sideloading applications.
Sideloading is the process of installing applications onto an Android device that aren't available through the official app store.
This is a huge disappointment as 90% of TROYPOINT fans use sideloaded apps.
I've reviewed hundreds of Android TV Boxes and I can honestly say that this is the first time that I've seen a manufacturer block sideloading applications.
Now, the good thing about Google Play Store is that you can install Kodi directly through that.
So, I installed Kodi and then installed The Crew Addon and this worked just fine.  If you are a big Kodi user, you will be happy to know that it works great on this system.
MECOOL also provides an IPTV application built-in for those who subscribe to IPTV services.  If your service requires a specific application, sorry, you are out of luck and won't be able to sideload it.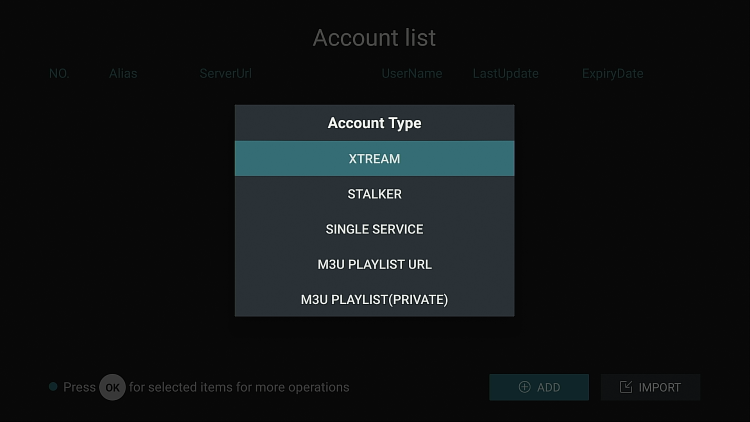 I've reached out to MECOOL and expressed my thoughts on their decision to block outside applications.  Hopefully they release an update that will fix this soon.  It's probably only one line of code.
Maybe there are certain video calling apps that don't work properly with their device so they block all outside apps?  If that's the case, they can rectify that problem by creating a list of applications that are compatible.
Yeah, the MECOOL Now Android TV Box is a cool device but in my situation, I would need to use two boxes.  One for the video calling on TV feature and another for my sideloaded apps.  That's not going to happen.  Rather, I would just figure out a way to connect a webcam to my existing MECOOL Android Box that I've purchased in the past.
Come on MECOOL!  You've got to help us out here.
Now, I know that many of you don't use sideloaded apps and in that case, this may be a great box for you!  It all comes down to user preference.
This device also includes Google Assistant and there is a button on the remote for that.
Speaking of remote, I really like this one.
It includes a mouse toggle for apps such as the integrated TikTok application that doesn't work well with the remote.  At the same time, this makes me chuckle because they don't allow sideloaded apps that usually have that problem.
There are also three quick-launch buttons available, Google Duo, YouTube, and TikTok.
All in all, this is the same quality Android TV Box that we've come to expect from MECOOL but without the sideloading options.
Let's take a look at Downlad speeds now.
Download Speeds
I used Analiti Speed test app for the following tests.
I have 1 GB Fiber download speed plan through my Internet Service Provider.
During the WiFi tests, I am connected to the 5Ghz band on my Asus AC3100 Router.  This router resides in the same room as my MECOOL Now (approximately 20 feet away from wireless router).
I'm using IPVanish VPN as my VPN on Chicago Server 02 (chi-a02).  Yes, you can install IPVanish VPN through Google Play Store :).
Ethernet
VPN On: Download = 82 Mbps & Upload = 76 Mbps
VPN Off: Download = 94 Mbps & Upload = 94 Mbps
Note: Ethernet port is only capable of max 100 Mbps and this is reason for WiFi being faster as you see below.
WiFi
VPN On: Download = 94 Mbps & Upload = 58 Mbps
VPN Off: Download = 350 Mbps & Upload = 126 Mbps
As you can see above, the download speeds are fabulous on the MECOOL Now Android TV Box.
Use coupon code TROYPOINT at checkout for 10% off.
Expand Internal Storage
The MECOOL Now Android TV Box does allow for expanding internal storage by way of USB drive.
I first enabled Developer Options by going into Settings / Device Preferences / About / clicked the Build menu item 7 or 8 times.  I then went back one screen and into Developer options where I enabled "Force allow apps on external".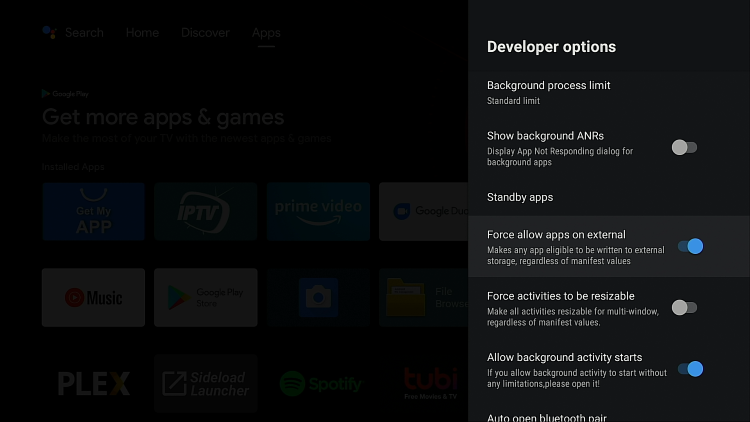 I then inserted a 256GB SandDisk 3.0 USB Drive into the unit and formatted as internal storage and it worked exactly like it would on the NVIDIA Shield.  Great news!
From now forward, all applications that I install will be added to the USB drive.  I can also go into each application through settings and move apps to and from the USB drive if I would like.
When I go into Apps under the Settings panel, I can also indicate whether it should run off internal or external storage.  I typically run apps that require more resources on internal storage such as my VPN and Kodi.
Netflix & Amazon Prime Video
Most generic Android TV Boxes don't support HD video in either Netflix or Amazon Prime Video.
Thankfully, Amazon Prime Video works in full HD on the MECOOL Now KA2.
You cannot use Netflix on this device.
If you're a big Netflix user, don't buy this Android TV Box.
Gaming
I paired my NVIDIA Shield game controller with the MECOOL Now and tested some of the more popular games.
I didn't experience any lag and the game performance was excellent on this Android TV Box.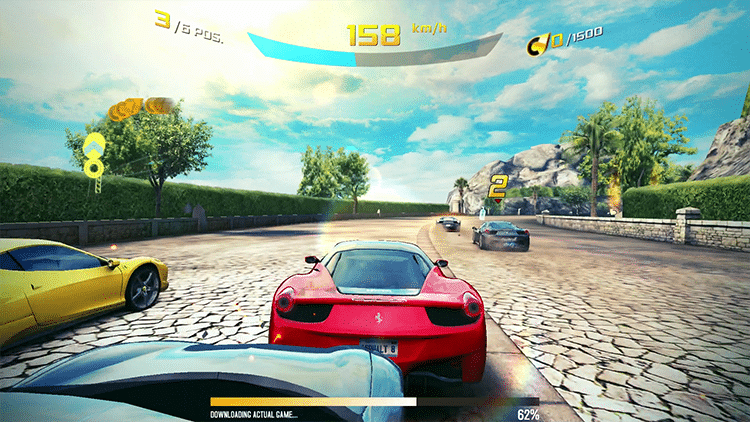 The ability to expand internal storage (mentioned above) should appeal to gamers if they run out of space to hold all of their games.
One game can quickly reduce your storage by 1 GB or more.
Use coupon code TROYPOINT at checkout for 10% off.
MECOOL Now KA2 Android TV Box Specs
Model Number: MECOOL KA2 NOW
CPU: Amlogic S905X4 Quad core ARM Cortex-A55
GPU: ARM G31 MP2 GPU
RAM: 2GB LPDDR4
ROM: 16GB eMMC
OS: Android TV 10.0
Bluetooth: BT 4.2
WiFi: IEEE 802.11 b/g/n/ac 2T2R 2.4GHz/5GHz
Ethernet: 100M
Video Output: HDMI 2.0-compatible
Max Output: 4K @60 Hz
USB Ports: 1x USB 3.0
Power: DC 5V,2A
Remote Control: Included
OTA Update: Yes
System Upgrade: Yes
Camera: 2 Megapixel, 1/2.7inch, 100° Field of View, 1920x1080P
Microphone: 2x MEMS Mic, Farfield Voice Control
Speaker: 1x 5W RMS Speaker
Video Calling: Google DUO App(TV version)
Google Assistant: Google Katnis 4.X
Feature: One press to answer the video call
Weight: 760g
What I Like
Integrated camera
Excellent box design with nice privacy features regarding video and mic
Call answer button on front of device
Farfield voice control
Android TV 10
Plays 4K flawlessly
Fast WiFi speeds with VPN on and off
Remote control with built-in mouse toggle
USB 3.0 port
Can expand internal storage with USB drive
Powerful specs
Supports Amazon Prime Video
What I Dislike
Can't sideload applications not available through Google Play
No Netflix
Ethernet port is max 100 Mbps, wish it was Gigabit
Shipping takes approximately 2 weeks to United States
Limited support
Higher price tag than most Android TV Boxes due to built-in camera
Final Thoughts on the MECOOL Now Android TV Box
In my opinion, MECOOL hit one out of the park on this device for those who want video calls on their TV.
This is a quality Android TV Box paired with video calling on the TV.  Grandparents should find this device easy-to-use and allow for the opportunity to video chat with their loved ones.
I could even see the MECOOL Now becoming a staple in board rooms for business meetings.  The Far Field technology works very well and the person on the other end should have no problems hearing.
But, there is one huge problem for us cord cutters.  They forgot to turn on the sideload option.  I sure hope that they release an OTA update that will provide us with that functionality.  This won't be a deal-breaker for those who don't use sideloaded apps but most TROYPOINT users do.
The lack of sideloading deducts 1.5 stars from my rating for this box which you will see below.  I will gladly change that number if and when they release an update that addresses this problem.
As of now, if you use sideloaded apps, you would need to run two devices to get the video calling on TV functionality.  Most aren't going to do that.
I think MECOOL is onto something big here with the increase in video calling and people will enjoy doing this from the comfort of their living room.
Let's hope for an update in the coming days!
Purchasing Options
As of this post, the MECOOL Now costs $129.00.
Or, purchase their 2-pack for a total of $246.00
Use coupon code TROYPOINT at checkout for 10% off.
I rate the MECOOL Now 3 stars out of 5
This page includes affiliate links where TROYPOINT may receive a commission at no extra cost to you. Many times, you will receive a discount due to the special arrangements made for our visitors. I will never promote something that I personally don't use or recommend. Purchasing through my links directly supports TROYPOINT which keeps the content and tools coming. Thank you!
Register as a TROYPOINT Insider and discuss this article with thousands of other cord-cutters.