It was recently reported that the popular "HelloMobile" app has exposed user data.
The carrier behind the HelloMobile brand is "Q Link Wireless" which is based in the United States and has over two million customers in the US.
Their official app is called "My Mobile Account" and can be found within Google Play and the Apple App Store.
My Mobile Account – Google Play Store
My Mobile Account – Apple App Store
Users first noticed something fishy back in February 2021 and have expressed their concerns to the company via social media, but no apparent security action was taken.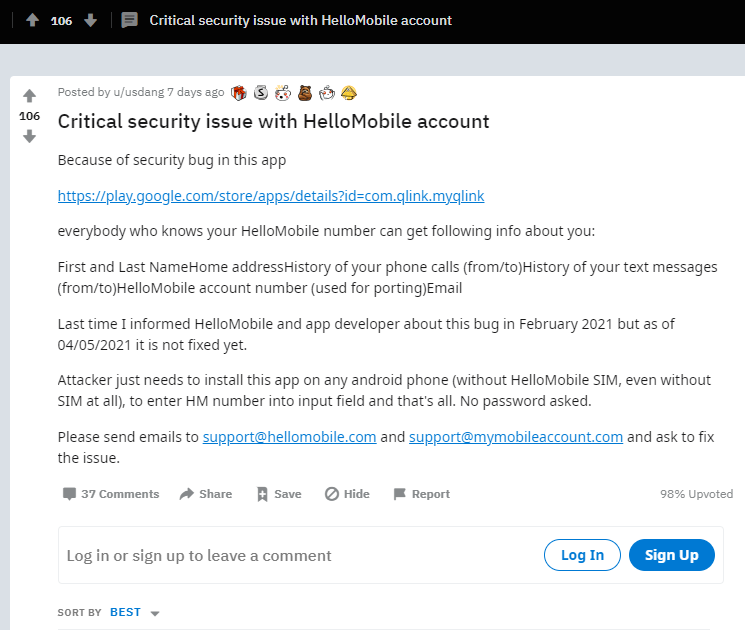 You can view the full Reddit thread for more information and user concerns.
What's most concerning about this situation is that a user's personal information within this app could be easily accessed by just knowing their registered phone number.
A report from Ars Technica included a screenshot that shows call/text message history and where a user is located. You can see their screenshot below.
Based on these instances it appears that anyone who entered their phone number within the HelloMobile app is at risk of having other sensitive user information exposed.
Information that attackers could gather include the following:
Full name
Email address
Phone call logs
Text message logs
Last four digits of credit/debit card
Phone carrier account number
This isn't the first time we have seen "free" apps sell and expose user's personal data.
Free VPN App in Apple App Store Scamming Users
These Free VPNs & Ad Blockers Collect & Sell User Data
We always preach about the importance of using both an Anonymous Email Account with a VPN to fully protect yourself online from hackers, app developers, your ISP, and more.
Check out our popular VPN guides below for more information and how to secure your online identity.
Be sure to stay up-to-date with the latest streaming news, reviews, tips, and more by following the TROYPOINT Advisor with updates weekly.
This Advisor provides all the best cord-cutting tips to get the most out of your favorite streaming devices and more.
Click the link below to join the other 800,000 Advisor subscribers.
This page includes affiliate links where TROYPOINT may receive a commission at no extra cost to you. Many times, you will receive a discount due to the special arrangements made for our visitors. I will never promote something that I personally don't use or recommend. Purchasing through my links directly supports TROYPOINT which keeps the content and tools coming. Thank you!
Register as a TROYPOINT Insider and discuss this article with thousands of other cord-cutters.