This article will provide you with a list of the Best Free Torrent Downloaders and Clients available today.
The best torrent downloaders are qBittorrent, Deluge, uTorrent, Vuze, BitTorrent, and many others found in this list.
A torrent downloader is a software that will help assist in the process of downloading torrents.
These easy-to-install platforms are oftentimes also referred to as "Torrent Clients".
Torrenting is one of the fastest and most efficient methods for downloading media.
How to Download Torrents Anonymously and Fast
[BONUS VIDEO]
The following video provides step-by-step instructions for downloading torrents FAST and most importantly anonymously!
Links Mentioned in Video
 IPVanish VPN TROYPOINT Discount
 qBittorrent
 Best Torrent Sites
This list is a great resource, especially for those who are new to torrenting and want to use the best tool to download content.
The list below provides users with torrent downloaders for all their download needs.
By installing a client, users can download Movies, TV Shows, Games, Anime, and more.
Because torrents are typically large files, downloading them may take quite a bit of time.
But using a torrent downloader can help reduce the duration of your torrent download.
Using a torrent downloader is the best way to both download and Open Torrent Files.
Legal Copyright Disclaimer: TROYPOINT is a tech website that publishes tutorials, news, and reviews. We do not verify if apps, services, or websites hold the proper licensing for media that they deliver. We do not own, operate, or re-sell any streaming site, service, app, or addon. Each person shall be solely responsible for media accessed and we assume that all visitors are complying with the copyright laws set forth within their jurisdiction. Referenced applications, addons, services, and streaming sites are not hosted or administered by TROYPOINT.
Best Torrent Downloaders
As of the writing of this article, all torrent downloaders listed below are currently working and available for use.
NOTE: If you are new to torrenting, a Torrent Website will also be needed in addition to a client.
TROYPOINT TIP: If using these free torrent downloaders on a Windows PC or Mac, it's highly recommended that you protect yourself with secure Antivirus Software.

Troy from TROYPOINT has created a free Antivirus Guide that lists the best software and walks you through everything you need to know about Antivirus.
Free TROYPOINT Antivirus Guide
The following list was last updated on Tue, Oct, 19, 2021
1. qBittorent
Dubbed by its creators as an open-source software alternative to µTorrent, this torrent client is guaranteed ad-free.
Even more, it packs additional features such as RSS feed support, extensions (magnet links, DHT, PEX, LSD, private torrents, encrypted connections), sequential downloading, bandwidth scheduler, IP filtering, and is compatible with Windows, Linus, macOS, FreeBSD, and OS/2.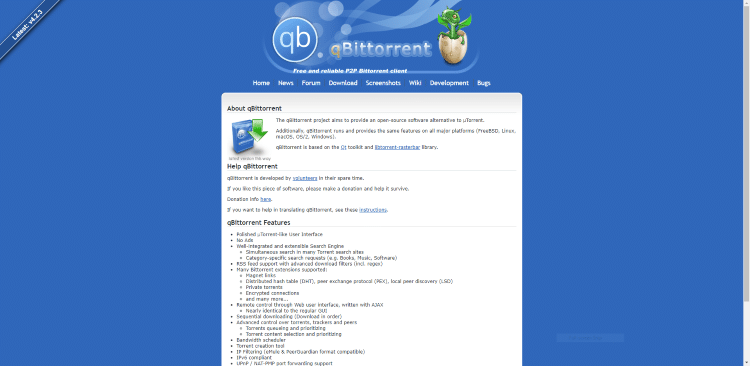 It features a clean, minimalist design for users who want a no-frills interface. This client receives updates often so you don't have to worry about bugs or glitches.
Finally, qBittorent sets itself apart from other torrent downloaders because it requires minimal CPU and memory when downloading. 
Visitors Per Month: 1.8 Million
VPN Friendly: Yes. Works perfectly with IPVanish.
2. Deluge
One of the oldest torrent clients developed, Deluge is still a heavy favorite among users.
In fact, I've had no issues running it with my old laptop when I re-installed the software. The platform has been recently updated to better allow users to build their own torrent downloader from scratch.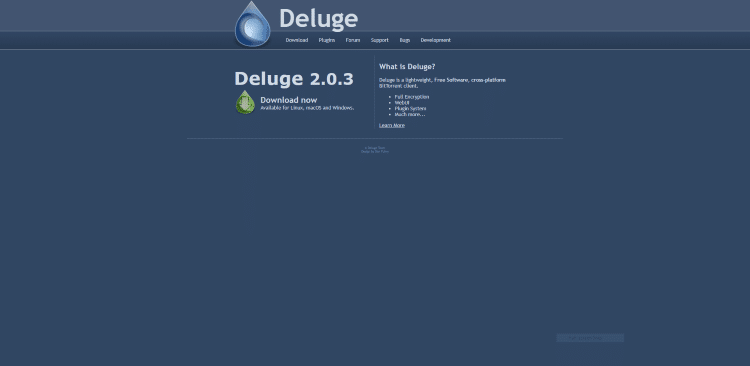 In addition, the software is still the most lightweight torrent client available today so it won't take much of your limited hard drive space.
Some of its features include numerous plugins to improve its functionality, cool and simplified UI, the capability to run as a standalone desktop application and as a client-server, and high similarity to BitTorrent client's features.
Visitors Per Month: 378,000
VPN Friendly: Yes. Works perfectly with IPVanish.
3. µTorrent
µTorrent (or uTorrent) is one of the most popular torrent downloaders available today.
Users can search torrents and downloads easily, stream torrent files and magnet links, set download and upload speed limits, add more bandwidth to specific downloads, verify the total seeds available, and customize the application.
For users like me who want a more organized UI, I was able to set up my preferred info on this torrent downloader. The ads that appear are less vexing compared to other ad-ridden platforms too.
The µTorrent Classic version works on most OS except for Mac OS Catalina Version 10.15 and above.
Visitors Per Month: 41.4 Million
VPN Friendly: Yes. Works perfectly with IPVanish.
4. Vuze
This torrent downloader was designed for advanced users who want software with powerful search capabilities.
Coming from the original Azureus software, Vuze features media and device playback, magnet link support, access to its torrent bundles and plug-in library, and remote control via web or mobile app.
I've tried typing in just about everything from titles to tags and there are always plenty of options generated in only a few seconds. Its integrated metasearch also allows for a more intelligent discovery process.
And for an additional fee, users can upgrade their free version and add extras such as built-in antivirus, ad-free interface, direct DVD burning, and media play during downloads.
Visitors Per Month: 443,200
VPN Friendly: Yes. Works perfectly with IPVanish.
5. BitTorrent
One of the most reliable and popular torrent clients available, BitTorrent is still a favorite option among new torrent users.
Boasting very rapid file sharing capability, this platform is powered by a built-in bandwidth booster.
This means that users can continue what they're doing without having to worry about the download process consuming a lot of bandwidth.
I personally recommend this to anyone who's just starting out in the torrenting process because of the customizable UI that can be made through its simple drag-and-drop feature.
If you want to get rid of the annoying ads, play media in HD while inside the torrent downloader, and secure your device with antivirus protection, the BitTorrent Pro is available for a minimal fee.
Visitors Per Month: 5.4 Million
VPN Friendly: Yes. Works perfectly with IPVanish.
6. Transmission
If you're a Mac user, then this torrent downloader is perfect for you. I've had no issues downloading it, which took me less than four minutes to complete the entire process.
The simplicity of Transmission's UI is reflective of Apple's minimalism. There are no annoying pop-up ads, flash content, and unnecessary toolbars. The developers made sure that configuring the platform requires just a few clicks.
And because it's an open-source project, it does not offer a payware alternative for users to take advantage of its other features.
Visitors Per Month: 557,600
VPN Friendly: Yes. Works perfectly with IPVanish.
Usually, content streaming and torrent downloading are done separately. However, with WebTorrent Desktop, users can play videos, music, and audiobooks without having to complete the download first.
Users can stream videos, for example, to Chromecast, DLNA, and AirPlay.
Although this lightweight platform is still in beta version, its performance is pretty decent considering that it is able to connect to WebTorrent, Transmission, µTorrent and BitTorrent peers.
Its other features include ad-free downloading, drag-and-drop customization, and peer discovery via DHT.
Visitors Per Month: 379,200
VPN Friendly: Yes. Works perfectly with IPVanish.
8. BitLord
Like Deluge, BitLord has been around for some time already but it's still one of the best tools in file sharing and search discovery today.
The UI is clutter-free and serves well for its simplified navigation purpose.
I can also play content instantly on its built-in player or on Chromecast even if the downloading process is ongoing. I haven't experienced any issues with this feautre.
BitLord edges other torrent downloaders with its automatic subtitle feature, downloads organizer, torrent feedback list, password protection, and torrent creation.
Visitors Per Month: 117,700
VPN Friendly: Yes. Works perfectly with IPVanish.
9. Tixati
This torrent client features a classic UI and its functionality gets many users' approval.
With numerous configuration settings, highly detailed interface, encrypted chat-rooms, quick installation process, drag-and-drop torrent management, and detailed bandwidth limits, there's no reason why it shouldn't be on anyone's list.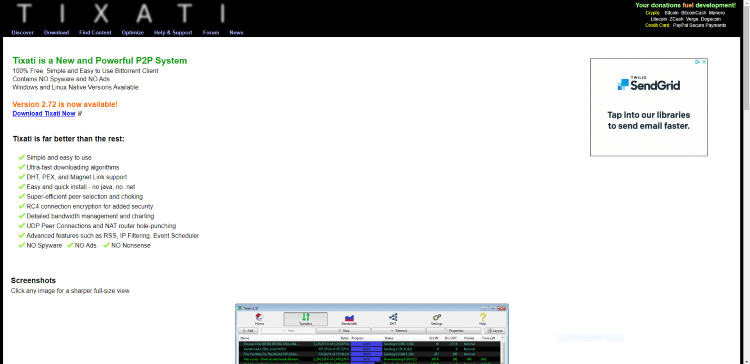 Furthermore, the platform does not post ads, spyware, and other distracting content because it's a closed-source tool. This also protects users from harmful malware.
Tixati, however, is only compatible with Windows computers so Mac folks will have to use another torrent downloader from this list.
Visitors Per Month: 467,200
VPN Friendly: Yes. Works perfectly with IPVanish.
10. BiglyBT
Despite being open-source software, BiglyBT is 100% ad-free and third-party-software-free.
It traces its roots from Vuze and Azureaus so fans of these platforms can take advantage of a number of similar features.
This includes WebTorrent peer seeding, overall capacity management, swam merging (for uncompleted torrents), remote control access via an Android app, as well as highly accurate meta-search and categorized torrent lists.
What I am more impressed with is its better integration capability through VPN detection as well as its I2P support so users can download anonymously.
Plus, there's media playback, media conversion, and UPnP Media Server and DLNA support so devices can communicate faster.
Visitors Per Month: 110,700
VPN Friendly: Yes. Works perfectly with IPVanish.
ATTENTION!
Your identifying IP address is exposed which ties directly back to you through your Internet Service Provider.
Your Identifying IP Address is 2.57.169.241
IPVanish VPN will mask your IP address and encrypt your connection so you will become anonymous while online.
You can use IPVanish on unlimited devices so you are protected everywhere.
SAVE UP TO 74% WITH THIS TIME-SENSITIVE DEAL
30-Day Money-Back Guarantee
What is a Torrent Client?
In a traditional file download, a user requests information from a server through a web browser.
The server responds by sending the entire file. You depend solely on the server to source the file.
However, this differs when downloading files through a peer-to-peer file sharing (P2P) network.
In this case, a BitTorrent protocol allows the distribution of files across all users who have completed the download or are downloading a particular file.
In other words, a user sends a request for the file that he wants to download, and a P2P file-sharing software searches from other users' computers that are running the same or compatible software.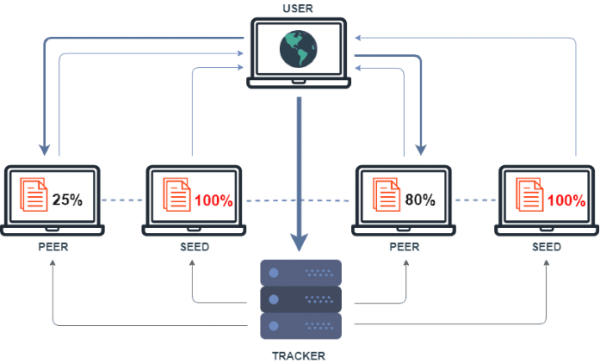 Once the file is found, it begins downloading from the source's (also called a "seed") hard drive.
Large files are shared by breaking down the entire file into small chunks and distributes it in tiny "pieces" from (ideally) many seeds.
This makes it possible to receive the file at a faster rate compared to downloading directly from a website.
What makes it possible to request a torrent download from seeds? You guessed it – a torrent downloader or torrent client.
That's why it's important to use only a reliable torrent downloader that allows you to connect to other seeds so you can download files without a hitch.
To get to know more about how torrents work, I recommend using our Best Torrent Search Engines guide.
This page is constantly updated with the Best Torrent Sites including Pirate Bay and Kickass Torrents. This article explains in detail how to download and use torrents.
Is it Legal to Use a Torrent Downloader?
Similar to our previous post on the legality of Kodi, it all depends on how you use the tool. By itself, the tool can be used to download files that aren't protected by copyright.
However, downloading content that infringes on copyright is illegal. TROYPOINT does not endorse such practice and only recommends files that are allowed to be shared.
Certain films and motion pictures have entered the public domain for many different reasons.
Whether they were released without copyright notices, did not register with the Library of Congress, or failed to renew copyright licensing, these movies are now available for the public to stream or download for free.
You can also download open-source software provided that you observe its legitimate use.
If you prefer torrents on a streaming device, you can use the popular Stremio application and download tons of torrents including Movies, TV Shows, and more.
You can also find other torrenting Streaming Apps in our list below:
Best APK's for Movies & TV Shows with No Buffering
IMPORTANT NOTE: If you choose to download torrents, installing and using a VPN is a must. IPVanish will encrypt your IP address and ensure your privacy.
CLICK HERE for Special IPVanish VPN Discount.
Torrent Downloaders – Hide Your IP Address 
When downloading torrents, TROYPOINT always recommends using a VPN or Virtual Private Network.
A VPN will protect your privacy from ISPs, the government, MPAA, hackers, and other watchdog groups.
This is especially important when torrenting as we recently saw the YTS Torrent Site Hand Over User Data to Authorities.
Other notable torrent websites that were shut down by the authorities in the past few years include Torrent9 and Torrentz2.
The best VPN for torrenting is IPVanish as it is available for use on up to 10 devices simultaneously and does not store traffic logs.
IPVanish masks your IP Address and protects your identity when downloading torrents.
It prevents you from publicly broadcasting your IP address so you will remain anonymous to your ISP, government, and other organizations.
Check out our guide below for more information on using a VPN when torrenting.
Best Torrent Downloaders FAQ
What are the best torrent downloaders?
The best torrent downloaders include qBittorrent, Deluge, uTorrent, Vuze, BitTorrent, and many others we include in this list.
Are torrents legal?
Yes, torrents are legal if they are files or content within the public domain. Torrenting is not legal if you are using it to download copyrighted or licensed content.
Do you need a VPN for torrents?
Yes. Having a VPN is a must if using torrents. This will hide your download activities and keep you anonymous from your government and ISP.
What happens if you get caught with torrents?
If you are caught using torrents for copyright content, you may face legal issues. TROYPOINT recommends having a VPN when using torrents, and only downloading content that falls within the public domain.
What is a torrent downloader?
A torrent downloader is the software that makes it possible to download torrent files from torrent websites.
This page includes affiliate links where TROYPOINT may receive a commission at no extra cost to you. Many times, you will receive a discount due to the special arrangements made for our visitors. I will never promote something that I personally don't use or recommend. Purchasing through my links directly supports TROYPOINT which keeps the content and tools coming. Thank you!
Register as a TROYPOINT Insider and discuss this article with thousands of other cord-cutters.