This step-by-step guide will show you how to install TVision App on Firestick/Fire TV, Android devices, and more.
T-Mobile recently announced the launch of a new OTT streaming service called "TVision."
TVision enters the competitive world of streaming with hopes of competing with services like YouTube TV, Fubo, Sling, Peacock TV, and many others.
This new service offers live streaming in the form of various packages that T-Mobile/Sprint Wireless customers can choose from.
T-Mobile states the following on its website regarding its new TVision service:
"T-Mobile is reimagining TV with you in mind by un-complicating and un-cabeling your TV experience."
IMPORTANT NOTE: TVision is available to only T-Mobile/Sprint wireless customers. However, they do have bundled subscription plans aimed at new users to switch wireless providers.
It's reported that this service will be available sometime next year for those who aren't T-Mobile customers.
The guide below will show you how to install the TVision App on the Amazon Firestick/Fire TV. To do so, we will download the app from the Amazon App Store.
In addition to Firestick/Fire TV devices, TVision is also supported with the following:
Android devices
Apple TV
iOS
Chromecast with Google TV
Smart TVs
We also provide steps for those using the Chromecast with Google TV or any Android TV device.
TVision Package Options
TVision currently offers 4 subscription options for T-Mobile and Sprint customers which we describe below.
These will vary depending on your location and T-Mobile subscription.
TVision Vibe
$10/month
34 Channels including AMC, BET, CMT, Food Network, MTV, Paramount, & More
TVision Live TV
$40/month
34 Channels including ABC, CNN, CNBC, ESPN, FS1, TBS, TNT, USA, & More
TVision Live TV+
$50/month
56 Channels including ABC, BTN, CNN, ESPN, ESPNU, FX, SECN, TNT, truTV, & More
TVision Live Zone
$60/month
66 Channels including ABC, ACCN, BTN, bravo, CNN, E!, ESPN, Disney, FXX, Golf, NFL Network, TNT, Universal, & More
How to Install TVision App on Firestick/Fire TV
The steps below show how to install TVision on a Fire TV Stick 4K.
1. From your device home-screen hover over the search icon to type and select TVision
2. Choose TVision under Apps & Games
3. Click Download or Get
4. After installation, you can choose to open the TVision App. But for this example, we suggest holding down the home button on your remote.
5. Click Apps
6. Hover over TVision and select Move
7. Place TVision within your Apps & Channels wherever you prefer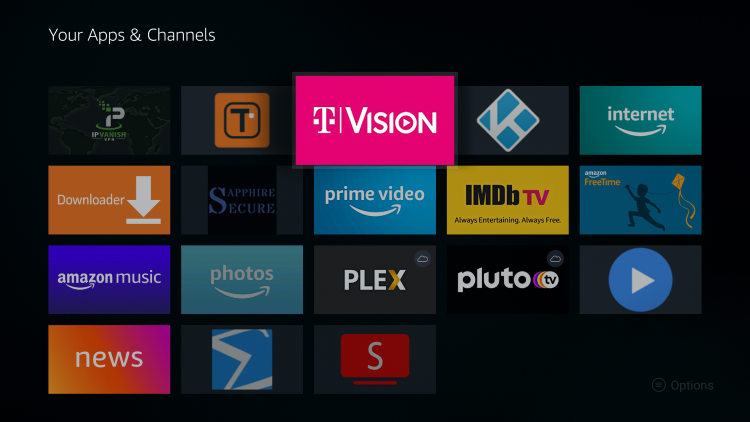 8. Launch TVision
9. That's it! You have successfully installed the TVision app on your Firestick/Fire TV.
Note: As mentioned previously, you must be a customer of T-Mobile/Sprint in order to use TVision as of this writing. Follow the activation steps to get started with the service.
For those with an Android TV device, use the instructions below for installation.
TROYPOINT TIP: For more streaming app options, check out the TROYPOINT Rapid App Installer.
This app allows you to install the best streaming apps and tools in a matter of minutes.  Use the link below to access this free application.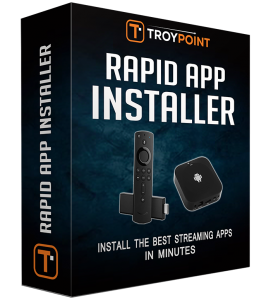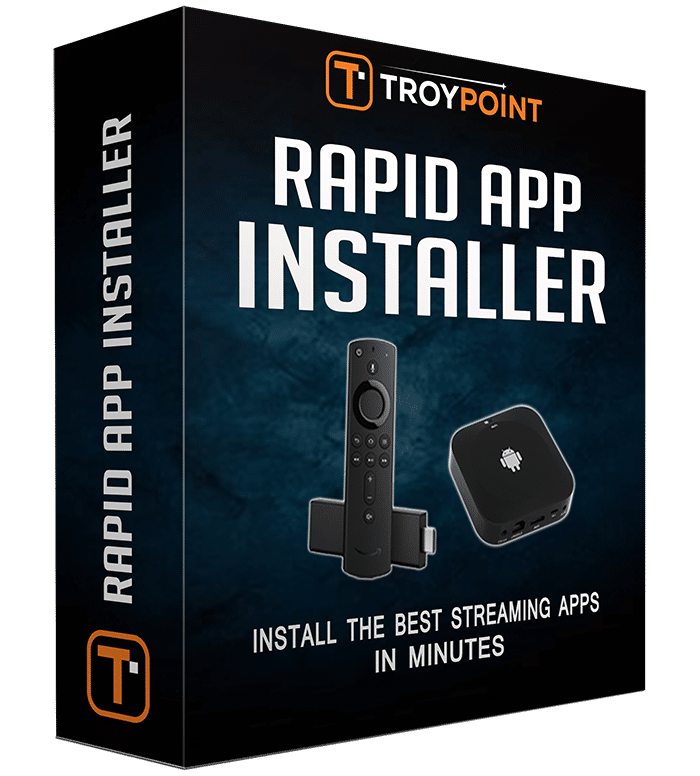 How to Install TVision App on Android TV
In the example below, we are installing the TVision app on an NVIDIA Shield.
However, these steps will also work on a MECOOL KM3, Tivo Stream 4K, X96 Max, Mi Box, or any Android TV Box.
1. Launch the Google Play Store
2. Click Search from the device main menu and click the search box
3. Type in "tvision" and click the search icon
4. Select TVision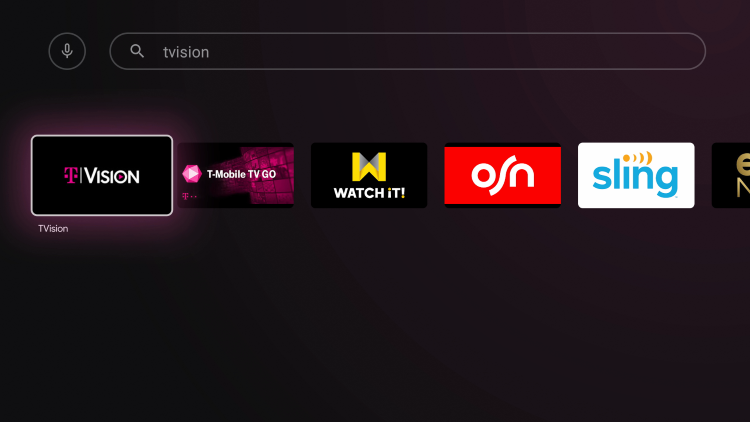 5. Click Install
6. Once the app installs, return back to the home screen of your Android Device
7. Move to the right and select add app to favorites (plus icon)
8. Scroll down and choose TVision
9. Place TVision wherever you prefer in your list of apps
10. Launch TVision
11. That's it! Installation is now complete.
How to Install TVision App on Chromecast with Google TV
In addition to traditional Android TV devices, TVision is also compatible with the Chromecast with Google TV.
Similar to Installing Kodi on a Chromecast, TVision is available within the Google Play Store.
Follow these steps for how to install TVision on the Chromecast with Google TV device.
1. From the device main menu, click Search for apps
2. Type "tvision" and click the search icon
3. Click Install
5. Return back to the home screen of your Chromecast with Google TV and scroll under Your apps to choose See all
6. Click TVision
7. Choose Move
8. Place the TVision application wherever you prefer. Enjoy!
TVision Features & Details
TVision is a brand new streaming service that has great options for live tv.
Users have the ability to choose between 4 packages that help cater to your personalized viewing experience.
With easy to install apps on nearly every device imaginable, access to TVision is readily available for all users.
While it is currently only available to T-Mobile and Sprint Wireless customers, there are plans for this to change in the near future.
If you are looking for more affordable live streaming options, TROYPOINT has you covered.
For the best Live TV services and everything IPTV, be sure to review our IPTV Guide.
For similar alternatives that provide both VOD and Live TV, check out our tutorials below.
For even more Movie & TV Show streaming options, be sure to check out our most popular resource guides:
TVision App FAQ
How much does TVision cost?
TVision provides 4 package options that range from $10/month to $60/month.
What Channels are on TVision?
Depending on the package option, provided channels include ABC,ESPN, TNT, FS1, and much more.
Do I have to be a T-Mobile customer to purchase TVision?
Currently, TVision is only available to T-Mobile and Sprint Wireless customers. However, plans to provide other options for non-customers will be available in the future.
What devices can I install TVision on?
TVision is available on Firestick, Android TV Box, NVIDIA Shield, Chromecast with Google TV, iPhone, and more.
This page includes affiliate links where TROYPOINT may receive a commission at no extra cost to you. Many times, you will receive a discount due to the special arrangements made for our visitors. I will never promote something that I personally don't use or recommend. Purchasing through my links directly supports TROYPOINT which keeps the content and tools coming. Thank you!
Register as a TROYPOINT Insider and discuss this article with thousands of other cord-cutters.