This MECOOL KM7 Android TV Box Review was written by Troy from TROYPOINT after using the Android TV Box on a regular basis for one week.
This streaming device was provided free of charge to TROYPOINT by MECOOL.  However, this review is unbiased and you will see that I point out both the good and bad regarding this Android TV Box.  MECOOL did not have access to this post prior to publishing.
Below, you will find an in-depth review that will provide you with the information that you need prior to purchasing.
MECOOL KM7 Android TV Box
The new MECOOL KM7 Android TV Box comes in two different configurations.  The $86.99 option comes with 4GB RAM and 64GB ROM (storage). The $66.99 option comes with 2GB RAM and 16GB ROM (storage).
MECOOL sent me the KM7 with 4GB RAM and 64GB ROM.
It's important to point out that this device is running Android TV 11 and not stock Android like many of the generic boxes use.
Read about the differences between Android TV and Stock Android here
MECOOL refers to the KM7 as an Android TV Google certified TV box due to the fact that it integrates nicely with Google features such as voice control and Google Cast.
BE CAREFUL...
Your online activity is actively tracked by your Internet Service Provider, app/addon devs, and government through your identifying IP address.
Stream anonymously by using IPVanish VPN.
IPVanish will encrypt your connection to the Internet and mask your IP address so you will remain anonymous.
EXCLUSIVE DISCOUNT – SAVE 63% ON IPVANISH
IPVanish backs their service with a 30-day money back guarantee.
IPVanish allows you to use your account on unlimited Internet-connected devices
MECOOL is no stranger to Android TV Boxes and there are a few things that separates the KM7 from their past models.
The MECOOL KM7 is running Android TV 11, includes a new low-power CPU, and comes with an Android TV remote control.
Unfortunately, the MECOOL KM7, does not support Netflix HD out of the box but surprisingly it does support Amazon Prime Video in HD quality!
The device comes with a Netflix application pre-installed but it doesn't support HD video.
MECOOL KM7 Features at a Glance
MECOOL KM7 powered with Amlogic S905Y4 chipset with 64-bit quad-core ARM® Cortex™ A35 CPU and ARM G31™ MP2 GPU processor, supporting both 2.4 and 5 GHz, as well as a 10/100 Ethernet LAN to ensure the stable and strong network signal connected. Supporting AV1 decoding and running with the newest Android 11 operating system, which gives users a better streaming experience of faster-running speed and greater performance.
Runs Android 11 on Amlogic S905Y4, with high speed and smooth performance, perfect for home entertainment, home theater, business use, and more.
New AV1 video decoder included
Speak into the voice remote control, you can quickly access entertainment, get answers, and control devices around your home with Google Assistant.
Easily cast photos, videos, and music from your phone, tablet, or laptop to your TV with Chromecast built-in. Enjoy the big-screen entertainment.
Supports HDR10+, HDR10, HLG HDR processing, witness scenes, and characters come to life in vivid contrast, color, and clarity.
Google certified ATV Player, built-in streaming media content such as YouTube, Prime video, Google play.
Support regular automatic upgrades.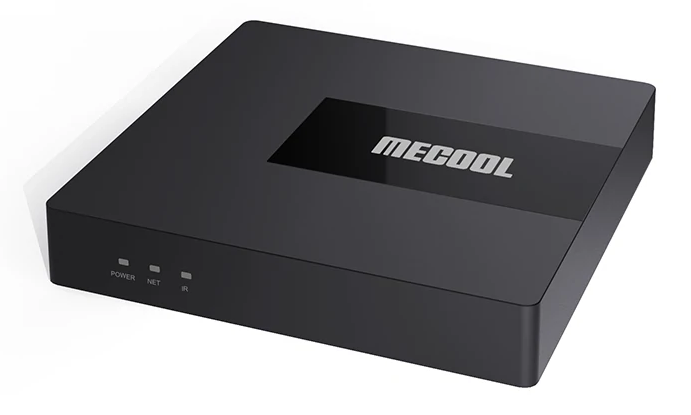 Use coupon code TROYPOINT at checkout for 10% discount.
MECOOL KM7 Official Website & Purchasing Options
New Low-Power Amlogic S905Y4 Processor
One big difference from other MECOOL Android TV Boxes is the inclusion of the new Amlogic S905Y4 Processor.
Yes, this is a budget CPU but its advanced power-saving feature is something to note.
This new processor is known for its powerful output yet low-power consumption which will save in electricity costs.
AV1 Supported
The MECOOL KM7 supports AV1 Video (AOMedia Video 1) which also appears in their other products listed below.
This is an open, royalty-free video coding format designed for video transmissions over the Internet.
Some online streaming applications now deliver their content in this format and this Android TV Box is capable of playing it.
In the future, we will see more streaming applications stream in AV1 as opposed to H 265, etc.  Soon, it will probably be the industry standard.
MECOOL KM7 Running Android TV 11
The Android TV operating system is meant for the television and it's great to see MECOOL embrace this.
Android TV is notably found on the NVIDIA Shield, Chromecast with Google TV, Dynalink Android TV Box, and TiVo Stream 4K as well.
Most of the generic Android TV Boxes run Stock Android and the apps aren't optimized for the TV screen.  Yes, we can side-load some of them onto those devices but Android TV Google Play Store provides access to all applications meant for the Television.
The inclusion of Android TV into its boxes is what makes this device shine in my opinion.  You get many of the benefits of the NVIDIA Shield at a much lower price.
Google Assistant is built into Android TV so you will enjoy hands-free access to many features on this Android TV Box.
Google Cast is supported so you can easily push the contents on your phone, tablet, or computer to the big screen.
Expand Internal Storage
Due to the large internal storage (64GB or 16GB) on the MECOOL KM7, there probably isn't a huge need to expand internal storage but I still wanted to see if it worked.
I first enabled Developer Options by going into Settings / Device Preferences / About / clicked the Build menu item 7 times.  I then went back one screen and into Developer options where I enabled "Force allow apps on external".
I then inserted a 256GB SandDisk 3.0 USB Drive into the unit and formatted as internal storage and it worked exactly like it would on the NVIDIA Shield.  Great news!
From now forward, all applications that I install will be added to the USB drive.  I can also go into each application through settings and move apps to and from the USB drive if I would like.
We can achieve this same feature with the Fire TV Stick 4K but the process is less than ideal.
When I go into Apps under the Settings panel, I can also indicate whether it should run off internal or external storage.  I typically run apps that require more resources on internal storage such as my VPN and Kodi.
Netflix & Amazon Prime Video
Most generic Android TV Boxes don't support HD video in either Netflix or Amazon Prime Video.
Thankfully, Amazon Prime Video works in full HD on the MECOOL KM7.
You cannot play Netflix in HD on this device.  Yes, the KM7 comes with a Netflix application but it's less than ideal.
If you're a big Netflix user, don't buy this Android TV Box.
Use coupon code TROYPOINT at checkout for 10% discount.
MECOOL KM7 Official Website & Purchasing Options
Side-loading Applications on the MECOOL KM7
I used the TROYPOINT App with the Rapid App Installer and installed all of the most popular APKs and my favorite IPTV service.
All of the side-loaded apps that I installed worked great with no problems whatsoever.
The Amlogic S905Y4 processor does an excellent job playing HD quality video, including 4K content.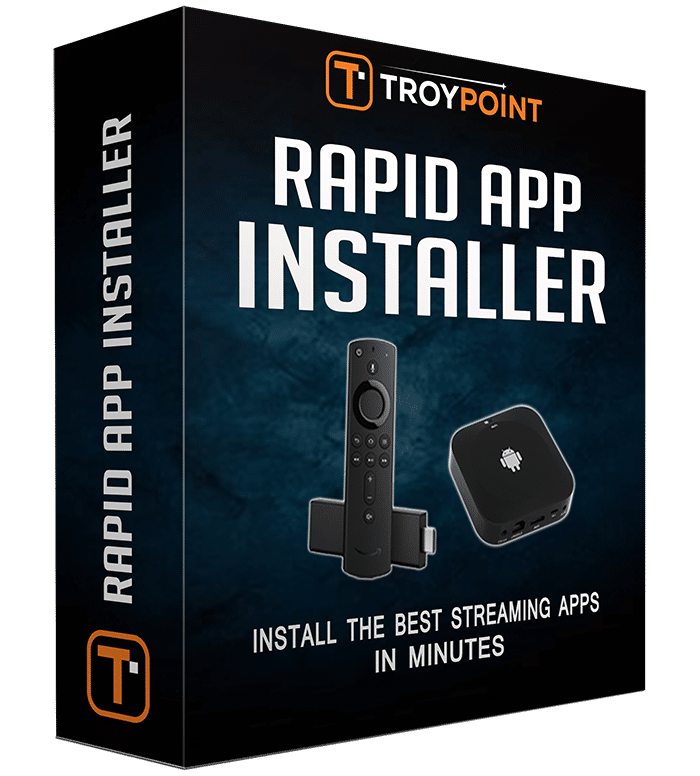 Get the Free TROYPOINT Rapid App with Rapid App Installer
MECOOL KM7 Remote Control
The quality of the remote control has become an extremely important aspect of these various streaming devices.
I was excited to see the nice Google / Android TV remote control when first unboxing the MECOOL KM7 but I'm disappointed.
I'm not disappointed because of the features on the remote.
I don't like the lag that I experience after pushing a button on the remote control.
It seems like there's a 1/2 second delay after clicking a button.
To confirm this, I had my daughter test the remote as well.  I plugged in a wireless 2.4Ghz remote that I had sitting on my desk for comparison purposes.
She agreed that the 2.4Ghz remote was more responsive than the KM7 remote.  Unfortunately, my 2.4Ghz remote doesn't work 100% with Android 11 or I would recommend getting that if you felt the same as me.
One thing I do like about the MECOOL KM7 remote is that you can pair it with your television.
You will find an app called Remoter Config that will connect the remote control to your television.
The following buttons mapped successfully on my LG Television, input, volume + -, mute, and power.  Very nice addition!
Hopefully there is a firmware update that can help the responsiveness of the remote control.  If so, the remote is perfect.
Gaming
I paired my NVIDIA Shield game controller with the MECOOL KM7 and tested some of the more popular games.
I didn't experience any lag and the game performance was excellent on this Android TV Box.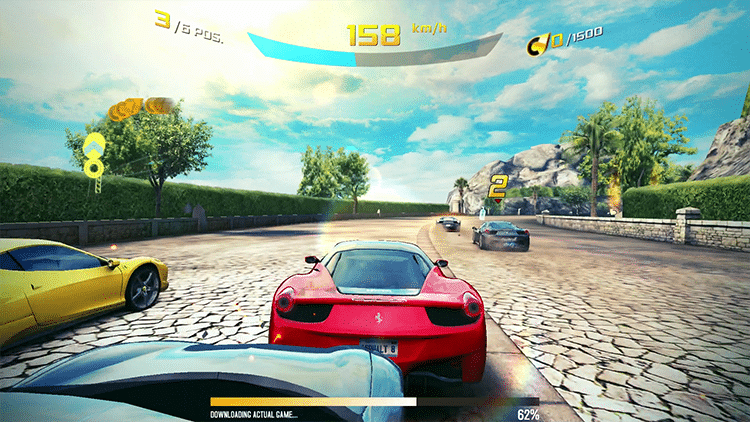 The ability to expand internal storage (mentioned above) should appeal to gamers if they run out of space to hold all of their games.
One game can quickly reduce your storage by 1 GB or more.
MECOOL KM7 Download Speeds
I used Analiti Speed test app for the following tests.
I have 1 GB Fiber download speed plan through my Internet Service Provider.
During the WiFi tests, I am connected to the 5Ghz band on my Asus AC3100 Router.  This router resides in the same room as my MECOOL KM7  (approximately 20 feet away from wireless router).
I'm using IPVanish VPN as my VPN on Chicago Server 04 (chi-a04).
Note:  Ethernet only supports up to 100 Mbps that is why WiFi is faster in the tests below.
Ethernet
VPN On: Download = 82 Mbps & Upload = 66 Mbps
VPN Off: Download = 98 Mbps & Upload = 85 Mbps
WiFi
VPN On: Download = 71 Mbps & Upload = 62 Mbps
VPN Off: Download = 291 Mbps & Upload = 109 Mbps
MECOOL KM7 Specs
OS: Android TV 11
CPU: Amlogic S905Y4 64-bit quad core ARM® Cortex™ A35 CPU
GPU: ARM G31™ MP2 GPU processor
RAM: 4GB or 2GB
ROM (Internal Storage): 64GB or 16GB
WiFi: Built-in 1T1R 802.11 a/b/g/n/ac 2.4+5G Wi-Fi + BT 4.2 Module
Bluetooth: 5.2
Ethernet: 10/100 M Ethernet port
HDMI 2.1 Dynamic HDR [email protected] max resolution output
AV Output(3.5mm jack)
Optical
2 x USB2.0
1 x TF CARD Support 1~32GB
1 3.5 Phone out CVBS&L/R output
1 Optical
1 DC 5V/2A Power input
Hardware Decoders: – AV1 [email protected] up to [email protected]
– VP9 Profile-2 up to [email protected]
– H.265 HEVC [email protected] up to [email protected]
– AVS2-P2 Profile up to [email protected]
– H.264 AVC [email protected] up to [email protected]
– MPEG-4 [email protected] up to [email protected] (ISO-14496)
– WMV/VC-1 SP/MP/AP up to [email protected]
– AVS-P16(AVS+) /AVS-P2 JiZhun Profile up to [email protected]
– MPEG-2 MP/HL up to [email protected] (ISO-13818)
– MPEG-1 MP/HL up to [email protected] (ISO-11172)
– RealVideo 8/9/10 up to [email protected]
– Multiple language and multiple format sub-title video support
– MJPEG and JPEG unlimited pixel resolution decoding (ISO/IEC-10918)
– Supports JPEG thumbnail, scaling, rotation and transition effects
Video/Picture Encoding – Video/Picture Encoding
Amlogic Video Engine (AVE) with dedicated hardware decoders and SW H.264/
VP8 encoders
– Support multi-video decoder up to [email protected]
– Supports multiple "secured" video decoding sessions and simultaneous
decoding and encoding
HDR: Supports HDR10+, HDR10, HLG HDR processing
3D Graphics: ARM G31 MP2 GPU
– 4-wide warps, dual texture pipe, 2x 4-wide execution engines (EE)
– Concurrent multi-core processing
-for OpenGL ES 3.2, Vulkan 1.1 and for OpenCL 2.0 support
Decoder Format: HD MPEG1/2/4, H.265/H.264/HEVC, VC-1/WMV, AVS, AVS +, AVS2 RealVideo, AV1, MP-10, VP9 Profile, RM, RealVideo8/9/10
Media Format: Supports *.mkv,*.wmv,*.mpg, *.mpeg, *.dat, *.avi, *.mov, *.iso, *.mp4, *.rm and *.jpg file formats
Audio Format: Supports MP3, AAC, WMA, RM, FLAC,programmable with 7.1/5.1 down-mixing
Photo Format: MJPEG/JPEG
Language: Chinese, English, Germany, Japanese, Korea etc. 24 languages
OTA Update: Support OTA update
What's In The Box
1 x KM7 TV Box
1 x Power Adapter
1 x IR+BT Voice Remote Control
1 x HDTV Cable
1 x User Manual
What I Like
Android TV 11 Operating System
Large 64GB internal storage
Plays 4K video smoothly
USB 2.0 ports
New Powerful CPU
Remote can control television
Expanding internal storage works excellent
Fast download speeds with VPN on & off
Supports Amazon Prime Video in HD
What I Dislike
Remote control lags between button presses
Netflix HD not supported (not certified)
No Dolby Atmos/DTS-X/DTS-MA/THX/Dolby TrueHD
No support for WiFi 6
No USB 3.0 Ports
No Gigabit Ethernet Adapter
Shipping usually takes approximately 2 weeks to United States from MECOOL
Limited support
High price
Final Thoughts on the MECOOL KM7 Android TV Box
You will notice that the MECOOL KM7 ($86) is less expensive than the KM6 ($109).
They tried to cut a few corners on this box which obviously brought down the price.
Consumers need to ask themselves if those downgrades matter.
Let's take a look at a few of the downgrades.
The S905YR CPU is actually a budget alternative to the S905X4 found in the KM6.  Will the extra bit of power in the X4 matter?  Probably not.
No Gigabit Ethernet – Do you really need speeds above 100Mbps for a streaming device?  Keep in mind that you should be able to stream 4K content with 20-30 Mbps.  Also, the wireless adapter on the MECOOL KM7 is still pulling almost 300 Mbps!
No USB 3.0 Ports – Not a big deal to me personally.  I don't use the USB ports very often and when I do, I can wait a few more seconds for my files to transfer.
If you're looking to find an upgrade to the Amazon Fire TV Stick, the MECOOL KM7 might be a good choice.
Keep in mind that this device does not support Netflix HD so I would not suggest purchasing this if you use that streaming service.  If that's the case, you should look at the MECOOL KM2.
Personally, I think the price is a bit high for what you're getting with this Android TV Box.  If MECOOL shaved $20 off the KM7, I would call it a good buy.
Use coupon code TROYPOINT at checkout for 10% discount.
MECOOL KM7 Official Website & Purchasing Options
I rate the MECOOL KM7 Android TV Box 3.8 stars out of 5
This page includes affiliate links where TROYPOINT may receive a commission at no extra cost to you. Many times, you will receive a discount due to the special arrangements made for our visitors. I will never promote something that I personally don't use or recommend. Purchasing through my links directly supports TROYPOINT which keeps the content and tools coming. Thank you!