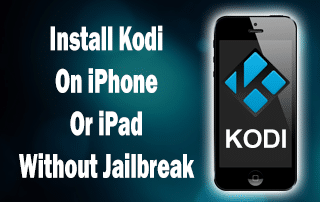 This tutorial will show you how to install Kodi on iPhone or iPad.  Kodi is a free media streaming application that is available on almost all operating systems. This home media hub acts as the primary source that lets users play and stream all kinds of stored media.
What makes Kodi a leading entertainment app is its easy navigational features, customizable interface and unlimited add-ons and builds that are completely free.
If you are looking for a simple way to install the best add-ons and repositories quickly and efficiently, I suggest using a Kodi Build. Click on this link for a list of the
Best Kodi Builds
.
To learn more about what Kodi is and how it can help you host applications and components for your viewing pleasure, click on the link below:
What is Kodi? Everything You Need To Know
The Kodi app for iPhone or iPad allows you to take this free media center app with you on the go! However, unlike Android based devices such as phones and streaming boxes that provide Kodi within the Google Play Store, Apple does not offer this application.
Because the Kodi App is not available anywhere on the App Store, we must install it through a third party app store.
There are numerous tutorials on installing Kodi on iOS using a computer or with a jailbroken phone. Using the steps below requires neither and takes less than 5 minutes!
TROYPOINT always recommends a VPN when installing or using Kodi. By installing a VPN on your Kodi device, you will encrypt your IP address making it impossible for your Internet Service Provider and others to view your activity.
To learn how to install a VPN on an iPhone or iPad, click the link shown below:
Kodi for iPhone or iPad Installation
Since it's impossible to find Kodi on the App Store, we need an installer for this process. TweakBox is a third-party app installer that is highly recommended because it hosts numerous apps that are not available for download within the Apple App Store. You can do this through its Flash Apps feature.
TweakBox is also packed with other features. It lets users download premium apps, apps still in beta mode, modified apps that are packed with additional features and cracked versions of popular games. Often times, these are paid applications that TweakBox makes available for free.
Do you need to jailbreak your iPhone or iPad to add TweakBox?
Not at all. TweakBox works on all types of iPhones, iPads, iPods as well as on Android devices. For Apple devices, the operating system (OS) must be at least iOS 7.
In the example below, I'm using an iPhone XS with iOS version 12.1.2. However, this guide will also work on other versions and devices including the iPad.
Currently, the only version available for installation from TweakBox is Kodi 17.6 Krypton.
Use the following instructions to Install Kodi on your iPhone or iPad:
Install Kodi On iPhone Or iPad Guide
Step 1
On your iPhone, iPad, or Android Device, go to www.tweakboxapp.com.
Step 2
Tap Install Now
Step 3
When prompted, tap Allow.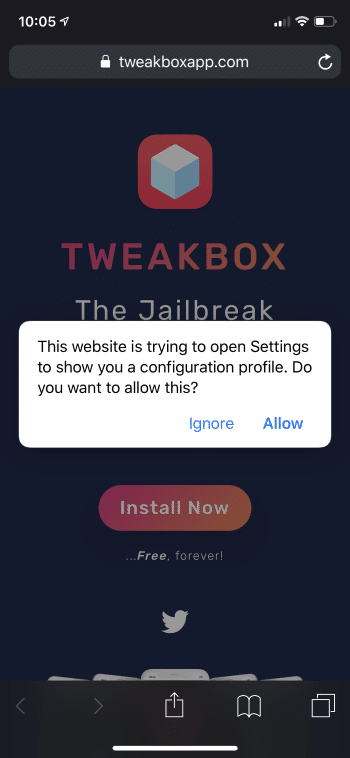 Step 4
A message will prompt stating the Profile Downloaded. Click Close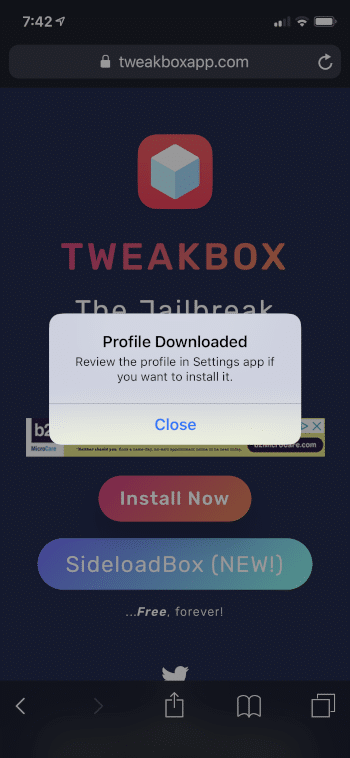 Step 5
Return to your device's home-screen and open Settings
Click Profile Downloaded
Step 6
Click Install
Step 7
If required, enter your Passcode to continue.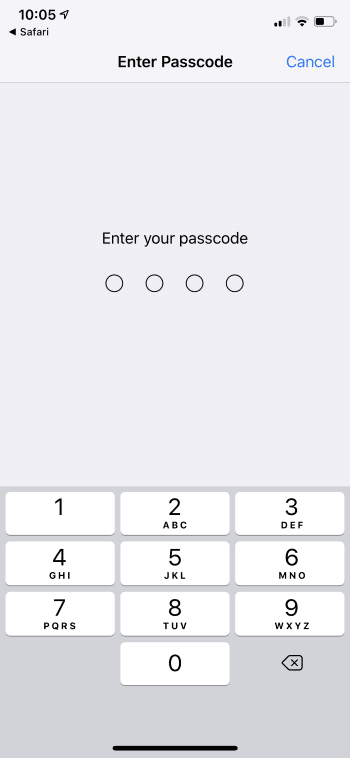 Step 8
When prompted, tap Install.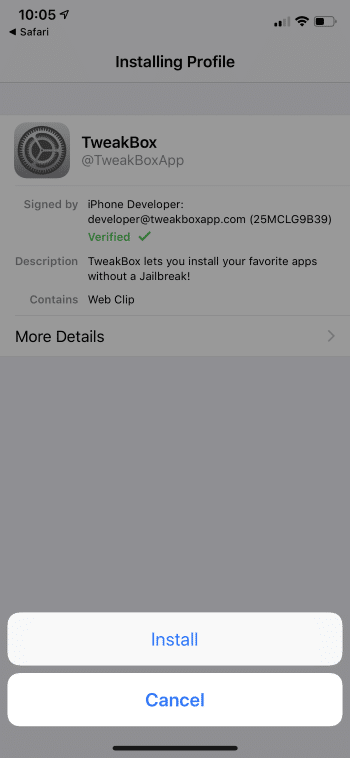 Step 9
Tap Done.
Step 10
Return to the home screen and open the TweakBox app.
Step 11
Tap APPS at the top of the screen.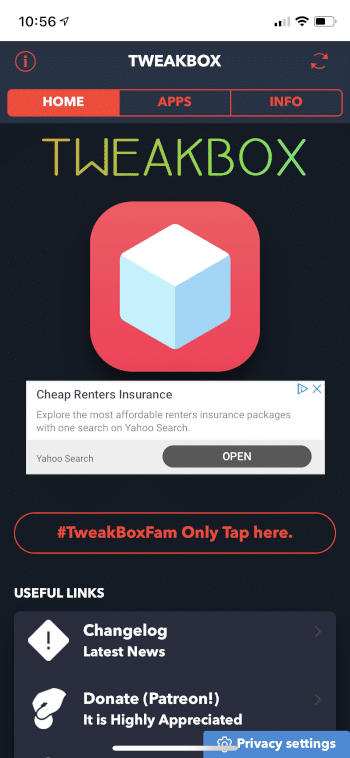 Step 12
Under Categories, tap Tweakbox Apps.
Step 13
Scroll down to search for Kodi. Tap the app.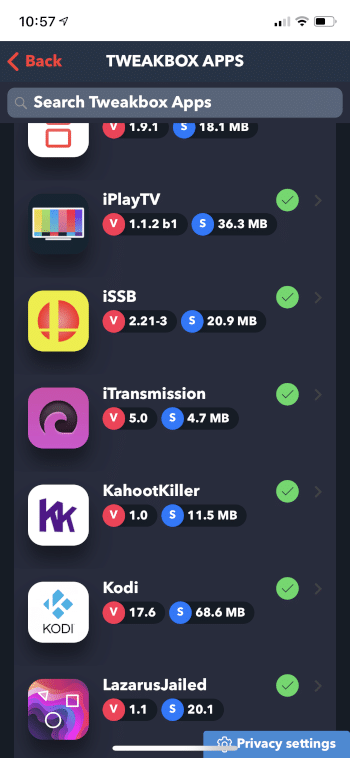 Step 14
Tap Install.
Step 15
You will be asked to confirm the installation. Click Install again.
Step 16
Return to home screen and tap Settings > General.
Step 17
Tap Profiles & Device Management.
Step 18
Tap the text located underneath ENTERPRISE APPS.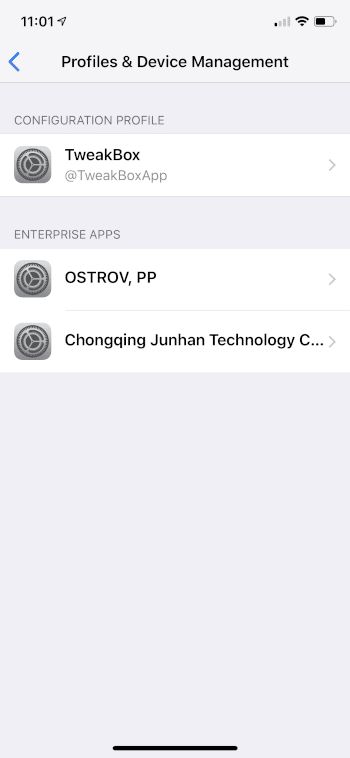 Step 19
Tap Trust "Chongqing Junhan Technology Co… or other text that you read.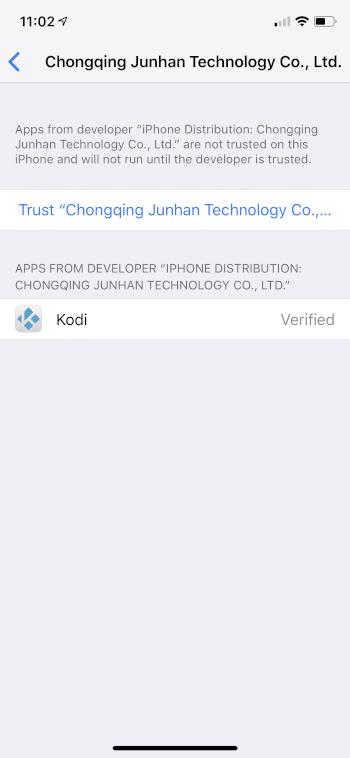 Step 20
When prompted, tap Trust again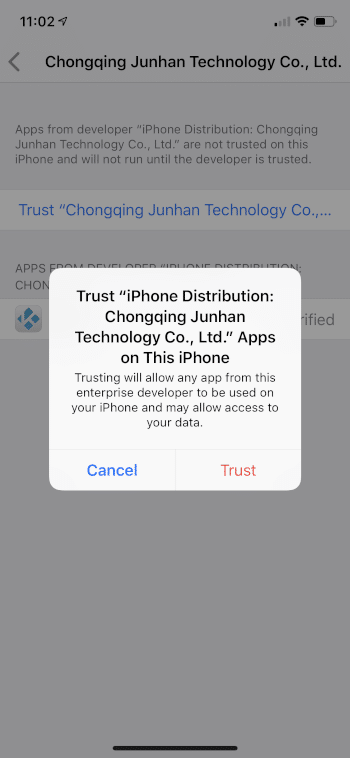 Step 21
Return to the home screen and launch Kodi.
The Kodi for iPhone or iPad app is now installed.
Enjoy!
Install Kodi Add-Ons on iPhone or iPad
As explaineed above, a Kodi add-on is a small application that extends the functionality of the core software. Think of it as little tools that can boost the performance of the app.
This includes thousands of free movies, TV series, live TV streams including sports channels plus pay-per-view events. These add-ons allow users to enjoy free media for streaming videos and audio content.
The steps below outline the process for installing Kodi add-ons on your iPhone or iPad and continues the installation process above.
Step 20
After launching the Kodi app, a pop-up message will appear. Tap OK.
Step 21
Tap the Settings icon 

.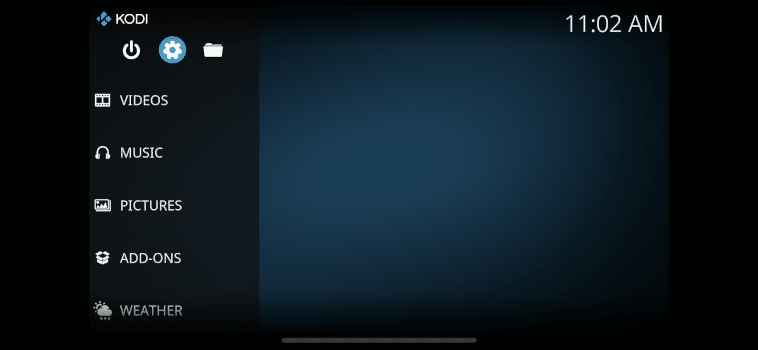 Step 22
Tap System.
Step 23
Tap Add-ons.
Step 24
Turn the Unknown Sources toggle to ON by tapping Yes.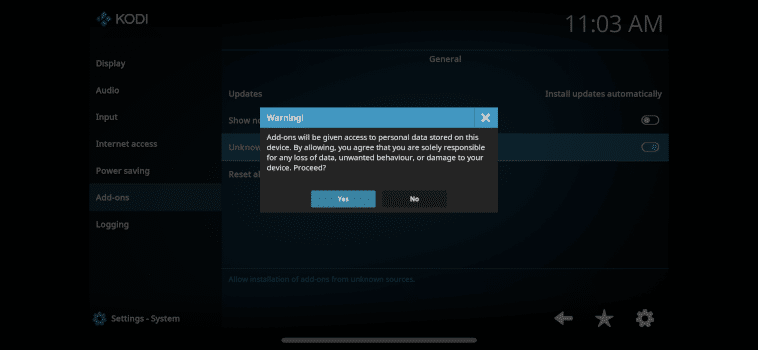 Step 25
To install add-ons, go to Kodi home screen, then tap the File Manager icon
at top of page.
Step 26
Tap Add Source.
Step 27
Install your preferred add-ons to view content!
Here is a list of the Best Kodi Add-ons with tutorials on how to install them. With Kodi now installed on your iPhone or iPad, you will be able to view and stream all your favorite content wherever you are!
Problems Installing Kodi on iPhone/iPad – How To Check Storage
Having  Kodi on your iPhone or iPad requires enough storage available to host this app and any subsequent add-ons.
To check available storage on iPhones and iPads, follow the steps below:
Step 1
From your device's home screen, tap the Settings icon.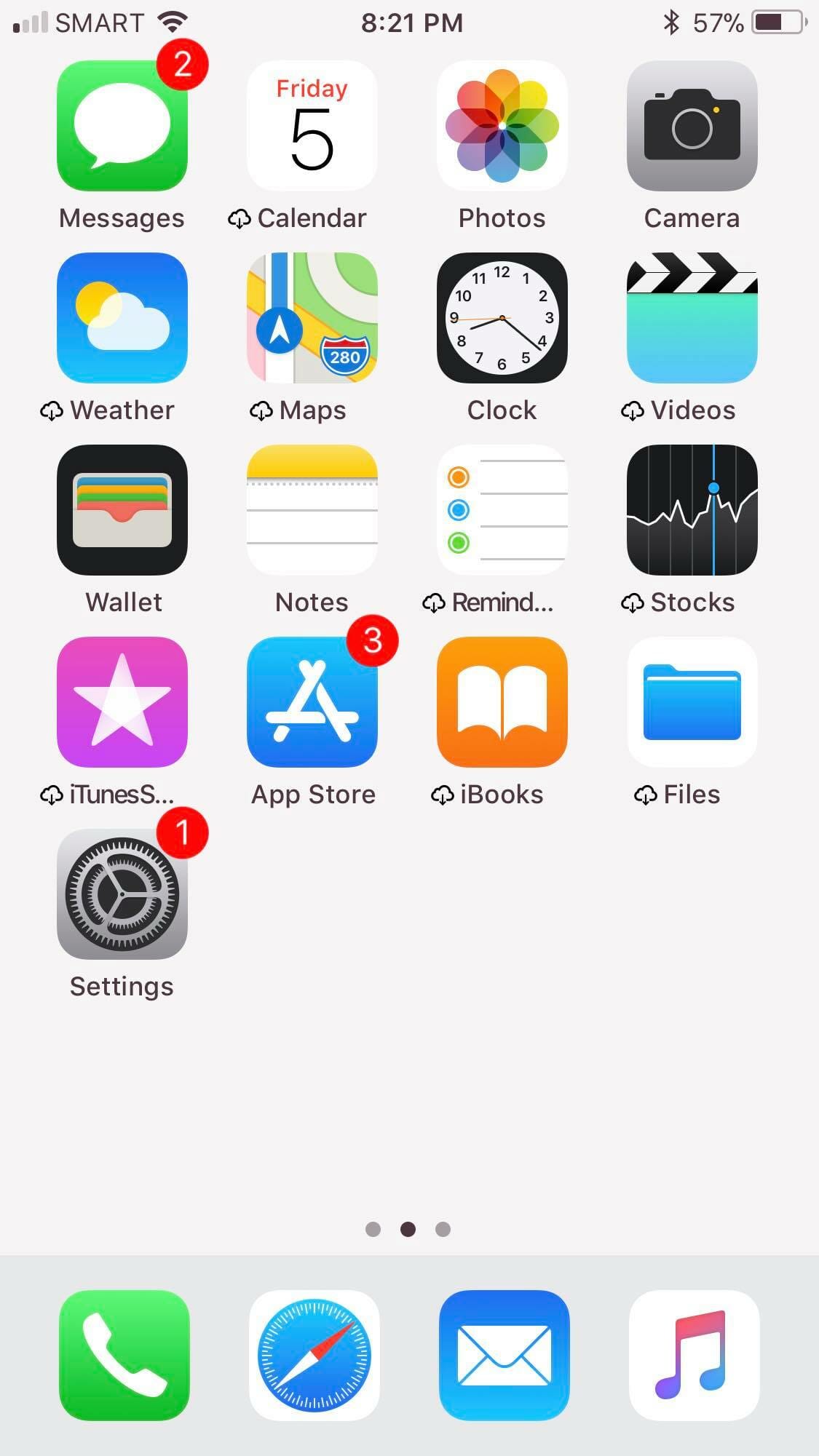 Step 2
Tap General.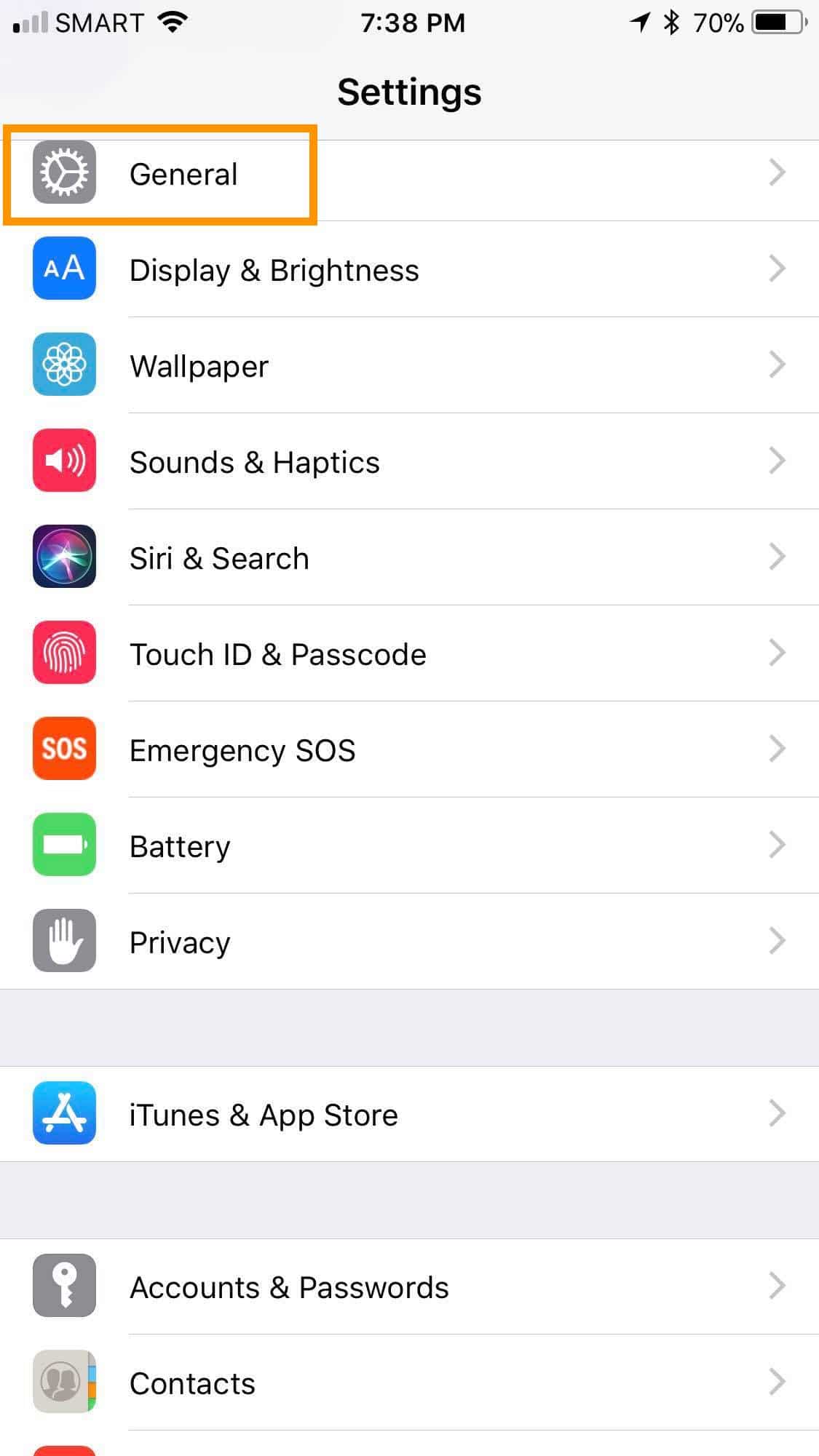 Step 3
Tap About.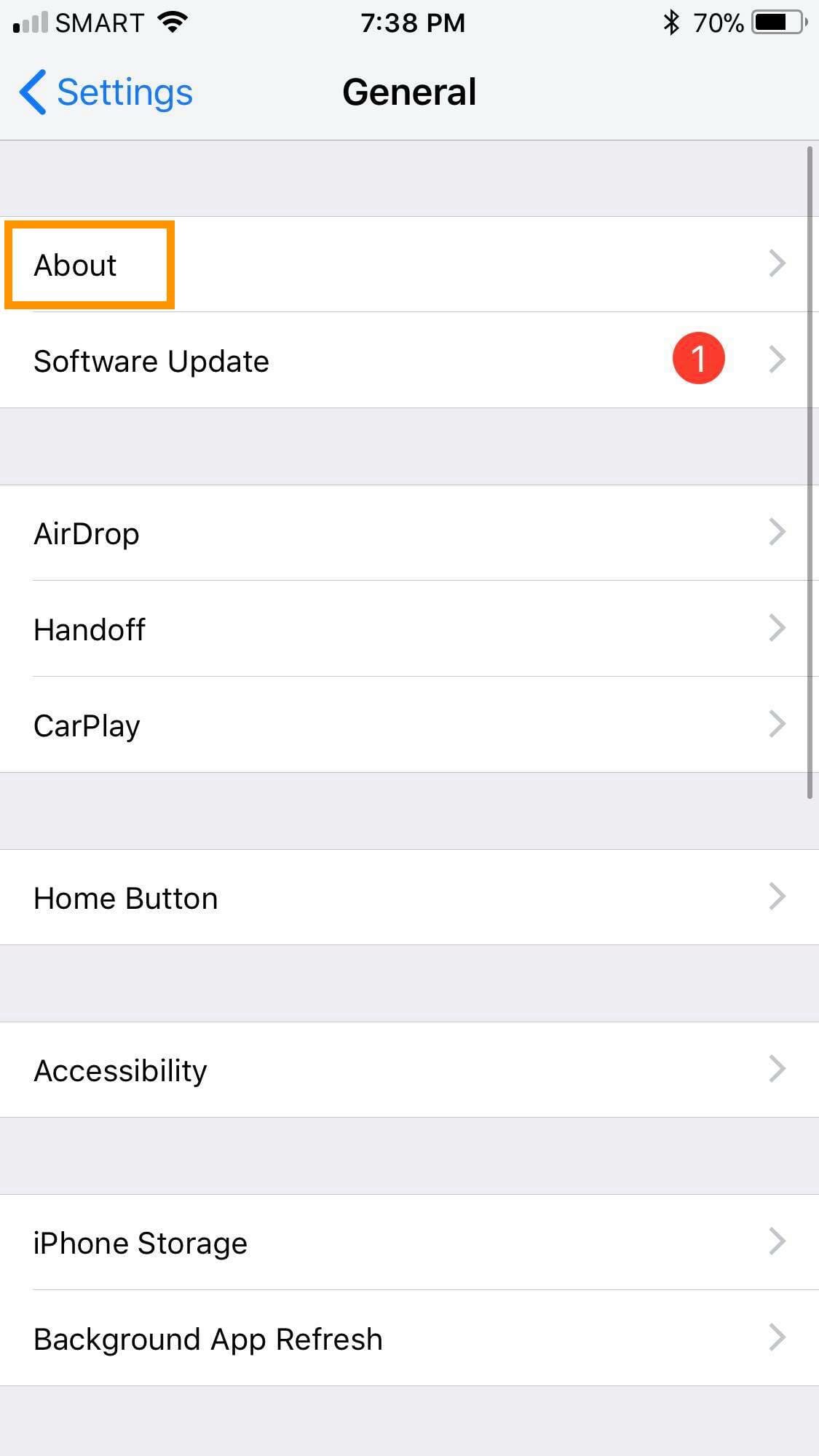 Step 4
Your usable storage in GB is listed next to Available.
If you don't have enough space available on your iPhone or iPad, you may delete it through the X icon
on each app or through the Settings icon:
Delete an App through the X Icon
Step 1
On your iPhone or iPad's home screen, tap on an icon and hold on it for a few seconds. This will cause all icons to jiggle or wobble.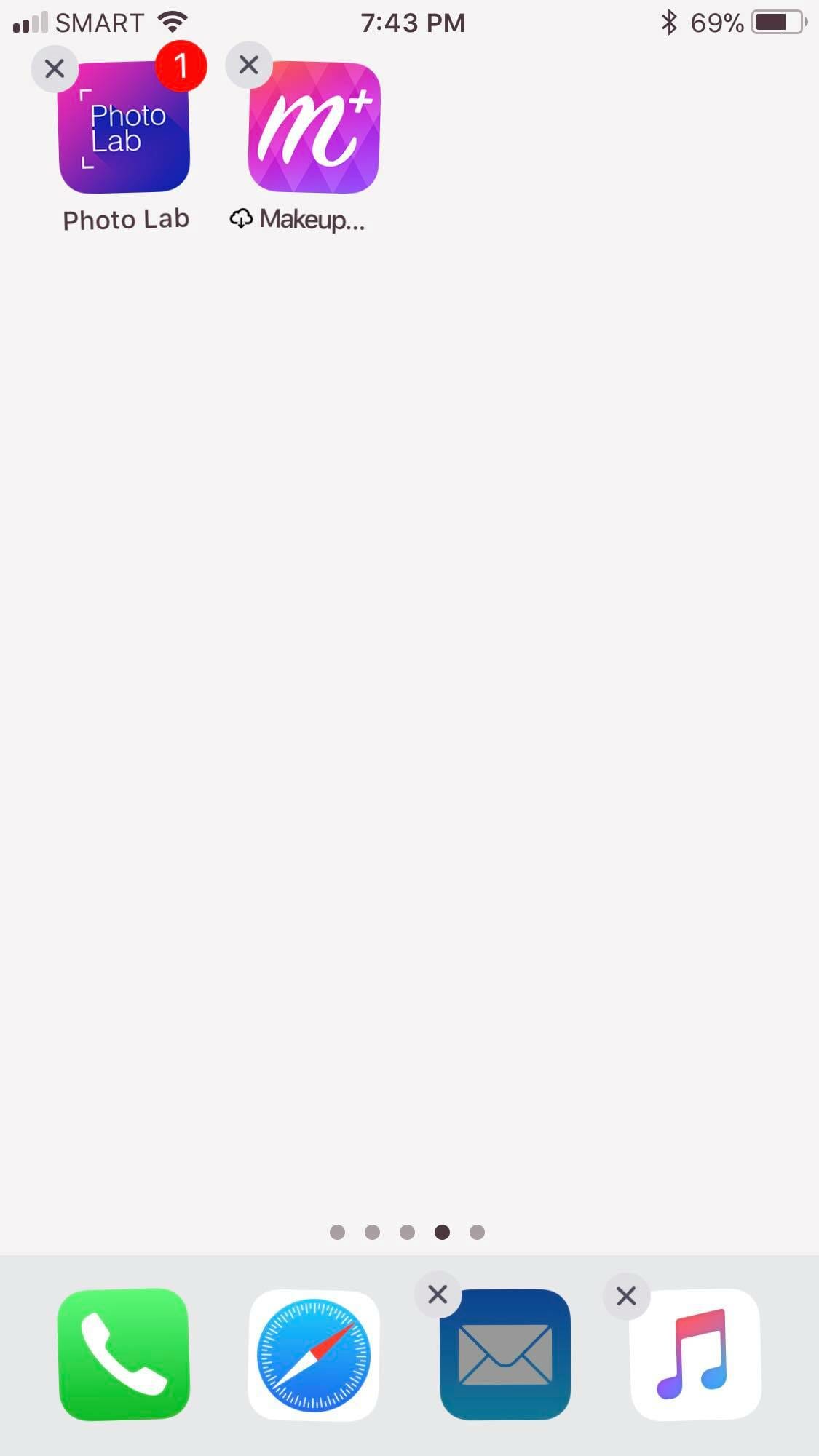 Step 2
Tap the X icon
on each app that you want to remove from your iPhone or iPad.
Step 3
A pop-up message will appear that asks for your confirmation. Tap Delete.
Step 4
Press the Home button to go back to the home screen.
Delete an App through the Settings Icon
Step 1
Tap the Settings icon.
Step 2
Tap General.
Step 3
Tap [Device] Storage.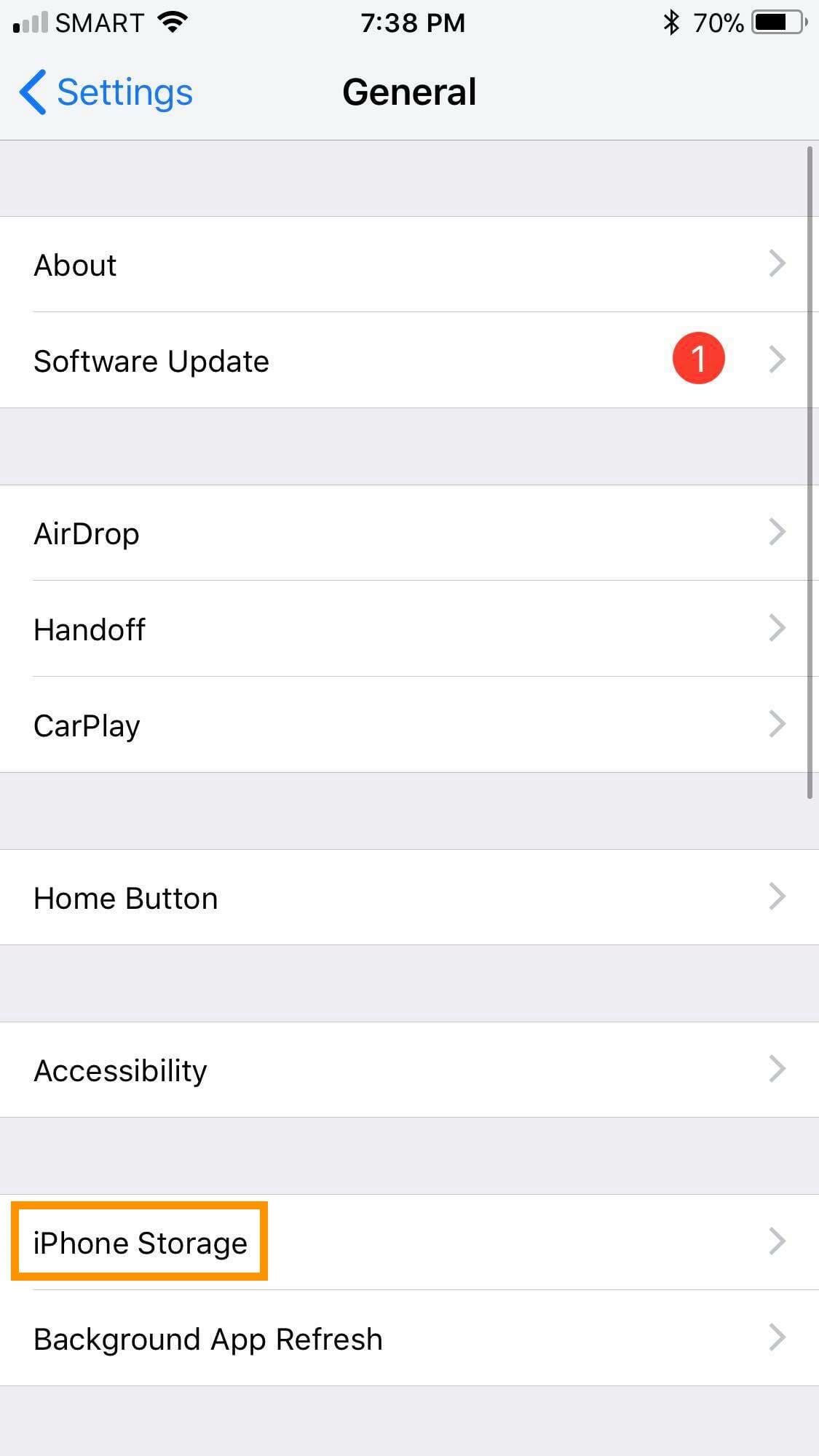 Step 4
Tap the app that you want to remove.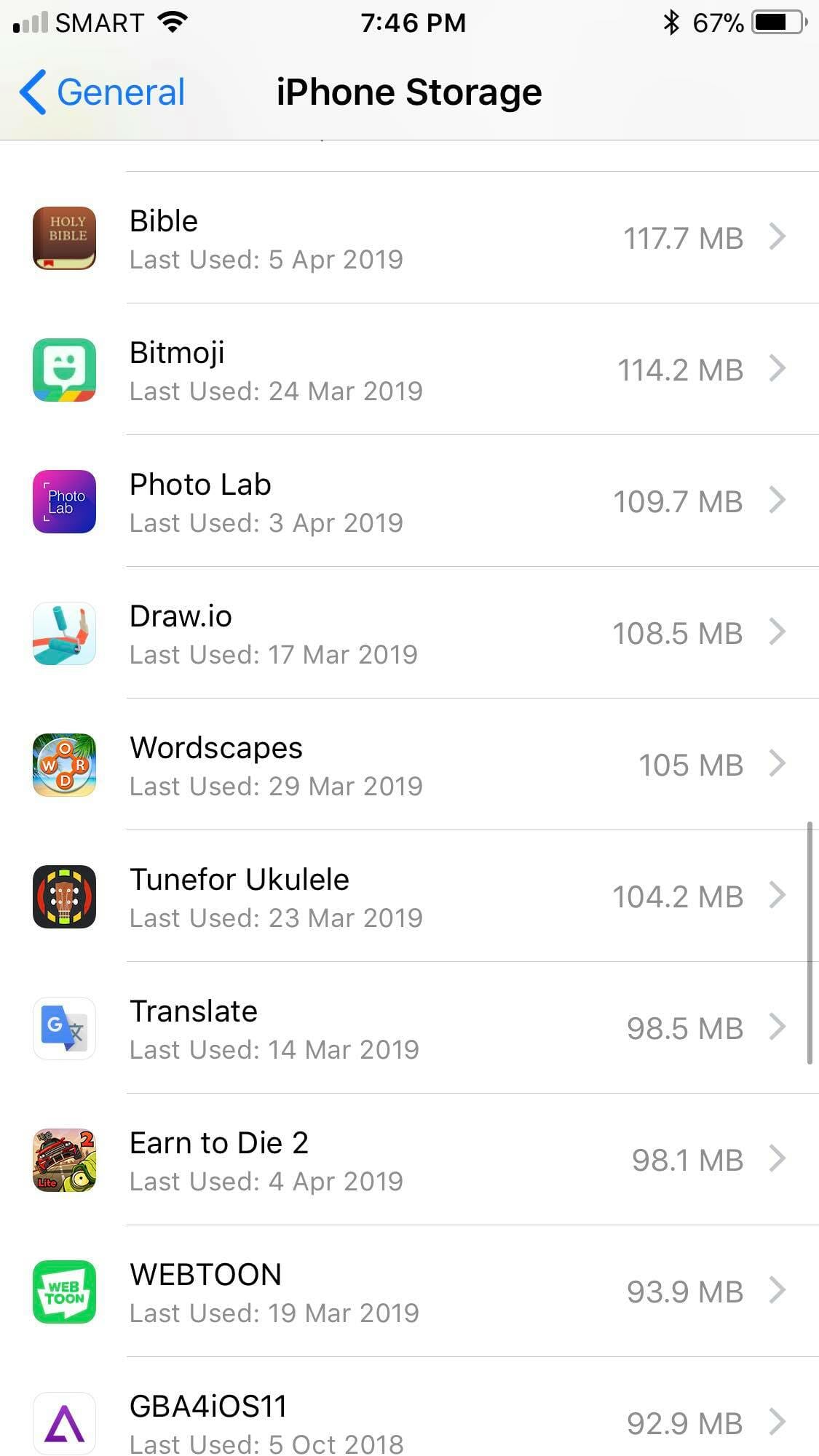 Step 5
Tap Delete App.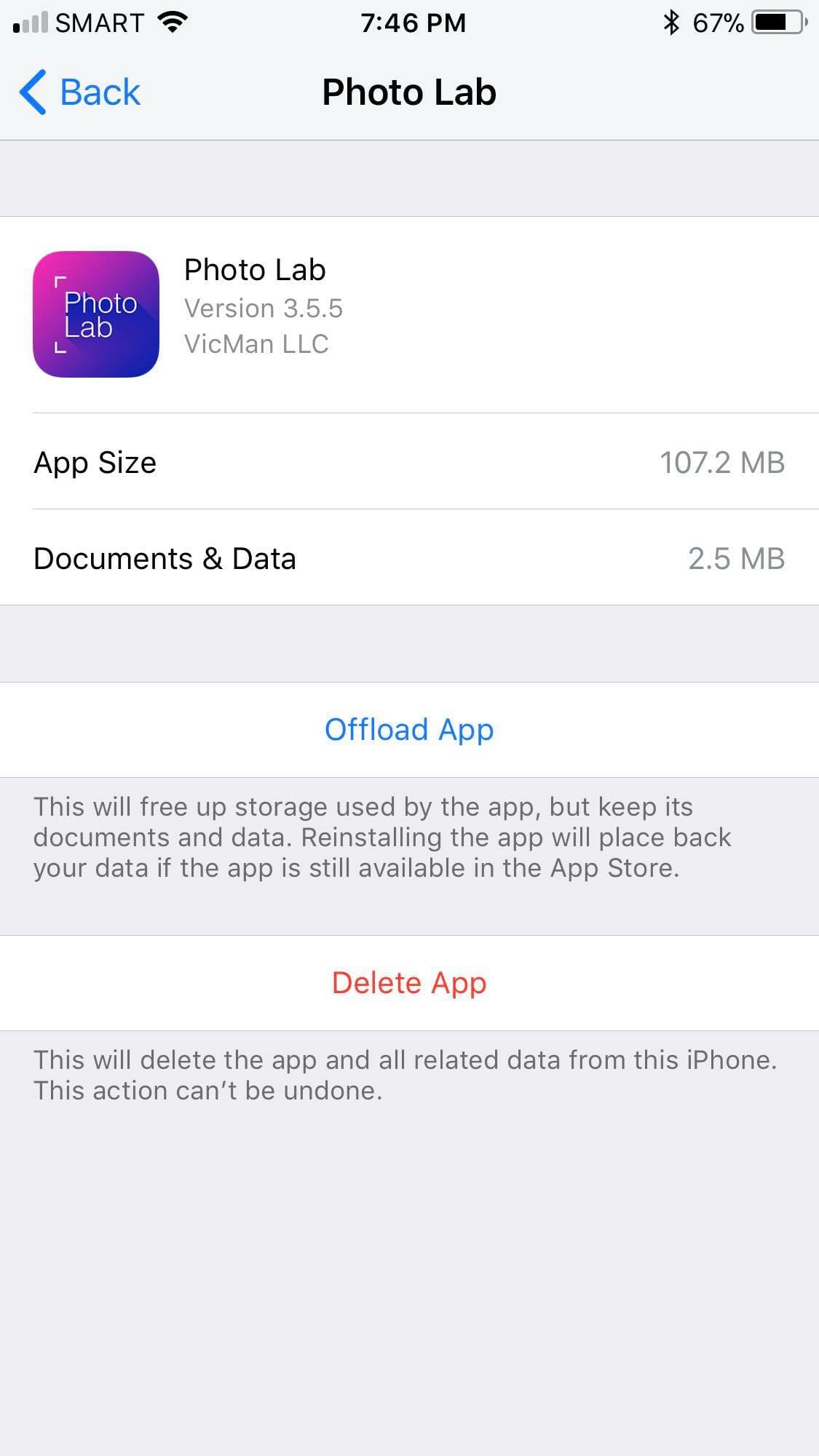 Step 6
A pop-up message will appear that asks for your confirmation. Tap Delete App.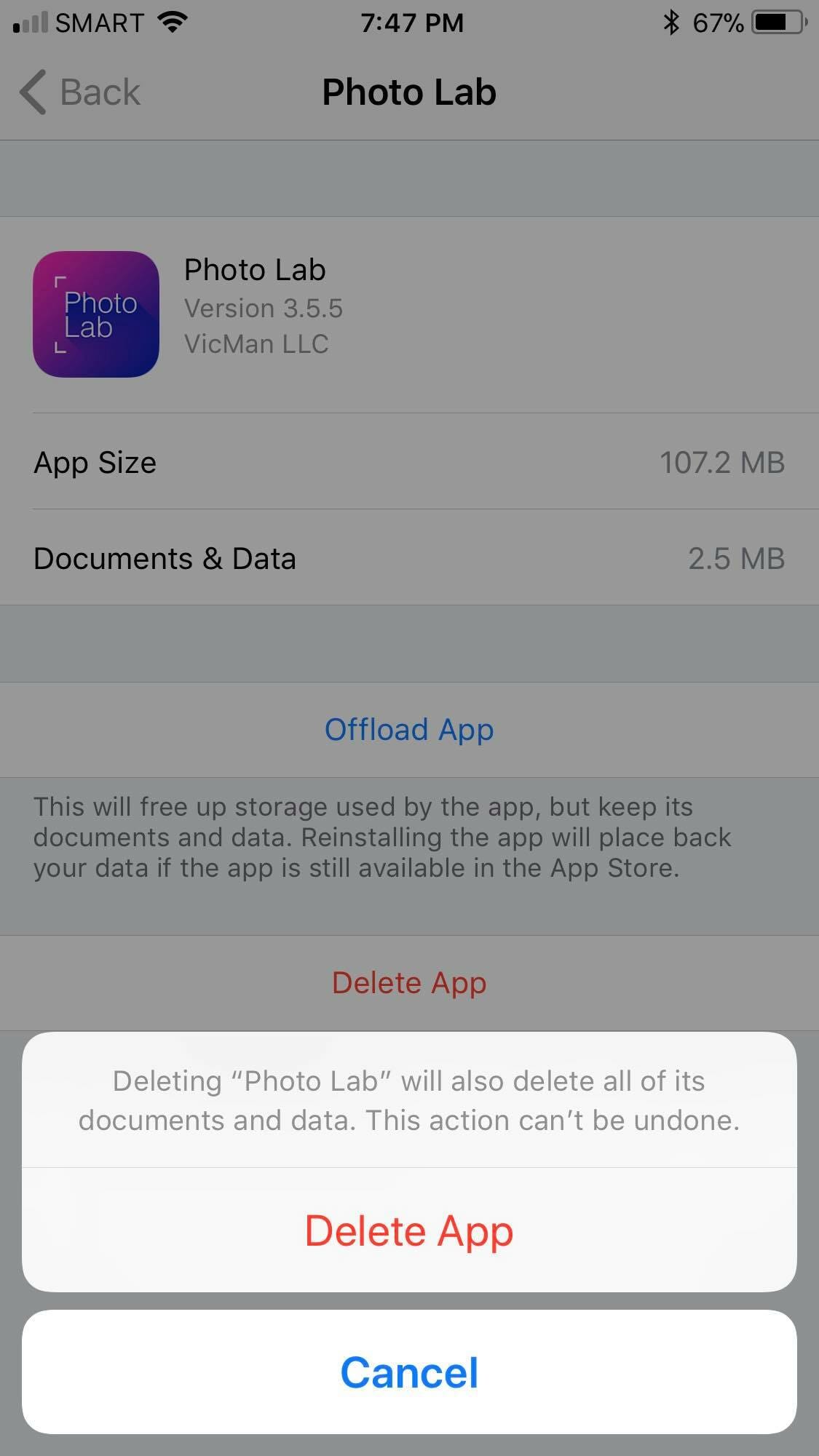 Other Tweaked App Stores
Aside from TweakBox, there are other apps that allow you to access to thousands of apps not available within the Apple App or Google Play Store. You can learn how to install some of them by checking the link below:
Best Tweaked Apps Stores and How To Install Them on iOS & Adroid
AppValley
If you like unlimited free apps under one roof, then AppValey is what you need. Without jailbreaking your iOS device, you can download entertainment apps such as MovieBox, CinemaBox and Bobby Movie app plus social media favorites Twitter++ and Facebook++. There are also available Cydia tweaks and a few paid apps and modified games.
How To Install AppValley on iPhone/iPad/Android Device
TuTuApp
Taking the app installation functionality a notch higher, TuTuApp offers users regular app updates, integrated in-app downloader for faster processing, multi-device support and of course, free access to apps without the irritating ads! Some of the popular apps available include top games such as Minecraft PE and Pokemon GO and social media app Snapchat.
How To Install TuTuApp on iPhone or iPad or Android Device
What's a Kodi Skin?
You can modify your Kodi interface by changing its skin. Since Kodi version 17 was released, the default skin installed are Estuary or Estouchy. The latter is designed especially for touchscreen devices, which comes in handy when using Kodi for iPhone or iPad.
While considered by many to be a clone of Estuary, Estouchy has a better look and feel in terms of interface. Its advantage over other skins include:
Displays more information on a single screen
More organized layout
Easier access to add-ons
Better resolution
Easy customization
To check if your existing Kodi skin is set to Estouchy, follow the steps below.
Step 1
Launch Kodi.
Step 2
Tap the Settings icon

.
Step 3
Tap Interface.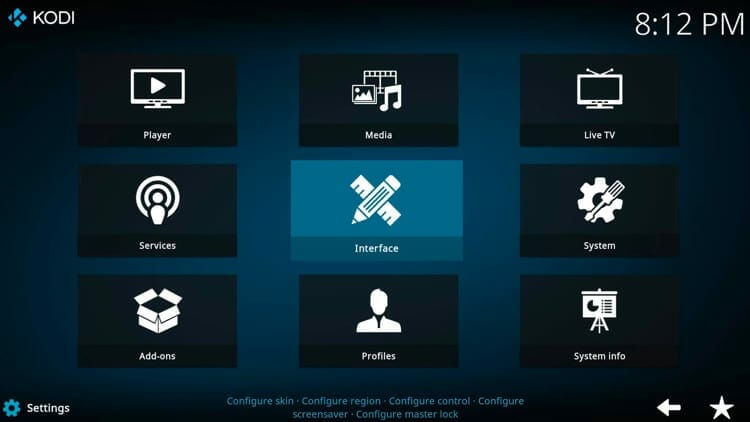 Step 4
Tap Skin > Skin. The Skin name will be displayed. In this example, the default skin is already Estouchy.
Step 5
In case it is not yet set to Estouchy, tap the existing name then tap Estouchy on the pop-up window.
If you want to switch to another skin, you can select from the other options. To do this, follow the steps below:
Step 6
Click Get more….
Step 7
Tap on your skin selection.
Step 8
The installation will begin. When prompted with the question, Keep skin? Would you like to keep this change? Tap Yes.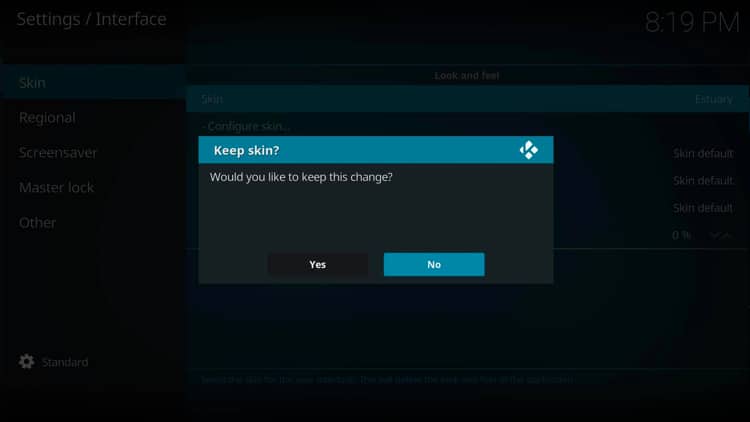 This will complete your installation.
GET YOUR FREE GUIDE
Supercharge Kodi Guide
Downloaded by over 500,000 Kodi users
Kodi doesn't do much without the popular 3rd party addons that provide free movies, TV shows, live channels, sports and more.
Install the best Kodi addons with the click of a button by using my free Supercharge Kodi guide.
GET YOUR FREE GUIDE
If you would like a free step-by-step guide on how to configure the best streaming setup possible, be sure to get the TROYPOINT Kodi Supercharge Guide by using the link below.  This guide has been downloaded by over 500,000 people.
TROYPOINT Kodi Supercharge Guide
Kodi on iOS Extras
With TweakBox installed on your iPhone or iPad, you will now have access to tons of apps not available within the Apple App Store. These incude emulators, games, and paid apps, all for free!
TweakBox is listed as one of the Best Tweaked Apps Stores and can be used to install various other streaming applications.
If you find the guide above did not work to install Kodi, I recommend using AppValley as an alternative. Aside from its advantages mentioned above, AppValley is similar to TweakBox but also hosts two versions of Kodi for your respective device.
Important Note: If you find that Kodi does not work after a limited time, I suggest installing the NoThx App within TweakBox.
You can find this in the main screen of the Apps menu item. NoThx is a revoke protector that allows Kodi and other 3rd party apps to continue working as long as you are protected.
However, this will not work on all devices and is not a reliable form of revoke protection.

 IMPORTANT NOTE FROM TROY
TROYPOINT does not verify the legality or security of any application or service covered on this website.
I personally use IPVanish VPN when accessing free movies, TV shows, and live streams through Kodi.
Here are the reasons why I use a VPN.
I don't trust the developers of these add-ons and apps that provide this free content. A VPN encrypts my traffic so these developers can't store my activity logs and then use them against me in the future.
My Internet Service Provider (ISP) can no longer sell my logs/history or hand them over to third parties such as government, watchdog groups, etc.
I can now Access Kodi add-ons, apps,and streams that my ISP has blocked.
My ISP can't throttle my download speed when using these free addons or applications because they don't know what I'm accessing when I'm connecting through my VPN.
A VPN will encrypt your connection to the Internet, mask your IP address, and provide you with the security and privacy that you deserve.
I recommend IPVanish VPN due to their blazing fast speeds and zero-log policy.
BEYOND BLACK FRIDAY SALE - Save 73% on IPVanish VPN

This discount expires soon.

Click Here for IPVanish VPN @ 73% Off