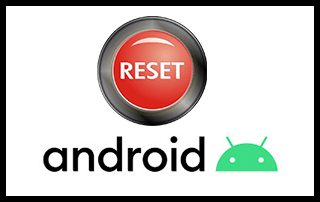 This step-by-step guide will show you How to Reset Android TV Box.
There are hundreds of variations of Android TV Box including NVIDIA SHIELD, Chromecast with Google TV, MECOOL, and more.
Resetting your Android TV Box will return the device to the same state it was in when you first purchased it.
If you are having issues with your Android TV device, a factory reset is a great way to get it functioning as though it is brand new again.
This factory reset will erase all of the applications that you have installed on your device.  You can think of this as a fresh start.
If you do not want to reset your device completely, we suggest simply restarting it to help alleviate any issues you are having.
Many Android TV Boxes come with limited storage and once you install a few dozen apps you may notice a sluggish system.
Yes, you can uninstall the Android apps that you no longer use but some of them leave remnants behind that aren't deleted.
Below, you will find two methods for resetting an Android TV Box.
In the second method, we are using the provided pin-hole that isn't available for all boxes.
In the tutorial below, we are using the popular X96 Max Android TV Box.
Because a factory reset will eliminate your installed applications, you will have to re-install any you previously had on your device.
Luckily, you can use the free TROYPOINT App with Rapid App Installer to reinstall your favorite streaming apps & tools in a matter of minutes.
Free TROYPOINT Rapid App Installer

Install the Best Streaming Apps in Minutes
The free TROYOINT app includes over 50 of the best streaming apps including the one(s) you're about to install on this page.
How to Reset Android TV Box
Factory Reset through Settings
1.  Click the Settings icon or menu button on the Android TV Box screen.
2.  Click Storage & Reset.
3.  Click Factory data reset.
4.  Click Factory data reset again.
Your Android TV Box will now reset back to factory default settings.  Please be patient while this process completes.
Your Android TV Box settings page may look different than the example above.
If so, follow the instructions below.
5.  Click System.
6.  Click Reset options.
7.  Click Erase all data (factory reset).  I had to use the mouse pointer on my remote to click this option.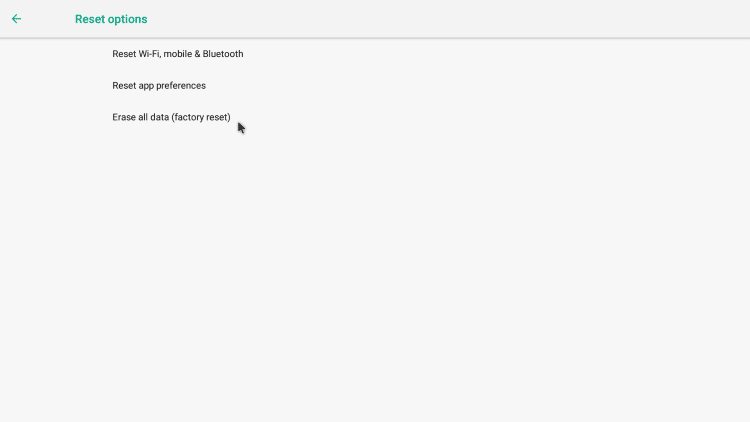 8.  Click Reset Phone.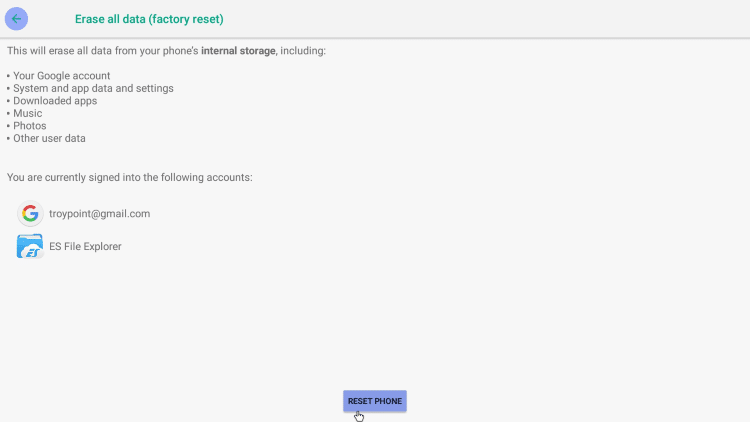 Android TV Box Pin-hole Reset
If your Android TV Box is not functioning and you are unable to access the settings tab, this method may work for you.
Look for a small hole on your Android TV Box that you could insert the end of a paper clip into.
It may be located on the bottom of your box.  Not all Android TV Boxes will have these available.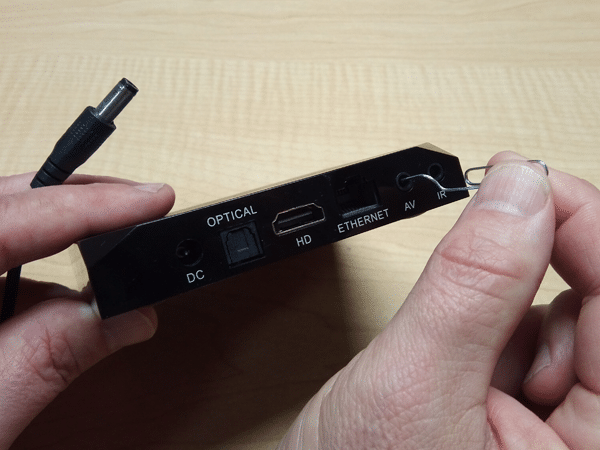 You may also find this pinhole located inside the AV port.  This is where it is located on the X96 Max.
1.  Disconnect your Android TV Box power cord from the back of the device.
2. Press and hold the reset button by inserting a paper clip or toothpick into the pin-hole (don't let go).
3. While pressing the reset button, reconnect the power cord to the Android TV Box.
4.  Keep pressing the reset button for 10 to 15 seconds and then let go.
5.  You should now see the Recovery Mode screen with the option to Wipe data/factory reset, press that option.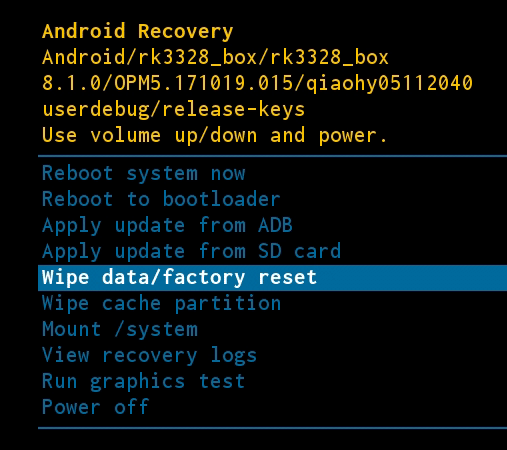 6. After you click the reset button you will be asked to confirm.
7. Once the process has completed, you will be back on the screen displayed above.
8. Click "Reboot system now".  Be patient during the reboot.
If you are wondering how to reset other popular streaming devices, check out our other device reset tutorials.
After resetting your Android TV Box, your device will now be refreshed and return to its original factory settings.
Most Android TV Box owners use a VPN to protect their privacy when using Streaming Apps & APK's.
To ensure your streaming and online activity is always protected from your ISP, app developers, and others, we suggest installing a VPN on Android TV Box.
Frequently Asked Questions
How do I force reset my Android TV Box?
If you have the option, you can use the pinhole on your Android TV Box to reset the device.
How do I fix my Android TV Box?
Resetting your Android box to factory settings is a great way to fix any problems you may be enountering.
Will I lose my installed apps if I reset my Android Box?
Yes. You will have to reinstall any apps you previously had installed after a factory reset.
This page includes affiliate links where TROYPOINT may receive a commission at no extra cost to you. Many times, you will receive a discount due to the special arrangements made for our visitors. I will never promote something that I personally don't use or recommend. Purchasing through my links directly supports TROYPOINT which keeps the content and tools coming. Thank you!
Register as a TROYPOINT Insider and discuss this article with thousands of other cord-cutters.