Surfshark VPN Now Has Dedicated IP Addresses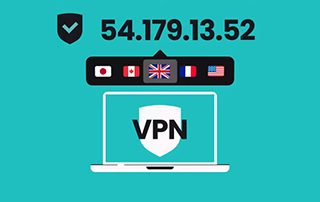 Surfshark, TROYPOINT's #1 VPN Provider, has officially launched Dedicated IP Addresses for use on their popular VPN Application.
Surfshark continues to raise the bar for VPN users with added features and updated settings.
The latest feature, Dedicated IP Addresses, has tons of benefits which we will discuss in detail below.
For more information, you can visit the Official Surshark Website using the link below.
NOTE: Dedicated IP is currently unavailable on Firestick & Android TV, however, Surfshark has plans to add this feature for these devices in the near future.
What is a Dedicated IP Address?
Every device connected to the internet has an IP Address which is a unique identifier for the connection itself.
This includes streaming devices, routers, tablets, mobile devices and everything in between.
When you connect to a VPN Server, you are typically sharing an IP Address with others and alternating these IP Addresses every time you connect.
With a Dedicated IP Address, however, you are given an IP Address that is unique to you and only you while still being protected by your VPN.
Your IP Address stays the same every time you activate it which provides tons of awesome advantages & benefits.
Advantages of Dedicated IP Address
Avoids IP Blocklists
When you use a shared IP Address when connected to a VPN Server, you are essentially sharing the same connection.
IP Addresses oftentimes get blocklisted for various reasons which could happen to you if you have the same shared IP Address as someone accessing illicit content.
With a Dedicated IP Address, you can avoid this altogether as you are the only person with access to the IP Address.
Reduce CAPTCHAs

This is a big one for VPN users as many of us are aware of the annoying CAPTCHA messages that appear when searching or accessing a website.
However, using a Dedicated IP Address will reduce these CAPTCHAs due to the fact that your IP Address will not be flagged as suspicious because it is unique to you.
Provides Privacy as You Need It
YOU'RE BEING TRACKED...
Your online activity is tracked by your government, Internet Service Provider, app/addon/IPTV devs and all websites through your identifying IP address
Stream anonymously by using Surfshark VPN
Your Current Identifying IP Address:
SAVE 82% ON SURFSHARK VPN + 2 FREE MONTHS
Surfshark backs their service with a 30-day money back guarantee
Use your account on unlimited devices & share with family members
HURRY! SALE ENDS SOON
Claim Surfshark VPN Discount
Unlike a shared VPN Server, a dedicated IP Address is tied to your email address which will likely reduce privacy.
Luckily, Surfshark provides an anonymous Dedicated IP option that will remove the link between your IP Address and your email address for complete anonymity.
Improved Access to Websites & Services
As many of us know, accessing various websites and services can oftentimes be difficult when using a shared IP Address.
Many of these require a consistent IP Address which we don't get with a shared server.
This is where a Dedicated IP Address can be a huge asset as your IP Address always stays the same for a consistent connection.
Blazing Fast Speeds & Protocols
Surfshark is known for its blazing-fast servers which will continue when connected to a Dedicated IP Address.
Best of all, Dedicated IP works will all available protocols including WireGuard® so you won't miss any of your favorite features.
Surfshark Dedicated IP Locations
Currently, Surfshark offers 6 different locations for Dedicated IP Addresses with many more coming in the near future.
These include:
Los Angeles (United States)
New York (United States)
Dallas (United States)
San Jose (United States)
London (United Kingdom)
Amsterdam (The Netherlands)
How to Connect to Surfshark Dedicated IP Address
IMPORTANT NOTE: Before attempting to connect to a Dedicated IP Address, make sure your Surfshark VPN Application is up to date with the most recent version.
1. Visit surfshark.com and sign up or log in to your account.
2. On the left-hand menu bar, select Dedicated IP and click Upgrade to input your payment.
3. Return to your account and click Dedicated IP again.
4. Choose your preferred location and click Activate.
5. You will then encounter a confirmation message. Click Got it.
6. Launch the Surfshark VPN Application and on the top menu bar, select Dedicated IP to connect to your Dedicated IP Address.
Enjoy!
For more information, check out the video guide below.
You can find the official press release from Surfshark using the link below.
Surfshark Launches Dedicated IP
Be sure to stay up-to-date with the latest streaming news, reviews, tips, and more by following the TROYPOINT Advisor with updates weekly.
This Advisor provides all the best cord-cutting tips to get the most out of your favorite streaming devices and more.
Click the link below to join the other 800,000 Advisor subscribers.
Frequently Asked Questions
What is a Dedicated IP Address?
A dedicated IP Address is a unique IP Address with VPN protection that is distinctive to you.
Is a Dedicated IP Address Safer than Shared IP?
While it may not be safer, Surfshark offers an anonymous Dedicated IP that will ensure complete safety and encryption when connected online.
How much does a Dedicated IP Cost?
Currently, Dedicated IP from Surfshark costs $3.75/month.
Does Surfshark Offer Dedicated IP?
Yes. Surfshark recently added Dedicated IP options for all users which you can find within your account.
This page includes affiliate links where TROYPOINT may receive a commission at no extra cost to you. Many times, you will receive a discount due to the special arrangements made for our visitors. I will never promote something that I personally don't use or recommend. Purchasing through my links directly supports TROYPOINT which keeps the content and tools coming. Thank you! Learn more on my Affiliate Disclaimer page.