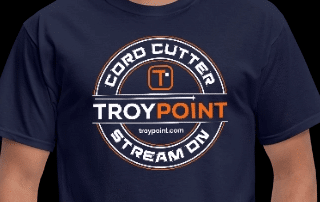 Back in December, we asked our fans to vote for their favorite TROYPOINT shirt design.
The winning design along with a few others would then be made available for purchase on t-shirts, sweat shirts, hats, caps, bags, etc.
We're excited to announce that these items are now available for purchase!
TROYPOINT is using the popular Spreadshirt site to fulfill orders and deal with customer service.
All proceeds from our TROYPOINT Spreadshirt Shop will be sent to St. Jude Children's Research Hospital.
TROYPOINT won't profit from this promotion and never will.
Here are a few of the designs…
When you wear a TROYPOINT shirt, you're identifying yourself as a cord cutter, but best of all you're supporting a life-saving cause!
Please note that you must deal with the Spreadshirt team if you have any questions or need help with your order.
Spreadshirt provides an awesome customization tool.
This allows you to manipulate the design to your liking such as size of design, placement, etc. prior to checking out.
Thank you for promoting the TROYPOINT brand and supporting St. Jude Children's Research Hospital!  Your support means a lot.