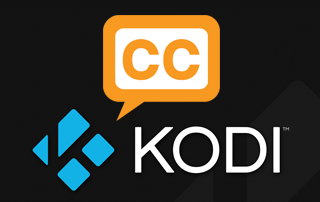 This step-by-step tutorial will show you how to get Kodi Subtitles by using OpenSubtitles.org.
This method works on all devices including the Amazon Firestick and more.
Often times, when playing a Movie or TV Show through Kodi, the sound quality isn't great.
Or, if you're like me and hard at hearing (my wife says that), the movies and TV shows are much more enjoyable with subtitles. (Often referred to as closed captioning).
Whatever your reasoning may be, adding Kodi Subtitles is an easy fix for tons of problems that arise when streaming within Kodi.
If you are someone who would like to view subtitles in a different language, this can also be done using the guide below.  Once you learn how to add subtitles to Kodi you can take care of all these problems and more.
Within this tutorial, we will be using a free Kodi addon called OpenSubtitles.org.  As of this writing, this is the most popular subtitle service and provides the best results when adding subtitles to Kodi.
One of the best features of OpenSubtitles.org is the ability to see how other users have rated a certain subtitle prior to downloading it.  You can quickly determine which subtitle will be best for your Kodi device by simply looking at the choices within the download list.
Below, you will find both a video tutorial and screenshot guide for Kodi subtitles.  The video tutorial will provide additional details not found in the screenshot guide.
Free TROYPOINT Supercharge Kodi Guide

Install the Best Kodi Addons in Seconds
The free TROYPOINT Supercharge Guide teaches you how to install over 60 of the best addons with a few clicks.
Used by over 1 million cord cutters.
Kodi Subtitles Tutorials
Video Tutorial
 Click Here for Free TROYPOINT Supercharge Kodi Guide
 Register for OpenSubtitles.org Account
Screenshot Guide
1.  Register for a free account at opensubtitles.org.  DO NOT PAY FOR ANYTHING!  THIS IS FREE!!  WATCH MY VIDEO ABOVE TO SEE DETAILS.
2. Click the Settings icon that looks like a gear.
3.  Click Add-ons.
4. Click Install from repository.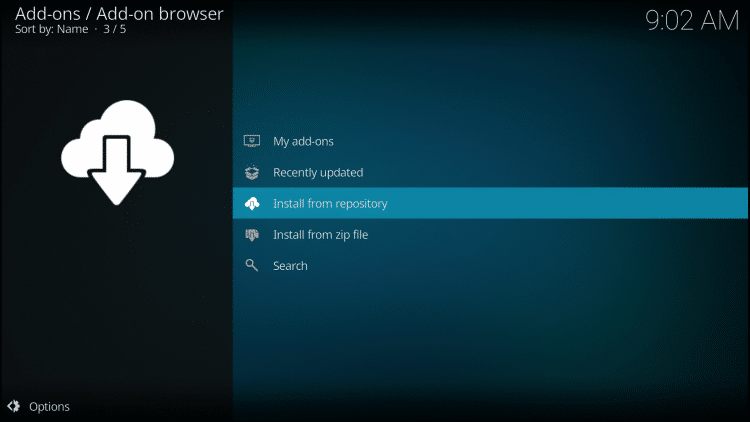 5. Click Kodi Add-on repository.
6. Click Subtitles.
7. Click OpenSubtitles.org.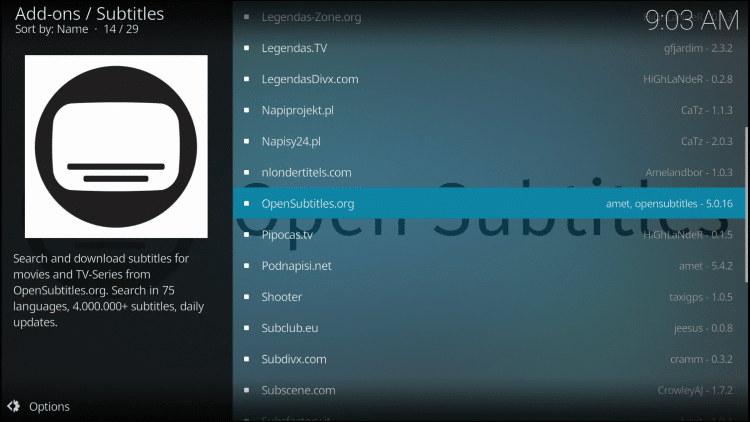 8. Click Install.
9. OpenSubtitles.org message will appear in top-right corner of screen once it has been installed.
10. Click OpenSubtitles.org item again.
11. Click Configure.
12. Enter username and password from Step #1 above.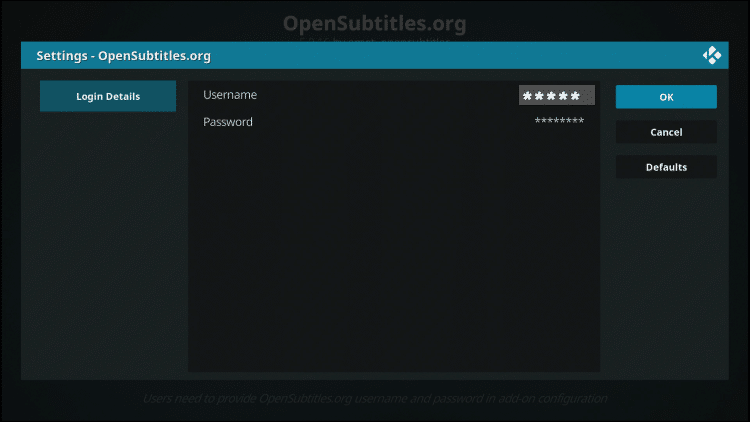 13. Click Player.
14. Hover over Language on left and then change your preferred subtitle language on right.
15. Click Default TV show service.
16. Click OpenSubtitles.org.
17. Click Default movie service.
18. Click OpenSubtitles.org.
19. Play your movie or TV show that you want subtitles for.  Click OK button on remote to open playback bar as you see on the screen below.
20. Click the subtitle icon in bottom-right corner of screen.
21. Click Download subtitle.
22. Click a subtitle file that has good rating.
23. Subtitles should appear now on movie or TV show.
24. If subtitles are out of sync with voice on the screen, go back into Subtitle icon.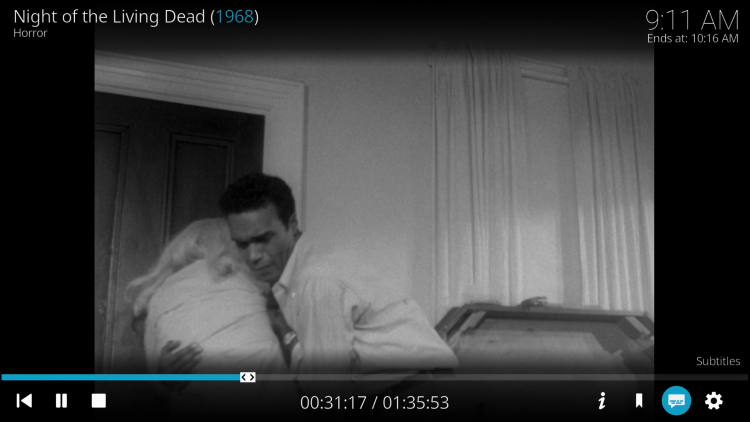 25. First download a new Subtitle file and try that.  If unsuccessful, use the Subtitle offset to sync subtitles.  Please see video above for detailed explanation of how this works.
Kodi Subtitle Setup is now complete!
TROYPOINT suggests watching the video tutorial above because it includes important details not covered in the screenshot guide.
TIP: Many of the repositories in this list consist of add-ons that make the TROYPOINT Best Kodi Add-On Page. By installing a repository, you will have the freedom to choose different streaming add-ons for your enjoyment.
Remember, by installing a repository, you will have the freedom to choose different streaming add-ons for your enjoyment. TROYPOINT's list of the Best Kodi Add-ons can be found here: Best Kodi Add-On Page.
Frequently Asked Questions
Do Kodi Subtitles work on Exodus?
Yes, these instructions will show you how to get Kodi subtitles on any addon including Exodus and Exodus Redux.
How do I turn off Kodi Subtitles?
To remove Kodi subtitles simply uninstall the OpenSubtitles addon. This will eliminate any subtitles while streaming.
Can I get subtitles on Kodi 18?
Yes, this guide will work for nearly all versions of Kodi including the most stable version which is currently 18.6
This page includes affiliate links where TROYPOINT may receive a commission at no extra cost to you. Many times, you will receive a discount due to the special arrangements made for our visitors. I will never promote something that I personally don't use or recommend. Purchasing through my links directly supports TROYPOINT which keeps the content and tools coming. Thank you!
Register as a TROYPOINT Insider and discuss this article with thousands of other cord-cutters.