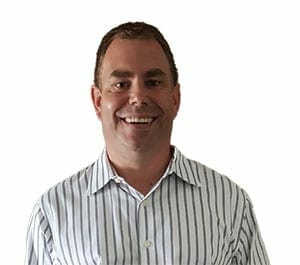 First of all, I want to thank you for your interest in my free exclusive Guide which will show you how to Supercharge Your Fire TV Stick, Fire TV, Fire TV Cube, Fire TV Television, or Android TV Box.
This guide will show you how to access free movies, TV shows, live channels, sports, and more.
This is a fun hobby to pursue and it's constantly evolving.
I've spent many hours putting together these tutorials and I strongly suggest that you use all of them to maximize your cord cutting experience.
Thanks for letting me share my hobby with you!
Kodi History
I've been using Kodi since 2002 when the program first came out.
Back then, you could only install it on the original Xbox.
At that time, the program was called XBMC (Xbox Media Center) and to use it, I had to solder a mod chip onto the motherboard of my Xbox!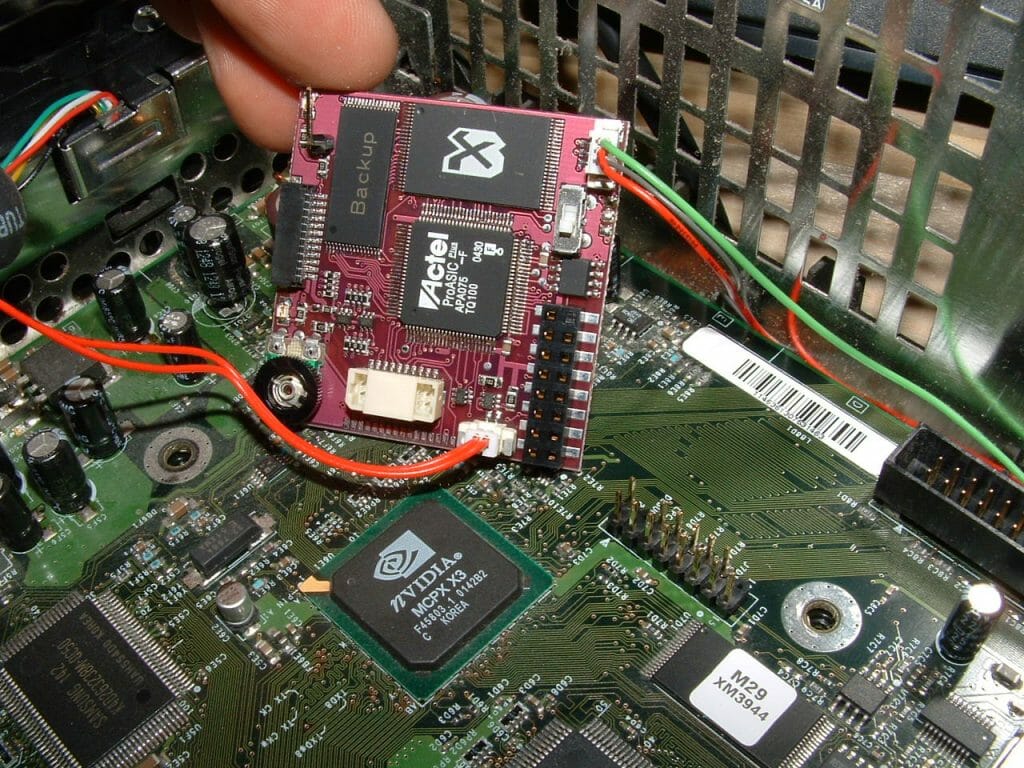 Those days were great and it was awesome that I could stream video from my personal computer to my Xbox.
Wow, times have changed, and now everyone can use Kodi, streaming apps (APKs), and other free apps on inexpensive streaming devices such as the Fire TV Stick, Fire TV, and Android TV Boxes.
This free premium guide will provide you with instructions on how to supercharge your Fire TV Stick/Fire TV, or Android TV Box with the TROYPOINT App with Rapid App Installer, Unlinked app, the best Kodi add-on, and a VPN application.
A Word of Caution
The free apps and addons that we use haven't been vetted by a reputable source.
I can't emphasize enough how important it is to use IPVanish VPN to protect yourself when using these questionable apps and addons.
It's a small price to pay for peace of mind.
You will find my IPVanish tutorial in Video #3 below.
What This Guide Includes
Video #1 will teach you how to install the TROYPOINT App with the Rapid App Installer.  Never sit through a long video tutorial on YouTube again.  This app contains all of the best free streaming apps and tools that can be installed with a few clicks.
Video #2 in this video I will show you how to install the best Kodi addons with a few clicks.
Video #3 will show you how to protect yourself from hackers, your Internet Service Provider, app developers, and watchdog groups when using these free streaming apps/addons.
 TROYPOINT Tip:  Take your time and watch all of the videos on this page in order Video #1, Video #2, Video #3.  I cover all of the frequently asked questions that cord cutters have and it's important to watch every video on this page.
Legal Copyright Disclaimer: TROYPOINT is a tech website that publishes tutorials, news, and reviews. We do not verify if apps, services, or websites hold the proper licensing for media that they deliver. We do not own, operate, or re-sell any streaming site, service, app, or addon. Each person shall be solely responsible for media accessed and we assume that all visitors are complying with the copyright laws set forth within their jurisdiction. Referenced applications, addons, services, and streaming sites are not hosted or administered by TROYPOINT.
Video #1 – Install the TROYPOINT App with Rapid App Installer
Best Codes for Unlinked App
If you don't watch the entire video below, you will have questions.  Please take time to watch the entire video.
IMPORTANT!  USE CODE 12341234 INSTEAD OF 44444444 AS OUTLINED IN THE VIDEO BELOW FOR THE UNLINKED APP.
44444444 is not working anymore. 

Video #3 below shows how to install and configure IPVanish VPN

Video #2 – Install the Best Kodi Addons
As of today, there are hundreds of third party Kodi addons available but this is the only one you need for free movies, TV shows, and live channels.
The following install URL will be used in the video below.
The Crew Kodi Addon Install URL: https://team-crew.github.io

Video #3 – Install IPVanish VPN Onto Your Fire TV Stick, Fire TV, or Android TV Box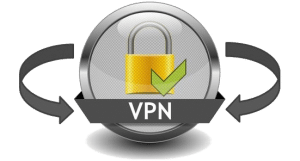 IPVanish VPN allows you to access the Internet privately and securely.
It's important to understand that most of these free applications and addons that provide free media are hosted on insecure servers.
Due to the fact that they don't appear in any reputable app store such as Amazon App Store or Google Play Store means that they haven't been vetted properly.
The most popular VPN among cord cutters is IPVanish VPN due to their blazing fast speeds and zero log policy.
Zero logs means that they don't store any information about what you access through the Internet.
In technical terms, a VPN will encrypt your connection so that anything transmitted from your Firestick, Fire TV, Android Box, computer, phone, etc. is unreadable.
Your traffic is then routed through a VPN server and your external IP address is changed so that you become anonymous.
Most people don't understand that their Internet Service Provider (ISP) assigns an external IP address to their account.
You can think of an IP address as a unique phone number for your Internet connection.
All of your Internet activity ties directly back to YOU through your IP address.
Your IP address exposes your identity and location to hackers, government, watchdog groups, app/addon developers, and other 3rd parties.
Your real IP Address will be masked with a different anonymous number once you activate IPVanish VPN.
By using IPVanish, hackers, your Internet Service Provider, app/add-on developers, government, and others will no longer be able to monitor and log what you are streaming or downloading.
I would personally NEVER use one of these questionable apps or addons without the protection of IPVanish.
 Public WiFi Hotspot Protection – As a bonus you can use a VPN when connecting to the Internet when away from home.
This ensures that hackers can't intercept your important information when connecting to public WiFi hot-spots.
New: You can now use IPVanish VPN on unlimited devices at the same time so all of your Internet-connected devices can be protected.
IPVanish provides VPN applications for all popular devices such as Fire TV Stick/Fire TV, PC, Mac, Android, iOS, Chromebook, Linux, Android TV Box, and more so you're always protected.
I've personally been using IPVanish for over 5 years and I've never had security problems on any of my Internet-connected devices.
SAVE UP TO 73% WITH THIS EXTENDED CYBER MONDAY DEAL

Use IPVanish on unlimited devices & when away from home.

IPVanish backs their service with a no-risk 30-day money back guarantee.


Install VPN for Firestick/Fire TV/Android Box Screenshot Guide
Firestick/Fire TV Cube Instructions
Step 1 – Register for an account at IPVanish with a discount by clicking HERE.
Step 2 – From the home screen hover over Find.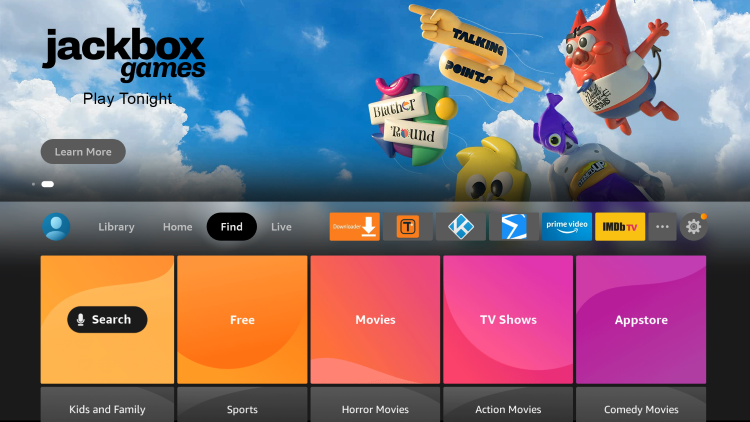 Step 3 – Scroll down and click Search.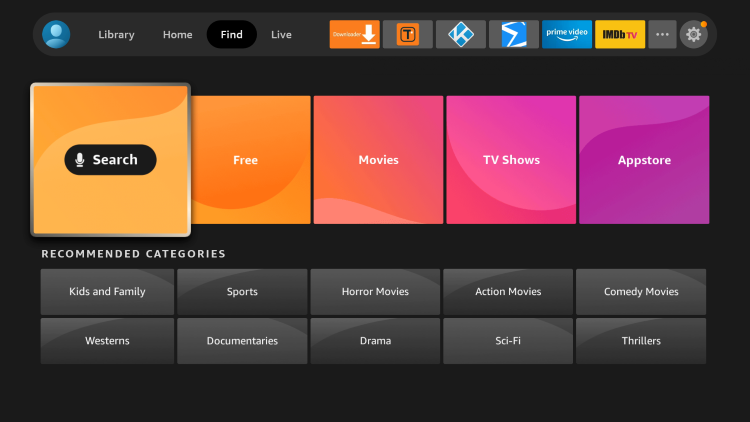 Step 4 – Type in "Ipvanish" and click the first option.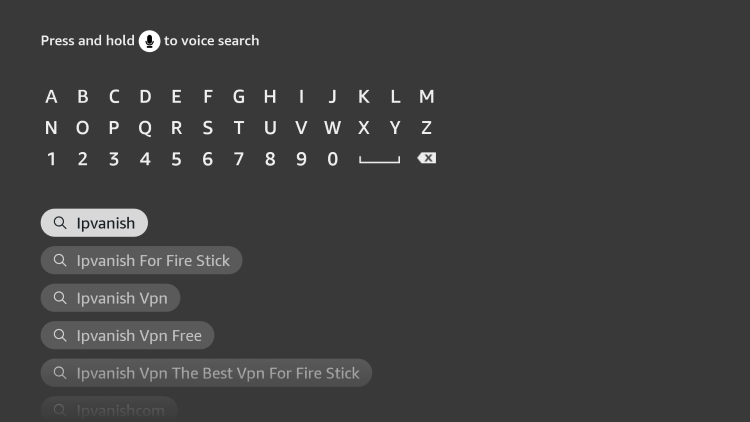 Step 5 – Click the IPVanish VPN app.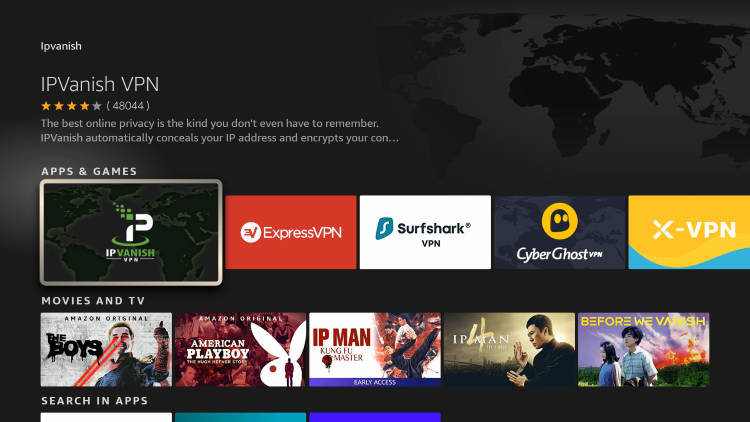 Step 6 – Click Download.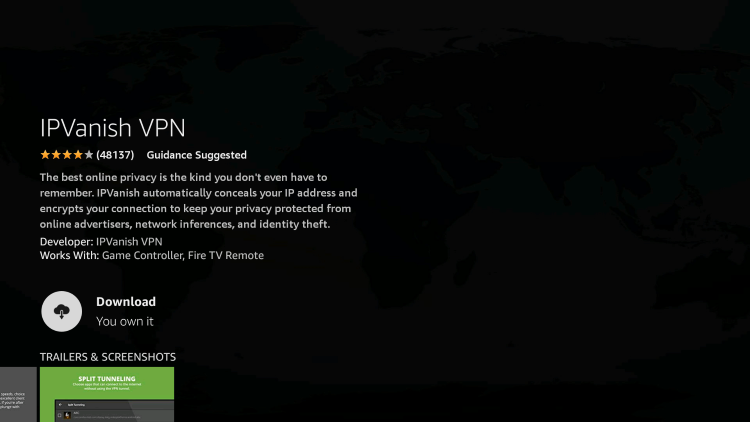 Step 7 – Once the IPVanish app installs, click Open.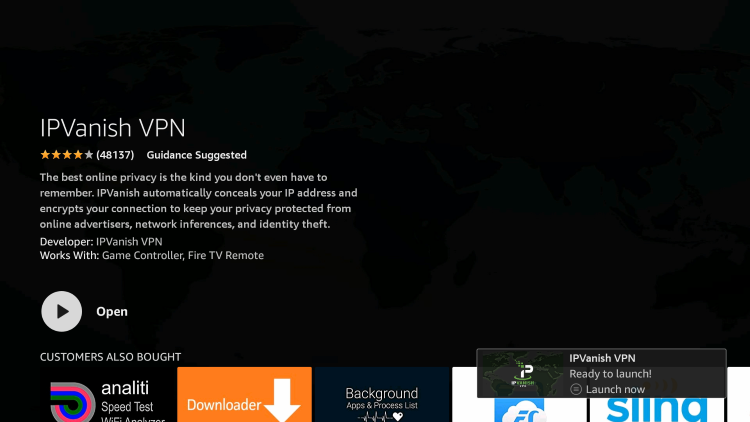 Step 8 – Enter your IPVanish account information and click Log In.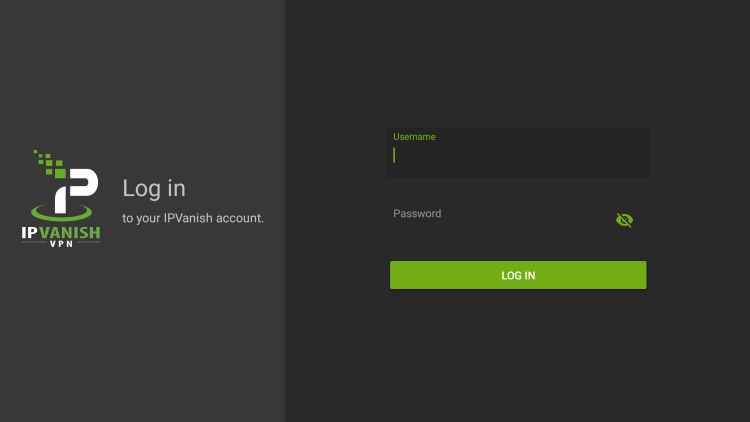 Step 9 – Click Connect.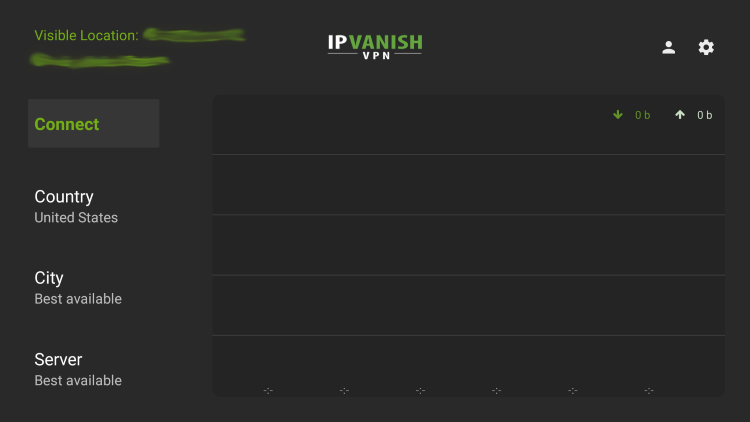 Step 10 – Click OK.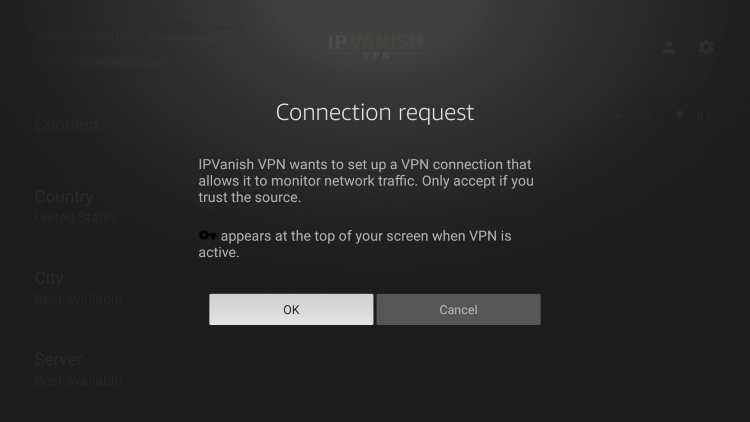 Step 11 – That's it! You have installed IPVanish VPN on your Firestick/Fire TV.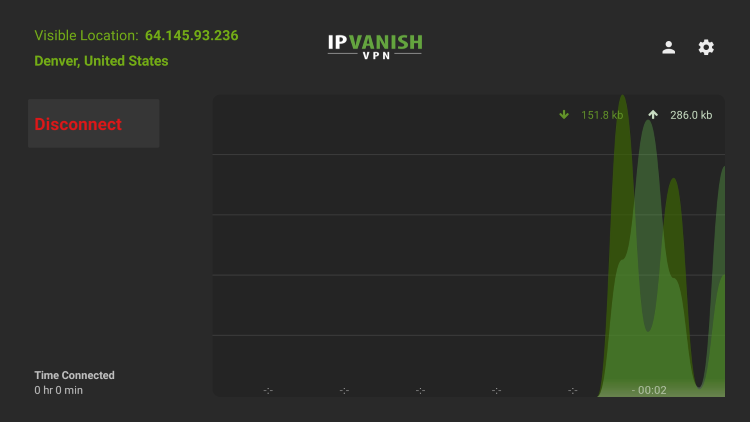 For those of you  using an Android TV Box, the instructions are the same as above but you will be installing through Google Play Store instead of Amazon App Store.
I hope you have enjoyed this guide.
You will receive some additional emails from me within the next couple of days that will help you with additional cord-cutting tasks.
My tips will allow you to save hundreds if not thousands of dollars per year when it comes to in-home entertainment.  Guaranteed.
Keep your eyes peeled for those emails.
Please tell your friends and family about TROYPOINT so they can cut the cord and save money as well.
Troy
TROYPOINT