This post will discuss Yidio in full detail. Right on their homepage, Yidio states "All Your Streaming Services in One Place."
With so many streaming service options to watch these days, Yidio offers the convenience of collating content from almost all leading streaming sources into one centralized location.
It differs from others by acting as a search engine to find free TV Shows and Movies across the internet.
For these reasons and more, we have included Yidio in both of these popular TROYPOINT lists below:
20+ Best Free Movie Websites
30 Best TV Show Streaming Sites
Remember to always use a VPN to protect your identity and security when streaming with websites such as these.
Legal Copyright Disclaimer: TROYPOINT is a tech website that publishes tutorials, news, and reviews. We do not verify if apps, services, or websites hold the proper licensing for media that they deliver. We do not own, operate, or re-sell any streaming site, service, app, or addon. Each person shall be solely responsible for media accessed and we assume that all visitors are complying with the copyright laws set forth within their jurisdiction. Referenced applications, addons, services, and streaming sites are not hosted or administered by TROYPOINT.
What is Yidio?
Yidio hosts content from other websites and also offers free programs through its original content. It makes searching for new content much easier through its advanced filtering tool and search discoverability feature.
This is made possible through what it calls its "fleet of robots" that monitors streaming services for the latest content.
Users can then make their own watchlist to curate their favorite shows from different streaming services.
Yidio has the following features:
Universal search and discovery to help you find content on many streaming sites
Type in a movie or TV show title and Yidio will generate instant accurate results.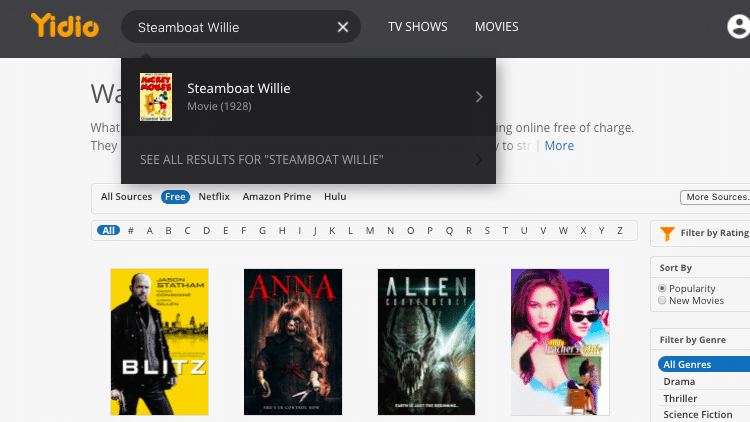 Personalized recommendations
Yidio provides suggestions such as movies and TV shows of the same genre, director, lead actor, or streaming service provider.
Personalized watchlist to help you monitor your favorite content
Organize your favorite movies and TV shows.
Personalized daily reminders to remind you of new releases
Set reminders or a daily digest based on new episodes airing, available online, exclusive clips or latest news stories.
You may also opt to sign up for a weekly newsletter to receive updates on what's new on TV, or you may turn ON real-time notifications if you're a Premium subscriber.
Price comparison to help compare streaming services' payment plans
Compare prices of your favorite streaming services.
ATTENTION!
Your identifying IP address is exposed which ties directly back to you through your Internet Service Provider.
Your Identifying IP Address is 35.175.107.77
IPVanish VPN will mask your IP address and encrypt your connection so you will become anonymous while online.
You can use IPVanish on unlimited devices so you are protected everywhere.
SAVE UP TO 74% WITH THIS TIME-SENSITIVE DEAL
30-Day Money-Back Guarantee
App available on iOS, Android, and Kindle devices
Download the app on any smartphone or tablet.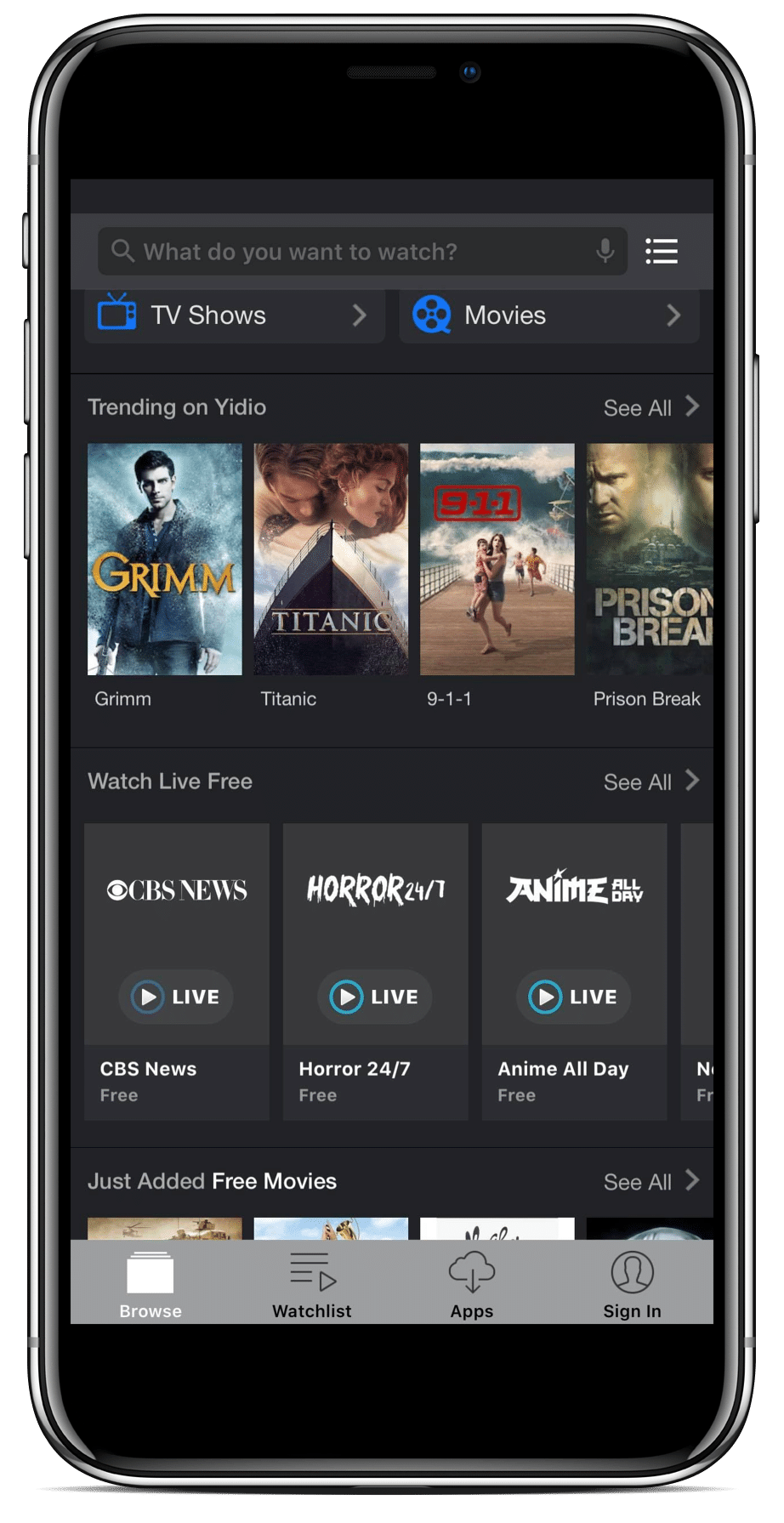 How does Yidio work?
When you select a movie or TV program to watch on the platform, you will be brought directly to the streaming service's app or website to watch the content.
Take note that if it's a subscription-based paid service, you will have to provide the necessary login details to access the content.
With regard to Video on Demand services from Google Play, Vudu and iTunes, the price per movie or TV episode applies.
Is it free to sign up on Yidio?
Yes, it's free to create your own Yidio account. Go to the Sign Up page and use your Facebook account or sign up using your email.
Yidio offers a Premium plan, which you can try for 7 days at no cost.
The Premium service includes ad-free streaming, real-time reminders for content to watch, and priority assistance.
What are the entertainment categories on Yidio?
Yidio categorizes its Movies and TV Shows according to the following:
Trending Now
Popular TV Shows
Popular Movies
TV Schedule for the Day
Free Movies
Just Aired Episodes
Watch Live Free
What devices can I use to watch content?
You may use any of the following:
PC
smartphones and tablets (iOS, Android or Kindle Fire)
Game consoles (Xbox One and PS4)
Remember that not all streaming services can play content on all devices so you should verify if they are compatible through this link.
How can I organize my favorite movies and TV shows on Yidio?
You can organize your favorite movies and TV shows on Yidio by creating your Watchlist.
Step 1
Click the START A WATCHLIST button.
Step 2
You will then be asked to add TV shows and movies to your Watchlist, or you may skip the step if your prefer to do it later.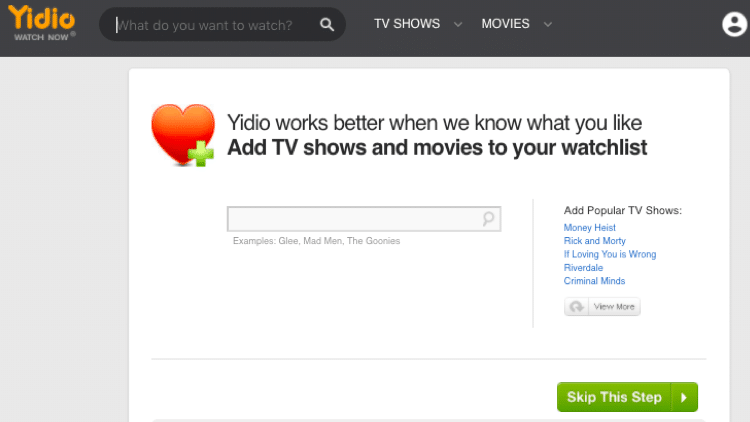 Step 3
Click on any movie or TV show or search for your choice using the Search bar.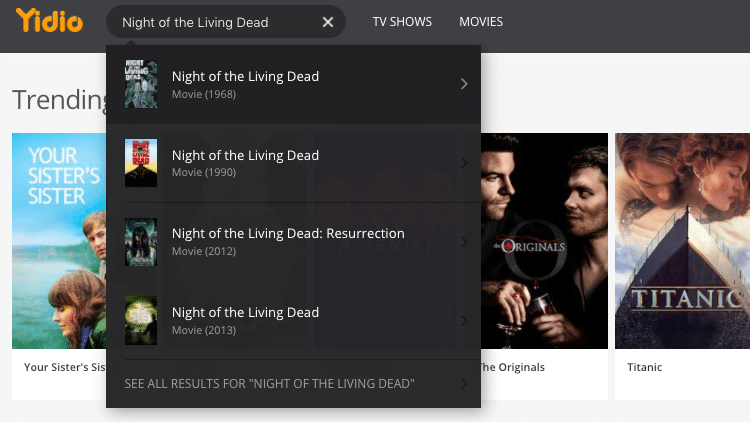 Step 4
Click the Add to Watchlist button.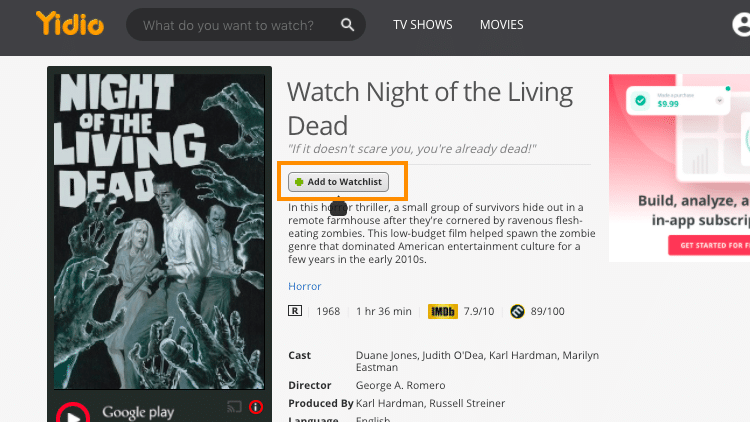 Step 5
You will then be notified that it has been added to your Watchlist.
Step 6
To view your Watchlist, click MY ACCOUNT > WATCHLIST.
What streaming services are available on Yidio?
The following streaming services are available on Yidio as of this writing:
Free
Bounce
ByuTV
CW Seed
Kanopy
PBS
PBS Kids
Pokemon
Popcorn Flix
RedBull TV
CW
Monthly Subscription
Amazon Prime Video
AMP
Apple TV
Business Rockstars
Cinefest
Cinepride
DC Universe
Flixfling
FrightFlix
History Vault
KidsFlix
Lifetime Movie Club
Monsters and Nightmares
Nature Vision
Netflix
Showtime
Shudder
Warriors & Gangsters
YouTube Premium
Free & Cable
A&E
ABC
Adult Swim
Animal Planet
BBC America
BET
Bravo
CMT
Come Central
Cooking
Destination America
Discovery
Discovery Life
DIY Network
Food Network
FOX NOW
FYI
HGTV
History
IFC
Lifetime
Logo
NBC
Nick
Nick Jr.
Paramount Network
Science Channel
Syfy
TLC
Travel Channel
TV Land
Velocity
VH1
VICELAND
Free & Monthly Subscription
Cable
AMC
Cartoon Network
CNBC
E! Now
Epic
Freeform
FXNOW
HBO GO
HBO NOW
MAX GO
MSNBC
OWN
Oxygen
Showtime Anytime
Starz
TBS
TNT
Tru
USA
WE
Rent/Buy
Amazon
Fandango Now
Google Play
Microsoft
Can I watch free movies and TV shows on Yidio?
Yes, you can filter your movie and TV shows that Yidio offers for free viewing.
For free movies, Yidio has collated films that are part of a free movie catalog on a specific site that may also offer paid subscription.
You may watch free movies using this link.
For free TV shows, Yidio offers full episodes, clips, highlights, exclusive content and the latest episodes whenever available.
You may watch free TV shows using this link.
At the bottom of the homepage, you'll also find the Watch Live Free section. This features live TV streaming from Pluto TV.
Is Yidio ad-free?
Similar to other free streaming services, Yidio comes with ads on every video. Longer content will have more ads compared to shorter ones.
The good thing about it, however, is that you won't be interrupted by too many ads when you're watching full-length films.
Does Yidio come with a mobile app?
Yes, Yidio can be downloaded on iOS, Android or Kindle.
TROYPOINT has not found any issues with the app.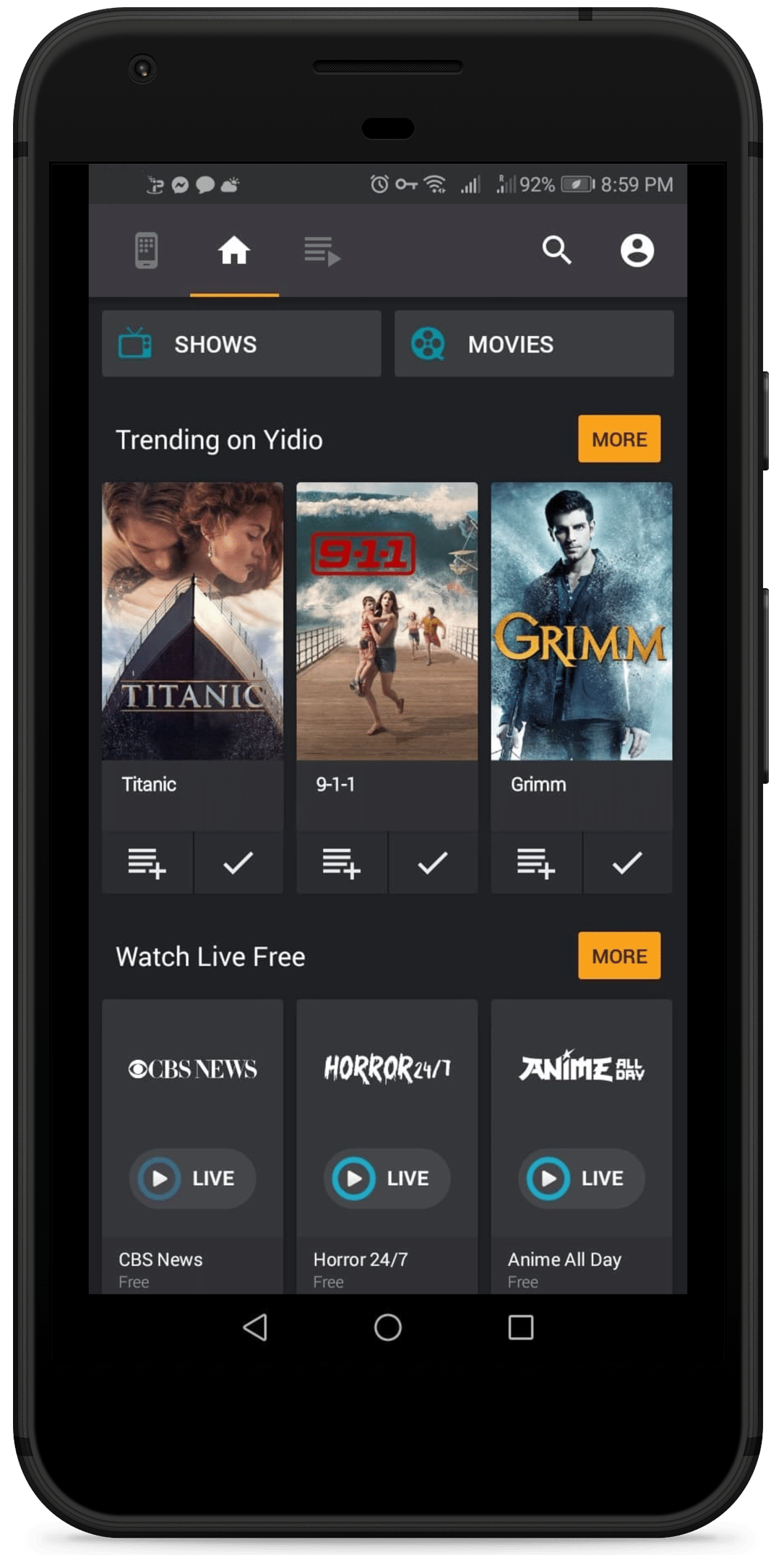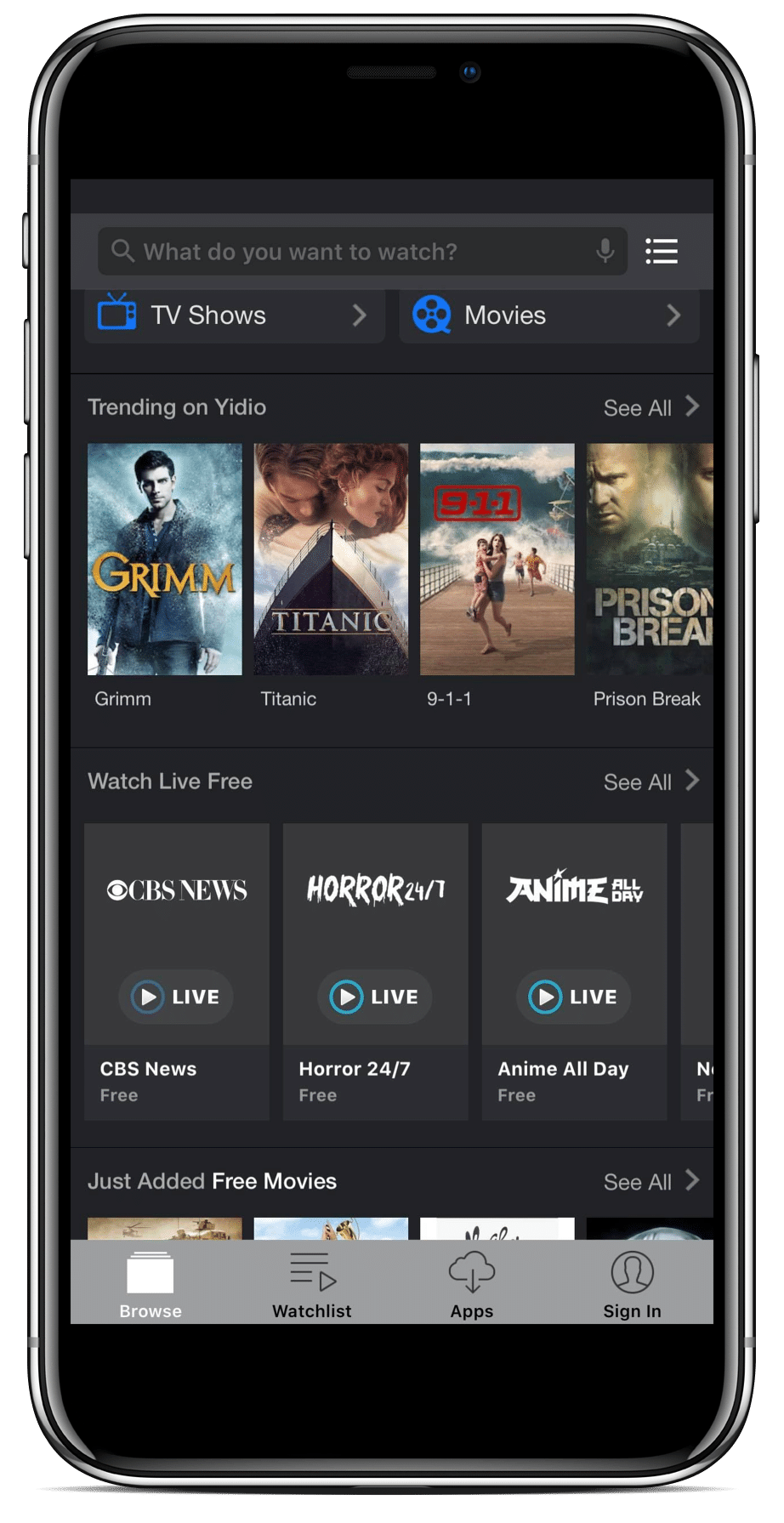 Yidio on iOS
To download Yidio on iOS, click here.
To download Yidio on Android, click here.
To download Yidio on Kindle, click here.
Or you may enter your phone number on this link so Yidio can send you a link to download the app (geo-restricted to US users only).
Yidio FAQs
Can I access the same Yidio account on multiple devices simultaneously?
Can I use my Yidio Premium subscription to access paid streaming sites for free?
No, your Yidio Premium subscription is only good for the platform's additional features.
Does Yidio work with any web browser tool?
How come I cannot access Yidio?
The service is only available in the United States. If you want to access it outside the region, a VPN such as IPVanish is necessary.
This page includes affiliate links where TROYPOINT may receive a commission at no extra cost to you. Many times, you will receive a discount due to the special arrangements made for our visitors. I will never promote something that I personally don't use or recommend. Purchasing through my links directly supports TROYPOINT which keeps the content and tools coming. Thank you!
Register as a TROYPOINT Insider and discuss this article with thousands of other cord-cutters.