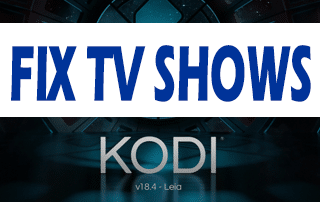 Many of you have noticed that TV shows aren't working properly in your favorite Kodi addons.
You have probably tried clicking on a TV Show category in a Kodi addon and nothing happens.
Most Kodi addons rely on TVDB to pull information about television shows.
The problem is associated with a scraping error on the part of TVDB.  They refer to this as a CDATA error.
This article will provide you with three different solutions to fix this problem and start enjoying your television shows again.
TVDB has stated the following over the past few days.
Hi there! Yes, these are known issues. As far as scraping, we had a pagination issue that was causing issues with any shows that had over 100 episodes. This fix has been deployed and should be working now. We also have a fix for the CDATA issue ready to deploy as well, it should be pushed out here this morning. I cant let you know when exactly that happens.
&
Hello everyone,
As you may have noticed we have cutover to our new site, so welcome, welcome, we are glad you are here! API traffic for both v1 and v2 has also migrated over to our new infrastructure. At the moment the dev team is working through some issues that have come to our attention, so please be patient with us.

We are aware that some Kodi users are having a hard time scraping shows with long episode orders. We are on the case and hope to have a fix soon.
–TheTVDB Team "
This problem seems to be only affecting the TV section of most Kodi addons.  Movies should not be affected.
It appears that TVDB has fixed this problem on their end but now Addon developers must update their addons to work properly with whatever they changed.
Free TROYPOINT Supercharge Kodi Guide

Install the Best Kodi Addons in Seconds
The free TROYPOINT Supercharge Guide teaches you how to install over 60 of the best addons with a few clicks.
Used by over 1 million cord cutters.
CDATA Error Solutions
Solution #1
The Numbers and Crew Kodi addon teams has recently announced that they have pushed out an update that fixes this problem.
If you don't have these addons, you can install them via guides below.
For those of you using the popular Xanax Build, you already have these addons installed and they should automatically update the next time you launch Xanax.
Note:  If you already have one of these addons installed, you may need to clear your cache and this can usually be done under the Tools section of your Addon.  Just click the button that reads "Clear All Cache".
Solution #2
Some Kodi addons such as Exodus Redux include a "TV Calendar" section under the "TV Shows" category.
If you know the date that your television show airs, you can use this to watch TV shows properly.
Solution #3
For those of you with Android based devices such as the Amazon Fire TV Stick, Fire TV, Fire TV Cube, NVIDIA SHIELD, Mi Box, etc. you can install and application called UnlockMyTV which will allow you to watch TV shows.
In all honesty, this application probably works better than the Kodi addons and you should be using it as your "go-to" for TV shows and movies.
UnlockMyTV and the Xanax Build are available through the Rapid App Installer inside our free TROYPOINT Application.
Do you know of any other Kodi addons where the TV Shows are working properly?  If yes, please comment below.
This page includes affiliate links where TROYPOINT may receive a commission at no extra cost to you. Many times, you will receive a discount due to the special arrangements made for our visitors. I will never promote something that I personally don't use or recommend. Purchasing through my links directly supports TROYPOINT which keeps the content and tools coming. Thank you!
Register as a TROYPOINT Insider and discuss this article with thousands of other cord-cutters.