This Surfshark Review was written by Troy from TROYPOINT after using the VPN service on a regular basis for approximately three weeks.
Surfshark provided me with a free account for the purpose of this review and additional tutorials in the future.  However, this review is unbiased and you will see that I point out both the good and bad regarding this popular VPN service.
In this review, I will be using two of the most popular devices that people use in conjunction with Surfshark which is a Fire TV Stick 4K Max and Windows PC.
You can find our setup guide for Fire TV Stick/Fire TV and Android TV devices via link below.
Surfshark Tutorial for Firestick & Android TV
Surfshark did not have access to this review prior to publishing.
Surfshark Review
This Surfshark review will cover all of its most popular features and lack thereof.
You may find additional information by exploring the Surfshark Website via link below.
Strict No-logs Policy
Surfshark explains their "no-logs policy" the following way.
In short, a no-log VPN like Surfshark does not keep track of your online whereabouts or actions in any way. The VPN server only keeps enough data to keep your VPN connection going, and nothing of it is kept after you're done.
Surfshark is based in the Netherlands which means that their local laws do not force VPN providers to keep logs.
Most top-ranked VPNs carry the same type of no-logging policy as Surfshark.
Change Your IP Address
It's important that a VPN changes your IP address when you connect.
Your IP address is the identifying number that points right back to your Internet service account.
When you connect to the Surfshark your real IP address is masked and they assign you with an anonymous one.
Rotating IP
This beta features changes your IP address every once in a while without disconnecting you from the VPN network. This makes you even more difficult to track than using a simple VPN.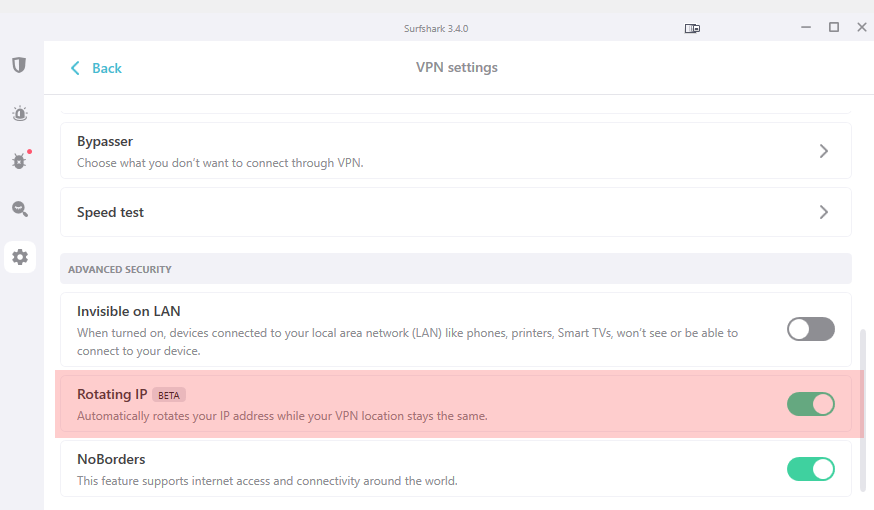 You can turn this feature on within settings of the Surfshark application.
Static IP
You can choose to connect to a server with a Static IP Address.
Static IP locations will always have the same IP addresses and will not change even if you reconnect.  This is important for those who must use a VPN for work and they are required to connect to their network through the same IP address each time.
MultiHop
Allows you to control where your traffic enters and leaves. With MultiHop, you can manually choose to connect, for example, through UK to the US and vice versa.
This setting can also be enabled within the settings panel of the Surfshark app.
Strong Encryption
Surfshark supports three of the most popular VPN protocols currently available.
WireGuard
WireGuard is a new lightweight protocol that some of the top-ranked VPNs have implemented.
It allows for fast download/upload speeds which is important when streaming large HD files.
It's also less susceptible to security vulnerabilities as it's easier to manage and scale.
IKEv2
IKEv2 stands for Internet Key Exchange version 2.
This protocol has been updated many times and is also known for fast download/upload speeds.
OpenVPN
OpenVPN is probably the most popular VPN protocols available today.
One reason for the popularity is due to its open source nature which means its code has been approved by security professionals worldwide.
More than likely, users will get faster speeds with WireGuard and IKEv2 but it's still important to try this protocol as networks vary.
Private DNS & Leak Protection
Surfshark runs its own Private DNS on every VPN server.
Here are the benefits of doing this.
No activity logs and no connection logs
No DNS blocking, filtering, or hijacking
Faster DNS queries
256-bit encryption
This is one additional security measure that some VPNs implement and it's nice to see that Surfshark does this as well.
3,200+ Servers in 65 Countries
Surfshark provides a large network of servers to connect to all around the world.
Surfshark is dedicated to server speeds with at least a single 1 Gbps port on every server and new 10 Gbps ports added every day.
This VPN operates on 100% RAM-only servers which should mean faster upload/download speeds for their users.
All servers run on the most recent software updates, do not store any data, and are wiped occasionally.
Apps for All Popular Devices
Surfshark provides applications for the following popular devices.
Fire OS (Fire TV/Stick)
Android TV
Android
iOS
Windows
Mac
Linux
Browser Extensions
Surfshark provides Browser Extensions that allow you to control the VPN app quickly from your browser.
These extensions are available for the following popular browsers.
Router Setup
If you want to protect your entire network and stop dealing with individual apps on each device, you can setup Surfshark on compatible routers.
This is perfect for those who use devices that an app isn't available for such as Roku, Apple TV, and gaming systems.
Smart DNS
Surfshark provides its customers with Smart DNS support which can be used on devices that can't run a VPN such as Apple TV.
Smart DNS doesn't give you other VPN features like security and privacy. It just makes your DNS requests appear as they come from somewhere else. This way, no one knows at a glance where your device is.
This is perfect to get around geo-blocks for various streaming services or other content restricted mediums.
Kill Switch
Surfshark provides a Kill Switch feature that is mandatory for any reputable VPN service.
If your VPN connection ever disconnects unexpectedly, the Kill Switch will disconnect you from the Internet, safeguarding your privacy.
Users can enable the Kill Switch feature within settings of each Surfshark application.
One surprising find is seeing the Kill Switch option on Fire TV Stick and Android TV systems.  Kill Switches usually don't work properly on these devices.  I tested this and was pleasantly surprised that the Surfshark devs figured out how to do this because it works great!
CleanWeb
This is one feature I was excited to test.
Most VPNs don't do a very good job blocking ads and according to Surfshark, they not only do this but they also block malware too!
I tried visiting some popular free movie streaming sites on both my Fire TV Stick and Windows 10 PC.  These sites are riddled with ads and should prove to be a good test for CleanWeb.
I was surprised at how well this feature works.
Just like most ad blockers, it didn't detect all of them but it did a pretty good job.
They also detect malware risks as well.  This is extremely handy for those using free streaming apps on Firesticks and Android TV devices.
Hats off to Surfshark for this nice CleanWeb feature!
Camouflage Mode
Surfshark includes what they call "Camouflage Mode", which is usually referred to as Obfuscation by other VPN services.
Obfuscation makes it difficult for your Internet Service Provider (ISP), streaming services, and websites from knowing that you are using a VPN.
If you've used a VPN before, you may have noticed that you have problems connecting to your banking website or favorite streaming service.  Obfuscation can sometimes get around these blocks.
See my Geo-Block testing below where I put this to the test.
Bypasser
Surfshark also integrates Split Tunneling which they call Bypasser.
Split Tunneling allows a VPN user to bypass a VPN connection for a specific application.
Let's say that Amazon Prime Video doesn't work when your Surfshark is active.  Split Tunneling will allow you to deactivate the VPN for that specific application.  This allows you to keep your VPN running but disable the protection on the apps that don't play nice with VPNs.
Again, this is something that most of the popular VPN services do but I really like how they do it.
Surfshark allows a user to indicate whether they want to Bypass VPN or Route via VPN.
If you choose Route via VPN then you can tell the VPN to only be active for specific applications.  It's serving the same function but many times it will be quicker using that option instead of Bypass VPN.  You may only have a few apps that you want protected and it will be quicker using the Route via VPN feature.
Unlimited Devices
Here's another one that we don't see very often!
IPVanish VPN is the only other top-ranked provider that we've reviewed that does this.
You can use your Surfshark account on unlimited devices both at home and away.
Most VPN services only allow 5 to 10 devices per account and Surfshark should be applauded for doing this!
Surfshark Fire TV / Android TV Application
Here is a video that shows the user Interface on Firestick and Android TV apps.
Surfshark Firestick / Android TV Demo Video
Most TROYPOINT fans use a VPN in conjunction with their Fire TV/Stick or Android TV Boxes.
It's important that I review how well the Surfshark app works on these devices.
There is no doubt that Surfshark has spent a lot of time on the sleek user interface that we see on these systems.
Everything is laid out in an orderly fashion and simple to use.
Other VPNs need to take notice of their well designed user interface and do the same.
A+ on the Fire OS and Android TV App from Surfshark.
Surfshark Dowload Speeds
All VPNs reduce download speed due to the encryption being performed and your traffic being tunneled through a secure server.  So, naturally download speed is one of the main features that needs to be examined with any type of VPN.
I will be testing download speeds on my Windows 10 PC and Fire TV Stick 4K Max.
I have 1GB fiber download speed maximum provided by my ISP.
When testing wireless speeds, I am connecting to my Asus ROG Rapture WiFi 6 Router (GT-AX11000).
I'm using the TROYPOINT Download Speed Test for the PC testing and Analiti for Fire TV Stick 4K Max.
Windows 10 PC Download Speeds
In the Windows 10 tests below, I will be using the WireGuard Protocol as this was the fastest for me in testing.
Ethernet
Download: 734 Mbps
Upload: 109 Mbps
Wireless
Download: 227 Mbps
Upload: 116.5 Mbps
Fire TV Stick 4K Max Download Speeds
In the Firestick tests below, I will be using the WireGuard Protocol as this was the fastest for me in testing.
Wireless
Download: 102 Mbps
Upload: 88 Mbps
Geo-Block Testing
I tested Surfshark with both Netflix and Amazon Prime.
I connected to a United Kingdom server (Glasgow) and tried to access the UK catalog in both of those applications.
I was pleasantly surprised to see that it worked in both apps!  Most VPNs nowadays are having a difficult time getting around geo-blocks with popular streaming services.
I must note that I had to clear cache on my Netflix app prior to launching it for this to work properly.
Surfshark Is Real-Debrid Friendly
Although Surfshark is listed as a "Non-Cooperative VPN Provider" on the Real-Debrid website, our testing has determined that it actually works just fine.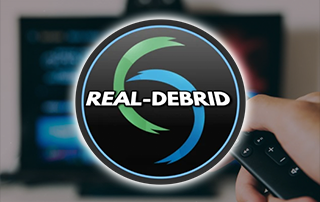 On the Real-Debrid site, it shows that Surfshark works properly on over 3,000 IP addresses.  So, even though it isn't 100% compatible, it appears that most of their IP addresses will work just fine.
Because of this, we have included Surfshark in our list of Best VPNs for Real Debrid.
If you have problems using Real-Debrid with Surfshark, I suggest using a different IP address.
Most TROYPOINT fans use Real-Debrid so this is an extremely important feature.
Surfshark Socks5 Proxy
Unfortunately, I don't see an area on the Surfshark website that provides me with Socks5 proxy settings.
If you download torrents, Socks5 Proxy provides an additional layer of protection that can be implemented into your torrent downloader.
Due to the numerous free streaming apps available today, not as many people are downloading through torrents anymore so this shouldn't be a deal breaker.
Captchas While Browsing
While browsing the Internet on my PC, I was required to verify that I was a human via captcha from time to time when Surfshark was activated.
I'm first confronted with this checkbox.
Then I need to pick the proper pictures on the screen.
This drives me nuts and hopefully this will improve in the future.
It seems that there is a lot of traffic coming from the IP Address that I'm using which is causing this prompt for human verification.
Surfshark Support Support
I finished the Surfshark review by testing how fast I could get help from them.
I tested out Surfshark's support by using their chat option.
I typed in a random question such as "Socks5 Proxy" and their automatic bot came back with exactly what I was looking for.  It indicated that they do not support Socks5.
I then typed "Agent" and was taken to Hal who answered my chat within 1 minute.
Great response times.
Surfshark Pricing
As of this review, Surfshark pricing is as follows.
24 Months at $59.96 (currently 81% off) then billed $59.96 annually after 24 months.
12 Months at $47.88 (currently 69% off) then billed $59.76 annually after 12 months.
1 Month at $12.95.
This is great pricing when you compare it to other top-ranked VPN providers.  Their re-bill price is acceptable as well.
What I Like
Fast download/upload speeds
Fabulous Firestick and Android TV applications
Windows App very easy to use
Ad blocker and malware blocker
Kill Switch works on Fire TV Stick/Fire TV & Android TV Boxes
Supports all popular devices including Windows, Mac, Firestick, Android TV, phones, tablets, iOS, and more
Geo block prevention works with Netflix and Amazon Prime
Surfshark based in Netherlands with no data retention laws
Can install on router to protect entire network
Most IP addresses are compatible with Real-Debrid
Can use on unlimited devices
30-day money-back guarantee
Low price
What I Dislike
Captcha prompts from time to time while browsing Internet
Doesn't provide Socks5 proxy settings for torrent clients
Surfshark Review Final Thoughts
I'm extremely impressed with Surfshark.
Their ad blocking and malware prevention are features not often bundled into a VPN.
Surfshark passes the two biggest complaints that most VPNs are criticized for.  Their speeds are fast and in my testing  you can get around geo-blocks as well.
Surfshark has made some significant strides since it was first released in 2018.
This is a fairly new VPN that hasn't stood the test of time but so far I would say they might be on their way to being the best VPN available in the market.
There is no doubt that I will be keeping my eye on this VPN and I will continue updating this review as time goes on.
I can see this becoming the #1 or #2 ranked TROYPOINT VPN in the near future.
One reason I'm hesitant to start this in the #1 or #2 position is because NordVPN recently acquired them and I want to see how all of that shakes out.
I'm interested in seeing what the new merger with NordVPN will do to the price of this service in the future.  Surfshark has been praised for their low prices since their release and only time will tell if that will remain untouched.  Let's hope it does!
How does Surfshark compare to our recommended VPN which is IPVanish VPN you may ask?
My biggest complaints with Surfshark are the lack of Real-Debrid compatibility and Socks5 proxy support for torrenting.
As with all reviews, these are my opinions and you may find that Surfshark is the right choice for your specific situation.
They do provide a 30-day money-back guarantee for their long-term plans so you have nothing to lose if you want to give it a try.
TROYPOINT rates Surfshark 4.7/5 stars.  As stated above, we will keep a close eye on this one and we expect big things in the future.
Attention Firestick and Android TV Users! Get our free Surfshark Setup Tutorial via link below.
Surfshark Tutorial for Firestick & Android TV
This page includes affiliate links where TROYPOINT may receive a commission at no extra cost to you. Many times, you will receive a discount due to the special arrangements made for our visitors. I will never promote something that I personally don't use or recommend. Purchasing through my links directly supports TROYPOINT which keeps the content and tools coming. Thank you!