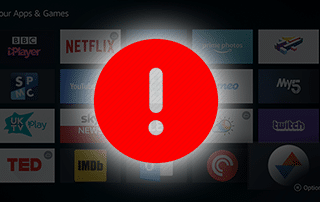 Throughout this week, TROYPOINT has received hundreds of comments and questions regarding issues with numerous streaming apps. This includes popular Movie and TV Show apps such as Cinema APK, CyberFlix, UnlockMyTV, and more.
While the exact cause of these issues is unknown, there are a few things you can do to help eliminate these problems.
Many subscribers and visitors of the TROYPOINT website have complained of error messages within these streaming apps that cannot be bypassed. A couple of the more popular messages include:
"Sometimes Server has been died because many people access at the same time"
"No Data"
Here is an example image:
If you received one of these messages or encountered another error within your streaming app, you are not alone.
These problems seem to occur mainly in the evenings. More than likely, this is due to the fact that this is the time-frame most users are accessing the apps.
Thousands of people using the app at the same time can cause server overload and diminish or or eliminate the apps functionality.
Oftentimes, these apps are clones or "forks" of one another meaning they could share the same server. That means that if one of them is not working, all forks and clones are probably down as well.
For example, UnlockMyTV is a new fork of the extremely popular Cinema APK app. If Cinema APK is experiencing issues, UnlockMyTV is likely having the same problem.
That is why it is always important to have a backup or multiple backup options when it comes to streaming Movies & TV Shows.
TROYPOINT TIP: Sometimes when these apps are not working, it is only the Categories or page options. Try searching for content using the provided Search option to select your Movie or TV Show.
Streaming Options
One of the best ways to make sure you are always provided with the highest quality links is to setup and integrate a Real-Debrid account within these apps.
TROYPOINT always stresses the importance of Real-Debrid as it can help eliminate buffering issues for nearly every streaming app or APK.
How To Install & Setup Real-Debrid on Kodi & Streaming Apps
If you do have a Real-Debrid account and find yourself unable to view Movies and TV Shows with one of these popular streaming apps, there is something you can do.
Kodi has been around for years and is always a great backup when you find one or more apps unavailable.
Right now, two of the most popular addons within Kodi are "premium" options that require Real-Debrid. Gaia and Seren are awesome Kodi addons that can only be used with a premium service such as Real-Debrid or All-Debrid.
Currently, these addons are pulling in some great links and best of all, they are completely Ad-Free!
Both are listed in the TROYPOINT Best Kodi Add-Ons page that is updated DAILY with new addons.
If you do not have a premium file hoster such as Real-Debrid, Kodi is still a great place to stream content.
Most of the addons listed in the Best Add-Ons page do not require premium service and still work great! Currently, some of the most popular include Exodus, IT, and The Crew. All of which are completely ad-free.
IT Kodi Addon Installation Guide
The Crew Kodi Addon Installation Guide
Alternate Apps
For those who do not wish to use Kodi and prefer an APK for streaming, there are a couple suggestions below.
The first option is BeeTV which has been working fabulously the last few weeks. It has Real-Debrid and Trakt options and still provides awesome sources for those without accounts.
Another great app that has seemed to bypass these unwanted error messages is CotoMovies. This app does not have Real-Debrid or Trakt abilities but still works fabulously! Neither of these apps are clones of others therefore should continue providing content without error.
Torrent Sites
Torrent sites are still the #1 file sharing technology on the planet and this is what Troy turns to when the streaming apps aren't working properly.

 CAUTION - YOUR STREAMING ACTIVITY IS BEING LOGGED
TROYPOINT does not verify the legality or security of any applications or services covered on this Website.
Your Internet Service provider, government, app developers, and hackers can log your online activity through your visible IP Address.
The good news is that a quality VPN will prevent this from happening.
A VPN will encrypt your connection to the Internet and mask your IP address so you will remain 100% anonymous while online.
Troy recommends and uses IPVanish VPN due to their blazing fast speeds and zero-log policy.
EXCLUSIVE TROYPOINT HOLIDAY DISCOUNT - Save 60% on IPVanish VPN

This discount expires soon.

Click Here for IPVanish VPN @ 60% Off
Tell us in the comments what your "Go-To Streaming Backup" is.