How to Install SportsFire V1.0.5 on Firestick & Android TV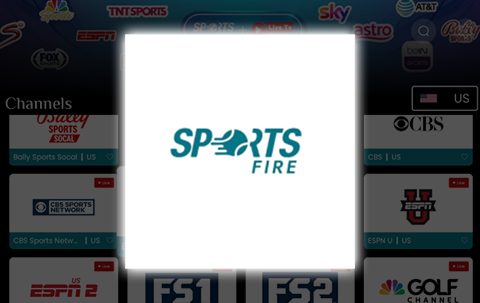 This in-depth report of SportsFire will provide you with important information that you need to know about this app on Firestick, Fire TV, Android TV/Google TV, and more.
Is SportsFire safe to use? Is SportsFire legal? How do I install SportsFire APK? We will answer those questions and more in this article.
The reason why we ask legal questions is due to the fact that SportsFire isn't available in popular app stores such as Amazon App Store or Google Play. Oftentimes, this may be a warning sign.
Since this app can't be installed through an app store, it must be sideloaded which we display in the screenshot guide below.
SportsFire is a free live-streaming application that focuses on sporting events and is available for installation on Firestick, Fire TV Cube, Fire TV, and Android TV/Google TV Boxes.
It provides tons of live channels that play with little to no buffering including live sports such as football, basketball, baseball, hockey, and more.
There are also various live options for news, entertainment, and more.
The guide below provides installation instructions for SportsFire on a Fire TV Stick 4K Max which is one of the most popular media devices available due to its jailbreaking abilities and low price point.
These instructions also work for any variation of Fire TV as well as Android TV/Google TV devices including MECOOL, NVIDIA SHIELD, onn. Google TV Box, Chromecast with Google TV, and more.
This article shall serve as an in-depth informational review of the SportsFire app and only that.  This is not a recommendation or promotion to install and/or use the application.  This review outlines all risks and vulnerabilities when using this unverified free sports streaming app.  Use at your own discretion after reading this in-depth report.
Is SportsFire APK Safe to Use?
Before we install this free streaming app, we first want to scan the official Android APK installation file with VirusTotal.
Here is the screenshot of the scan results.
VirusTotal did not find any suspicious files within the APK pertaining to viruses/malware.  Although the app itself doesn't contain any malicious code, that doesn't mean that the live streams that it delivers don't!
Within the Privacy Policy & Terms of Services on the SportsFire app's Official Website, the following is stated.
The users acknowledge that the use of this service is made at their own discretion and risk, thus holding SportsFire harmless of all liability.  SportsFire neither holds nor is responsible for the content to which the user has access through this service.  SportsFire is unable to guarantee that the services are up to date, free of defects, errors, bugs, viruses, or that such defects shall be fixed…
The above disclaimer posted on the official website of this application should be a warning sign.
As we recommend for all third-party unverified applications such as SportsFire, users should always connect to a quality VPN prior to installing or using the application.
Surfshark – #1 Ranked TROYPOINT VPN
SportsFire Review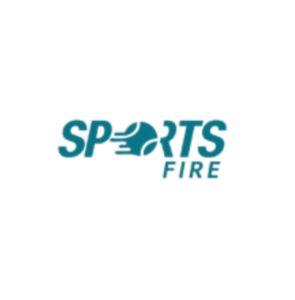 SportsFire is one of the best Sports Streaming Apps available today for many reasons.
YOU'RE BEING TRACKED...
Your online activity is tracked by your government, Internet Service Provider, app/addon/IPTV devs and all websites through your identifying IP address
Stream anonymously by using Surfshark VPN
Your Current Identifying IP Address:
SAVE 82% ON SURFSHARK VPN + 2 FREE MONTHS
Surfshark backs their service with a 30-day money back guarantee
Use your account on unlimited devices & share with family members
HURRY! SALE ENDS SOON
Claim Surfshark VPN Discount
This includes its ability to play live broadcasts for numerous channels such as sports channels with little to no buffering at all.
Users will find an extremely navigable interface that works on any streaming device including Firestick & Android TV/Google TV.
Upon testing, we have found that nearly all channels play with no issues and are oftentimes available in high definition.
What really sets SportsFire apart from other sports streaming options is its built-in TV Schedule that is updated daily.
This allows users the ability to browse through all sporting events with start times and more for quick, easy viewing.
There are also various country options to filter channels which will narrow down the list of streaming options. This includes:
Australia
Canada
Denmark
Spain
France
Pakistan
New Zealand
United Kingdom
United States
and more
With the ability to add channels to favorites, change languages, and more, SportsFire may just be the last streaming option you'll need for live sporting events.
Continue reading to learn more about SportsFire and how to install this app on any device.
SportsFire Screenshots
Protect Yourself with Surfshark VPN
In order to review this app, the first thing we need to do is activate Surfshark VPN on Firestick/Android TV.  
The Surfshark app can be installed through Amazon App Store and Google Play for Android TV devices.
Surfshark will protect our identity for unverified streaming apps such as SportsFire in which we do not know who the developer is and what they may do with our data.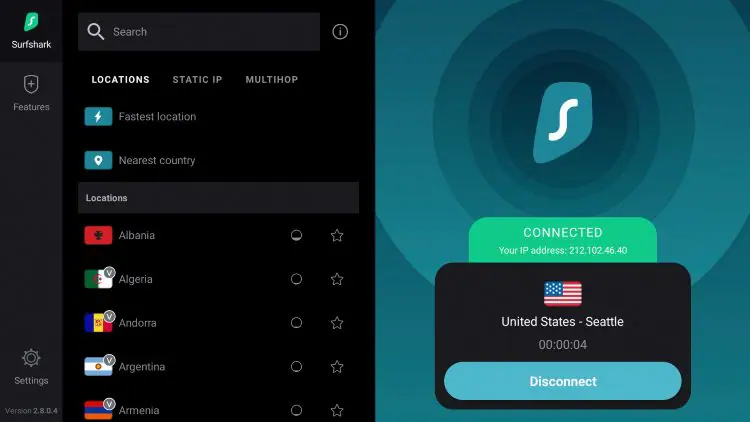 Surfshark on Firestick/Android TV/Google TV
In this report, we will be installing the SportsFire App on a Fire TV Stick 4K Max.
These same steps also work for those using the Firestick Lite, 3rd Gen Fire TV Stick, Fire TVs, Fire TV Cube, and any Fire TV device.
This process also applies to those using Android devices such as the NVIDIA SHIELD, MECOOL Boxes, onn. Google TV Box, Android TV Boxes, phones, tablets, and more.
How to Install SportsFire on Firestick/Android TV/Google TV
Use the guide below to install SportsFire TV on your preferred streaming device.
Step 1 – Prepare Firestick/Android TV/Google TV for SportsFire
1. From the home screen of your device, hover over the Find button and then click the Search box.
2. Search for and select Downloader.
3. Choose the Downloader app.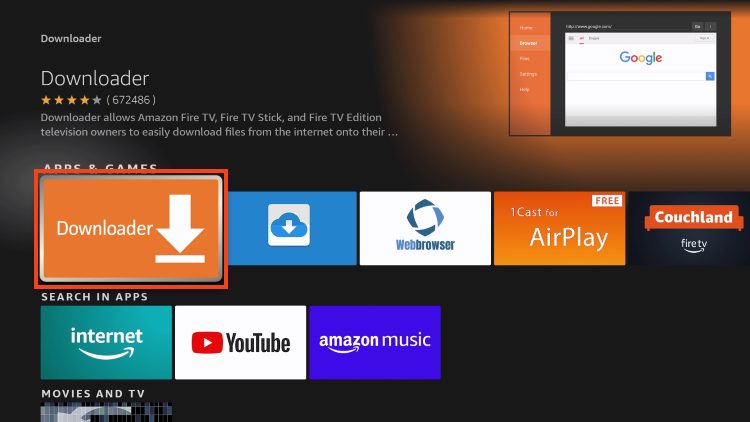 4. Click Download or Get.
5. Wait for the app to install.
6. You will then encounter Downloader Ready to launch! message.
7. Return to the home screen to hover over Settings and click My Fire TV.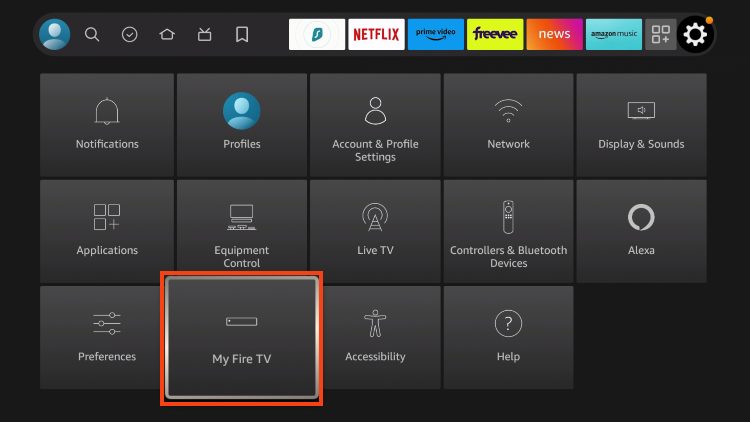 8. Choose Developer Options.
IMPORTANT: Please see the notes below if you don't see Developer Options on your screen.
9. Click Install unknown apps.
10. Find the Downloader app and click it.
11. This will turn Unknown Sources to On for the Downloader app and enable side-loading on your device.
Developer Options Not Available
If you are unable to locate developer options within settings, follow the instructions below to enable this to use the Downloader App.
1. Hover over the Settings icon and click My Fire TV.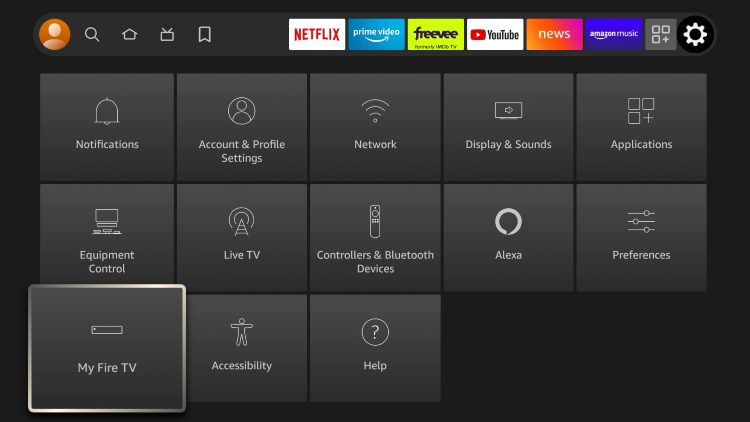 2. Click About.
Note: Notice Developer Options is missing.
3. Hover over Fire TV Stick and click the OK button on your remote 7 times to become a developer.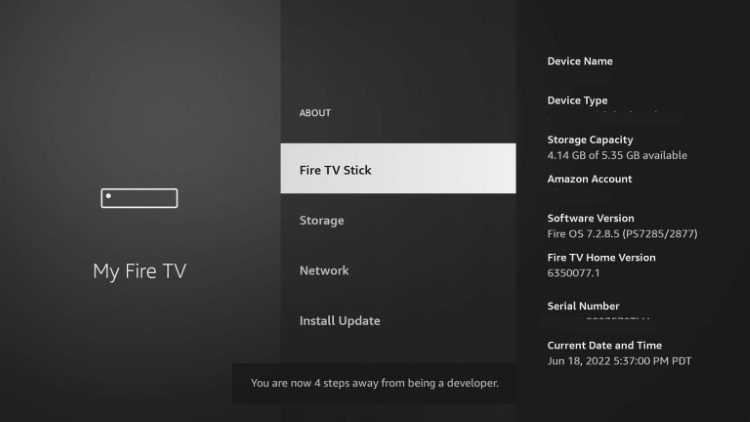 4. Click the back button on your remote and you will notice Developer Options is now showing within My Fire TV.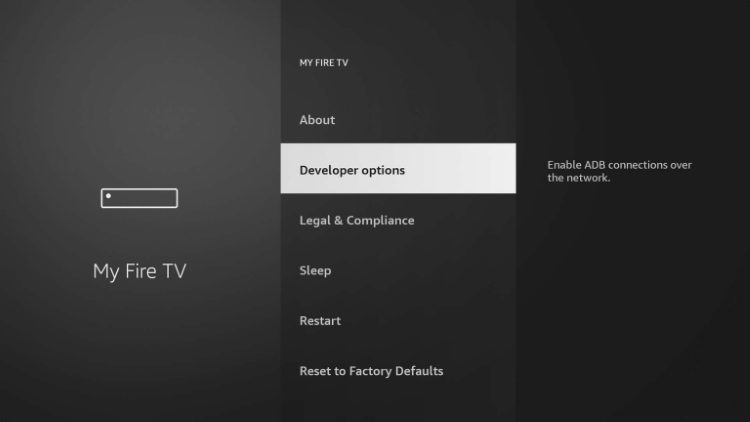 Now that I've properly prepared my Firestick it's time to move onto the next step.
Step 2 – Install SportsFire APK
After preparing our device, we can now install SportsFire APK.
1. Launch the Downloader Application.
2. Hover over the URL Bar and click the select button on your remote.
3. Type sportsfire.tv and click Go.
4. Click Download App.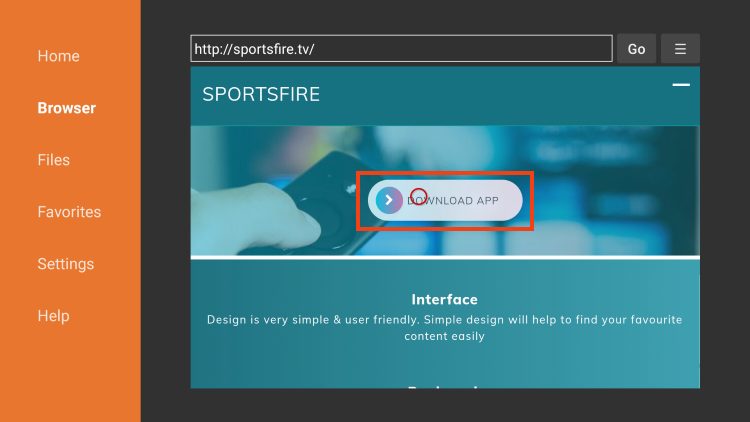 5. Wait for SportsFire to download.
6. Click Install.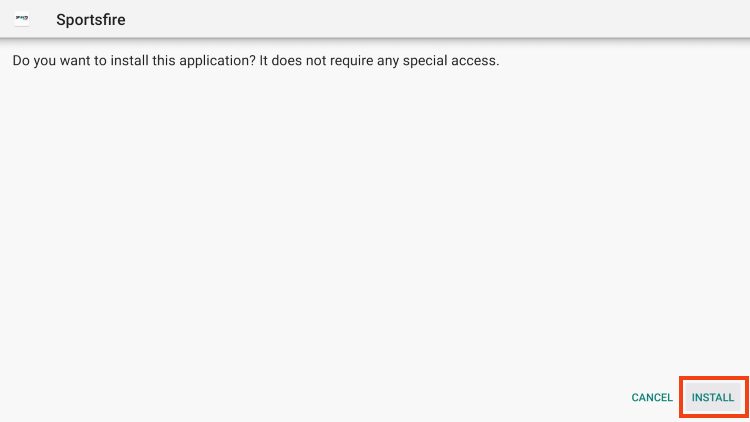 7. Click Done.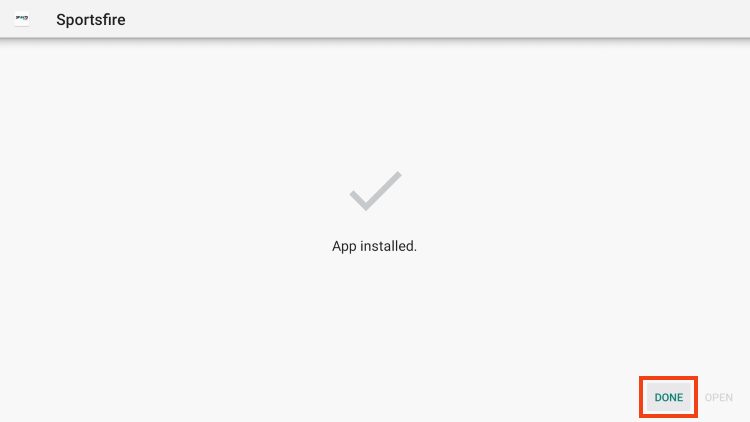 8. We will now return to the Downloader app. Click Delete to remove the installation file.
9. Click Delete again.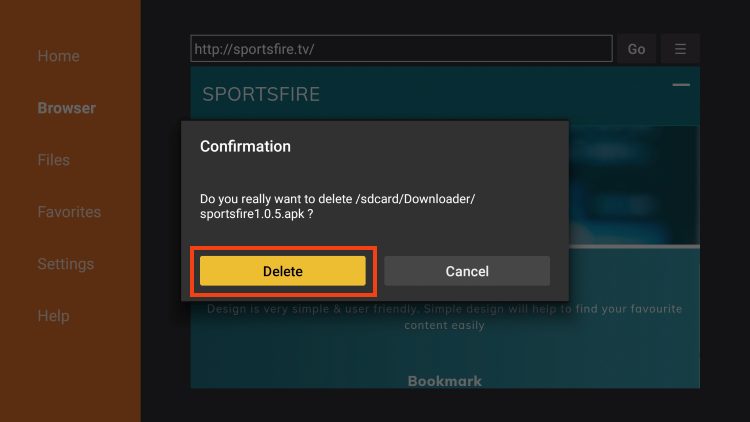 Installation of SportsFire is now complete!
Continue reading to learn how to move SportsFire to the home screen of your device.
Move SportsFire to Home Screen
Use the following steps to move SportsFire to the home screen of your device for quick access.
1. Hold down the home button and select Apps.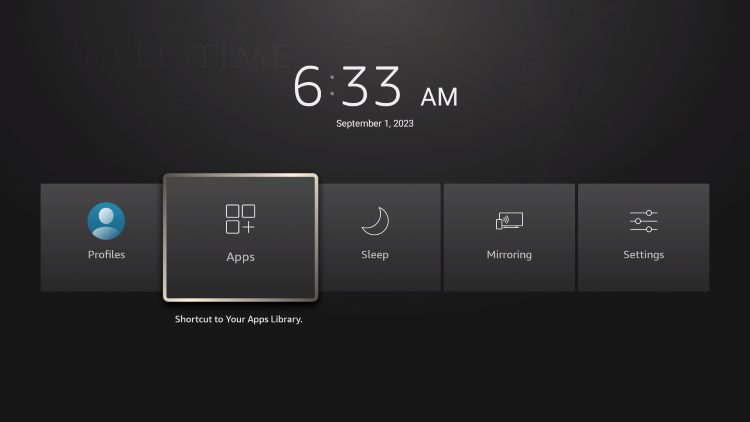 2. Scroll down to find SportsFire and click the Menu button on your remote.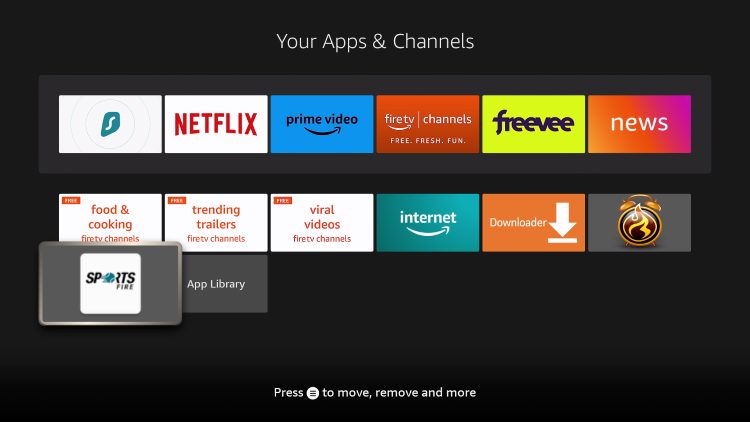 3. Choose Move.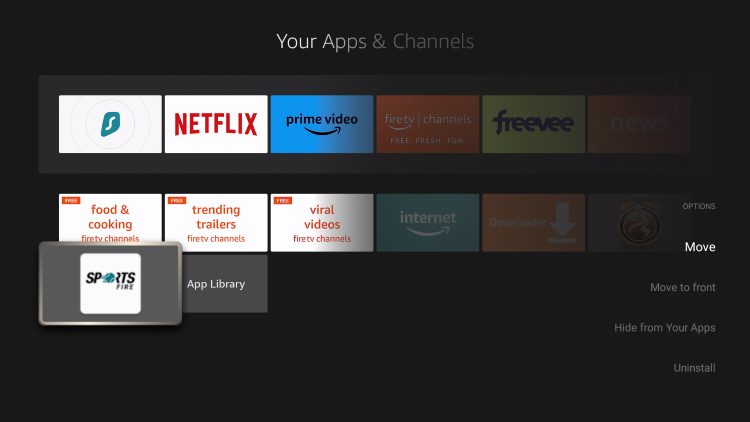 4. Drag SportsFire to the top of your apps list and click to place it.
Enjoy!
SportsFire Features & Details
Channels
As of this review, SportsFire serves up over 200 free live sports streaming channels that cover every sport that you can think of.
While these channels typically play with no buffering issues whatsoever, not all of them are broadcast in high definition.
For more quality Live TV options, we strongly recommend viewing our IPTV Guide for the best services available.
SportsFire serves up live sports channels in an easy-to-use format with various options to choose from. Channels can be filtered by Country to minimize the long list of channels for easier navigation.
Users can easily add channels to favorites by long pressing on their remote when hovering over the preferred option.
You can then access your Favorites via the Watchlist located in the left hand menu.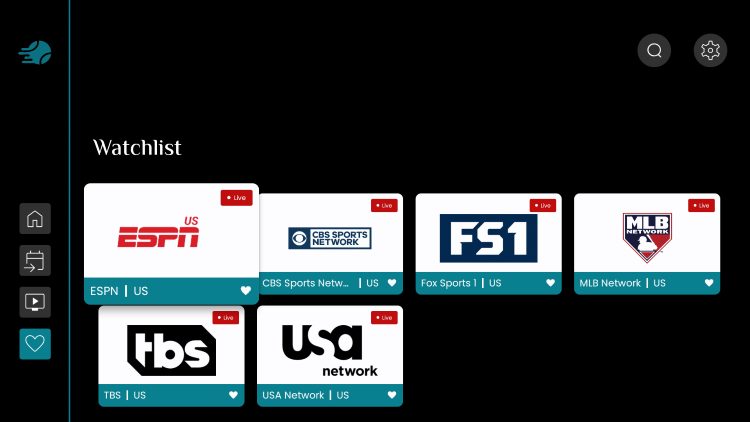 SportsFire Schedule
The best feature SportsFire provides is the daily schedule that stays updated with current events.
Users can browse through all matches and sporting events to find live options with ease.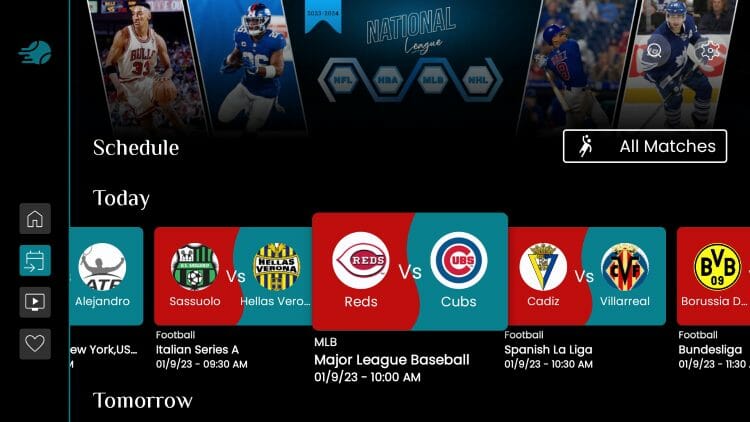 Settings
The SportsFire Settings panel comes with limited functions but focuses on what's important.
Language
SportsFire supports English, French, and Italian Languages.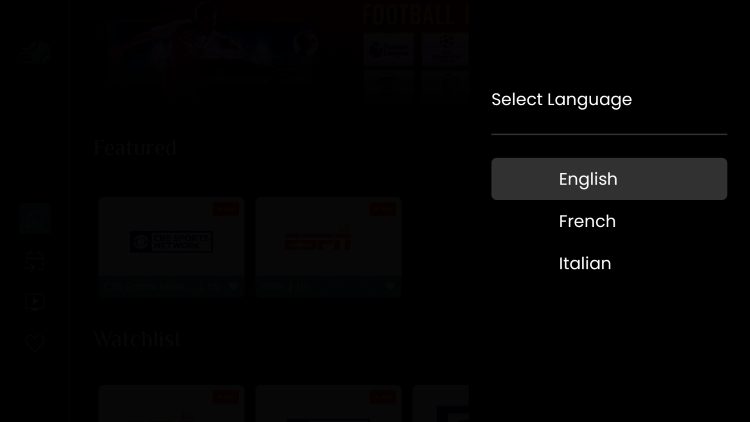 Is SportsFire Legal?
It's impossible for TROYPOINT to determine whether these unverified applications hold the proper licensing.
If and when an application is deemed illegal, we notify our users immediately and update reports on our Website to reflect that information.
At first glance, it would appear that SportsFire is distributing copyrighted content without the proper licensing.

Most questionable streaming sites do not include a Terms of Service page but surprisingly SportsFire does.
The following legal language is posted on their official website under their Terms of Service page.
Intellectual property

By using our services, you may access contents that do not belong to SportsFire. Any such content is the exclusive responsibility of the party that makes it available to users. SportsFire may therefore not guarantee that such content is not in breach of third party rights. As a consequence, SportsFire may not be held responsible for the content or the potential breach of third party rights. The use of our services does not grant any rights of ownership over their intellectual property or that of the content accessed. These terms and conditions do not grant the right to use trademarks or logos that appear on our service, whether held by SportsFire or third parties. As a search tool, SportsFire dynamically indexes the contents of streams used on the web at any given time. The indexed contents may only be controlled at source by the party that uploads them onto the web. Should the holder of a copyright consider that her/his right have been breached, she/he must address the source to request its withdrawal.
In conclusion, the end-user is responsible for all content accessed through SportsFire and other free streaming apps.
Best Legal IPTV Alternative
TROYPOINT recommends using 100% legal and verified IPTV providers instead of SportsFire.
Here are our recommendations for legal IPTV services.
#1 Ranked Legal IPTV Service – Vidgo
SportsFire Monetization Strategy
Most free streaming applications depend on ads to produce revenue but at this point, that's not the case for SportsFire.
As of now, SportsFire is 100% ad-free but many times this is bait used to get a strong user-base prior to pushing ads.  Time will tell but more than likely ads will be coming or some sort of upgrade that will allow you to pay for HD streams similar to an IPTV provider.
SportsFire may also be selling data associated with identifying IP addresses that are tied to each individual user.  This is another reason why users should always be connecting to a quality VPN prior to installing or using this free sports streaming app.  A VPN assigns users an anonymous IP Address so they remain anonymous when using questionable apps such as this.
Frequently Asked Questions
What is SportsFire?
SportsFire is an app available for installation on streaming devices to watch live channels including sporting events.
Is SportsFire Legal?
It's impossible for TROYPOINT to determine whether an unverified IPTV app/service holds the proper licensing. At first glance, it appears this app may be distributing copyrighted content without the proper licensing. The end-user is responsible for content accessed within this unverified app. TROYPOINT recommends using Vidgo instead of SportsFire because it is a legal and verified service.
Does SportsFire Stream Live TV?
Yes. SportsFire streams Live TV channels mostly in standard definition quality.
What Devices can this App be Installed on?
SportsFire is available for installation on tons of devices including the Amazon Firestick which is the most popular streaming device available. Users can also download on Android and more.
Is a VPN Required to use SportsFire App?
A VPN is not required, however it is strongly recommended due to the numerous security risks detailed in this article.
This page includes affiliate links where TROYPOINT may receive a commission at no extra cost to you. Many times, you will receive a discount due to the special arrangements made for our visitors. I will never promote something that I personally don't use or recommend. Purchasing through my links directly supports TROYPOINT which keeps the content and tools coming. Thank you! Learn more on my Affiliate Disclaimer page.