This step-by-step tutorial will instruct you How To Install Show Box Apk. It will also provide you with a direct link to download the ShowBox application.
Show Box is a Movie & TV Show streaming android application with tons of content. It can be installed and used on nearly every streaming device.
Because of it's wide array of content and downloading capability, Show Box has been featured on TROYPOINT's Best Apps for Firestick & Fire TV list.
It is also listed on the TROYPOINT Best APK's list which features the best Movie and TV Show streaming services.
To download the Show Box Apk, follow the direct link provided below and select the most recent version:
Important:  This file is not hosted on any TROYPOINT-owned servers.
To learn how to install Show Box on your streaming device, use the steps below. I have chosen to install the Show Box apk on a Fire TV 3. However, the same steps can be used to install the app on an Android TV Box or other devices as well.
If you are using an Android Box, NVidia Shield, Mi Box, etc. you can follow along with this tutorial by installing Downloader app on your device.  Use the link below for that tutorial.
How To Install Downloader App On Android Box
As with all apks, the ShowBox app was made to be used on an Android device. Therefore, a mouse is needed to properly function this app. To use Show Box on a Fire TV device, we must first install the Mouse Toggle application. To learn how to do this, click the link provided below:
How To Install Mouse Toggle for Fire TV
Once this is installed, you will now be able to enjoy Show Box successfully. Follow the steps below to install Show Box on a Firestick or Fire TV.
TROYPOINT Tip: 
You should always use a
VPN
to protect your identity and security when streaming free movies and TV shows with apps such as this.
1. From the Main Menu scroll to hover over Settings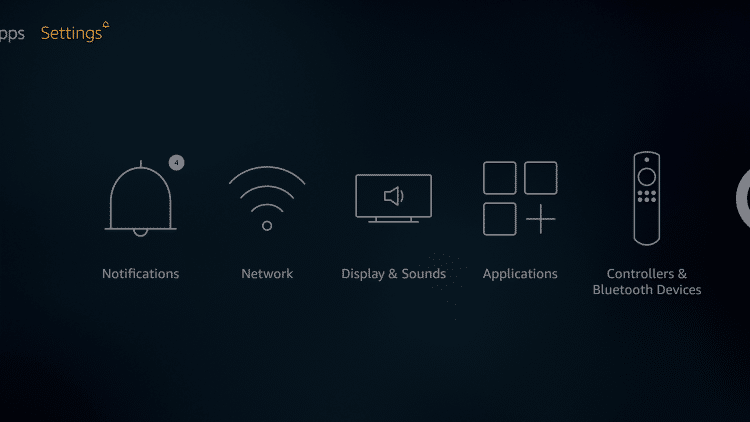 2. Click Device or My Fire TV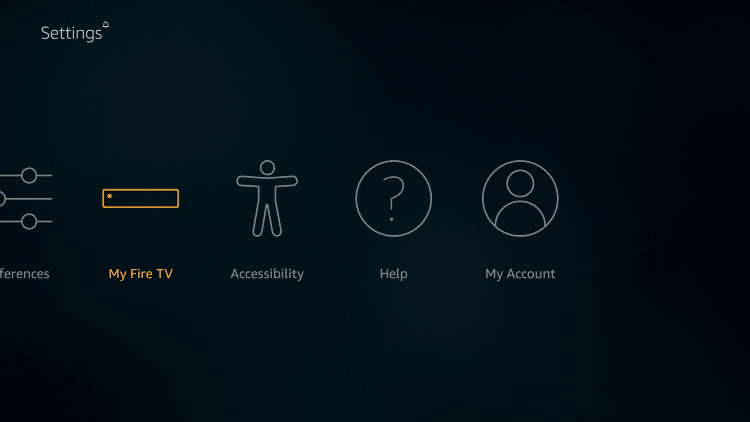 3. Choose Developer Options
4. Click Apps from Unknown Sources
5. Choose Turn On
6. Return to the home screen and hover over the Search icon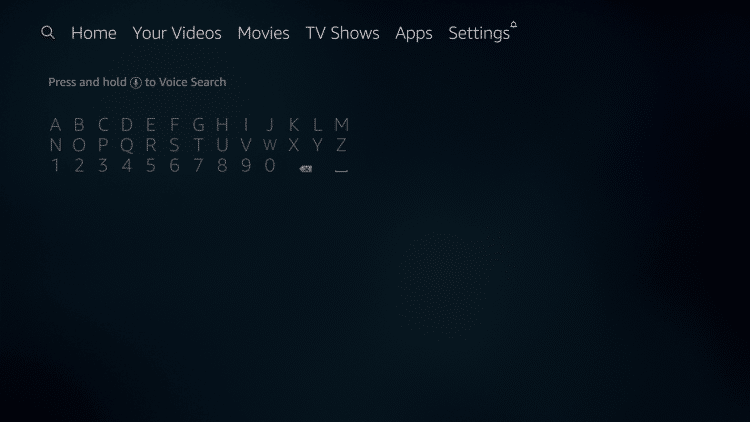 7. Type in Downloader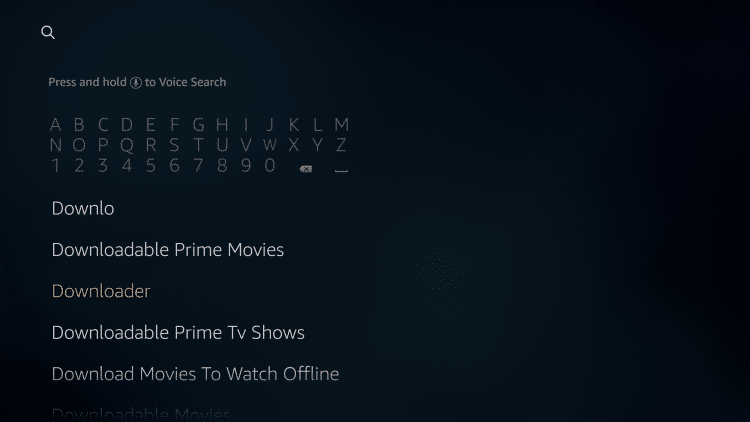 8. Click the Downloader app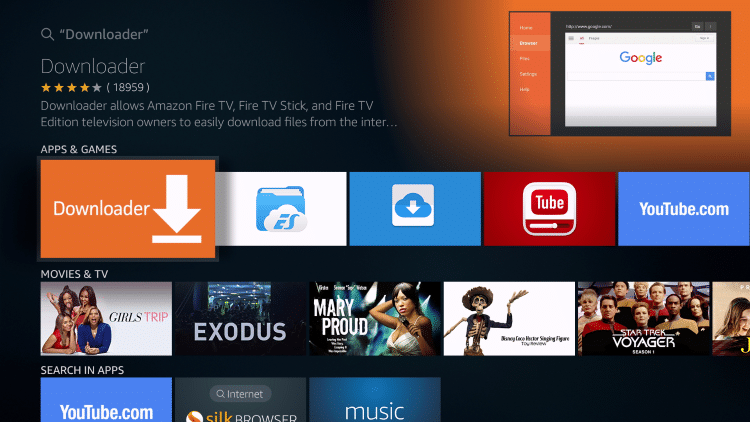 9. Click Download
10. Click Open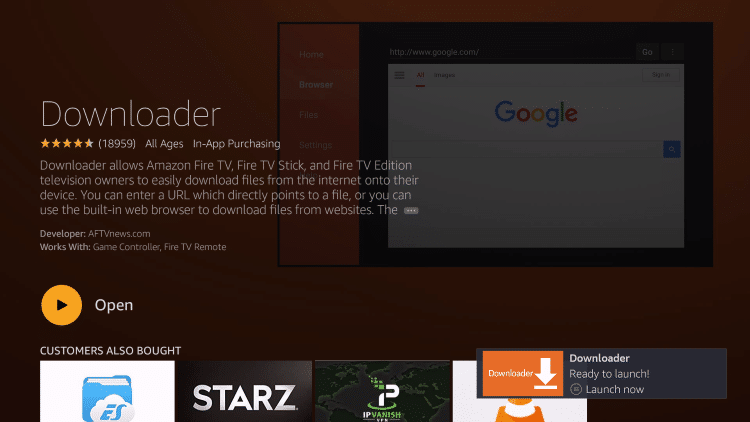 11. Click Allow if you are presented with this prompt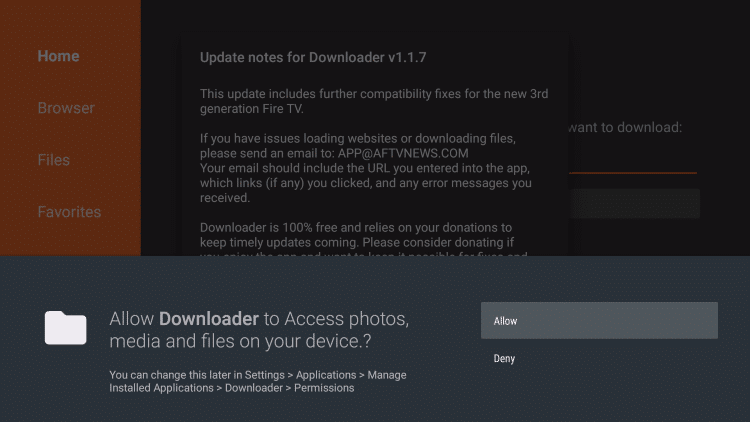 12. Click OK on update notes for Downloader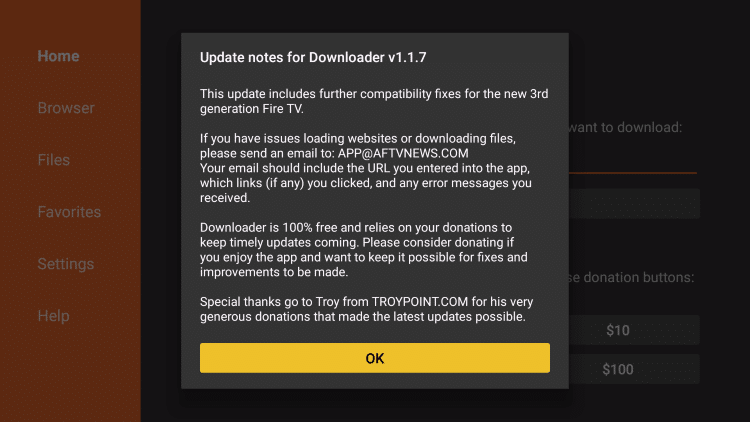 13. Click the OK button on the remote to open the keyboard for the URL box
14. Type in the following address http://troypoint.com/app and then click the Go button
15. Click Install
16. Click Open
17. Click the search icon or if Show Box icon is present on the main screen, click that
18. Type in showbox and then click the Next button
19. Click the Show Box icon
20. Scroll to the bottom and long click on Show Box
21. Click Install again
22. Click the Open button to launch Show Box
Show Box is now installed!

 CAUTION - YOUR STREAMING ACTIVITY IS BEING LOGGED
TROYPOINT does not verify the legality or security of any applications or services covered on this Website.
You should always use a VPN in conjunction with free or low-cost streaming solutions to protect your identity and security.
Your Internet Service provider, government, app developers, and hackers can log your online activity through your visible IP Address and location.
Your Visible IP Address & Location



Country: India (IN)
City: Bengaluru
Your IP Address: 1.39.148.208

A VPN will encrypt your connection to the Internet and mask your above IP address so you will remain 100% anonymous while online.
TROYPOINT recommends IPVanish VPN due to their blazing fast speeds and zero-log policy.
IPVanish is providing a 69% LIFETIME discount through the following link.
This special "Birthday" discount expires soon so don't delay.
Get 69% Off IPVanish VPN
Show Box Details & Description
If you have the Mouse Toggle application installed on a Fire TV/Stick, you can now browse Show Box for all your favorite Movies & TV Shows. By installing this application, users can both stream and download content. Show Box also hosts Audio selections for those who want to listen to or download music as well.
Upon selecting your choice, Show Box will give you the option of streaming or downloading the content. With numerous video quality options available, there is no shortage of ways to view Movies & TV Shows with the Show Box apk.
Show Box features trailers on Movies soon to be released so you can stay up to date on all the best videos. Within the Settings of Show Box are options to automatically download new episodes of your favorites and much more.
Within the app is also the option to add subtitles when viewing content. This can be done by registering for an OpenSubtitles account and selecting subtitles from the menu within the title you are viewing. Overall, this apk is one of the most popular applications available and it is easy to see why.
Show Box Extras
With so many options, Show Box will provide you with an awesome streaming experience for hours on end. One noticeable element of Show Box is the constant advertisements. If you experience an ad, simply click the back button on your remote to exit out.
An important task to remember when using the application is to always access your VPN prior to streaming. Because Show Box offers the option to download content via torrent, your IP address will be available to the public.
Protect yourself from onlookers and your ISP by installing IPVanish on your Fire TV/Stick or Android Box using the tutorials below:
Many have asked whether or not Show Box is available for download on mobile devices. Because it's software is not compatible with iOS, it cannot be installed on an iPhone or iPad.
However, Kodi, Popcorn Time, and many other similar streaming applications can.
To do so, we must side-load an iOS app called TweakBox to the device. To learn how to install TweakBox on a mobile device, follow the link below:
How To Install and Use TweakBox on iPhone/iPad & Android Phone
For more tutorials and installation guides to fulfill your streaming needs, be sure to sign up for the TROYPOINT Newsletter. This weekly newsletter features updates on everything needed for optimal cord-cutting. Click the link below to sign up today!
Legal Notice:
The streaming apps and add-ons covered on the TROYPOINT site may include copyrighted content. Users should only use this technology to access media that falls under Public Domain status and is not protected by copyright.