NOTE: TROYPOINT does not verify the reliability of any third party app including this one. Due to the nature of these applications, they cannot always be trusted to work properly.
The step-by-step guide below will show you How To Install and Use iOSEmus on your iPhone or iPad. iOSEmus is an app emulator and installer for all the best tweaked or modified apple applications.
iOSEmus hosts various apps that are not provided within the Apple App Store. Often times, these are paid applications that can be downloaded for free via the iOSEmus app.
Similar to TweakBox and AppValley, iOSEmus serves up some of the best streaming, gaming, and social media apps available today.
iOSEmus is listed as one of the Best Tweaked App Stores by TROYPOINT.
iOSEmus Features
Using a mobile app to download apps not found on the iOS App Store makes it more convenient for users who need access to thousands of third party content. iOSEmus is packed with features such as:
Hundreds of iOS/Apple Store apps and games, tweaked apps and iOSEmus exclusive apps such as game emulators, screen recorders
Simple and easy setup
User-friendly interface
Supports iOS devices
No jailbreaking required on your device
Apps are listed alphabetically for faster search
iOSEmus Apps
Some of the more popular apps available within iOSEmus include: MediaBox, PokeGo (iSpoofer), CotoMovies and Spotify++ and many more.
Kodi on iOSEmus
One of the most popular downloads available within iOSEmus is Kodi. By installing Kodi on your device, you will have access to tons of Movies, TV Shows, music, and more.
If you would like to learn How To Install Kodi on iPhone or iPad via TweakBox, click the link below:
Install Kodi on iPhone or iPad Without Jailbreak
The guide below will instruct you How To Install iOSEmus on an iPhone XS. However, the same process can be used to install the app on any other version of an iPhone or iPad.
(The steps below may be different for those with other iOS versions. In this tutorial, I am using iOS 12.0.1)
TROYPOINT Tip: 
You should always use a
VPN
to protect your identity and security when streaming free movies and TV shows with apps such as this.
Legal Copyright Disclaimer: This technology shall only be used to stream movies or TV shows that fall under the public domain.  TROYPOINT does not endorse or promote illegal activity tied to streaming or downloading copyrighted works. The end-user shall be solely responsible for media accessed through any service or app referenced on this Website.  Referenced applications/addons are not hosted by TROYPOINT and this guide is for educational purposes only.  
How To Install iOSEmus on iPhone/iPad
Step 1
On your iPhone or iPad, go to iosem.us within the Safari Browser.
Step 2
Tap an icon to install.
Step 3
Tap Allow.
Step 4
On the Settings page, tap Install.
Step 5
If prompted, enter your Passcode for verification.
Step 6
Tap Install again.
Step 7
Tap Done.
Step 8
iOSEmus installation is now complete. The app will now show up on your home screen. Feel free to move it anywhere you prefer!
How To Use iOSEmus
iOSEmus has a full list of "tweaked" or modified apps that enhance the users experience. Many of these are streaming apps such as Bobby Movie, Movie Box, and more.
To install an app via iOSEmus, simply click the green check mark next to an app. This wil open Safari and allow you to download.
After installing an app and trying to open it, you may encounter the following message:
To access the app, we must trust the Developer within the device's Settings. We can do so by using the following instructions:
Step 1
Open Settings from the home screen.
Step 2
Tap General.
Step 3
Scroll down and select Profiles & Device Management.
Step 4
Click the text located beneath Enterprise App. In this example, ShangHai P&C Information Technology… is displayed. Your device may show another developer.
Step 5
Click Verify App.
Reminder: It is important to make sure your device has enough storage space prior to installing any application from iOSEmus. To check the storage space available on an Apple device, follow the steps below:
How to Check Available Storage Space on iOS
It is important to make sure your device has enough storage space prior to installing any application from iOSEmus. To check the storage space available on an iOS/Apple device, follow the steps below:
Step 1
Tap Settings.
Step 2
Tap General.
Step 3
Tap About.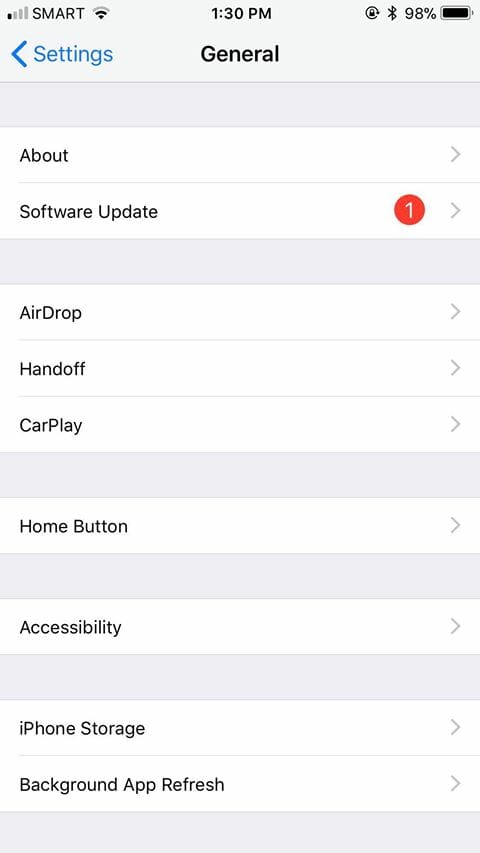 Step 4
Next to Available is your device's storage space.
If enough space is available, you are free to download any apps provided within iOSEmus!
One of the best features of this app that sets it apart from other emulators/3rd party app installers is that there are currently no pop-up ads. This makes searching and installing applications a much simpler, more enjoyable process.
How to Fix iOSEmus Installation Error
In case you encounter a failed installation message, follow the troubleshooting steps below:
Step 1
Tap Settings.
Step 2
Tap General.
Step 3
Tap Reset.
Step 4
Tap Reset All Settings.
Step 5
You will be asked to confirm. Tap Reset All Settings again.
How to Install Apps on iOSEmus
Step 1
Open the iOSEmus app by tapping on the icon.
Step 2
Select from the list of apps.
Step 3
Tap GET.
Step 4
Wait until the installation is complete.
Step 5
Tap Open.
Step 6
Tap Install.
Step 7
Launch the app.
Other Frequently Asked Questions (FAQs) about iOSEmus
Why Should I Download and Use iOSEmus?
iOSEmus is one of the best app installers for iOS devices such as iPhone, iPad and iPod touch. It offers apps that are not commonly found in the iOS App Store
Do I need to jailbreak my iOS device to install iOSEmus?
You don't need to. You can perform the installation process without jailbreaking your device.
How is iOSEmus similar to Emus4U?
iOSEmus is somewhat similar to Emus4U being one of the best app installers for iOS devices. The developers recognize their counterparts from the latter to be their development partners.
Is iOSEmus available on Android?
TROYPOINT has tested several iOSEmus download links that claim to be compatible with Android devices but as of this writing, nothing works properly. I will give you an update once a working installer for Android is released by the developer.
How can I search for apps on iOSEmus?
Once you launch iOSEmus, you can browse on the list of apps on the Apps section.
Are all apps from Cydia available on iOSEmus?
No. However, iOSEmus still contains majority of apps from Cydia.
I am stuck with just a white screen when launching iOSEmus. What should I do?
The best way to troubleshoot this issue is to uninstall the app and then reinstall it after a few seconds.
VPN for Mobile Device
W
henever installing 3rd Party applications to any device, TROYPOINT recommends a VPN to secure your identity. If you would like to learn How To Install a VPN on iPhone or iPad, use the link below:
Install VPN on iPhone or iPad in Under 2 Minutes
TROYPOINT recommends using IPVanish VPN due to its blazing fast download speeds and user-friendly interface.  IPVanish does not retain any logs, which means they will never store any information about your VPN session or information on how you use their service.
For more tech and streaming tutorials be sure to sign up for the TROYPOINT Newsletter with updates weekly. This Newsletter provides all the best cord-cutting tips to get the most out of your favorite streaming devices and more. CLICK HERE or link below for TROYOPINT Newsletter Subscription:

 CAUTION - YOUR STREAMING ACTIVITY IS BEING LOGGED
TROYPOINT does not verify the legality or security of any applications or services covered on this Website.
Your Internet Service provider, government, app developers, and hackers can log your online activity through your visible IP Address.
The good news is that a quality VPN will prevent this from happening.
A VPN will encrypt your connection to the Internet and mask your IP address so you will remain 100% anonymous while online.
Troy recommends and uses IPVanish VPN due to their blazing fast speeds and zero-log policy.
EXCLUSIVE TROYPOINT DISCOUNT - Save 60% on IPVanish VPN

This discount expires soon.

Click Here for IPVanish VPN @ 60% Off