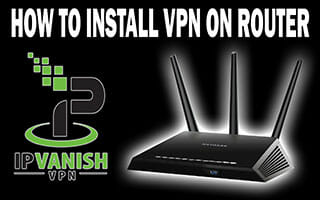 This tutorial will show you how to setup VPN on a router, which will secure and provide anonymity for all devices within your network.  By doing this, you will no longer be required to install a separate application on every device that you want to protect.
There are some devices where it isn't possible to install a VPN application such as Xbox One, Roku, Apple TV, and PlayStation.  In this case, the only practical solution is installing a VPN service on the router.
The VPN service running on your router will provide secure encryption and mask the IP address of every device that connects to the router.
Within this tutorial, I will be using the popular VPN service IPVanish which has been touted as having the fasted download speeds among its competitors.  Due to the download speed loss when running a VPN on a router, it is very important that you use a fast VPN service such as IPVanish.
There are companies that charge big bucks for flashed routers but my guides below are meant to help you do this on your own, which will save you a lot of money.
I will also show you how to set up a dual router configuration with one running the VPN service and the other open as normal.  This is handy for two main reasons.
The first is that some websites and online services are hit and miss with VPNs and this will allow you to quickly switch to an open network to access those streams.
The other reason is due to download speed.  Since download speed diminishes when running a VPN on your router, having another router with open access is nice for times when you need as much speed as possible.  Don't get too hung up on the download speed dilemma as it only takes 5 to 10 Mbps to stream 1080p HD video.
In the following tutorials, I am using two of the most popular VPN routers that are available which is the Asus AC3100 and Netgear R7000.  Although you can definitely use this tutorial as a reference for other routers, it will be easier to follow my detailed instructions within the video below if you have one of the products used in the following guides.
If you are starting from scratch and haven't purchased a VPN router yet, I would suggest following my first guide below.  This will show you how to setup a VPN on the Asus AC3100 and the great thing about this is that you aren't required to install a modified firmware like you are in the second tutorial.
Get up to 60% Off IPVanish Plan With Coupon Code

TROYPOINT

.

This special promotion won't last long so get it while you can.


Click Here To Get Your IPVanish Discount
Note:  IPVanish provides a 7-day money back guarantee if you aren't happy with their service.
New – You can now use one IPVanish account on up to 10 devices at the same time!
How To Setup VPN Router Without Modifying Firmware
The new Asus routers come equipped with the AsusWRT firmware which makes it simple to setup a VPN.  AsusWRT routers also allow us to build our own cloud drive/NAS with any USB drive.  Plus, we have the ability to download torrents without a computer and use the router's internal torrent client!
Below this video, you will find general instructions but I recommend following the video tutorial below so you don't miss any important details.
Get up to 60% Off IPVanish Plan With Coupon Code

TROYPOINT

.

This special promotion won't last long so get it while you can.


Click Here To Get Your IPVanish Discount
For those who don't want to pay the steep price for the Asus AC3100 RT-AC88U Router, another alternative is the AC1900 RT-AC68U.
If you choose the less expensive alternative, it is important to note that you will see VPN speeds approximately 75% less than the Asus AC3100 RT-AC88U model due to a less powerful processor.
Dual VPN Router Setup – see video below
General Instructions
Note:  I suggest that you watch the above video to ensure you don't miss important details that the general instructions below don't cover.
1 – Log into your Asus admin page by typing router.asus.com into the browser address bar
2 – Click LAN option and input the following DNS servers from Cloudflare 1.1.1.1 and 1.0.0.1
3 – Click VPN option
4 – Download IPVanish VPN ovpn files and crt file from here
5 – Create Open VPN profile, name the connection, and upload ovpn file and crt file
6 – Type in your IPVanish username/password and click connect
7 – If you would like to setup a PPTP connection instead of Open VPN copy server address from IPVanish site
8 – Paste server into PPTP entry and input IPVanish username and password then click connect
How To Install VPN On Router With DD-WRT Firmware
There are three steps that I go through within this tutorial.  The first is flashing the DD-WRT Firmware onto the router.  You can think of firmware as software that operates the router.  We will be installing (flashing) an alternative firmware that will allow us to install the IPVanish VPN service.  Without DD-WRT firmware, it is not possible to set up a VPN on a router with the Netgear R7000.
The second step will be inputting the proper settings within DD-WRT that will activate the VPN service.
Finally, I will show you how to set up a dual router configuration where you can use one as your VPN router and one as an open router with no protection.
Below, you will find a video tutorial that will show you the detailed steps on how to install a VPN on your router.  Please take the time to watch this entire video as I do not provide the detailed instructions below the video.  These are simply meant as a general guide.
Before you get started, you must have an IPVanish username and password that you can get by clicking HERE.
Get up to 60% Off IPVanish Plan With Coupon Code

TROYPOINT

.

This special promotion won't last long so get it while you can.


Click Here To Get Your IPVanish Discount
Important Links
TROYPOINT VPN Router Buyer's Guide has been discontinued due to better routers that are now available.  TROYPOINT suggests the Asus AC3100 which is outlined in the first tutorial above.
Instruction Outline – Refer To Video Above for Specific Details.
Step 1  Register for an IPVanish Account by clicking HERE.
Step 2  Flash DD-WRT onto the router and if using a Netgear, you may use the link above to download router specific flash files.  The first flash must be with the .chk file and the second with .bin file.
Step 3 Create DD-WRT password.
Step 4 Set time zone on DD-WRT Setup page.
Step 5  Setup SSIDs or network names for each channel on your router.
Step 6  Secure wireless channels with WPA2 Personal encryption.
Step 7 Input IPVanish credentials into PPTP Settings area.
Optional Steps for Dual Router Setup with VPN access
Step 8  Change router IP address to 192.168.2.1
Step 9  Connect LAN port from primary router to WAN port of VPN router and reset cable modem.
Step 10  Test that IP address is changing by using the Website whatismyip.com.
How To Setup Dual VPN Router
The following video will show you how to set up a dual router configuration within your home or business network.  This will allow you to have an open router and a VPN router on the same network.  This process was also outlined in the second video tutorial above.
General Instructions
This is a detailed process and I encourage you to watch the video above so you don't miss important steps.
 Disconnect from the primary router
 Plug secondary VPN router into computer's Ethernet jack or connect to it via wireless adapter
 Log into secondary router's admin page by typing 192.168.1.1 into browser address bar
 Change Wireless SSIDs if needed
 Change DHCP IP address of the router to 192.168.2.1
 Power off the cable/DSL modem, and both routers
 Connect Ethernet cord from primary router's LAN port to WAN port on secondary VPN router
 Power on cable modem then primary router and finally secondary VPN router
Please follow and like us: