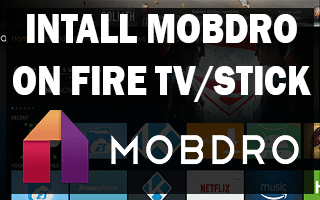 This tutorial will show you how to install Mobdro on Fire TV or Stick quickly and without a computer.
Mobdro is  one of the best Android streaming applications that does a great job steaming live video.  Mobdro's Web site defines the application as a tool that constantly looks for free video streams available on the web and makes them accessible on your mobile device.
The great thing about the Fire TV and Stick is that it is based off the Android operating system which means that we can sideload Mobdro onto these devices.  Unfortunately, this is not an application that is available within the Amazon Fire TV app store but the tutorial below will show you how to quickly install this application on to your Fire TV or Stick.
Most of us use Kodi with the Fire TV/Stick on a regular basis for movies and tv shows but live streams always seam to be a problem.  Mobdro fills this void and allows us to install the application alongside Kodi which turns the Fire TV or Stick into a streaming powerhouse.
How To Install Mobdro On Fire TV or Stick Tutorial
Please view the video below as it will go through all necessary details to install Mobdro onto your Fire TV or Stick.  The instructions below the video are simply general instructions without details.
Step 1 Go into Fire TV Settings / Device or System / Developer Options / turn on Apps from Unknown sources by hovering over the option and clicking the select button on your remote.
Step 2 Go to search button and download and install the free application called Downloader.
Step 3 Open Downloader and type the following Mobdro shortcut into the box – https://troypoint.com/mobdro
Step 4 After the application has installed, launch Mobdro.
Important:  Many Internet Service Providers are now blocking access or throttling download speeds for applications like Mobdro.  I use a VPN on my Fire TV and Sticks which allows me to access all application and Kodi addons that my ISP tries to block.  Use the link below to install a VPN onto your Fire TV.