The following tutorial with a step-by-step guide and video will show you how to remove the annoying floating widget icon from your device. Whether you use a Firestick, Fire TV, or other Android device, this is a common occurrence for all.
This widget is a notification from your ES File Explorer that a file within your device has been updated. The image within the circle may vary, depending on the application or applications you have recently used.
To remove it, we must simply change some settings within ES File Explorer. ES File Explorer is an application used to install and manage apps within your preferred device. Many streamers use the app to install Kodi, Terrarium TV, and more.
The floating widget is shown highlighted in the image below. In this instance, the widget is a picture of an android icon which is very common among all streaming device users:
If you have encountered this, it can be irritating and difficult to remove. Luckily, there is a simple fix to this problem that can be solved using the steps below.
In this instance, I am using a Fire TV, however, the steps will be the same for a Firestick or other Android device.
How To Remove Floating Widget
1. Find and open ES File Explorer on your device.
Note: If the ES File Explorer app is not located on your devices home screen, Simply click "Your Apps & Channels" beneath "Recent". Scroll all the way to the right and choose See All. This will bring up a complete list of all your installed applications.
2. On the left-hand side, Select Settings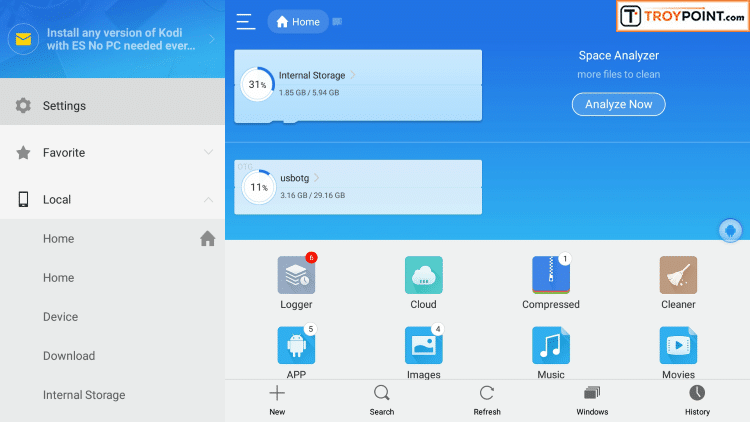 3. Scroll down and click "Logger floating widget settings"
4. Click "Enable logger floating widget" to disable notification widget
IMPORTANT: Make sure the check mark located on the far right of the text is white. If it is blue, the floating widget logger is enabled and will appear on your screen.
Once this has been disabled, ES File Explorer will no longer notify you with the widget whenever an app has been used or updated.
TIP: Should you add more apps to your device, it is important to install a VPN for Firestick, Fire TV, Fire TV Cube. Amazon App Store restricts unverified apps to be installed so a VPN can do the trick. Click on the link to learn how.