Players Klub is an IPTV service that costs only $8 per month and serves over 3,000 HD TV Channels.
You can think of the Players Klub as cable or satellite service on steroids but for only $8 per month!  It includes everything you would normally see in your overpriced cable/satellite package plus much more such as sports season passes, and PPV.
You can register for an account by using one of their online billing panels (links below).  You may find a screenshot tutorial below which includes instructions on registering for the service and installing the required app or Kodi addon.
If you are already a Players Klub subscriber, more than likely you have been using Mint Panel to pay your invoices and seek support.  You can continue doing this as they will provide multiple payment processors moving forward.
IMPORTANT!!!!  When you register for your account, write down your username and password that you set.  You will need this to log into your online billing/support panel.  Refer to screenshot tutorial below for detailed instructions on registering.
The Players Klub uses two different registration portals.  The first one is for those who want to pay with credit card and the second is for those who want to pay with PayPal.
Register for Players Klub Account (Credit Card Payments)
Register for Players Klub Account (PayPal Payments)
TROYPOINT suggests using the first method outlined below to install this service.  The Android application works much better than their Kodi addon.
NEW – The Players Klub has recently released their new Web Player, which will allow subscribers to use their service in an Internet Browser!  See instructions below.
Players Klub APK
You may download the most recent stable version of the Players Klub APK by using the link below.
Android App APK Install Steps
If you are installing Players Klub on the Android operating system such as Fire TV/Stick, Android TV Box, Nvidia Shield, Tablet, or Smartphone, you can install the .apk file (Android application) onto your device by clicking this link – TPK Player V3.
If you have access to Google Play Store on an Android device, you can also install through Google Play Store by searching for TPK Player V3.
If you are using a Firestick/Fire TV, Nvidia Shield, or Mi Box, follow the tutorial below.
Video Tutorial
The Players Klub uses two different registration portals.  The first one is for those who want to pay with credit card and the second is for those who want to pay with PayPal.
Register for Players Klub Account (Credit Card Payments)
Register for Players Klub Account (PayPal Payments)
Screenshot Tutorial
Players Klub Registration Guide
1. Register for a Players Klub account.
2. Click Pricing.
TPK Shield is for those who want to pay with credit card.
Mint Panel is for those who want to pay with PayPal.
3. Click Order Now button.
4. Choose Extra Connections if needed.  Extra connections allow you to use the Players Klub service on multiple devices simultaneously.  The default package comes with 1 connection.
Connections explained: You can install the application and service on as many devices as you would like.  But, with one connection, you may only use the service on one device at a time.  Purchase additional connections if you will need to use the service simultaneously on multiple devices.
5. Enter your checkout information.  WRITE DOWN YOUR PASSWORD THAT YOU SET ON THIS SCREEN!  THIS IS WHAT YOU WILL USE TO LOG INTO THIS ONLINE PANEL WITH.  THIS IS NOT YOUR IPTV USERNAME AND PASSWORD.  WE WILL GET TO THAT IN A LATER STEP.
6. Click Continue To Client Area.
7. Click Active link under SERVICES heading.
8. Click TPK Shield Firewall License.
9. Click Service Details
10. Write down your IPTV service username and password.  Click Show to see your password.  You will need this when logging into the Players Klub app.
Players Klub App Install Guide
1. From the Main Menu scroll to hover over Settings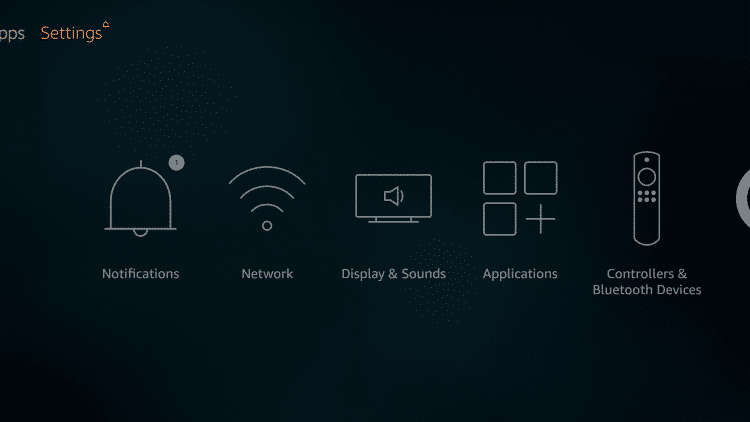 2. My Fire TV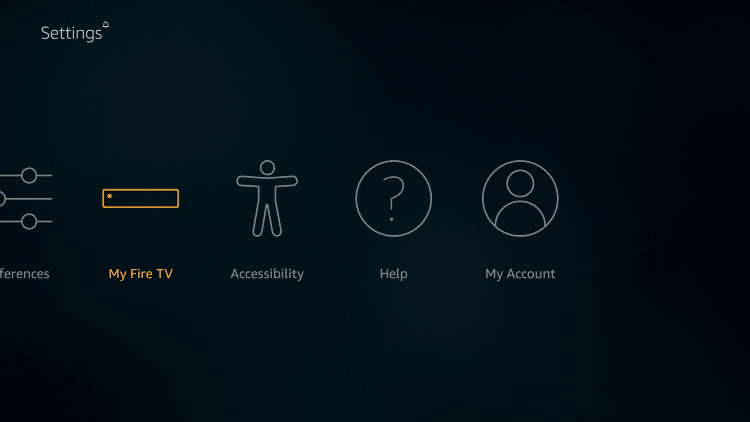 3. Choose Developer Options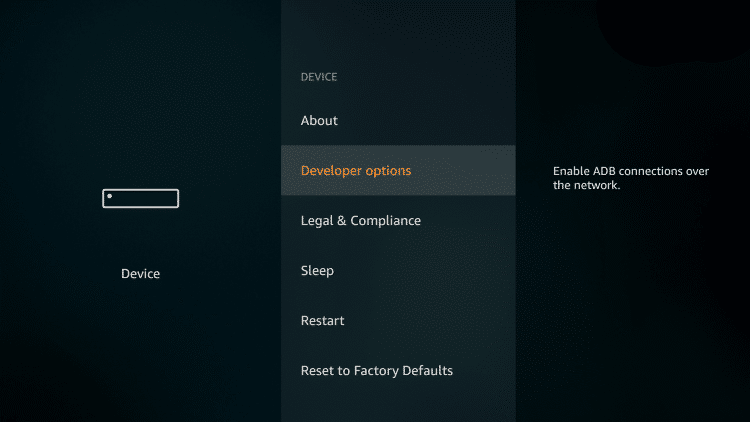 4. Click Apps from Unknown Sources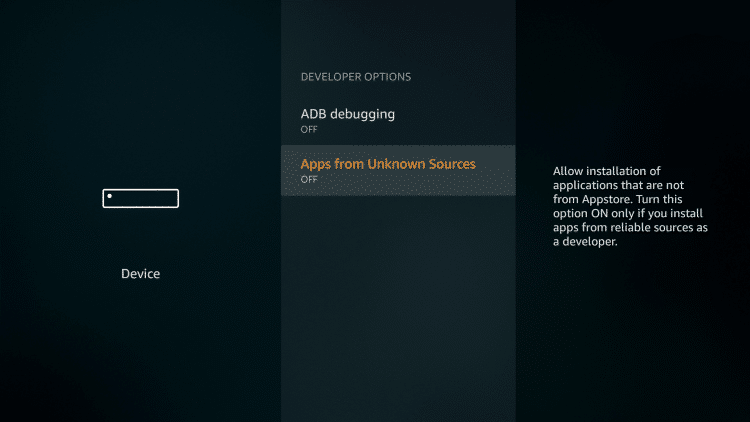 5. Choose Turn On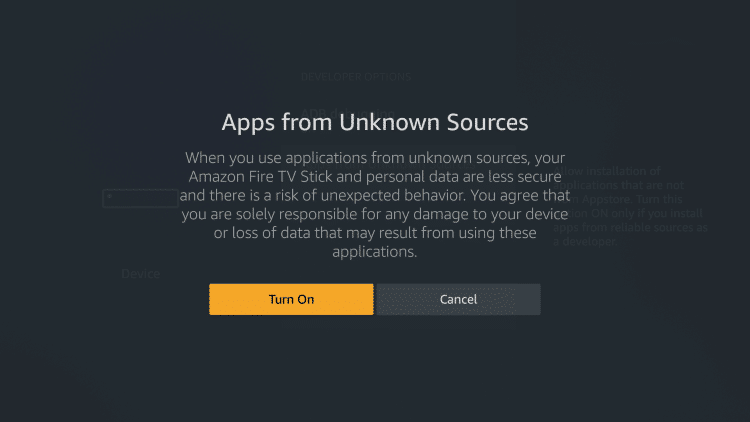 6. Return to the home screen and hover over the Search icon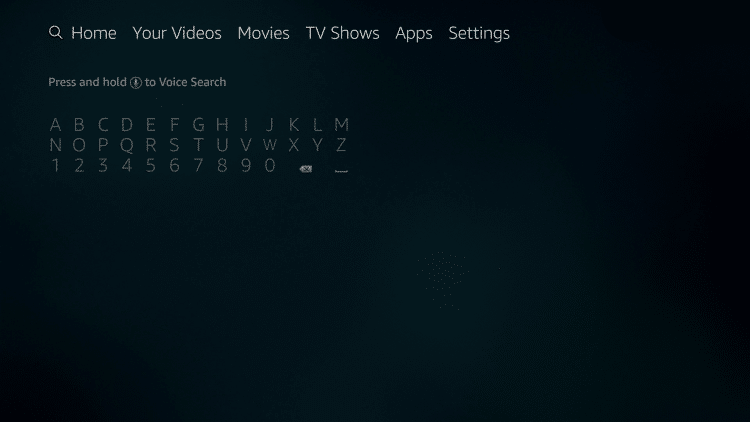 7. Type in Downloader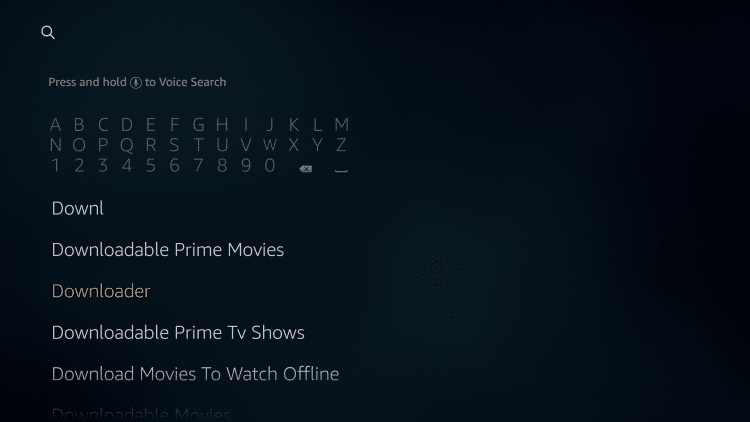 8. Select the Downloader app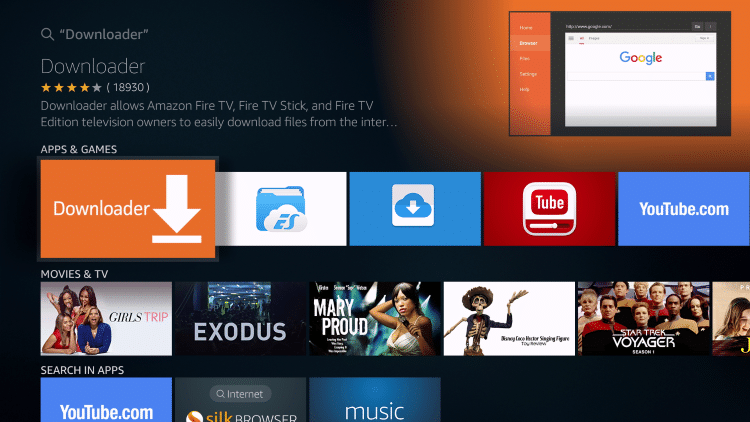 9. Click Download
10. Click Open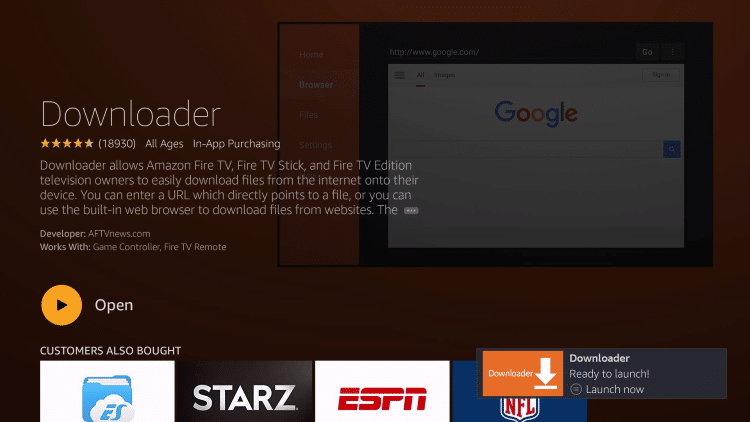 11. Click Allow
12. Click OK
13. Click OK button on remote while cursor is in URL box.  This will open the keyboard.
14. Type in http://troypoint.com/player and click Go.
15. Click Install.
16. Click Done.
17. Click Delete to get rid of Players Klub installation file.
18. Click Delete again to confirm.
19. Go back to Fire TV/Stick Home Screen and Click See All button which is under "Your Apps & Channels" heading.  You will see this button if you scroll to the end of this row (move right).
20. Highlight the Players Klub shortcut and click the Options button on the remote which is the three horizontal lines on top of each other.
21. Click Move button in lower-right side of screen.
Note: After recent Fire TV/Stick update, some devices will not provide option "Pin to Front" instead.
22. Use arrows on remote to move the Players Klub shortcut to the front of the list.  Click OK button on remote to drop it into place.
23. Launch application and input your Username and Password.  Refer to step #10 above to retrieve this information.  You should have also received it in a welcome email from TPK Shield.
24. Upon successful login, Players Klub will begin downloading channels.
25. Click Settings icon in top right corner.
26. Click General Settings.
27. Uncheck "AutoStart on Bootup" and click Save Changes.
28. Go back into Settings.
29. Click Players Settings.
30. Change to Hardware Decoder if using Fire TV Stick 4K or more powerful streaming device.  For those with low-powered devices, keep setting on Software Decoder.
31. The Players Klub is now configured.  Enjoy!

 CAUTION - YOUR STREAMING ACTIVITY IS BEING LOGGED
TROYPOINT does not verify the legality or security of any applications or services covered on this Website.
You should always use a VPN in conjunction with free or low-cost streaming solutions to protect your identity and security.
Your Internet Service provider, government, app/addon developers, and hackers can log your online activity through your visible IP Address and location.
A VPN will encrypt your connection to the Internet and mask your IP address so you will remain 100% anonymous while online.
TROYPOINT recommends IPVanish VPN due to their blazing fast speeds and zero-log policy.
IPVanish is providing a 60% discount through the following link.
Expires soon, don't delay.
Click Here for 60% IPVanish Discount
The apk is available within the TROYPOINT Rapid App Installer.  This app allows you to install the best streaming apps and tools in a matter of minutes rather than hours.  Use the link below to access this free application.
Players Klub Web Player
All subscribers of Players Klub will enjoy the ability to access their service directly through an Internet browser.
Go to http://thepk.tv and follow the instructions below to use your Players Klub service.
1. Enter your service username and password.
2. Click whichever section you would like to enter.
3. Enjoy live HD channels directly through your Internet browser of choice.
Players Klub Kodi Addon Instructions
Steps
Install Kodi on your streaming box or computer
Launch Kodi
Click the settings icon which looks like a gear or cog in top left-hand corner under Kodi logo 
Click System settings
Hover over Add-ons menu item and turn on Unknown sources if not already on – you will receive a confirmation message where you must click Yes
Click back on remote to go back to System page
Click File Manager
Click Add source
Click <None>
Type the following url exactly how it is listed here – http://theplayersklub.us/playersklub and click OK
Highlight the box under the source that you just typed in and enter a name for this media source, type PK or any other name you would like to identify this source as and click OK
Click your back button on remote or keyboard until you are back at the Kodi home screen
Click Add-ons menu item
Click the small "open box" icon at top left side of page under the "Add-ons heading" 
Click Install from zip file
Click PK or other name you assigned the media source in previous step
Click repository.playersklub zip file
Wait for The Players Klub Repository Add-on installed message to appear
Click Install from repository
Click The Players Klub Repository
Click Video Add-ons
Click The Players Klub Addon
Click Install
Wait until you see The Players Klub Add-on installed message
Launch The Players Klub Kodi addon, input your account username and password
Players Klub M3U URL
The Players Klub M3U URL will allow you to setup the service in other IPTV players and applications.
You will want to replace the XXXXXX with your service username and password.
M3U URL: http://thepk.co:2086/get.php?username=XXXXX&password=XXXXX&type=m3u_plus&output=ts
EPG URL: http://thepk.co:2086/xmltv.php?username=XXXXX&password=XXXXX&type=m3u_plus&output=ts
Players Klub comes packed with over 3,000 channels with most of them in HD quality.  Channels are divided into the following categories which makes it easy for the viewer to navigate; All Channels, USA TV, NFL Games, NBA League Pass, NHL Center Ice, Latino/Spanish TV, Local News, MLB, UK TV Sports & Movies, Music HD, Local Spanis-Latino Music, 24/7 Channels, Radio, Canadian TV, Adult.
The service offers excellent customer support through their online ticketing system.  Customers may log into their online account and access a support system on the left side navigation menu.  Once in this area, users may submit a support ticket that will be answered in the same location.
Players Klub App Not Working
If you receive the following warning, uninstall the application and then reinstall.  You must login again with your service username and password if this happens.
"The app you are using is not original.  Your TV Service Provider has not provided your the original app.  Such kind of apps could send the data to legal authorities.
 IMPORTANT: TROYPOINT does not run this IPTV service so it is impossible for us to provide technical support. 
If you need help with this service, you must reach out to the Players Klub team.
We will not answer any technical support questions about Players Klub or any other IPTV service on this site.
If you cannot log into your online Players Klub account to submit a support ticket, we recommend contacting them via their Facebook Group, Twitter Page, or Discord Group by using the links below.