This step-by-step guide will show you how to install FreeFlix HQ on Fire TV or Fire TV Stick.
The FreeFlix HQ App serves up thousands of movies and TV shows in HD quality.
TROYPOINT Tip: 
You should always use a
VPN
to protect your identity and security when streaming free movies and TV shows with apps such as this.
Legal Copyright Disclaimer: This technology shall only be used to stream movies or TV shows that fall under the public domain.  TROYPOINT does not endorse or promote illegal activity tied to streaming or downloading copyrighted works. The end-user shall be solely responsible for media accessed through any service or app referenced on this Website.  Referenced applications/addons are not hosted by TROYPOINT and this guide is for educational purposes only.  
How To Install FreeFlix HQ On Fire TV/Stick Guide
1. From the Main Menu scroll to hover over Settings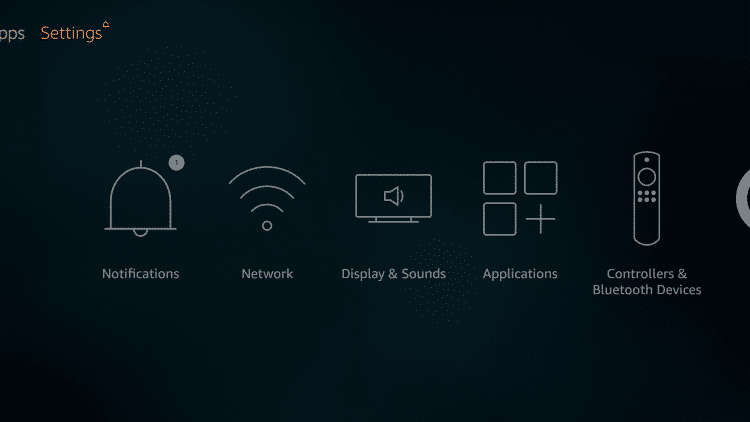 2. Click Device or My Fire TV
3. Choose Developer Options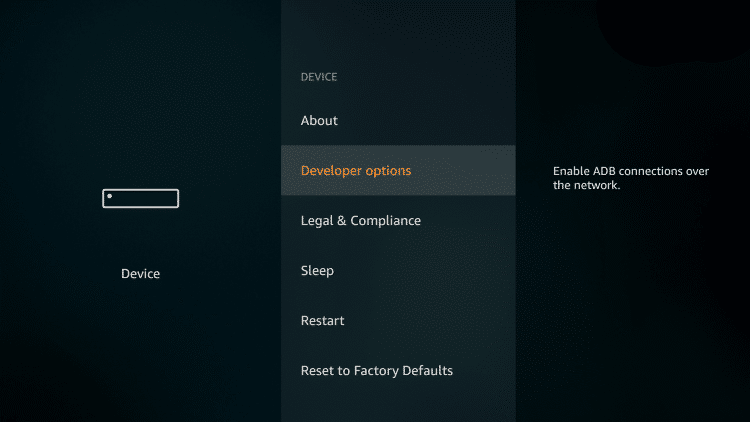 4. Click Apps from Unknown Sources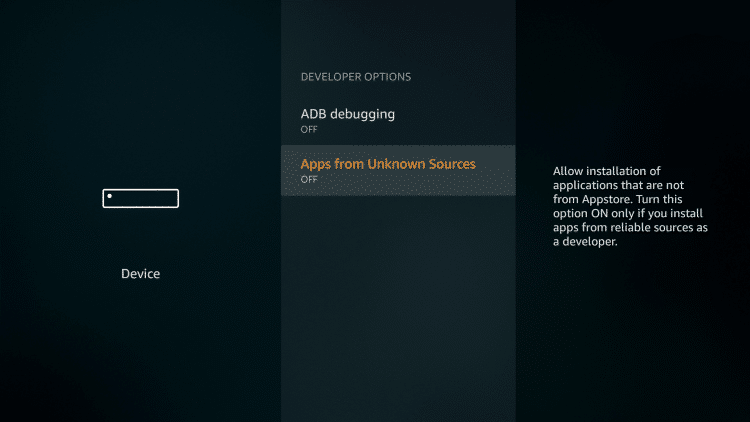 5. Choose Turn On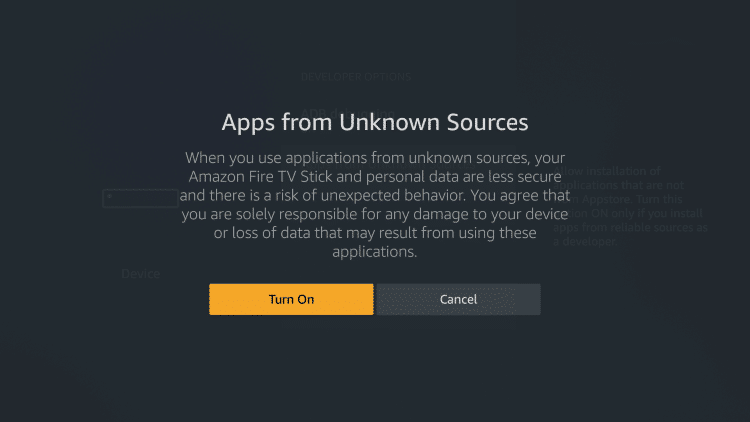 6. Return to the home screen and hover over the Search icon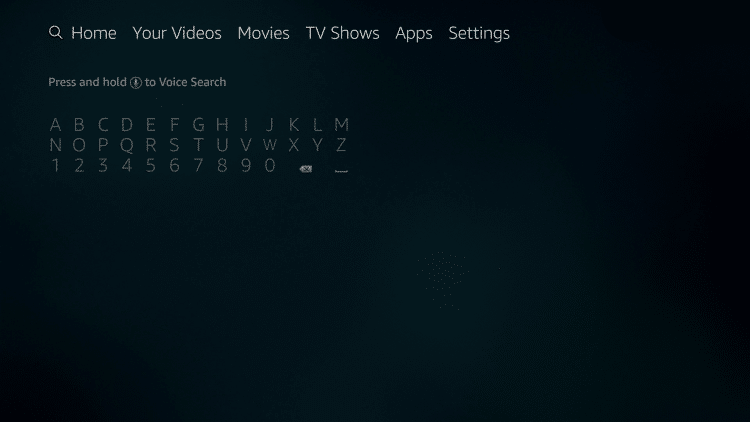 7. Type in Downloader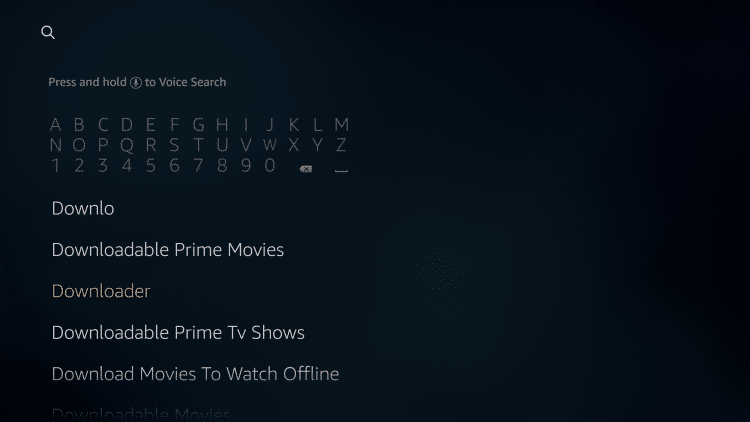 8. Select the Downloader app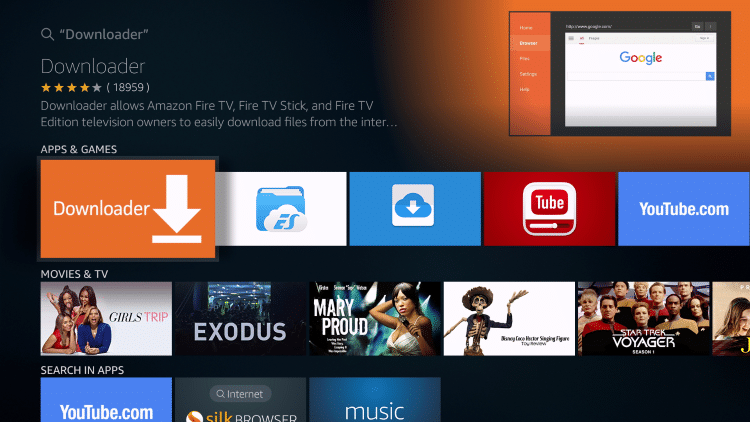 9. Click Download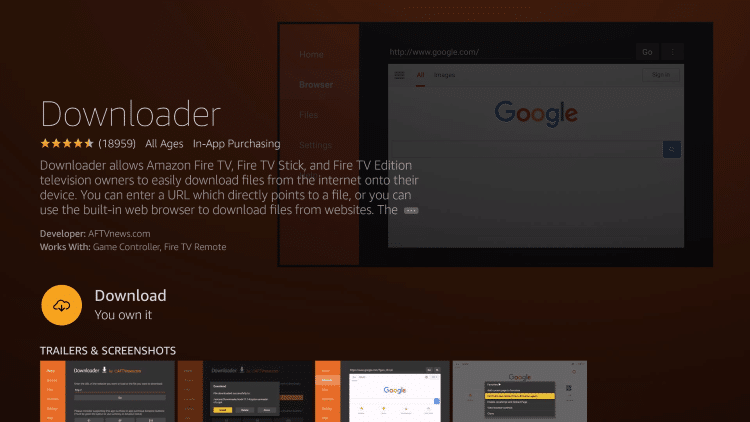 10. Click Open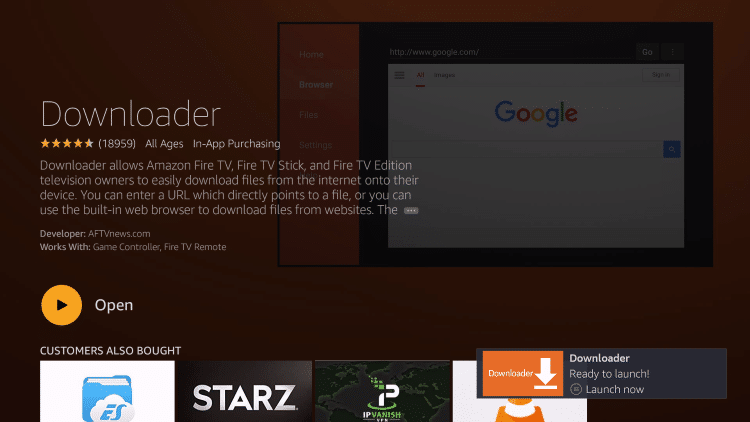 11. Click Allow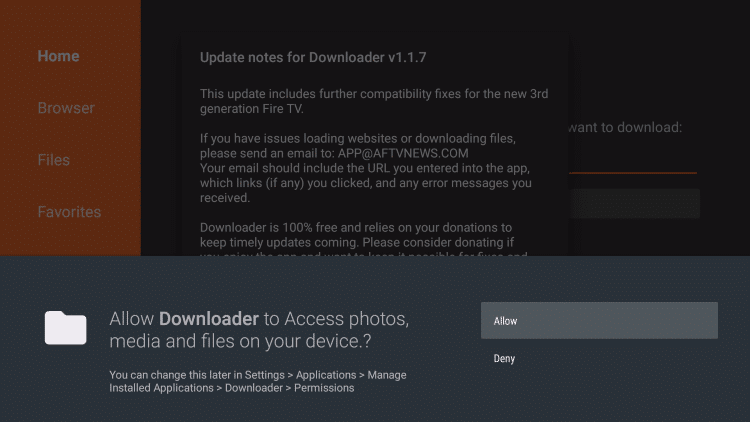 12. Click OK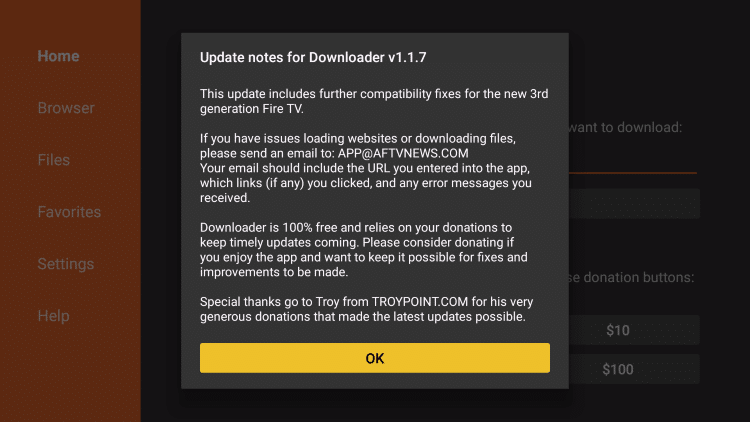 13. Type the following URL exactly as it is listed here – https://troypoint.com/freeflix and click Go
14. Wait for file to download
15. Click Install
16. Click Done
17. This will return you to the Downloader App. Click Delete
18. Click Delete again
You can now access FreeFlix from your device's main menu! Enjoy!
The following video will cover important details not covered in the general steps above.
Free TROYPOINT Supercharge Fire TV
How To Install VPN On Fire TV or Fire TV Stick
Integrate MX Player on FreeFlix HQ
FreeFlix HQ also gives you the ability to use external media players. In this example below we will show you how to use MX Player within the app.
1. Install MX Player on your streaming device using URL: troypoint.com/mx in Downloader or follow guide below:
2. Once on the Home screen of FreeFlix HQ, scroll down and select Settings on the menu.
3. Scroll down and click "Use external Video Player."
4. Select MX Player.
5. When this message appears click "Go It."
6. Click back on your remote and you should notice the "Use external Video Player" is now checked.
7. Once back on the Home screen search for the content you want to play. For this example we used Night of the Living Dead.
8. Click Watch.
9. Click the Source that appears on the screen then click Play.
10. That's it! You can now enjoy MX Player as your default media player.
Adding Media to Favorites
This quick screenshot guide will show you how to add media to Favorites within FreeFlix HQ.
1. On the Home screen, search for the content you want to add to Favorites. For this example we used Night of the Living Dead.
2. Scroll down and select "Add Favorites."
3. You should then notice an "Added to Favorites" message appear at the bottom.
4. To access your Favorites, go back to the Home screen then select Favorites within the menu.
5. You will notice that your media is now inside Favorites.
6. To delete media from your Favorites, scroll up and select Clear Favorites on the top menu.
7. Click Yes Clear to delete all of your content within Favorites.
Get More Video Links with Real-Debrid on FreeFlix HQ
FreeFlix HQ has the ability to add real-debrid for more high quality streaming links.
The following screenshot tutorial will show you how to set up Real-Debrid in FreeFlix HQ.
Real-Debrid is an unrestricted downloader that adds high-quality stream options to content on FreeFlix HQ.  These new sources should provide better playback with less buffering.
Real-Debrid is a premium service that costs approximately $5 per month, which is less than a small popcorn at the movie theater.
Important:  You must disconnect VPN on your streaming device prior to following the steps below.  Once Real-Debrid pairing and setup is complete, you may activate your VPN. 
1. Register for a Real-Debrid Account.
2. Scroll over to the left side of the screen until the menu appears.
3. Scroll down and select Settings.
4. Then scroll down and click the Real Debrid option.
5. This screen will then appear. Be sure to remember this code.
6. Open an Internet browser on any device and go to https://real-debrid.com/device and type in code from above and click Continue.
7. Your Real-Debrid application is now approved.
8. You will notice that your Real Debrid status is now Connected.
9. You will now have access to additional video streams identified as [RDebrid]  – these should provide buffer-free playback. Enjoy!
Integrating Trakt with FreeFlix HQ
1. Scroll down on the menu and click Settings.
2. Scroll down and select Trakt.Tv.
3. Click Sign In Or Register.
4. Write down the code provided on the screen.
5. Go to trakt.tv/activate to enter the code from the previous step and click Continue.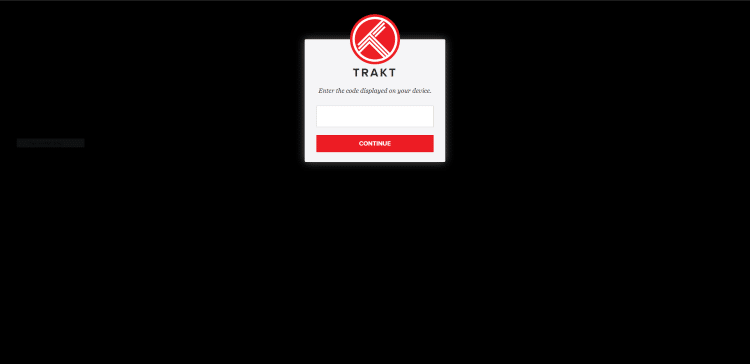 6. Click Yes.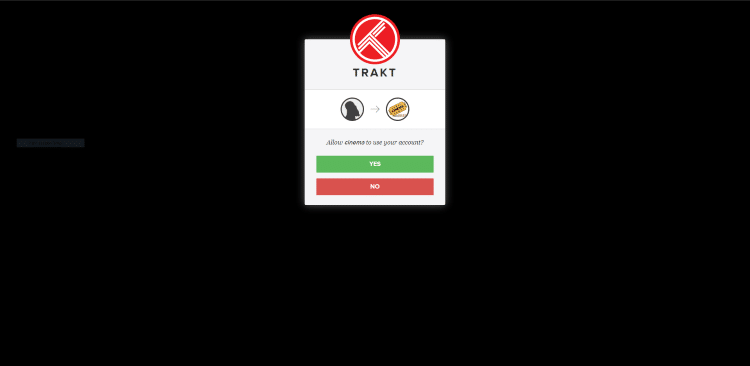 7. Trakt integration is now complete!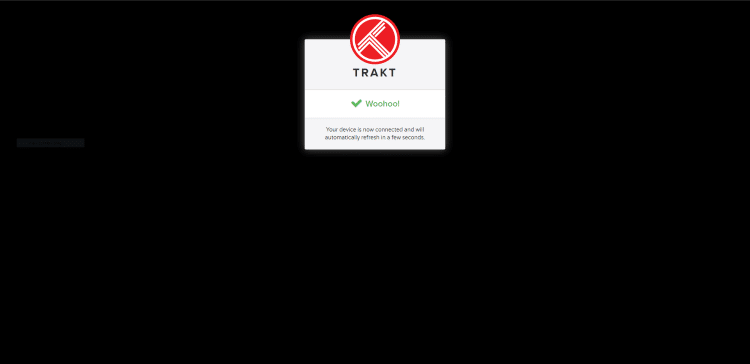 8. Return back to FreeFlix HQ, you will notice this message appear. Click whichever option you prefer.
9. If you select the Trakt Settings option, feel free to edit your Trakt settings. We just left everything to default.
10. Click the back button on your remote, and you should now be signed in under your Trakt username.
For more information about Trakt and how to set it up for all your streaming apps, read the complete TROYPOINT Trakt Resource Guide below:
How to Setup and Use Trakt on Kodi and Streaming Apps
Adding Subtitles to FreeFlix HQ
Using MX Player is also popular because it works great for subtitles. FreeFlix HQ has a simple subtitle setup that can be implemented following the steps below:
1. Once you select a Movie or TV Show choose your preferred streaming source.
2. Once your media file opens, click the three dots icon in the upper right corner of the screen.
3. Once you click the three dots icon, scroll down and select Subtitle.
4. Click Open.
5. Scroll down and click the first option available.
6. Scroll down and click the subtitle file.
7. That's it! You should now see subtitles appear on the screen.
8. Freeflix HQ also allows you to change your subtitle font and color if you prefer. On the Home screen scroll down and click Setting.
9. To change your subtitle color, scroll down and select "Change subtitle color."
10. Change your subtitle color to whichever color you prefer.
11. To change your subtitle size, click back on the remote and select "Change subtitle size."
12. Select whichever subtitle size you prefer.
FreeFlix HQ Features & Details
FreeFlix HQ works great on all Android-based devices including the Fire TV Stick and Fire TV. The application comes optimized for Android TV which means that it works great with a remote control.
The application user interface looks very similar to Terrarium TV but there are some additional features that stand out.
When playing a movie or TV show an option appears asking what resolution should be used. This same dialog allows the user to download the media file instead of play it. The application doesn't provide a prompt with a long list of sources to select from which is refreshing.
TROYPOINT TIP: If you're trying to install unverified apps into your Firestick or Fire TV from the Amazon App Store, you can only complete it by side-loading or installing anything into your device without using the official app-distribution method. I recommend using a VPN to install such apps. Click this link to learn how to install a VPN for Firestick, Fire TV, Fire TV Cube.

 CAUTION - YOUR STREAMING ACTIVITY IS BEING LOGGED
TROYPOINT does not verify the legality or security of any applications or services covered on this Website.
Your Internet Service provider, government, app developers, and hackers can log your online activity through your visible IP Address.
The good news is that a quality VPN will prevent this from happening.
A VPN will encrypt your connection to the Internet and mask your IP address so you will remain 100% anonymous while online.
Troy recommends and uses IPVanish VPN due to their blazing fast speeds and zero-log policy.
Get IPVanish VPN @ 60% Off

This discount expires soon.

Click Here for IPVanish VPN @ 60% Off
Within the filter feature, an option is available which allows for switching servers where the movie or TV show is playing from. This may help those who have problems with buffering.
A Live TV link is present which serves up live channels from around the world. From my initial testing, this feature isn't working great but some channels will play without buffering.
The application comes with a built-in video player that works great, especially for those who use subtitles. Once a video begins to play, the CC button will launch a menu that provides a list of subtitles available to use. If one of them is out of sync, choosing a different subtitle file will eventually correct the problem.
The free version of FreeFlix HQ comes with ads which help with development costs. Clicking the back button on the remote will close the ads immediately.
Users have the option of upgrading to an ad-free version by sending a PayPal payment to the app developer. Information on this can be found within the application settings of the app.
This streaming software is also available on Windows and Mac computers.
Android TV Box owners can use the same installation method above by using the links below.
How Android Box Owners Can Follow Fire TV Tutorials
How To Install Downloader On Nvidia Shield, Mi Box, and Google Nexus