Downloader is Now a Top 15 Best Free App in the Amazon App Store
As of this writing, the Downloader App has officially cracked the Top 15 in Amazon's Top 100 Free Apps list!
Over the past few weeks, we have seen Downloader rank between #10-20 on Amazon's Top 100 Free Apps list. It even reached the #10 spot yesterday!
With almost 85,000 ratings and an average four and a half star review on the Amazon App Store, Downloader ranks ahead of popular free apps including NBC, ABC, Philo, TikTok, CBS, and many others.
A huge thank you to everyone who has used this app, left a review, and shared with friends & family. Your support doesn't go unnoticed.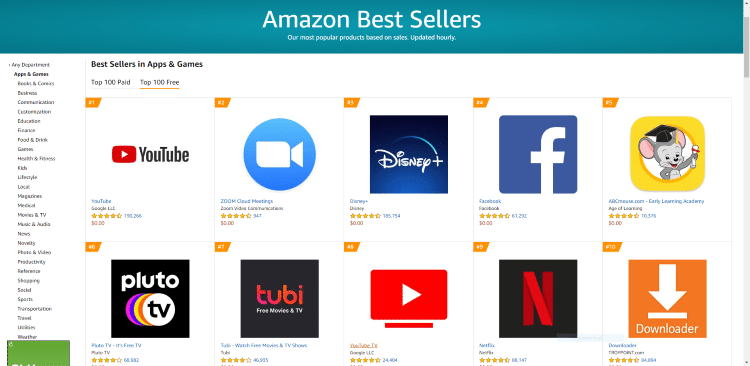 Our Downloader App is one of the most used apps by cord-cutters and streamers across the world. This tool has helped millions side-load applications to their streaming device with the click of a button.
Downloader is also available on the Google Play Store for Android TV devices such as the NVIDIA Shield.
The popularity of Downloader has increased largely due to our Jailbreak Firestick tutorial, which has been accessed by over four million cord-cutters worldwide.
TROYPOINT acquired Downloader from AFTVnews in May of 2019, and the popularity of this app hasn't slowed down since. For more information on that story, check out our news article below.
TROYPOINT Acquires Downloader App from AFTVnews
For more information on how to install the Downloader app on your streaming device, refer to our installation guides below.
For the latest news, reviews, and tutorials in the streaming and tech world, be sure to sign up for the TROYPOINT Advisor with updates weekly.
Click the link below for your TROYPOINT Advisor Subscription:
Leave a Comment Below
Has the Downloader App helped you cut the cord? Let us know your thoughts in the comments below!
Again, we can't thank you all enough for your continued use & support of the Downloader App. Stream on!
This page includes affiliate links where TROYPOINT may receive a commission at no extra cost to you. Many times, visitors will receive a discount due to the special arrangements made for our fans. I will never promote something that I personally don't use or recommend. Purchasing through my links directly supports TROYPOINT which keeps the content and tools coming. Thank you! Learn more on my Affiliate Disclaimer page.