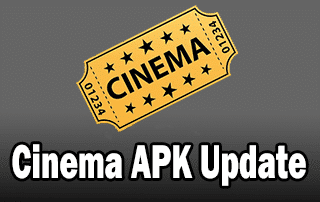 Cinema HD APK 2.3.6.1 Update
This page includes affiliate links where TROYPOINT may receive a commission at no extra cost to you. Many times, you will receive a discount due to the special arrangements made for our visitors. I will never promote something that I personally don't use or recommend. Purchasing through my links directly supports TROYPOINT which keeps the content and tools coming. Thank you!
Cinema HD APK has been updated to Version 2.3.6.1!
This is an important update that solves many issues users have been complaining about since the last update.
Cinema APK is voted the #1 streaming app on the TROYPOINT Best APK's Poll and for good reason.
This new update works fabulously, especially on the Amazon Firestick and other popular Streaming Devices.
Cinema HD also works best when paired with external features such as Real-Debrid, Trakt, or MX Player.
Listed below is the complete changelog for Cinema HD 2.3.6.1:
Load links faster
Fix many bugs
Remove wrong links
To install the latest version of Cinema HD, refer to our quick video and screenshot tutorials below.
NOTE: One of the biggest complaints regarding Cinema HD is the overabundance of ads.
Learn how to install the ad-free version of Cinema HD via the guide below.
Important: If you are not prompted to update when opening the app, simply go through the typical installation process again and the update will be applied to your current version.
TROYPOINT TIP: TROYPOINT Subscribers can always install the latest release of Cinema HD and other great apps through the Rapid App Installer inside the TROYPOINT Application.
Free TROYPOINT Rapid App Installer
Install the Best Streaming Apps in Minutes
The free TROYOINT app includes over 50 of the best streaming apps including the one you're about to install on this page.
GET FREE APP
You won't need the following tutorial or any others for that matter after installing the TROYPOINT App with Rapid App Installer.
Install Cinema HD – Video Tutorial
Register for IPVanish VPN with Best Discount
Free TROYPOINT App with Rapid App Installer
Cinema HD Screenshot Guide
Previous Cinema HD Updates
Previous 2.3.5 Update
Remove limit request to premium server option
Turn off revolve premium links option as default
Optimize source code
Previous 2.3.4 Update
New: Remake settings screen
Resolve premium links to the corrected file name
Add option to show default opening screen
Make resume popul cancelable
Add back the option to sort favorites by last watched
Fixed bug: app crashed/force when play movie from the series guide
Previous 2.3.1 Update
Remove Novel Ads Banner
Add option to turn off auto-generate background-color
Remove bad links
Fixed bugs: Can't focus torrent item in Torrent Manager on Firestick
Previous 2.3.0 Update
Use Password to restrict categories or deny searching
Add option: Show season specials
Fixed bug: Favorites can't be switched from TV-Movies-All using air mouse
Fixed bug: RD links not getting picked up on first few searches
Add season pack
Add torrent manager
Fixed bug: cannot focus user torrents on android tv
Previous 2.2.3 Update
Fixed subtitle
Fixed crash for some android tv boxes
Fixed many providers
Add filter out CAM option
Adding 'multiple keys option' in BTC payment
Add options: Fetch episodes from TVDB
Separate TV Shows/Movies/All Favourite list
Previous 2.2.2 Update
Fixed bug: Cached TMDB not working
Previous 2.2.1 Update
New! Used cached database if TMDB not working

Fixed bug: Wrong link and subtitle for SerialGuide users

Fixed providers: SolarMoviez, CMovies, PLockerSK, Pubfilm, SeriesNine, and others

Fixed resolvers: Fembed, Upstream, Movcloud, P2pCDN

Added premium providers: DailyMotion, Dailyupload, down4files, FileUp, and UploadGig

Bypass new Cloudflare
Previous 2.2.0 Update
A lot of providers fixed
Major bug fixes for links and subtitles
ZeroTV updated
TMDB API key updated
Previous 2.1.9 Update
Bug fixes for Real-Debrid and AllDebrid links
Fixed link providers: ClickMovies, HDMovies, P2PCDN, and others
Fixed link resolvers: JetLoad, Vidlox, VidTodo, and others
Previous 2.1.8 Update
Added new backup/restore feature
Updated OpenSubtitle and recaptcha
Added resolvers: ABCvideo, Supervideo, Anavids, Eplayvid
Fixed resolvers: Vidlox and Fembed
Added an option to long-press streaming link to display file name
Added & fixed providers
Previous 2.1.7 Update
Added resolver: ClubPlay, MCloud, DDLTO
Fixed providers
Fixed resolver
Previous 2.1.6 Update
Fixed bugs including recaptcha verification
Fixed Providers
Fixed resolvers
Added resolvers
Previous 2.1.2 Update
Fixed providers
Add webview to resolve recaptcha
Fixed battery drain issue
Previous 2.1.0 Update:
DVD Release Category loading is now fixed
OpenSubtitle is fixed
Previous 2.0.9 Update:
Added DVD release category
Data is now loaded when TVDB, IMDB, Trakt, and TMDB are down
Full season description and layout overview text are now shown
The following providers were fixed: GoFilms, PFTV, and ZeroTV
The following providers were added: SRLS, CBB, and KRMovies
Fixed the RapidVideo Resolver
Over 10 Resolvers were added
Misc. bug fixes
WARNING! VPN REQUIRED
Your online activity is actively tracked by your Internet Service Provider, app/addon devs, and government through your identifying IP address.
Stream and download anonymously by using IPVanish VPN.
IPVanish will encrypt your connection to the Internet and mask your IP address so you will remain 100% anonymous.
Your current identifying IP Address is 66.249.65.92
SAVE UP TO 76% WITH THIS TIME-SENSITIVE DEAL
IPVanish backs their service with a 30-day money back guarantee.
IPVanish allows you to use your account on unlimited Internet-connected devices
Cinema HD Alternatives
If you are experiencing issues with Cinema, I suggest viewing these alternatives below.
Also if you are experiencing Real-Debrid integration issues within Cinema, we suggest viewing our list of the best Real-Debrid options below.
Best Apps and Addons for Real-Debrid Users
Give the latest Cinema update on your preferred streaming device a try today!
The weekly TROYPOINT Advisor keeps everyone up-to-date on the ever-changing world of cord-cutting.
Use the link below to join the other 800,000 happy subscribers.
For more information on the developers, updates, and more regarding Cinema HD, refer to the app's official website.