Canelo Alvarez vs Billy Joe Saunders – How to Stream, Odds, and More
This guide will show you how to stream Canelo Alvarez vs Billy Joe Saunders online from anywhere.
These two boxing middleweights are squaring up in a title fight this Saturday, May 8 in Arlington, Texas.
The last time Saul "Canelo" Alvarez stepped in the ring was in February when he retained his belt against Avni Yildirim in Miami.
Great Britain's Billy Joe Saunders comes in as the undefeated challenger, making this one of the most anticipated boxing matches this year.
The main card officially starts at 8 pm (ET) with Canelo Alverez vs Billy Joe Saunders as the main event at 11 pm (ET).
In addition to streaming instructions, you can find more information below highlighting the complete fight card, matchups, betting odds, times, and more.
This fight and all other Boxing events are available for streaming online and work fabulously when paired with a VPN.
Boxing and MMA fans from across the world are always looking for a reliable method to watch big fights online.
While some local providers, streaming services, and websites might offer you deals on pay-per-view, there always seems to be a catch.
These PPV "deals" tend to be very expensive, encounter blackouts, or have certain geographic restrictions.
This guide will show you how to stream Canelo Alvarez vs Billy Joe Saunders in an affordable way by using the DAZN service and a VPN which will eliminate blackouts, geo-restrictions, and more.
This fight can be purchased through DAZN or your local PPV provider.
IMPORTANT NOTE: If you are located in an area not supported by DAZN, you will need to use a VPN to unblock your "geo-location" to stream this fight.
TROYPOINT does not own or operate any IPTV service. TROYPOINT does not receive any revenue or affiliate commissions from any service. We don't know if a service or website holds the proper licensing for the channels that they deliver. Always use a VPN with unverified IPTV services/websites as their servers may be insecure.
Doing so will protect your online identity, and using a VPN on top of that will ensure 100% anonymity.
Using a Virtual Private Network (VPN) to stream Canelo Alvarez vs Billy Joe Saunders online will protect your online activity.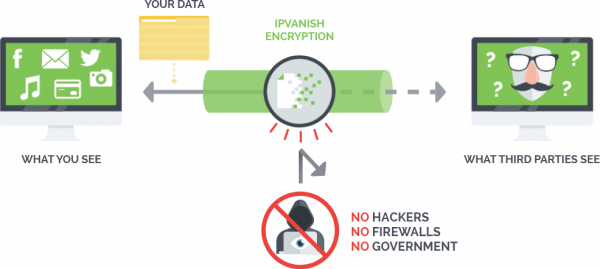 Using a VPN makes it impossible for your Internet service provider (ISP), hackers, website/app developers, and operators of insecure servers from logging what you are accessing.
A quality VPN will also help evade censorship due to geographic locations. This is huge when trying to stream Canelo Alvarez vs Billy Joe Saunders online!
This same issue is also important for those Streaming UFC Fights or Watching the NFL Online.
YOU'RE BEING TRACKED...
Your online activity is tracked by your government, Internet Service Provider, app/addon/IPTV devs and all websites through your identifying IP address
Stream anonymously by using Surfshark VPN
Your Current Identifying IP Address (digital fingerprint):
SAVE 86% ON SURFSHARK VPN + 3 FREE MONTHS
Surfshark backs their service with a 30-day money back guarantee
Use your account on unlimited devices & share with family members
HURRY! SALE ENDS SOON
Claim Surfshark VPN Discount
Some Internet Service Providers will purposely throttle the download speeds for streams like this and a quality VPN will alleviate this problem as well.
It's important to pick a VPN that provides blazing-fast download speeds since this Canelo Alvarez vs Billy Joe Saunders fight will likely require plenty of bandwidth.
This is why it is important to find a high-quality, trustworthy VPN such as IPVanish.
I am a huge Boxing fan and have been using IPVanish to stream fights for years and it works extremely well.
Most viewers will be watching the fights with a streaming device such as the Firestick/Fire TV, NVIDIA SHIELD, Android TV Box, or others.
IPVanish VPN has you covered because they provide apps for nearly any device that you can think of.
You can use one IPVanish account on an unlimited number of devices at the same time.
Maybe you are throwing a Canelo Alvarez vs Billy Joe Saunders watch party and will have the fight streaming on different TVs throughout your home.
Simply install the IPVanish VPN app onto each of your streaming devices and you will be set!
Or, install IPVanish on your router and cover all connected devices at once:
If you are a Firestick user, we have created a step by step guide VPN installation guide below or you can check out our popular VPN for Firestick tutorial.
How to Stream Canelo Alvarez vs Billy Joe Saunders with a VPN
After signing up for DAZN, you will want to make sure to install the app and connect to a VPN.
Using a VPN will eliminate any blackout or geo-location restrictions imposed on the event. It will also make you completely anonymous while online.
In the tutorial below I am using an Amazon Firestick 4K, but this same process works on all Fire TV and Android devices.
The Amazon Firestick is the most popular device used by Boxing fans for streaming fights online.
If using an Amazon Firestick/Fire TV, we suggest using the Silk Browser if accessing streaming websites.
If using an Android device, we recommend using Google Chrome, Puffin TV, or TV Bro for a web browser.
How to Install Puffin TV Browser
How to Install TV Bro Browser
If you watch Boxing online using a different device, you can find our other VPN tutorial links below this screenshot guide.
Step 1 – Register for an account at IPVanish by clicking HERE.
Step 2 – From the home screen hover over Find.
Step 3 – Scroll down and click Search.
Step 4 – Type in "Ipvanish" and click the first option.
Step 5 – Click the IPVanish VPN app.
Step 6 – Click Download.
Step 7 – Once the IPVanish app installs, click Open.
Step 8 –  Input your IPVanish username and password and then click Login.
Step 9 – Click the CONNECT button.
Step 10 – If you receive a VPN connection request such as this, click OK.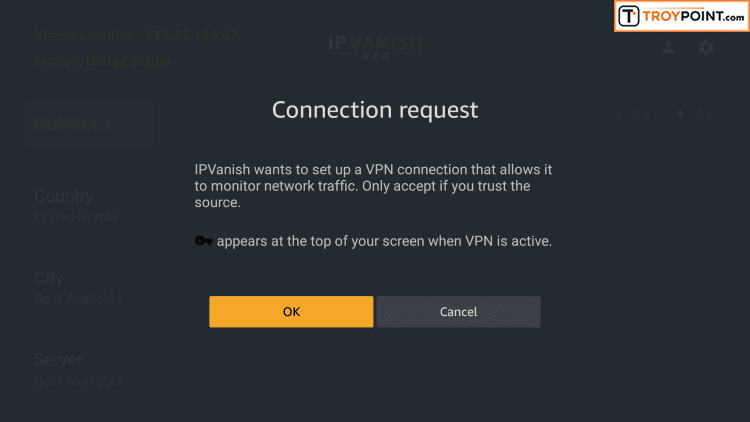 Step 11 – Click the Disconnect button to stop service.
Best VPN for Canelo Alvarez vs Billy Joe Saunders
Using IPVanish VPN when streaming fights like Canelo Alvarez vs Billy Joe Saunders will ensure your privacy and safety online.
While many companies rent servers from their party providers, IPVanish owns all of its servers for blazing-fast download speeds.
IPVanish operates its own network that offers over 40,000 IP addresses including over 1,000 servers in 60 different countries.
This means that no matter your location, you can access a VPN Server for 100% security and anonymity.
This is perfect for Boxing fans around the world who are trying to access the fights but are blocked by geo-restrictions.
IPVanish provides customers with a free 30-day money-back guarantee for anyone who would like to try their service.
If you are a Boxing fan and want to watch Canelo Alvarez vs Billy Joe Saunders online, the best way to do so is by using a VPN.
Canelo Alvarez vs Billy Joe Saunders – Details & Information
Below is the schedule for Canelo Alvarez vs Billy Joe Saunders with matchups, times, bios, betting odds, and more.
Canelo Alvarez vs Billy Joe Saunders – Fight Card (8 PM ET)
Canelo Alvarez vs Billy Joe Saunders (Main Event)
Frank Sanchez vs Nagy Aguilera
Marc Castro vs TBA
Edwin Soto vs Katsunari Takayama
Kieron Conway vs Souleymane Cissokho
Keyshawn Davis vs Jose Antonia Meza
Kelvin Davis vs TBA
Canelo Alveraz vs Billy Joe Saunders – Odds
Below are the betting odds for Alverez vs Saunders along with a link to real-time odds that are always up-to-date via MyBookie.
New: MyBookie is currently offering a 50% sign-up Bonus up to $1,000 for all new members.
Sign up today by Clicking Here or the image below:

Moneyline:
Canelo Alvarez (C) -750
Billy Joe Saunders +525
Total Rounds Over/Under: 
Canelo Alvarez (C) +140 (Under 10 1/2 Rounds)
Billy Joe Saunders -165 (Over 10 1/2 Rounds)
For full betting odds, prop bets, and more refer to the MyBookie site.
If you are new to sports betting, we suggest viewing our in-depth Sports Betting Guide.
Saul "Canelo" Alvarez Bio
Record: 55-1-2 (37 knockouts)
Height: 5-8
Nationality: Mexican
Born: 7/18/1990
Billy Joe Saunders Bio
Record: 30-0 (14 knockouts)
Height: 5-11
Nationality: British
Born: 8/30/1989
For more information on Canelo Alveraz vs Billy Joe Saunders, matchups, cards, times, and more refer to the DAZN preview.
Canelo Alvarez vs Billy Joe Saunders Preview – DAZN
IPVanish can be installed on nearly any device including Mac, PC, iOS, Android, and much more.
We have put together installation guides for the most popular devices which you can find with the link below.
This resource guide will also answer any questions you may have about a VPN and why it is important to use one when connected to the internet.
Canelo Alvarez vs Billy Joe Saunders FAQ
[sc_fs_multi_faq headline-0="h2″ question-0="How do you stream Canelo Alvarez vs Billy Joe Saunders online?" answer-0="This guide shows you how to stream Canelo Alvarez vs Billy Joe Saunders by using a service like DAZN and a VPN which will eliminate geo-restrictions." image-0="" headline-1="h2″ question-1="Is a VPN legal?" answer-1="Yes. A VPN is 100% legal to install and use in most countries including the U.S. However, in some countries VPNs are not legal to use." image-1="" headline-2="h2″ question-2="How does a VPN work?" answer-2="A VPN works by routing your device's internet connection through a private server instead of your internet service provider (ISP). This will mask your IP Address to any websites you visit." image-2="" headline-3="h2″ question-3="What devices can a VPN be installed on?" answer-3="a VPN is available for installation on almost every electronic device you can think of. This includes PCs, Iphones, Android phones, Amazon Fire TV devices, and many other popular electronic devices." image-3="" headline-4="h2″ question-4="How much does a VPN cost?" answer-4="While some VPN services are free, most quality VPN services charge less than $5 per month." image-4="" headline-5="h2″ question-5="Can you be tracked if you use a VPN?" answer-5="A VPN encrypts your IP Address from your Internet Service Provider (ISP) making your online activity anonymous." image-5="" headline-6="h2″ question-6="Should I use a VPN at home?" answer-6="Yes. If you are accessing the internet at your home we recommend using a VPN for your online privacy." image-6="" headline-7="h2″ question-7="Should I use a VPN on my phone?" answer-7="Using a VPN on your phone is not necessary, but recommend if you want to hide your internet activity." image-7="" count="8″ html="true" css_class=""]
This page includes affiliate links where TROYPOINT may receive a commission at no extra cost to you. Many times, visitors will receive a discount due to the special arrangements made for our fans. I will never promote something that I personally don't use or recommend. Purchasing through my links directly supports TROYPOINT which keeps the content and tools coming. Thank you! Learn more on my Affiliate Disclaimer page.